Power Ranking Every NFL Team From No. 1 to 32 After September
With nearly a quarter of the National Football League season gone, it's time to try and rank each team from No. 1 to No. 32. These power rankings give a good deal of credence to a team's on-field record, as well as who they beat and where. In a perfect world, the order would reflect which of two teams would win should they meet on a neutral field right now. While these rankings might change a lot in the coming weeks, using September as our sample size means we need to reward the teams that are still unbeaten, even if they might fade before it's all said and done. Raise your hand if you really think the Arizona Cardinals are going to be playing in the Super Bowl at home when February rolls around.
The parity of the NFL doesn't help anything either: over 40 percent of the league sits at the same .500 mark, and sorting through the 2-2 teams can be a bit of a nightmare. Oh, and expect the rankings after October to look quite a bit different.
1. Cincinnati Bengals (3-0)
The Bengals can try to justify this ranking with a prime-time victory at New England Sunday night. They seem to be the class of the AFC North, but are they the class of the NFL?
2. Arizona Cardinals (3-0)
The Cardinals are undefeated despite the fact that their starting quarterback hasn't played a game until Week 1. That's a really good sign for Arizona's playoff chances — assuming they get him back sooner rather than later.
3. Seattle Seahawks (2-1)
The Seahawks should be feeling good about themselves after an overtime Super Bowl rematch victory and a bye week to enjoy it. An upcoming Monday night trip to Washington shouldn't do anything to change that.
4. Denver Broncos (2-1)
Peyton Manning and the Broncos have basically beat everyone except the Seahawks this season. Kinda feels like 2013 all over again, doesn't it?
5. Baltimore Ravens (3-1)
Despite the Ray Rice saga hanging over the franchise, the Ravens have rattled off three straight wins and looked good doing it. Four road trips in the next five games will tell us a lot about this team.
6. Philadelphia Eagles (3-1)
The first three weeks of the season, the Eagles fell behind early and still won. Sunday, they corrected that issue by jumping out early on top of San Francisco … and then losing.
7. San Diego Chargers (3-1)
The Chargers probably own the most surprising win of the season to date, taking down the defending champion Seahawks in Week 2. The schedule's gotten softer since then (Bills, Jaguars, Jets, and Raiders in order), so San Diego should be 5-1 by mid-October.
8. Detroit Lions (3-1)
The Lions have put new wide receiver Golden Tate to good use so far: he has 24 catches to lead the team, with Calvin Johnson close behind at 21. Detroit doesn't play a team that currently has a winning record for another six weeks.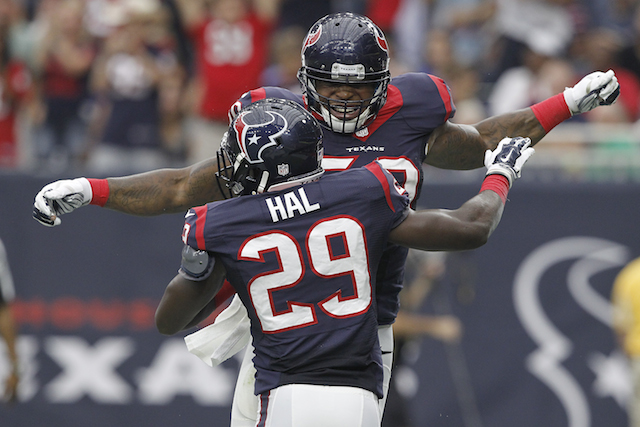 9. Dallas Cowboys (3-1)
Will we look back at the Dallas-St. Louis game in Week 3 as the turning point of the Cowboys season? The comeback after trailing 21-0 on the road kept Dallas from going 1-2. Now, all of a sudden, Jason Garrett's team is 3-1 and riding a three-game winning streak.
10. Indianapolis Colts (2-2)
The Colts fell in an early hole to start the year, dropping one-score games against powerhouses Denver and Philadelphia. Since then, Indianapolis has looked solid, and Andrew Luck's offense has come to life. Luck has thrown for four touchdowns in each of the last two games.
11. Houston Texans (3-1)
The most pleasant surprise of the 2014 NFL season has been Bill O'Brien's Houston Texans. The Texans have already topped their win total from 2013, and lead the AFC South as the calendar turns to October.
12. Green Bay Packers (2-2)
The Packers are looking for their fourth straight division title in 2014 and will need to improve on their current .500 pace to accomplish that. Look for Green Bay to make a statement when the banged-up Vikings come to town on a short week Thursday night.
13. San Francisco 49ers (2-2)
Two questions: can the .500 49ers use Sunday's victory over Philly as a springboard to bigger and better things? Will this team play hard for Jim Harbaugh for 16 or more games?
14. Kansas City Chiefs (2-2)
The Chiefs are flying high after a 41-14 Monday night blowout victory over New England, Kansas City's second consecutive win. Can KC's fledgling winning streak survive back-to-back trips to California (at San Francisco, then at San Diego after the bye)?
15. Pittsburgh Steelers (2-2)
The Steelers have alternated wins and losses so far this year, including a stunning home defeat to woeful Tampa Bay Sunday. That pattern needs to change with Jacksonville and Cleveland on the docket the next two Sundays.
16. Carolina Panthers (2-2)
Maybe Carolina shouldn't have released Steve Smith? The Panthers have lost two straight games, the most recent courtesy of Smith's seven catches for 139 yards and two touchdowns against his former team.
17. Chicago Bears (2-2)
A three-touchdown loss at home to divisional rival Green Bay has fans on edge in Chicago. There's plenty of blame to go around, but at least they can't blame the punter: neither team punted in the Packers' 38-17 win. (That hasn't happened in the NFL in 22 years.)
18. Miami Dolphins (2-2)
Who's the best team in the AFC East? It's anybody's guess right now. The Dolphins are one of three squads at 2-2, which includes a win over New England and a loss at Buffalo.
19. New England Patriots (2-2)
The Patriots need to do some soul-searching after laying an egg on Monday night at Kansas City. Four of New England's next five games are at home, which should let Tom Brady, Bill Belichick, and company improve their .500 record dramatically.
20. New York Giants (2-2)
The Giants have won two straight games, including a 45-14 rout of Washington in Week 4. They need to beat Atlanta at home Sunday, because the schedule gets downright nasty after that: Eagles, Cowboys, Colts, Seahawks, 49ers, and Cowboys again.
21. Minnesota Vikings (2-2)
The Vikings are already without star Adrian Peterson, and no one knows for how long. Now, Minnesota is running out of quarterbacks, too. They've lost Matt Cassel for the year, and replacement Teddy Bridgewater is nursing a sprained ankle. Will he be able to play Thursday? Or is it Christian Ponder time?
22. Atlanta Falcons (2-2)
The Falcons are 2-0 at home and 0-2 on the road to start 2014. Looks like a .500 team waiting to happen, doesn't it? Oh, and bad news: Atlanta's next game is on the road.
23. Buffalo Bills (2-2)
The Kyle Orton era gets underway in Buffalo this week. Despite an anemic offense, the Bills find themselves tied for first place after four games. Will benching EJ Manuel pay off for Buffalo in the long run?
24. Cleveland Browns (1-2)
The Browns have been more competitive than expected through the team's first three games. Now, will that translate to more wins? At least Cleveland hasn't lacked for drama, with each of the team's contests so far coming down to a field goal attempt in the final seconds.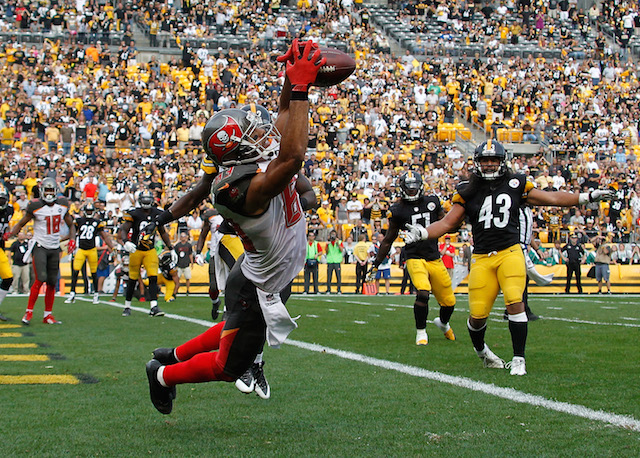 25. St. Louis Rams (1-2)
The Rams will need to lean on their defense to win this season, with quarterback Sam Bradford out for the year again. Winning at home would be a nice first step: St. Louis went 0-2 in St. Louis this September.
26. Tennessee Titans (1-3)
The Titans have dropped three straight games and have been outscored by an average of 22 points in the process. They have a chance to turn that around with winnable games against Cleveland, Jacksonville, and Washington coming up.
27. New Orleans Saints (1-3)
Sean Payton, Drew Brees, and New Orleans always have designs on a divisional championship, but didn't do themselves any favors with three road losses in the first four weeks of the 2014 season. Sunday's loss was especially ugly, as the Saints fell behind 31-3 in the third quarter.
28. Tampa Bay Buccaneers (1-3)
It couldn't get any worse for the Buccaneers after a 56-14 loss on national TV in Week 3. But no one expected it to get so much better so quickly, as Tampa Bay shocked the Steelers in Pittsburgh behind backup QB Mike Glennon. Where does Lovie Smith's team go from here?
29. Washington Redskins (1-3)
When your only victory of the season is against a winless team, that's not a good sign. When your quarterback situation raises as many questions as this one does, it's hard to see things getting drastically better.
30. New York Jets (1-3)
From the déjà vu department: when your only victory of the season is against a winless team, that's not a good sign. When your quarterback situation raises as many questions as this one does, it's hard to see things getting drastically better.
31. Jacksonville Jaguars (0-4)
The Jaguars' future seems bright with first round pick Blake Bortles taking the controls at quarterback. That's about the only good thing we have to say here.
32. Oakland Raiders (0-4)
The Raiders aren't the only winless team in the NFL, but they are the only one that's already fired their coach. That's enough of a tiebreaker for us to make Oakland No. 32, even behind Jacksonville.