NFL Prediction: The 7 Best Running Backs in 2015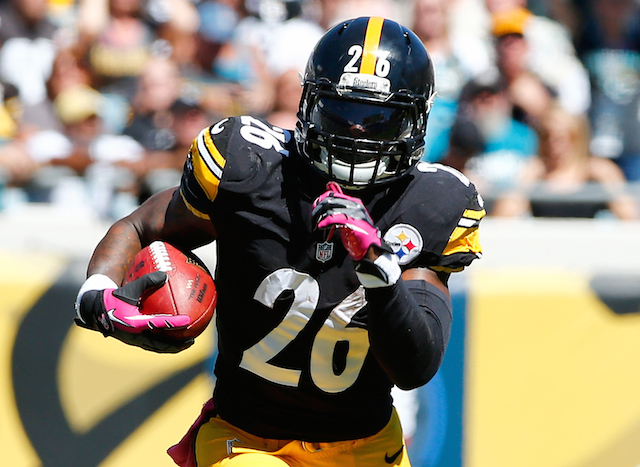 With 2015 NFL training camps rolling on, the predictions for the upcoming season will roll on as well. To start out the action, it's time for a few predictions, specifically at the running back position. While DeMarco Murray and Le'Veon Bell were the two dominant forces from last season, there's plenty of talent to challenge those two in 2015.
Last year, Murray was simply exceptional running the ball, going off for 1,845 yards and 13 touchdowns. He also tacked on 57 receptions for 416 yards. The question is, now that Murray is on a new team and coming off of that heavy Dallas workload, can he put up another dominant performance?
As for Bell, he was the definition of a dual-threat running back. He not only totaled 1,361 yards and eight rushing touchdowns, but tacked on 83 receptions for 854 yards and three more scores. There's one huge question surrounding Bell though, his two-game suspension for a DUI, as FOX Sports reported. How much will that impact him in the rankings of the top seven backs?
7. Jeremy Hill, Cincinnati Bengals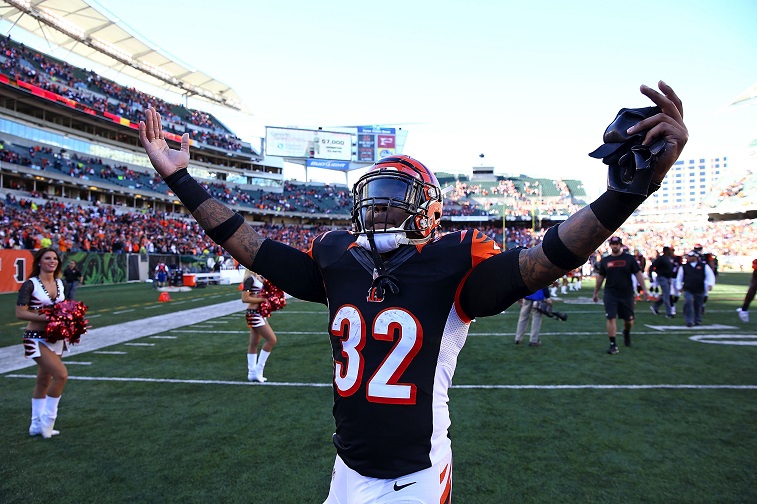 Hill burst onto the scene in a huge way in 2014. The rookie back received 15 rushes in Week 2 of the season against the Atlanta Falcons, which resulted in 74 yards and a score. From there, the Bengals chose to not give Hill a real shot to run the show again until their eighth game against the Jacksonville Jaguars.
From there, it was the Jeremy Hill show.
Hill burned the Jags for 154 yards on 24 carries, while scoring two touchdowns. Over the final nine games of the season, including that one against the Jaguars, Hill totaled 172 carries for 929 yards and six touchdowns. That's an impressive 5.4 yards per carry over that span.
Hill will be the man in Cincinnati's run game throughout 2015, with Giovani Bernard's role turning largely into a third-down back. Hill is simply the better pure runner, which is what this offense needs to open things up for Andy Dalton and A.J. Green.
6. Adrian Peterson, Minnesota Vikings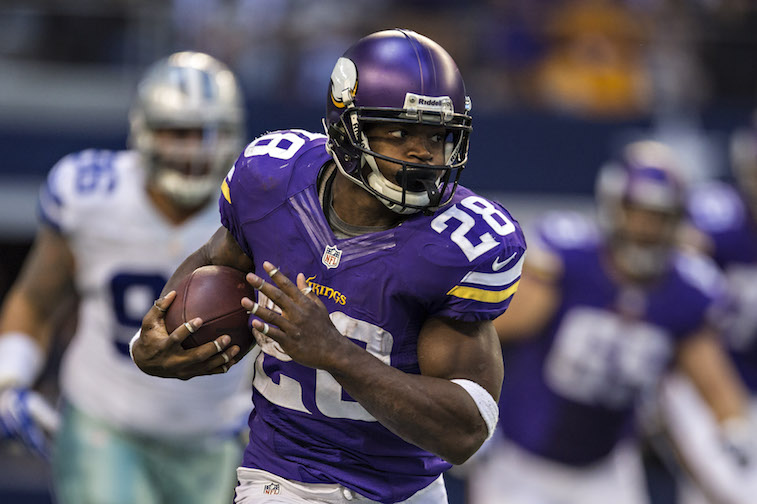 After a pretty wild offseason surrounded by rumors that Peterson wanted out of Minnesota, he'll play 2015 with the Vikings. The good news? As John Breech of CBS Sports reported, Peterson looks "ripped and in ridiculously good shape." Obviously, this is pretty exciting news for Vikings fans, who'll get their offensive stud back to pair up with second-year quarterback Teddy Bridgewater.
When looking back at Peterson's career, he's never failed to top 10 touchdowns, with the exception being last season when he only played one game. Essentially, Peterson can be counted on for major touchdown production, while also catching plenty of passes as well. It's not likely we'll see anything close to the 2,097 yards that Peterson rushed for in 2012, but he's still one of the best running backs in the entire NFL.
With Bridgewater's growth heading into year two,  Peterson may be in for a big season after almost a full year away from the game.
5. Jamaal Charles, Kansas City Chiefs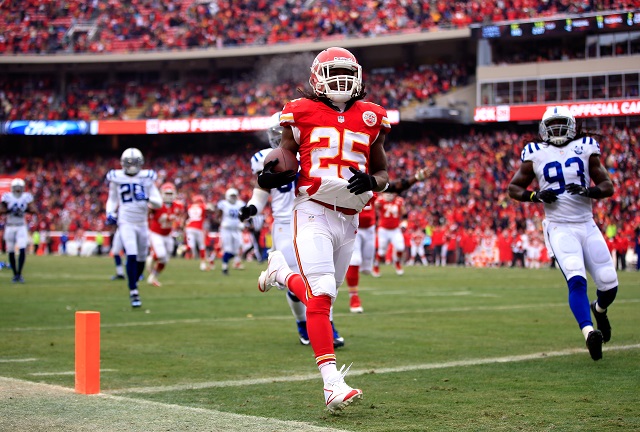 Charles was one of the most talked about running backs heading into the 2014 season. His 2013 season featured 259 carries for 1,287 yards, 12 rushing touchdowns, 693 receiving yards, and seven receiving touchdowns. Unfortunately, Charles was unable to live up to the early hype and finished 2014 with 1,033 yards rushing, nine rushing touchdowns, 291 receiving yards, and five receiving touchdowns.
While 2014 was a decrease statistically for one of the top running backs in the NFL, we fully expect him to bounce back. Let's not forget that we're talking about a running back who has never fallen below an average of five yards per carry in any single season during his career.
The Chiefs have a great chance to get back to the postseason in 2015, but they'll need Charles to have a big season for it to happen.
4. LeSean McCoy, Buffalo Bills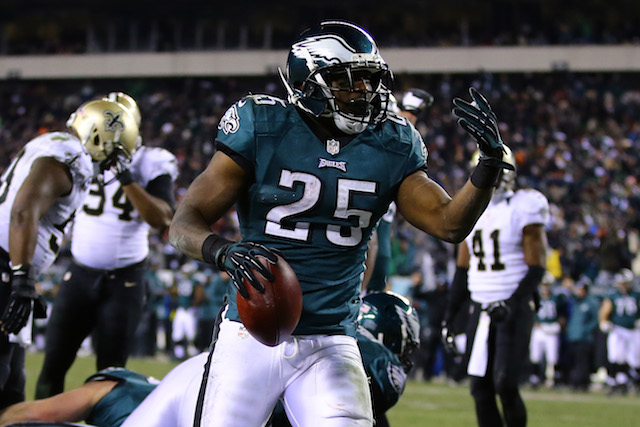 New team, plenty of motivation. In a complete shocker, the Philadelphia Eagles and Chip Kelly chose to trade LeSean McCoy to the Buffalo Bills for Kiko Alonso. McCoy left town with a chip on his shoulder and you can bet that he wants to prove that the Eagles made a bad decision to trade him.
Over the first six seasons of McCoy's career, he was the backbone of the Eagles offense. McCoy topped 1,080 yards in every season except two, which included his rookie season and 2012 when he missed four games.
The real question for McCoy will be whether he can find the end zone. McCoy should have little trouble topping 1,300 yards with 40-50 receptions under Rex Ryan, but he needs to tack on some touchdowns. In two of the last three seasons, McCoy totaled only five scores, but before that he went crazy, scoring 19 total in 2011.
When talking about a talent like McCoy, betting against him when he's playing to prove doubters wrong is just not a good idea, and he may winds up as one of the best backs of the season when all is said and done.
3. Le'Veon Bell, Pittsburgh Steelers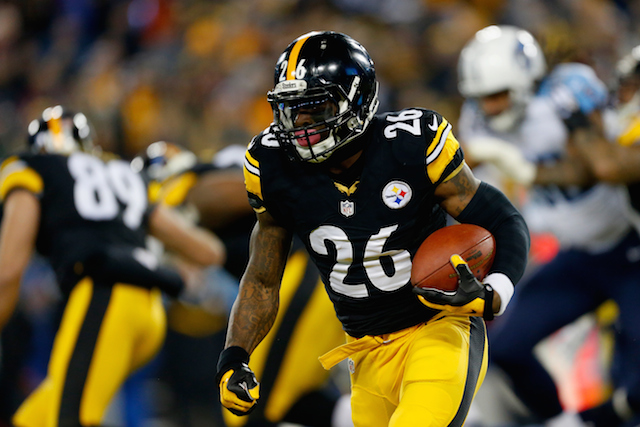 Putting Bell at No. 3 was a tough decision, simply due to the two-game suspension. Fortunately for Steelers fans, Bell is one of the most well-rounded running backs in the NFL. His ability to both dominate the run game, while also catching passes out of the backfield makes him a major threat.
Bell may not get to start the season on the field with his teammates, but you know that when he gets back in action that he'll be a man running with a purpose. Bell has totaled 128 receptions for 1,253 yards over the first 29 games of his career, numbers that are pretty exceptional for a running back.
We can be pretty confident in saying that Bell is the best pass-catching running back in the league, but on top of that, he's on the verge of becoming one of the best overall running backs as well.
2. Marshawn Lynch, Seattle Seahawks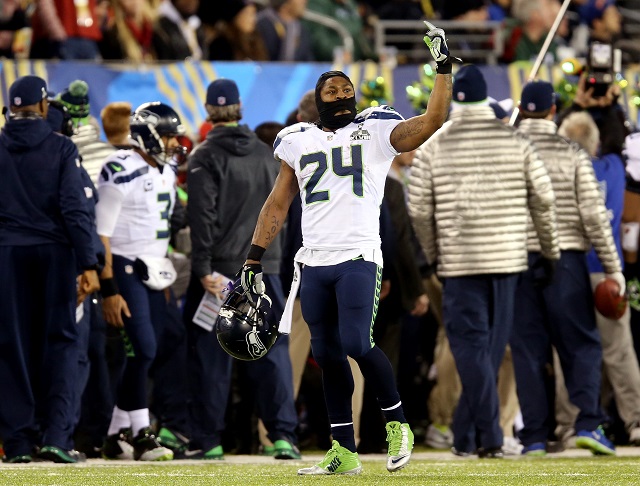 Marshawn Lynch has been a monster since 2011, totaling 48 touchdowns over the four years, while never falling below 1,204 yards in a single season. Best of all, Lynch has also shown the ability to catch passes out of the backfield consistently, hauling in 124 total receptions during that same span.
Basically, the man dubbed "Beast Mode" has been the most consistent running back in the NFL over the last four seasons, something that we don't expect to change. Seattle's offense is focused around the run game, and Lynch is showing us no signs of slowing down.
Best of all, Lynch is coming off one of the best seasons of his entire career. He finished 2014 up with 1,673 total yards and 17 total touchdowns, so he's still plenty hungry.
1. Eddie Lacy, Green Bay Packers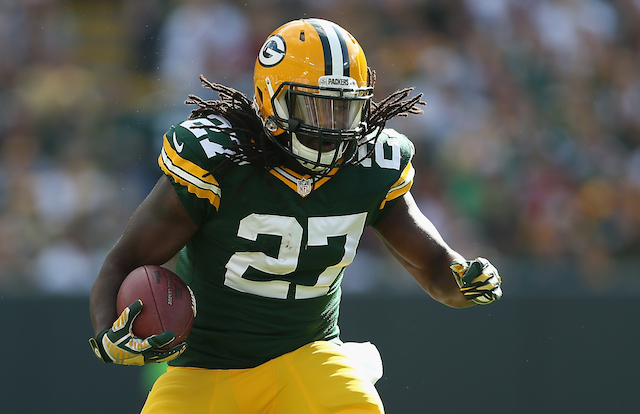 Eddie Lacy will officially take the cake as the top running back in the NFL when all is said and done. When looking at the numbers, they don't tell the whole story for Lacy. Not only does the former Alabama running back have one of the best quarterbacks in the business in Aaron Rodgers, but he does a little of everything as well.
Lacy started off the 2014 season in a pretty miserable way, as he failed to top 48 yards in any of the first four games, while scoring only one touchdown. After rushing for 105 yards and two touchdowns against the Minnesota Vikings in Week 5, it propelled Lacy to get the ball rolling. Over the final seven weeks of the season, Lacy truly started to take over, rushing for 661 yards and five touchdowns during that stretch.
His ability to catch passes is big as well, and in 2014 Lacy caught 42 balls for 427 yards and four touchdowns. The 25-year-old is just scratching the surface of his true potential, and there's plenty of reason to believe that his big breakout will come this season.
All statistics courtesy of ESPN.com