Predicting the Winner of Every NBA All-Star Event
Ladies and gentleman, welcome to the 2015 NBA All-Star Weekend.
The best of the best have gathered in Brooklyn to showcase their skills for the world to see. And right now, it's all about cutting loose. Expect to bare witness to some carefree basketball, filled with no-look passes, thunderous dunks, and limited defense. That's why this weekend is so enjoyable. The pressure is off and the smiles come out. It's time to just have some fun.
While the main event isn't until Sunday evening, there's still plenty of action to look forward to. With so many stars participating in so many different events, there's bound to be some worthwhile moments. And we can't wait to see which players shine the brightest.
So with the competition set to begin, here are our predictions for very NBA All-Star event.
Degree Shooting Stars
Participants:
Team Bosh –  Chris Bosh (Mia), Dominique Wilkins (Legend), Swin Cash (New York Liberty)
Team Curry – Stephen Curry (GS), Dell Curry (Legend), Sue Bird (Seattle Storm)
Team Westbrook – Russell Westbrook (OKC), "Penny" Hardaway (Legend), Tamika Catchings (Indiana Fever)
Team Millsap – Paul Millsap (Atl), Scottie Pippen (Legend), Elena Delle Donne (Chicago Sky)
[Update 2/12/15: Paul Millsap is replacing injured Anthony Davis (NO)]
The Degree Shooting Stars is a cool event that takes four different teams (each made up of an NBA star, a former NBA legend, and a WNBA star) and pits them against each other in a shooting competition. It's a timed contest, with four different shots in four different locations, that need to be made in numerical order. Top two teams advance to go head-to-head in the final.
All of these teams are stacked (as they should be). The smart money would be to go with Team Bosh. After all, they are going for a three-peat in the contest. But then again, there's Stephen Curry and his dad, Dell, teaming up together again. And we know they're super competitive. This is going to be a tough one. But we're going to go out on the limb and give it to the underdog.
Prediction: Team Millsap (Davis)
Taco Bell Skills Challenge
Participants:
Patrick Beverley, Rockets (replacing John Wall)
Trey Burke, Jazz
Brandon Knight, Bucks
Kyle Lowry, Raptors
Elfrid Payton, Magic (replacing Michael Carter-Williams)
Dennis Schröder, Hawks (replacing Jimmy Butler)
Jeff Teague, Hawks
Isaiah Thomas, Suns
John Wall, Wizards
This is going to be a very interesting competition. While the Taco Bell Skills Challenge is still going to consist of two players simultaneously going head-t0-head against each other through a timed obstacle course, there's a slight change to this year's event. It will now be broken down into an eight-man bracket-style tournament. This is all about concentration, speed, consistency, and a fluid pace. Does Trey Burke have what it takes to repeat? We don't think so. This year is all about the Raptor.
Prediction: Kyle Lowry (Raptors)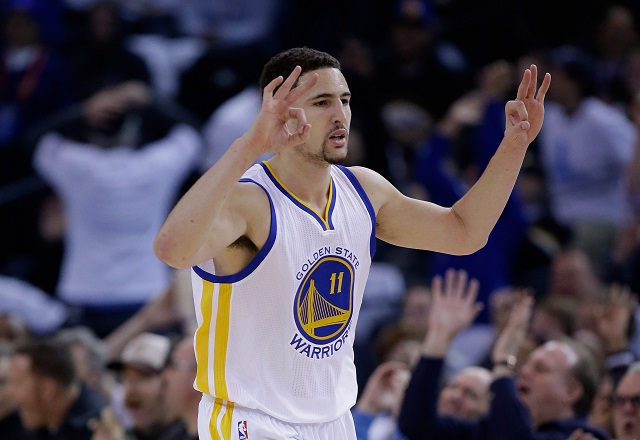 Foot Locker Three-Point Contest
Participants:
Marco Belinelli, Spurs
Stephen Curry, Warriors
James Harden, Rockets
Kyrie Irving, Cavaliers
Kyle Korver, Hawks
Wesley Matthews, Blazers
J.J. Redick, Clippers
Klay Thompson (Warriors)
There is no need to describe what the Foot Locker Three-Point Contest is all about. Five racks, a ticking clock, and a bunch of "money balls." And all of these guys are lights out from downtown. Marco Belinelli is the defending champ, but Golden State's Splash Brothers can certainly put up the rock. Kyrie Irving has won this event before and James Harden is the most explosive offensive player in the NBA. Honestly, this is an amazing crop of shooters. We wouldn't be surprised if any one of these snipers took home the title. But we're going with our gut on this one. And our gut says to choose the last guy added to the All-Star roster.
Prediction: Kyle Korver, Hawks
Sprite Slam Dunk
Participants:
Giannis Antetokounmpo, Bucks
Zach LaVine, Wolves
Victor Oladipo, Magic
Mason Plumlee, Nets
Four high-fliers get two dunks each in the first round, and the best two dunkers meet head-to-head in the finals. The stud with the best combined score in the final round will take home this year's Sprite Slam Dunk title. Each of these contestants are young, athletics, and strong. We can't wait to see what kind of creativity they bring to this year's event. But we're not quite sure that any of them have what it takes to make it onto the "best ever" list. In the end, we're torn on this one. So, we think it's going to come down to Giannis Antetokounmpo and Zach LaVine. And we're taking the rookie.
Prediction: Zach LaVine, Wolves
All-Star Game
Due to a plethora of injuries, there has been a lot of turnover in regards the 2015 NBA All-Star rosters. But don't worry, there are still plenty of stars set to showcase their stuff during the main event. The Brooklyn crowd should be prepared for a spectacular show.
The Eastern Conference features a lot of players appearing in the All-Star Game for the first time, but they also happen to be led by the best in the game: LeBron James. Along with teammate Kyrie Irving, a rejuvenated Pau Gasol, and the fab four of the Atlanta Hawks, James should have enough weapons to give the Western Conference a run for their money. Unfortunately, it might not be enough.
The team from the West is absolutely loaded. They're made up of an obscene amount of dynamic scorers. Some of which include, Stephen Curry, Klay Thompson, James Harden, Kevin Durant, and Russell Westbrook. And they also have the size to go along with that (DeMarcus Cousins, Marc Gasol, and LaMarcus Aldridge). There is so much fire power in the Western Conference, it's almost not even fair. Which is why it's their game to lose. Look for the West to win for the fourth time in five years.
Prediction: West 154, East 148
[Correction, 2/15/15: The 64th NBA All-Star Game is at Madison Square Garden in Manhattan, not Brooklyn.]