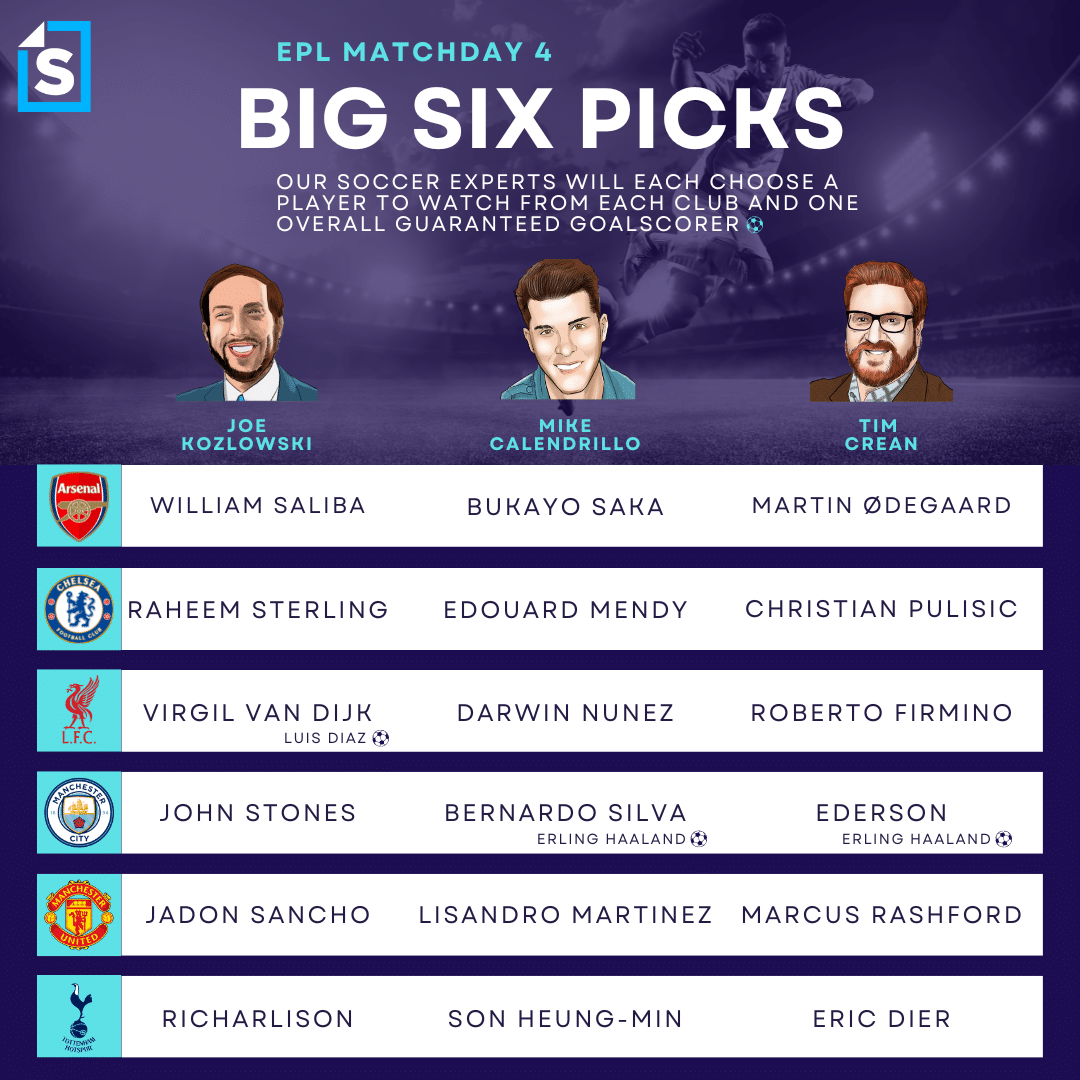 Sportscasting Big 6 Picks: Premier League Matchday 4
As we head into Matchday for of the 2022-23 English Premier League season, here are the players on the Big 6 teams to watch this weekend.
Sportscasting's soccer brain trust has come together to create our English Premier League "Big 6 Picks." Each matchday, we'll give you a player to watch from each of the league's biggest clubs, plus a guaranteed goal scorer for good measure.
Think of it as your Premier League cheat sheet; if you find yourself watching a match, let's say Arsenal vs. Fulham (Saturday, August 27, 12:30 pm ET on NBC), and don't know a thing about the first-place Gunners, we have you covered.
Without further delay, here are Sportscasting's Big 6 Picks for the Engish Premier League's Matchday 4.
Premier League Matchday 4 Big 6 Picks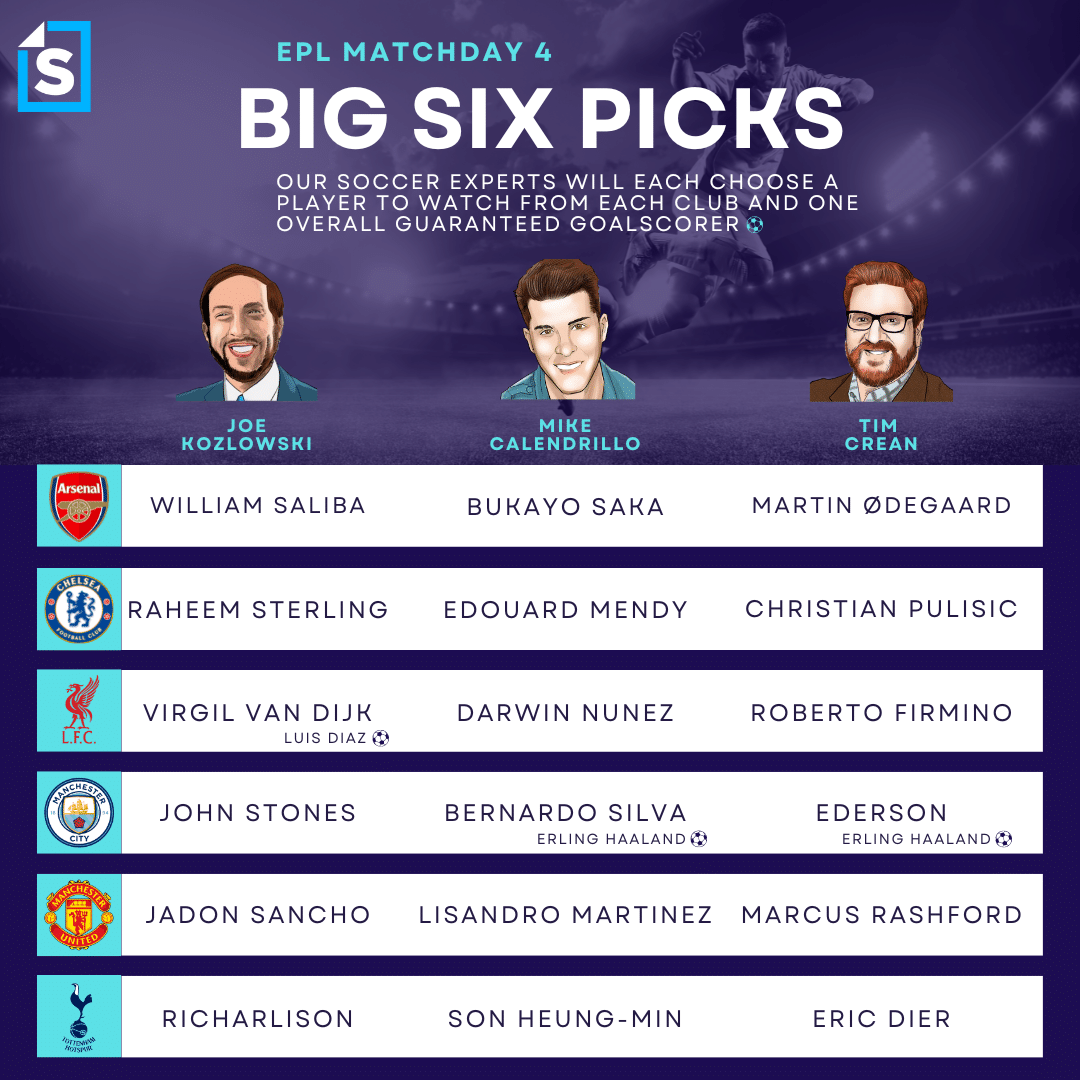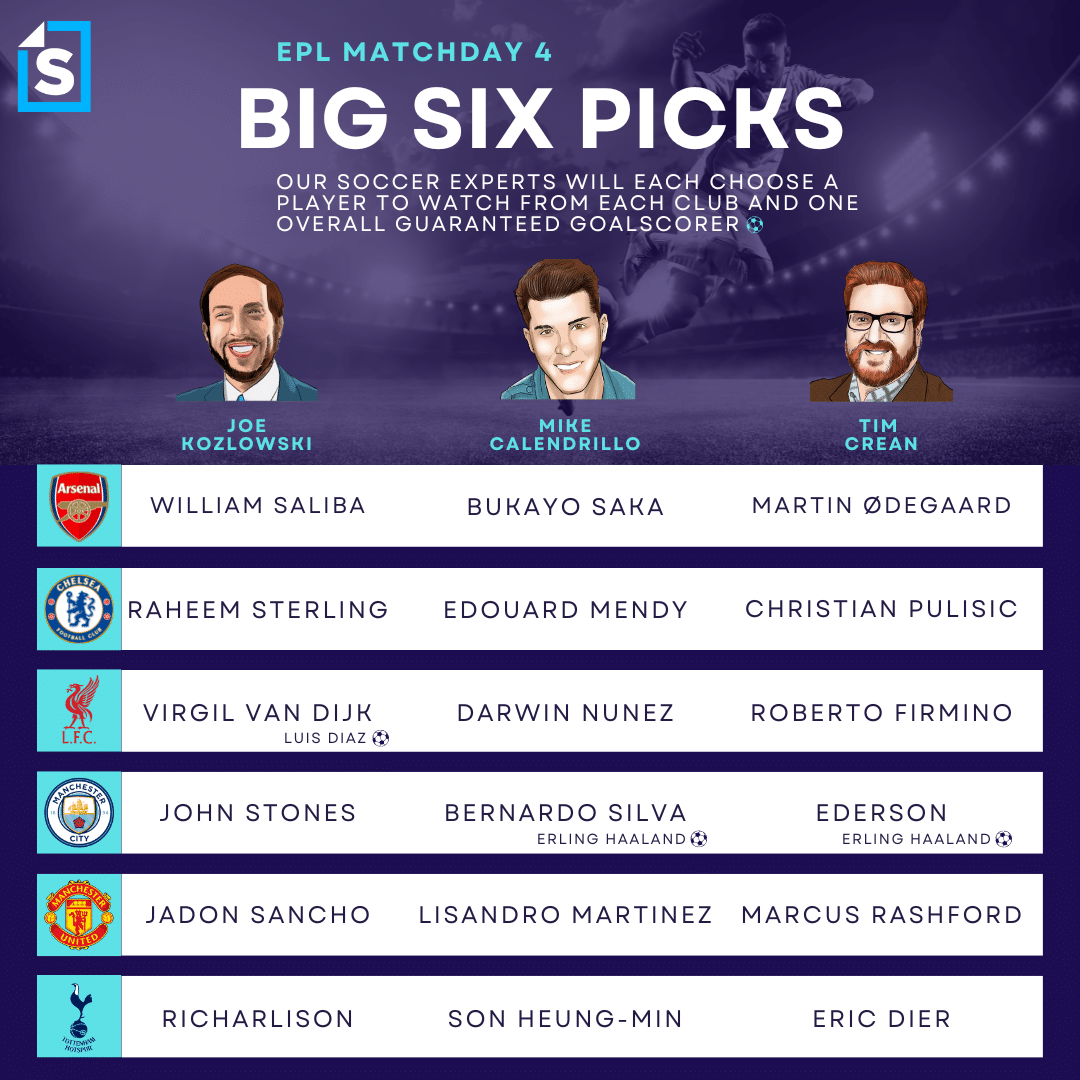 Manchester United at Southampton
Joe Kozlowski: Jadon Sancho – One game is a fluke, but two games could suggest a trend. After a good showing against Liverpool, the United winger will have an opportunity to flex his muscles against an iffy Southampton defense. Maybe this is the perfect chance for him to start living up to the hype and lock down his starting role.
Mike Calendrillo: Lisandro Martinez – It's amazing how the tables have turned, with Liverpool now being the Premier League's biggest disappointment, thus far, through three games. A big reason why United was able to outfox the Reds was due to the stellar play of Lisandro Martinez, who came over from Ajax this summer. After being criticized for his small play and height versus Brighton and Brentford, Martinez came up huge when he stopped a potential Bruno Fernandez own goal. The Martinez-Varane pairing lived up to the hype and kept Harry Maguire on the bench. Proving the win against Liverpool was no fluke will only be accomplished by handling Southampton.
Tim Crean: Marcus Rashford – Shortly after Man United legend Wayne Rooney said that Marcus Rashford seems like he doesn't want to be on the pitch, the 24-year-old forward was the best player on the field vs. Liverpool. To beat Southampton, United needs another strong performance from Rashford. 
Liverpool vs. Bournemouth
Joe: Virgil van Dijk – While I was tempted to put Jurgen Klopp here, he won't be on the pitch. In terms of Liverpool players, this will be a statement game for Virgil van Dijk. The Dutch defender has looked rather human recently, and that's not a recipe for success. Either he'll need to play his way back into form, or Liverpool will have to adjust to create a bit more defensive stability. Either way, VVD is worth watching as a bellwether.
Mike: Darwin Nunez – The sky is falling in Liverpool, and it's not just because of Everton – for once. After being shown a red card for a horribly stupid headbutt in the 57-minutes versus Crystal Palace, the new man from Benfica was sorely missed up top against United. Roberto Firmino showed exactly why Nunez was brought in for $82.5M, and now the pressure is on the young Uruguayan to quell supporter unrest and get Liverpool into the win column for the first time this season. Easier said than done, luckily, they're playing Bournemouth.
Tim: Roberto Firmino – With Darwin Nunez still suspended, and Diogo Jota still hurt, the 30-year-old Brazilian will likely start again this week. He was terrible against Manchester United and needs a better performance if he hopes to play at all when everyone gets back. Bournemouth has allowed seven goals against Man City and Arsenal, so even Firmino should be able to score against the South Coast side.  
Arsenal vs. Fulham
Joe: William Saliba – After scoring a goal and being serenaded for the better part of the win over Bournemouth, the young Frenchman will be tested by Aleksandar Mitrovic. The Fulham striker makes a living by peeling to the back post and overpowering smaller defenders. Saliba will play a key role in trying to prevent him from exerting that mismatch.
Mike: Bukayo Saka – Arsenal currently sit at the top of the table, though it's way too early to get excited, Gunner fans. And despite nine points to their name, Bukayo Saka hasn't been all that involved in the offensive build-up or production. The key for the 20-year-old England International is to keep grinding because as we know, young players only go as far as their confidence allows them to. Against the upstart Cottagers, Saka will be marked by USMNT plate Antonee "Jedi" Robinson, who has been one of the best backs in the EPL so far this campaign. 
Tim: Martin Ødegaard – For three-plus seasons, Mikel Arteta coached Kevin De Bruyne at Manchester City. Martin Ødegaard sure looked a lot like KDB last week against Bournemouth, and if he keeps it up, first-place Arsenal might just stay at or near the top of the table. This week, Ødegaard spells serious trouble for the American half of Fulham's back line, Tim Ream and Antonee Robinson. 
Chelsea vs. Leicester City
Joe: Raheem Sterling – Chelsea have struggled to get anything going offensively, and part of that responsibility falls on Sterling's shoulders. After seeing how Gabriel Jesus bullied Leicester's defense a couple of weeks ago, he'll have the perfect template for the Blue's next test. Can he find the back of the net?
Mike: Edouard Mendy – After getting blown out of the water by Leeds, 3-0, I guess Antonio Conte really did break Thomas Tuchel. Half-joking aside, the Medford Messi (Brendan Aaronson) made Chelsea keeper Edouard Mendy look like a Sunday league player for the first goal. Naturally, Mendy needs his backline to perform better, but he needs to hold his own, similar to how he did against Everton and Tottenham. Despite Leicester City only picking up one point out of nine, they still have more than capable players that could give Chelsea fits should the Foxes come out firing. 
Tim: Christian Pulisic – This was my choice last week, and it will be until Thomas Tuchel decides to finally put the young American in. He may not be the spark the Chelsea offense needs to finally catch fire, but we won't know until he gets a real opportunity. 
Manchester City vs. Crystal Palace
Joe: John Stones- Crystal Palace have largely been the Wilfried Zaha show this year, but they also have two different striker threats in Odsonne Edouard and Jean-Philippe Mateta. John Stones, as the right-sided centerback, will have to help Kyle Walker handle Zaha in addition to covering in more central areas. It will be a tough day's work, especially against a Palace side that have proven capable of playing on the counter-attack.
Mike: Bernardo Silva – Will Pep start Bernardo Silva two week in a row or rotate in Jack Grealish or Riyad Mahrez? It's unfair City have two complete starting XI that could win the league. And does Bernardo really want to go to Barcelona or think they can somehow afford him? So many questions, but one thing that we do know is that the Portuguese winger delivers when on the pitch – you just never know which name Pep draws out of the hat on a given day. 
Tim: Ederson –  Wilfried Zaha will get an open look (or several) at the Man City net on Saturday. That's just inevitable with the way City plays. If Ederson can make a big stop, City will win handily. If not, we'll have another Palace/Liverpool or City/Newcastle situation on our hands. 
Tottenham at Nottingham Forest
Joe: Richarlison – With the Champions League around the corner, Antonio Conte is going to have to start rotating. That means Richarlison will have to start getting more and more minutes. Look for the Brazilian to make an impact on the scoresheet or, if nothing else, start playing himself into form.
Mike: Son Heung-min – The co-leader for EPL goals from last season has yet to get going – but if anyone in Tottenham deserves some slack, it's the incomparable Son Heung-min. Even still, manager Antonio Conte will expect no less than three points against a determined Nottingham Forest side that has spent in the region of $150M. Continuing their fine start to the season will only be made easier by a vintage Sonny showing. 
Tim: Eric Dier – West Ham hasn't scored a goal in a Premier League match all season, so Tottenham won't want to give up the first. The key here is really the back three playing in unison to prevent a first West Ham goal from happening, but since Eric Dier is the central center–back and the defensive leader, he gets the nod here. 
Guaranteed Goalscorer
Joe: Luis Diaz – This is a bit of a bolder choice, but bear with me. Liverpool needs to show a response, and the Colombian has been one of their few players who has shown any fire this season. Add a date with newly promoted Bournemouth to the mix, and you've got the recipe for a goal.
Mike: Erling Haaland – City has three matches between Aug. 27 and Sept. 3. After hearing Pep Guardiola's comments that Erling Haaland won't play three games in a row, I fully expect a Haaland explosion versus Palace. Should he dress during the midweek matchup against Nottingham Forest, I'd be shocked, therefore, a full-force second brace is in the cards on the weekend. 
Tim: Erling Haaland – This is another pick that I may just ride until the wheels fall off. Erling Haaland is the most exciting young scorer to come to Manchester City (and maybe the Premier League) since Sergio Aguero came over from Atletico Madrid in 2011. He's a goal-scoring machine, and no one on Crystal Palace can stop him.
Like Sportscasting on Facebook. Follow us on Twitter @sportscasting19 and subscribe to our YouTube channel.