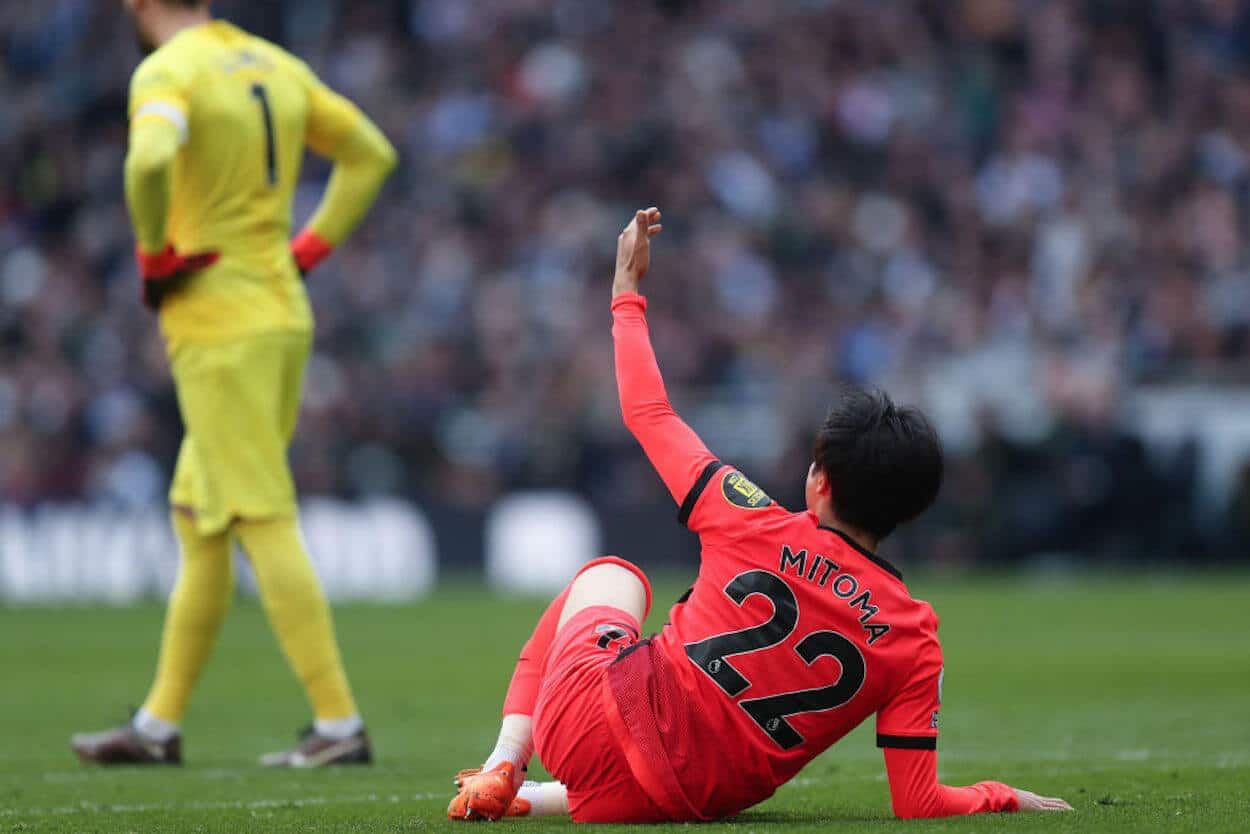 Premier League VAR Needs to Understand That Silence Is Still a Decision
In light of another high-profile VAR error, something has to give behind the monitors. The video review process, as much as anything else, is flawed.
As a soccer fan, I take no pleasure in writing about Premier League VAR again. I know that referees have a thankless job. I understand that pointing fingers at the officiating can be a crutch. I would much rather focus on the drama and excitement that organically develops each and every weekend. But sometimes an incident takes place that's so egregious I can't not talk about it.
That's what happened when Brighton visited Tottenham on Saturday. In a game of borderline calls — the first time the visitors put the ball in the net, for example, probably should have counted, but it was ruled a handball — a potential penalty kick was overlooked in the second half. While you could understand the on-pitch referee missing the contact, the fact that VAR reviewed the contact and didn't intervene sent the entire soccer world into an uproar.
Brighton have already received an apology, but that won't change the match's final scoreline. And that, when push comes to shove, highlights a current flaw in the Premier League VAR process. While having a high bar for intervention may seem like a good thing, swallowing the whistle is still making a decision.
Brighton were denied an obvious penalty, presumably because of Premier League VAR's focus on clear and obvious errors
Across the world of sports, soccer has a rather harsh system for violating the rules. If you commit a foul inside your own 18-yard box, it's a penalty kick. The contact could be innocuous, or the ball could be in a non-threatening position, but a foul in the penalty area will award the attacking team with an uninhibited shot at goal.
Through that lens, it's important that there's a reasonably high bar for giving penalty kicks. On Saturday, April 8, however, that bar was a bit too high.
In the second half of Brighton's visit to Tottenham, Spurs midfielder Pierre-Emile Hojbjerg and Kaoru Mitoma came together after a corner kick. The Japanese attacker went to ground, but referee Stuart Attwell waved for play to continue. While it was unclear how much contact there had been in real-time, replay confirmed that Hojbjerg had stepped on Mitoma's foot.
VAR, however, remained unmoved and allowed play to continue. The match was tied 1-1 at the time, and while there's no guarantee that Brighton would have scored from the penalty spot, it would have presented a fine chance for the visitors to take the lead. Instead, Harry Kane found the back of the net at the other end, and Tottenham took all three points.
While we don't know what was said between the on-field referee and the VAR, it's safe to assume that we ran into the Premier League's two favorite concepts: a high bar for intervention to avoid re-refereeing the match and the clear and obvious error.
I'll allow Dale Johnson, who writes a weekly column unpacking contentious Premier League VAR decisions for ESPN, to explain:
The Premier League has a high bar for intervention … and getting that judgement right isn't easy.

If Attwell, who had the perfect view, tells the VAR that he has seen the contact but he didn't feel there was enough for a penalty, that creates a problem. With the high bar, the VAR's own subjectivity is reduced; if the referee gives a good outline description of what happened, the VAR can get caught up in the protocol and miss an intervention. For the system to be effective, the VAR must have more conviction; sometimes if the referee's description fits it should still be obvious a mistake has been made.

Dale Johnson
Howard Webb, the chief refereeing officer for the PGMOL, has reportedly apologized to Brighton, which will give the club little solace. And it suggests an underlying point: as much as referees try to stay out of the way, the very nature of their job requires affecting the game.
Even when VAR fails to intervene, they are still making a decision
At this point in time, the issues with a clear and obvious error are well-documented, both in soccer and other sports. When you're talking about judgment calls — was there enough contact for a player to go down, for example — it's tough to reach an arbitrary standard. So, to avoid beating that dead horse, I'd like to focus my annoyance elsewhere: the high bar to intervention.
As I mentioned above, the principle is good in concept. No one wants to see a match stopped every five seconds in order to have VAR give small fouls or analyze which team should get an inconsequential throw-in. Trying to follow that guideline in all situations, however, doesn't work.
Let's consider Brighton's potential penalty kick again. While we don't know exactly what was said, it's safe to assume that the Premier League VAR guideline about not re-refereeing the game came into play. As Dale Johnson wrote, if Stuart Atwell said that he saw the contact and didn't think it was enough for a penalty, then it becomes easier to allow play to continue. At that point, you're confirming someone else's decision rather than raising an objection; I think we all know which one of those is easier to do.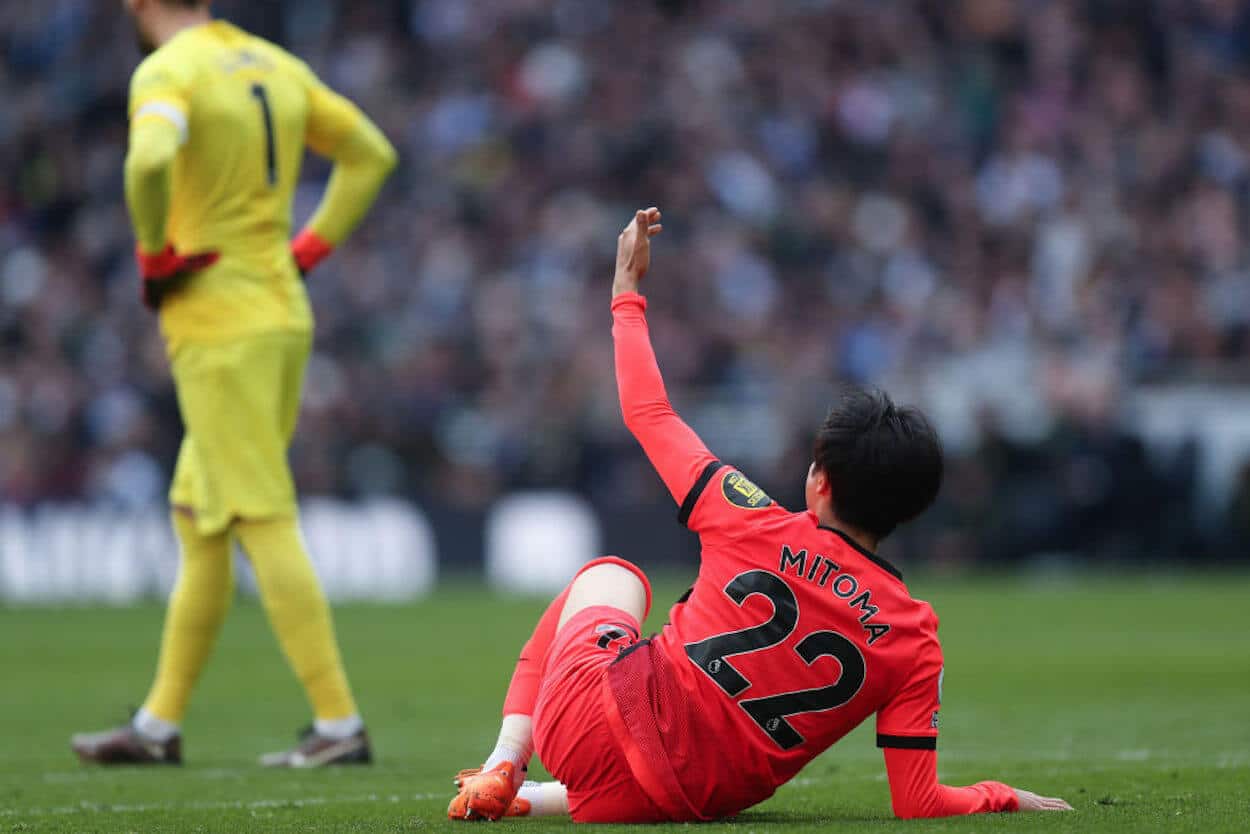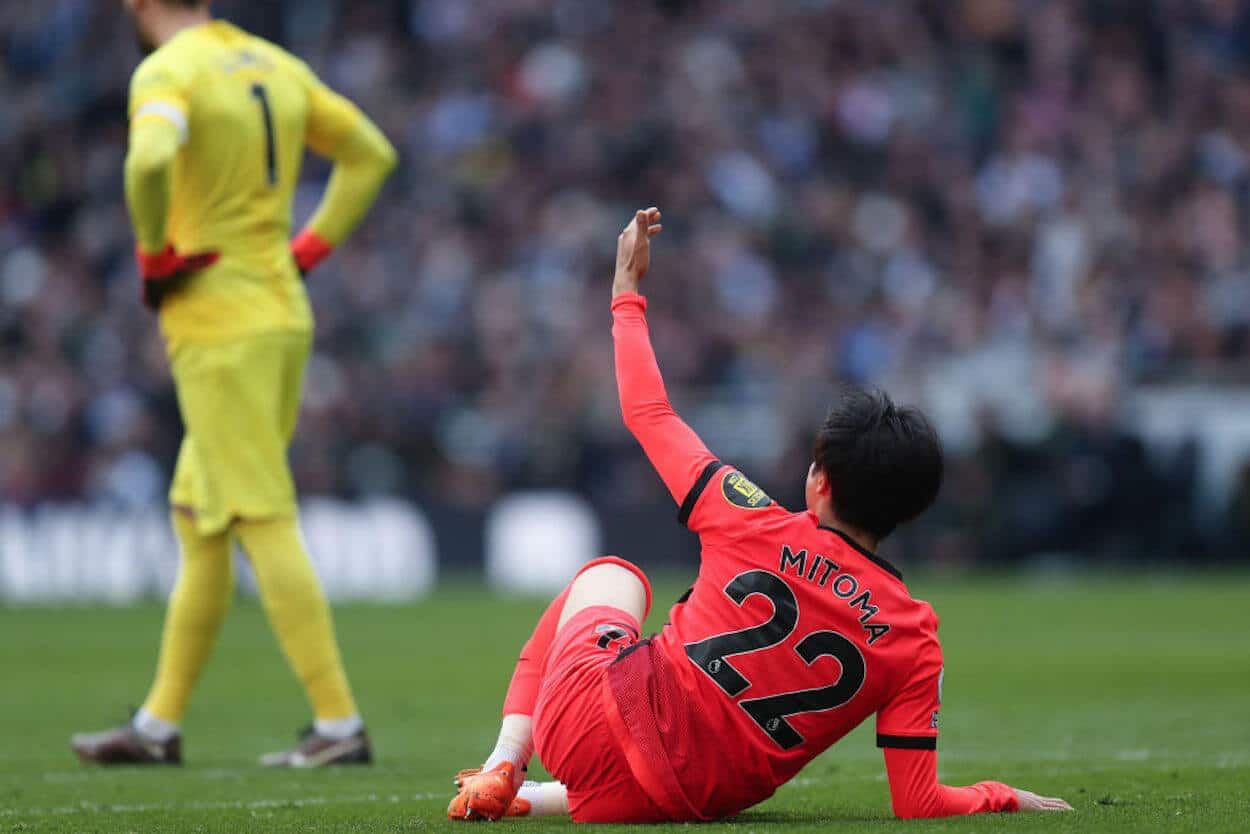 You can draw a parallel to the concept of "swallowing the whistle," which we see in North American sports. The underlying idea is that, in crunch time, referees will avoid making calls in an attempt to stay out of the way and let the players decide the outcome. Again, it's great in concept but falls apart under scrutiny.
What a referee doesn't call is almost as important as what they do call. Allowing physical play gives the tougher team the advantage. Looking the other way on holding gives the team with the ball a bit of extra latitude. Those failures to whistle can play just as big of a role as the referee calling a penalty. The former, however, feels easier. And, as always, referees are humans who are criticized at every turn. Who could blame them for wanting to play it safe?
And, yes, I'm conscious that I'm writing this from the safety of a computer while referees are standing front and center in front of millions of sports fans around the world. But the penalty incident on Saturday was so blatant that I, along with everyone else, could see it without any special expertise. The fact that the call remained unchanged is unacceptable.
So that leads me to point the finger at the ideas of a high bar for intervention and clear and obvious errors. They're well-guided, but if what we've seen is any indication, they don't lead to on-field results. To that end, I'd like to point out one unshakable reality: a no-call and a call can both be equally impactful.
VAR, like it or not, is there for a reason. If the goal is to avoid influencing the game, then the crew in the booth should just go home.