The $43 Million-Dollar Question: Is President Trump Good at Golf?
Donald Trump loves to boast about his properties, family, and his golf game. So far, the president has golfed more than 88 times while in office, and has cost the taxpayers roughly $43 million to do so. Aside from the fact that he said he wouldn't have time to golf when he became president, Trump seems to be getting a lot of time on the links. So the real question is: Is Donald Trump good at golf?
1. Donald Trump is a self-taught golfer
Donald Trump claims to have never consistently worked with any golf coach in his life. According to a Golf World article, Trump views the game of golf to be a very "natural game." He told Jaime Diaz of GW that "I never really wanted to know a lot about my technique. I really trust instinct a lot, in golf and a lot of things." That's very concerning considering that even the best golfers have a golf coach. But let's take a look at his short, middle, and long game before we jump to conclusions.
Next: His lack of training shows in his swing.
2. Trump drives like he is hitting an iron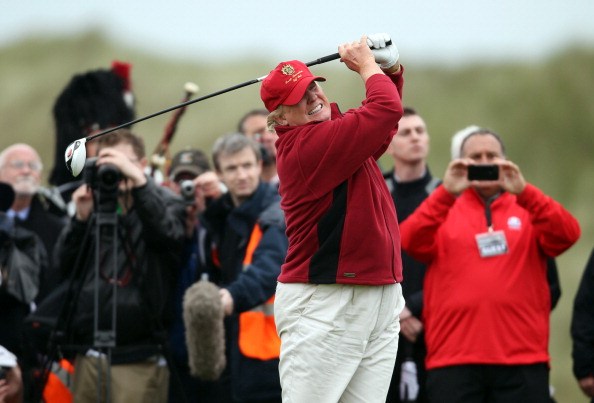 Most golfers will tell you that you need to keep your swing in a wide arc to ensure that you drive the ball far. For most beginners, this tends to lead to "long and wrong" swings, because it is difficult to maintain accuracy after striking the ball, and even though the ball travels far, it still ends up in the rough or out of bounds. Donald Trump tends to have a "steep downswing that that [produces] a low fade that is better suited to good iron play," according to Diaz. So his drive isn't great, but what he lacks in distance, he makes up for by consistently getting on the fairway.
Next: His middle-game isn't that bad, either.
3. He makes solid contact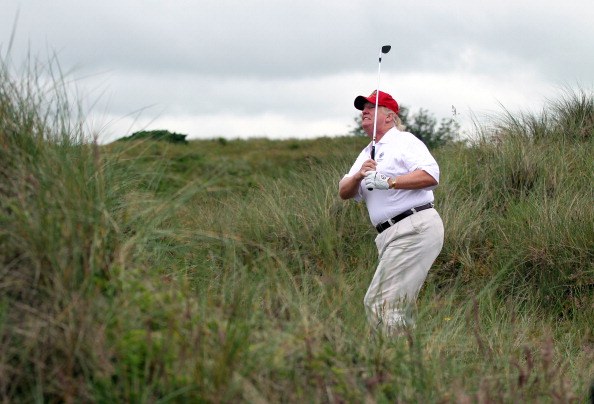 Trump's iron game is on point. As unfettered or unusual as his swing may be with the iron, he still manages to make solid contact with the ball. For him, it's because he clears the hips as fast as possible to get to the ball. That seems to be working out fine when you look at the videos.
Next: Trump claims his short game is the best (shocker).
4. Putting may not actually be the best part of his game
Trump often claims that the best part of his game has been his putting. But according to Jaime Diaz in that GW article, that wasn't the case when he played with Trump. Diaz thinks that Trump's long game fares better than his short, because his putting style features a "wristy release." For anyone who has been on the green, that can cause a handful of problems. Usually, you want to have a firm grip and follow through to putt straight. But if you break your wrist on release, you can send the ball in another direction.
Next: Here's a look at his handicap.
5. That would actually be a pretty good handicap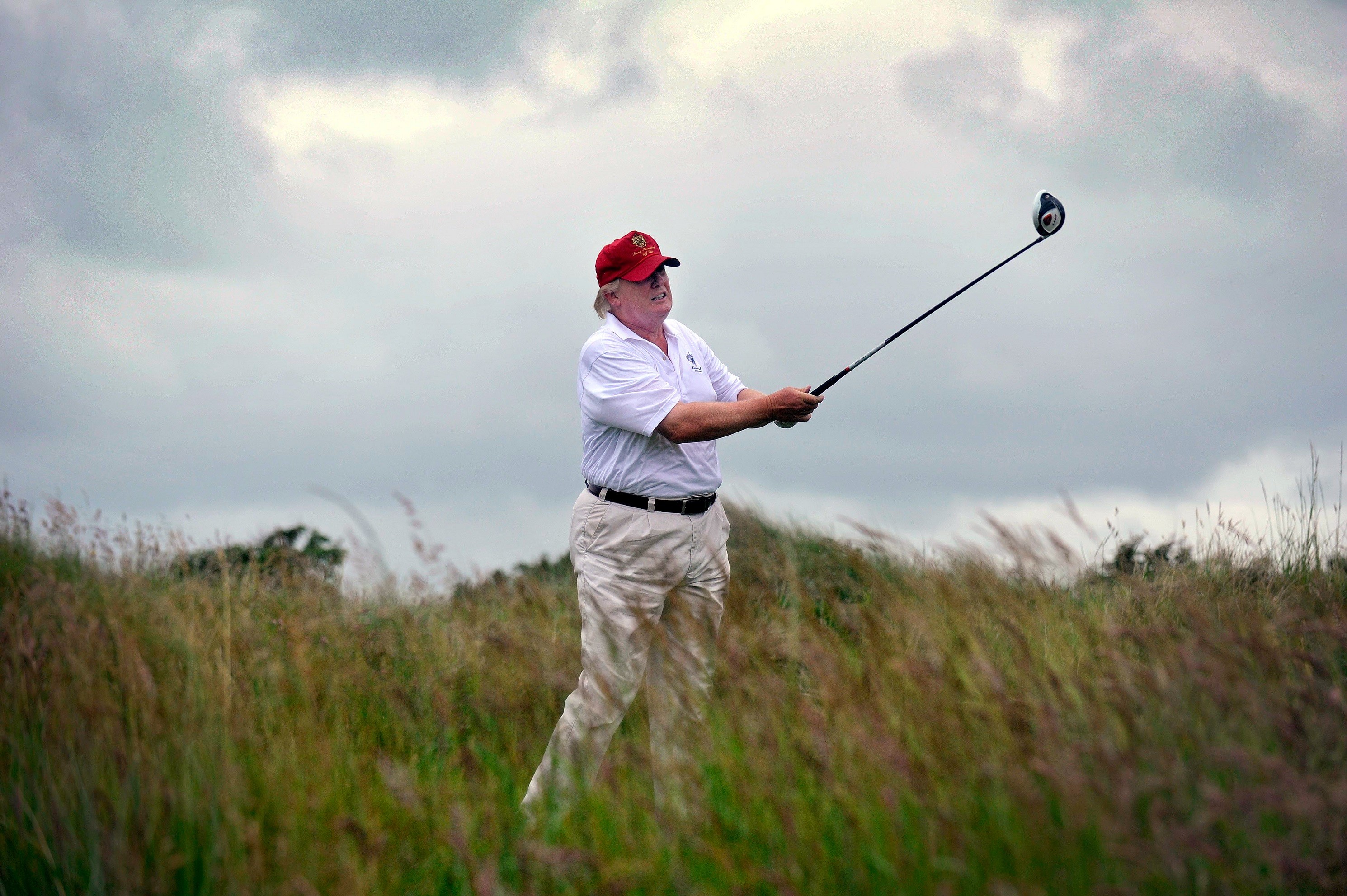 According to the United States Golf Association handicap tracking system, Golf Handicap and Information Network, Trump has a handicap score of 2.8. That is an extremely good handicap score, especially for a 71-year-old. That handicap does raise some questions, however. In the GHIN, there are only 20 report cards for Trump, and we all know that he's golfed a lot more than that. That raises even more questions about his honesty as a player.
Next: Did Trump really shoot a 73 in the wind and rain?
6. Trump's questionable score of 73
Embed from Getty Images
In October of 2017, Senator Leslie Graham tweeted that Trump scored a 73 in the wind and rain. That would be absolutely incredible if he actually did. For comparison, Hale Irwin, a 72-year-old PGA golfer, shot an average of 73.o6 in 2017 across seven championship tournaments. Yet Trump was able to get that score in inclement weather. There is no proof that Trump cheated that day, or that Graham lied about the score, but it does raise some eyebrows. Kind of like when Kim Jong Il shot a 38 under par in his first round of golf ever.
Next: But is Trump honest with his scoring?
7. Trump allegedly cheats a lot
We all have been out on the course and taken a mulligan, breakfast ball, or called a putt a "gimme." Sometimes we also get a little fuzzy when filling out the scorecard, thanks to the booze cart running around the course. But those are all sort of expected when you're just playing a casual game. But never to an extreme.
When it comes to Trump, it turns out he cheats a lot. In his book Who's Your Caddy?, former caddy Rick Reilly says "when it comes to cheating, [Trump] is 11 on a scale of 1 to 10." That statement has been echoed by others as well, claiming that he takes extreme privileges with what one might call a "gimme putt," or where a ball lies.
Next: Extreme trigger warning on the next page to any golfer reading this. …
8. Trump breaks this cardinal rule of golfing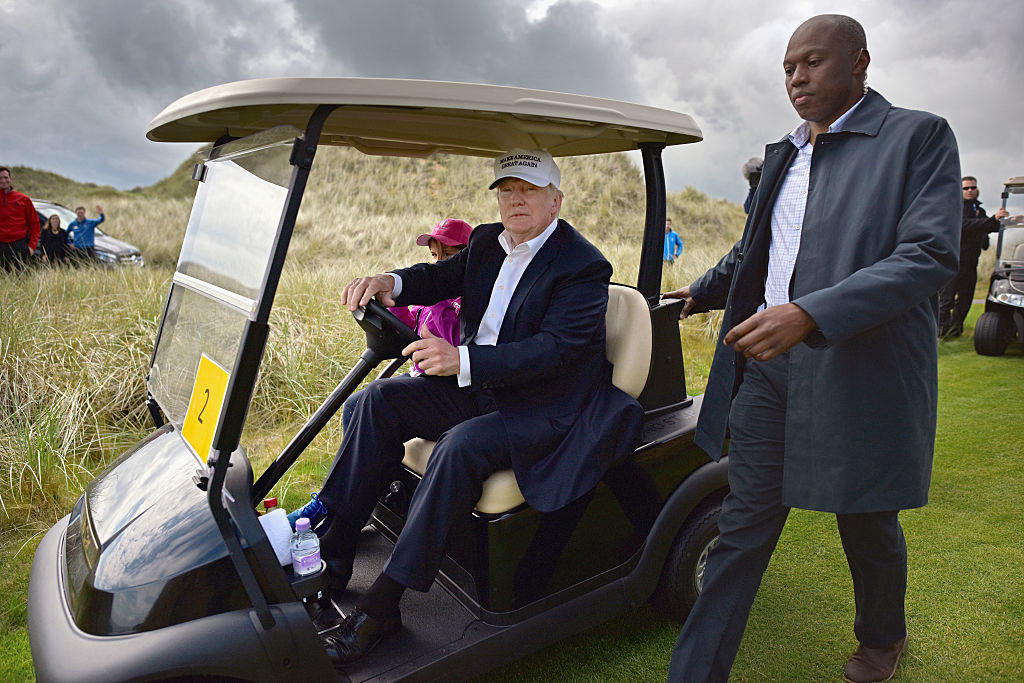 Oh, the humanity! This man has very little respect for the game, the golfers, or even the course that he is playing on. In this video posted to Twitter, you can see Donald Trump drive his golf cart onto the green! Who would dare break that sacred rule? There are some rules which should never be broken, just like the foreign emoluments clause in the Constitution.