Preston Smith: The Green Bay Packers Kept the Right 'Smith Bro'
The "Smith Bro's" are no longer a thing for the Green Bay Packers. As the Packers continue to try to work some salary cap magic, the team has cut Za'Darius Smith while at the same time extending the other half of the duo, Preston Smith.
While Za'Darius is undoubtedly the more prominent name of the two, and he's put up more numbers for the Packers, Green Bay has made the right move by keeping Preston instead of him.
Here's why.
The Green Bay Packers have cut star pass-rusher Za'Darius Smith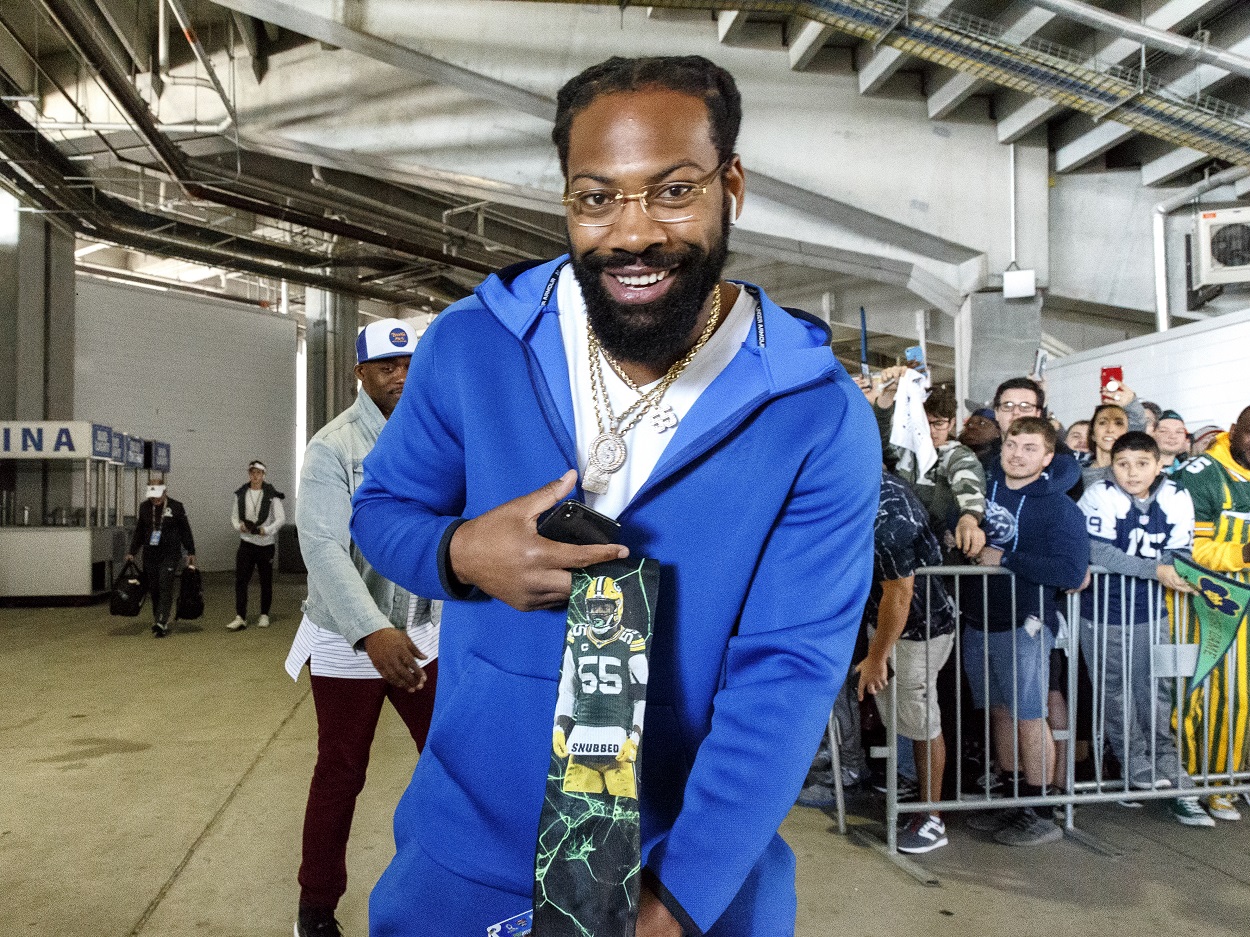 General manager Brian Gutekunst took a shot on Za'Darius Smith as a free agent in 2019. The dynamic pass rusher was coming off his best year as a pro (8.5 sacks), but he was more of a complementary piece for the Baltimore Ravens than a true pass-rushing cornerstone.
Gutekunst saw his combination of speed and athleticism, though, and he envisioned Green Bay's star pass rusher of the future.
Smith immediately proved Gutekunst a scouting genius in his first season with the Packers. He notched 13.5 sacks in his Green Bay debut, adding 55 tackles and a forced fumble. Smith was unceremoniously snubbed from the 2019 Pro Bowl. He was ultimatly brought in as an injury replacement, but he used that snub to fuel another great year in 2020.
Smith one was of seven Pro Bowlers for Green Bay in 2020, marking his first outright selection to the game thanks to a season that saw him secure 12.5 sacks, four forced fumbles, and two fumble recoveries. 
In just two seasons, he had quickly become one of the premier pass rushers in the NFL, but his production was cut short in 2021 because of a back injury he suffered during training camp.
Ironically, Smith played in Green Bay's first and last game of the 2021 campaign, but in total, he missed 16 games with the back injury.
While he showed off his usual explosiveness and playmaking ability in the playoff game he made it back for, securing a sack in limited snaps, Green Bay really had no choice but to let him go this offseason. The Packers have been facing a salary cap crunch, and with the way Smith's contract was structured, they were able to save $15.2 million by letting him go.
The Packers made the right move extending Preston Smith
Za'Darius Smith will now become a free agent, while his partner in crime, Preston Smith, has re-upped with the Packers.
While on paper, it would seem as if the Packers let the wrong Smith brother walk, Preston has been equally as important to the team over the past few seasons.
He came out of the gate swinging in 2019 with 12 sacks but then looked a bit out of shape and didn't produce as much in 2020, securing just four sacks.
The bounce-back season he put together in 2021 tells you everything you need to know about Smith as a person and a player, though.
The Packers restructured his contract in 2021 in order to clear cap room, which took his base salary and bonus and turned them into production incentives. 
Smith was humbled due to the poor season and then took a potential hit to his pocketbook because of the restructure.
Not only did he bounce back in 2021, but he proved to be one of the most valuable players on Green Bay's defense. He finished the 2021 season with nine sacks, two forced fumbles, a fumble recovery, and 38 tackles. Most importantly, though, he thrived in new defensive coordinator Joe Barry's system. Oddly, Mike Pettine used Smith a bunch in coverage as a drop-back linebacker. He's at his best when he's able to use his strength and speed to get after the quarterback, though, and that's how Barry utilized him in 2021. Smith also showed significant improvement as a run stopper on the edge, where his size and strength really came into play.
If the Packers had to choose between the Smith brothers, which is likely a possibility considering the cap crunch, they chose the player who had the better 2021 season and isn't coming off a significant back injury.
It just makes sense.
Preston Smith had one season left on his current contract. Per ESPN, the extension he signed is worth $52.5 million over four years.
"Smith will make $25 million over the next two seasons with the chance to earn $31 million with incentives," Rob Demovsky reported. "The entire deal could earn Smith up to $71 million over five seasons should he reach all of the incentives."
Preston Smith will be a big part of the future in Green Bay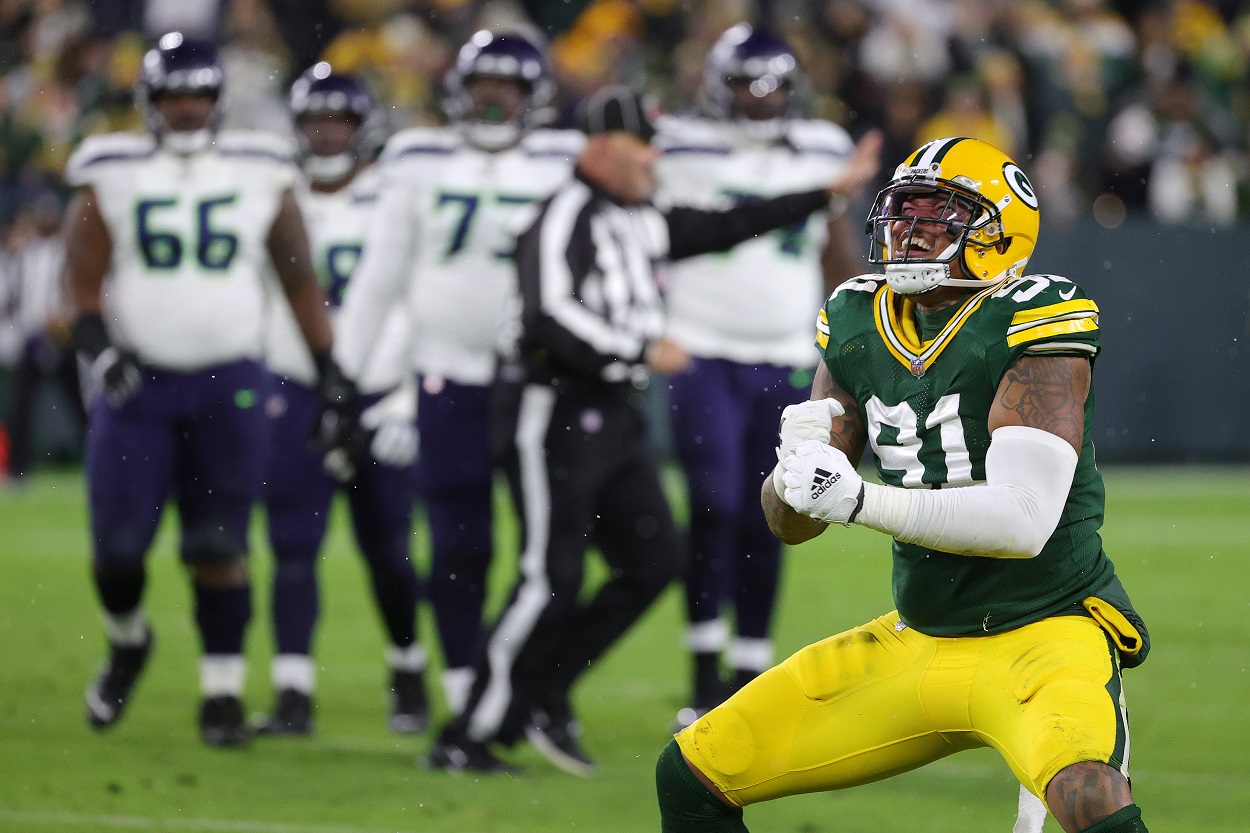 With Rashan Gary on the edge of superstardom, Green Bay has solidified its past rush for 2022 and beyond by keeping Preston Smith in the fold.
The good thing from Green Bay's perspective is that even if he fades toward the end of the contract, there are some contract factors that work in Green Bay's favor, including roster bonuses and per active game bonuses that Smith would have to earn. There are also small dead cap numbers in 2025 and 2026 ($4.8 million and $2.4 million, respectively).
In the meantime, though, Smith provides a veteran pass-rushing presence across from Gary, who will force offenses to respect both sides of the Packers' defensive line. That will free Gary up to use his otherworldly speed and athleticism to wreak havoc on the other edge without having to worry about as many double teams and chipping backs.
Smith will also be a valuable mentor for any pass-rusher the Packers decide to bring in through the 2022 NFL Draft. Preston, along with Za'Darius had proven to be invaluable to the growth and development of Gary over the past few seasons. Gary and Preston Smith can now come together and be a valuable resource if the Packers decide to take one of the better pass-rushers high in the draft.
In all, losing Za'Darius Smith hurts not just because of his star power but because of his pass-rushing potential. Still, there are plenty of reasons to believe that Preston Smith will continue to be an incredibly valuable member of the Green Bay Packers defense moving forward.
Stats courtesy of ESPN and Pro Football Reference. Contract information via Spotrac
RELATED: Ranking the Green Bay Packers' Top 5 Free Agents to Re-Sign by Importance