Previewing Manning vs. Brady, Round 16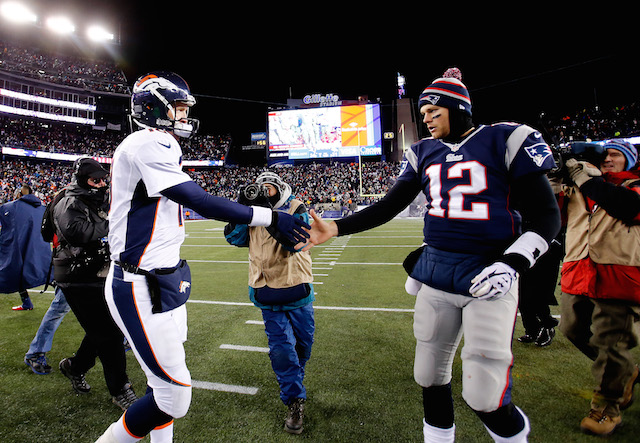 In a bit of not-so-shocking news, the New England Patriots and Denver Broncos have been the best teams in the AFC through Week 8 of the 2014 NFL season. The Patriots got off to an uncharacteristically slow start to the season but have really turned it on as of late, while the Broncos, aside from a road loss against the defending Super Bowl champion Seattle Seahawks, have been dominant all year. The quarterbacks of both franchises also happen to be the biggest names in professional football over the past 15 years.
Based on stats alone, Tom Brady would be a Hall of Fame quarterback. Throw in his knack for winning big games and winning in the postseason, and you have a player who is considered by many to be the best quarterback of all time. Brady has led the Patriots to five Super Bowl appearances and three Super Bowl titles in his 15 seasons in New England. The former sixth-round draft pick has gone from improbable NFL starter to first-ballot Hall of Famer and is one of the greatest players in NFL history.
When Peyton Manning hangs his cleats up, he will be statistically the best quarterback to ever play the game, by an extremely wide margin. Don't let that statement cause any confusion though: Manning has been far more than just a Dan Marino-esque stat-sheet stuffer in his 16 NFL seasons. Manning has three trips to the Super Bowl, one Super Bowl ring, 173 regular season wins, and 11 playoff wins to his name. What's even crazier about Manning's storied career is that, like a fine wine, he seems to be getting better with age.
All statistics are courtesy of Pro-Football-Reference.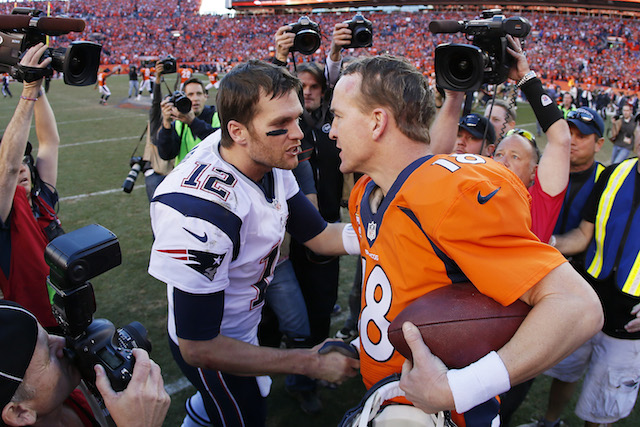 Round 16
In Week 9, we will get to witness Round 16 of the Brady-Manning rivalry when the New England Patriots host the Denver Broncos at Gillette Stadium in Foxboro, Massachusetts. Brady holds the edge in the series, with a 10-5 record in games against his friendly rival dating back to Manning's days with the Indianapolis Colts. Manning and the Broncos won the last matchup — the 2014 AFC Championship Game in Denver in January — and Manning will be looking for his first win at Gillette Stadium as a member of the Broncos against Brady this week.
Looking ahead to the playoffs, this round of the rivalry is on the verge of being a must-win game for both teams. As the top two contenders for the top seed in the AFC playoffs, this game could decide who gets home-field advantage throughout the postseason, something that has proven to be a major advantage when Brady and Manning face off in the playoffs.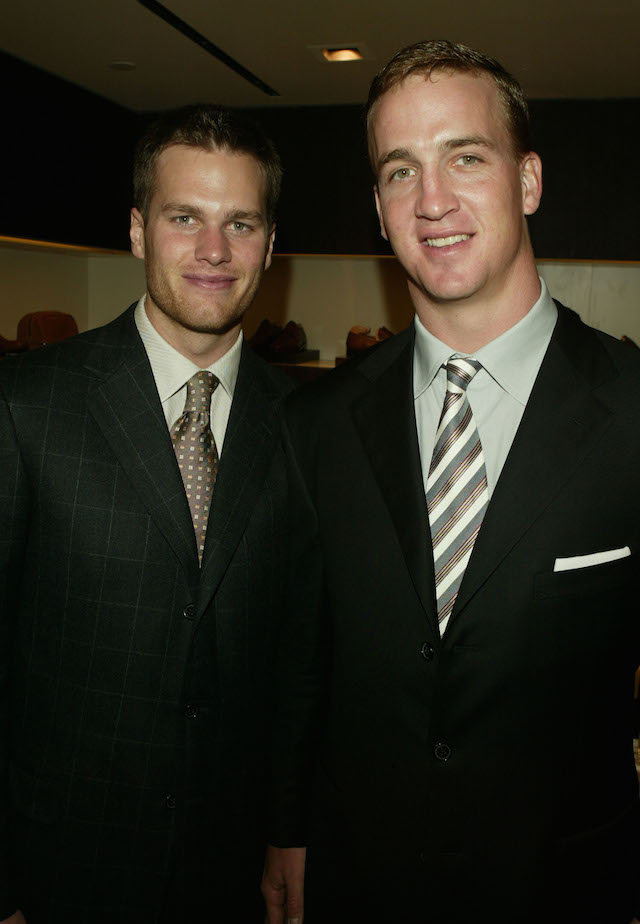 By the numbers
The Broncos enter the game as three-point favorites with a 6-1 record, while the Patriots come in at 6-2 (4-0 at home). Here is a quick rundown of the 2014 major team statistics and NFL rankings heading into the game.
New England offense:
363.1 total yards per game (10th)
29.8 points per game (third)
Denver offense:
398.4 yards per game (sixth)
32 points per game (first)
New England defense:
340.5 yards per game (12th)
22.1 points per game (14th)
Denver defense:
315.3 yards per game (fourth)
20.3 points per game (sixth)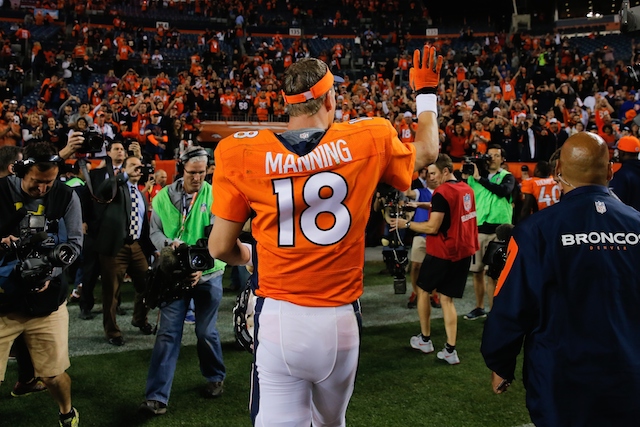 Now, let's take a look at the 2014 season statistics for the two players who will be headlining this game.
Tom Brady:
64.4% completion rate
2,059 yards
248.1 yards per game
18 touchdowns
2 interceptions
104.7 quarterback rating
Peyton Manning:
69% completion rate
2,134 yards
297 yards per game
22 touchdowns
3 interceptions
119 quarterback rating
Brady has been flat out on fire in his last three games (976 yards and 12 touchdowns), but then again, so has Manning (841 yards and 10 touchdowns). Brady has re-established his connection with All-Pro tight end Rob Gronkowski, while Manning has a plethora of All-Pro caliber targets to throw to. The X-factor in this game could be the Broncos' explosive pass rush, which has been game-changing in 2014.
We all saw what happened to the Patriots in Week 4 (a 41-14 loss) when the Kansas City Chiefs' pass rush humiliated New England's offensive line and harassed Brady all game long. The Broncos' combination of Von Miller and DeMarcus Ware have been the best edge-rush duo in the NFL this season, meaning that containing them will likely be the Patriots' biggest obstacle on Sunday.
There are storylines all over the field in this matchup — Wes Welker and Aqib Talib returning to New England, Josh McDaniels coaching against the team he ran into the ground, etc. — but regardless of anything else that may be going on, this is first and foremost going to be another chapter in arguably the best quarterback rivalry of all time.