Pro Bowl QB Justin Herbert Has Shawne Merriman Excited About the Chargers' Future: 'It's Downright Scary What He's Going to Be Capable Of'
Article Highlights:
Former Los Angeles Chargers linebacker Shawne Merriman is extremely impressed with young quarterback Justin Herbert
Merriman told Sportscasting he doesn't think football fans have seen the best of the Pro Bowl signal-caller yet
Herbert has already cemented himself as a quarterback to watch in 2022 and beyond
When all is said and done, the narrative won't be that the Los Angeles Chargers chose Justin Herbert as their franchise quarterback. Instead, the Oregon product's legacy could be that he fell to LA in the 2020 NFL Draft.
In hindsight, the Miami Dolphins are likely regretting selecting former Alabama Crimson Tide star Tua Tagovailoa with the fifth overall pick in 2020. That move allowed Herbert, the long-haired, 6-foot-6 gunslinger from Oregon, to go sixth overall and join the Chargers.
Nearly two years later, former Chargers linebacker Shawne Merriman is grateful for his team's recent fortune.
Former Chargers star Shawne Merriman is extremely impressed with Justin Herbert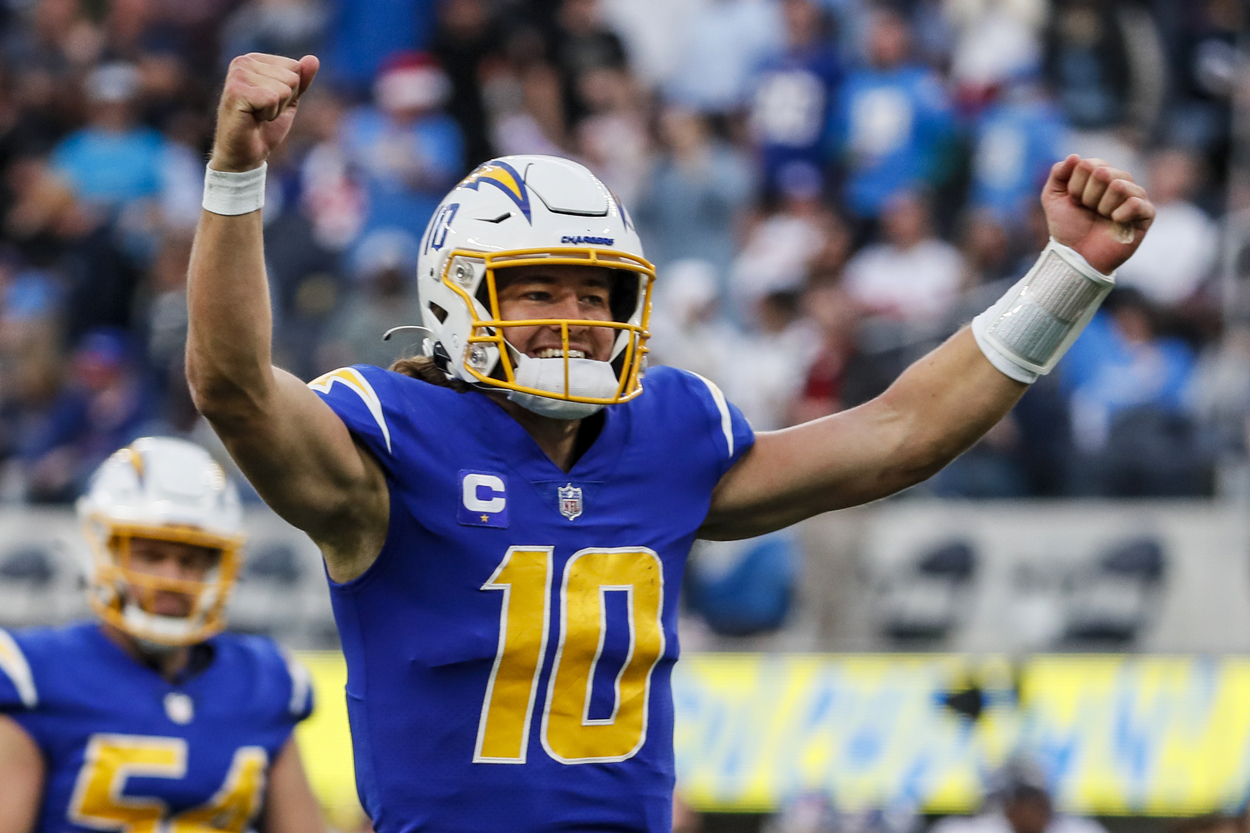 Herbert mostly avoided the sophomore wall in his second NFL season, completing 65.9% of his passes for 5,014 yards, 38 touchdowns, and 15 interceptions. At only 23 years old, he joined Kansas City Chiefs star Patrick Mahomes as the only quarterbacks to join the 5,000-yard club within their first two NFL seasons.
Despite narrowly missing the postseason, Herbert did more than enough to impress Merriman, who played alongside a young Philip Rivers in the late 2000s. In a recent interview with Sportscasting, the former All-Pro linebacker shared why he feels the second-year quarterback's future is so bright.
"The scary part is we haven't seen the best of him because we haven't seen what he's truly capable of doing. We see the numbers and those types of things, but I don't think we've seen him completely take over a game yet. He's getting more comfortable being a franchise guy and being the face and just being in that situation, but when he really comes into his own, it's downright scary what he's going to be capable of."

Shawne Merriman
Although Herbert threw five more interceptions in 2021 than he did in 2020, he added nearly 700 more yards and seven touchdowns in two more games.
Merriman has every reason to start wondering what Herbert's next step is
The significant knock against Herbert right now is that, unlike Cincinnati Bengals star quarterback Joe Burrow, he's yet to reach the postseason. Had Chargers head coach Brandon Staley not called a timeout late in Week 18, perhaps Herbert and teammates would have replaced Burrow's Bengals as the AFC team of destiny.
The Chargers wouldn't have gone as far as they did in 2021 without their young quarterback, and we're not being hyperbolic in the slightest. Herbert established his place as one of the league's top young quarterbacks and shredded opposing defenses throughout the season.
Perhaps what stands out most about Herbert is that, even at his young age, he doesn't fear the spotlight or the circumstances. He led the upstart Chargers to a road upset over Mahomes and the Chiefs in Week 3. Despite trailing by 15 with over eight minutes left in the Week 18 finale, Herbert engineered two late-scoring drives and forced an extra period.
If Herbert was capable of accomplishing everything he did in his first two seasons, what can he do in 2022?
Herbert and the Chargers have already emerged as a team to watch in 2022
The AFC is already looking much different in the post-Tom Brady era. The Buffalo Bills and Tennessee Titans have established themselves as teams that don't intend to go away anytime soon. Burrow and the Bengals reached the Super Bowl in the third year of a rebuild which began when the team fired Marvin Lewis after the 2018 season.
Are the Chargers destined to join the ranks of the contenders? The franchise already knows they have a quarterback, so that should certainly help any optimism.
Herbert and the Chargers know they'll enter next season with something to prove after losing three of their final four games and missing the postseason. The proverbial chip on their powder-blue shoulder could go a long way in helping them re-establish their place on the AFC's tower of contenders.
During a Feb. 3 interview with NFL Media's Cameron Wolfe, Herbert made it clear he's using the "pain" of losing in Week 18 to motivate him throughout the coming offseason. That is bad news for the rest of the AFC, but it should be precisely what Merriman and the Chargers faithful want to hear ahead of what could be a long offseason.
Like Sportscasting on Facebook. Follow us on Twitter @sportscasting19.
RELATED: Chargers Legend Shawne Merriman Gets Honest on "Roller-Coaster" Season Finale While Slamming the Brandon Staley Haters