Pro Bowl Safety Jamal Adams May Have Unintentionally Saved the Seahawks From a Risky Franchise-Altering Decision
Article Highlights:
The Seattle Seahawks' decision to acquire Jamal Adams in 2020 could have a drastic impact on the post-Russell Wilson era
The 3-6 Seahawks won't have their own first-round pick to use on a quarterback in the 2022 NFL Draft
Giving up two first-round picks for Adams may have saved the Seahawks from themselves
Considering the Seattle Seahawks overpaid for Pro Bowl safety Jamal Adams both in terms of trade value (two first-round picks and a fourth-round pick) and financially ($70 million over four years), it's hard to look at the move over a year later and offer any real praise.
In theory, that could change in the coming months if the Seahawks overcome a 3-6 start and somehow win Super Bowl 56, but it's looking more like Adams and teammates will be home this winter. Missing the postseason could accelerate the franchise's plans for the post-Russell Wilson era and whatever that may hold.
If the Seahawks do decide to move on from their legendary quarterback, they can at least thank Adams for saving them from themselves. Here's what we mean.
The Jamal Adams trade means the Seahawks, in theory, can't reach on a quarterback in the 2022 NFL Draft
In July 2020, the New York Jets fleeced the Seahawks and acquired two first-round picks, including one in the 2022 NFL Draft, in exchange for a linebacker who says he plays safety. Congratulations to the Jets for doing something right.
When the Seahawks made that move, they understandably expected to be competing for a Super Bowl title this season. However, Wilson's finger injury and an inconsistent offense doomed Seattle to a 3-6 start. ​​If the draft occurred today, the Seahawks' seventh overall pick would go to the miserable Jets.
Adams unintentionally may have protected the Seahawks from themselves. Although they can always trade up into the first round or trade Wilson for numerous picks (more on that soon), the franchise cannot use their own first-round pick– one which, depending on how they finish, could be among the first five selections — on a quarterback.
Unlike recent years, there is no elite quarterback prospect at the top of the draft. Instead of Joe Burrow and Trevor Lawrence, we have Matt Corral and Malik Willis; both quarterbacks, while talented, aren't even close to being in the same tier. Neither those two, nor Pittsburgh's Kenny Pickett or North Carolina's Sam Howell, are ideal fits for a Seahawks organization that is yet to begin rebuilding.
The Seahawks can take a safer approach, at least for 2022, to rebuilding in the post-Wilson era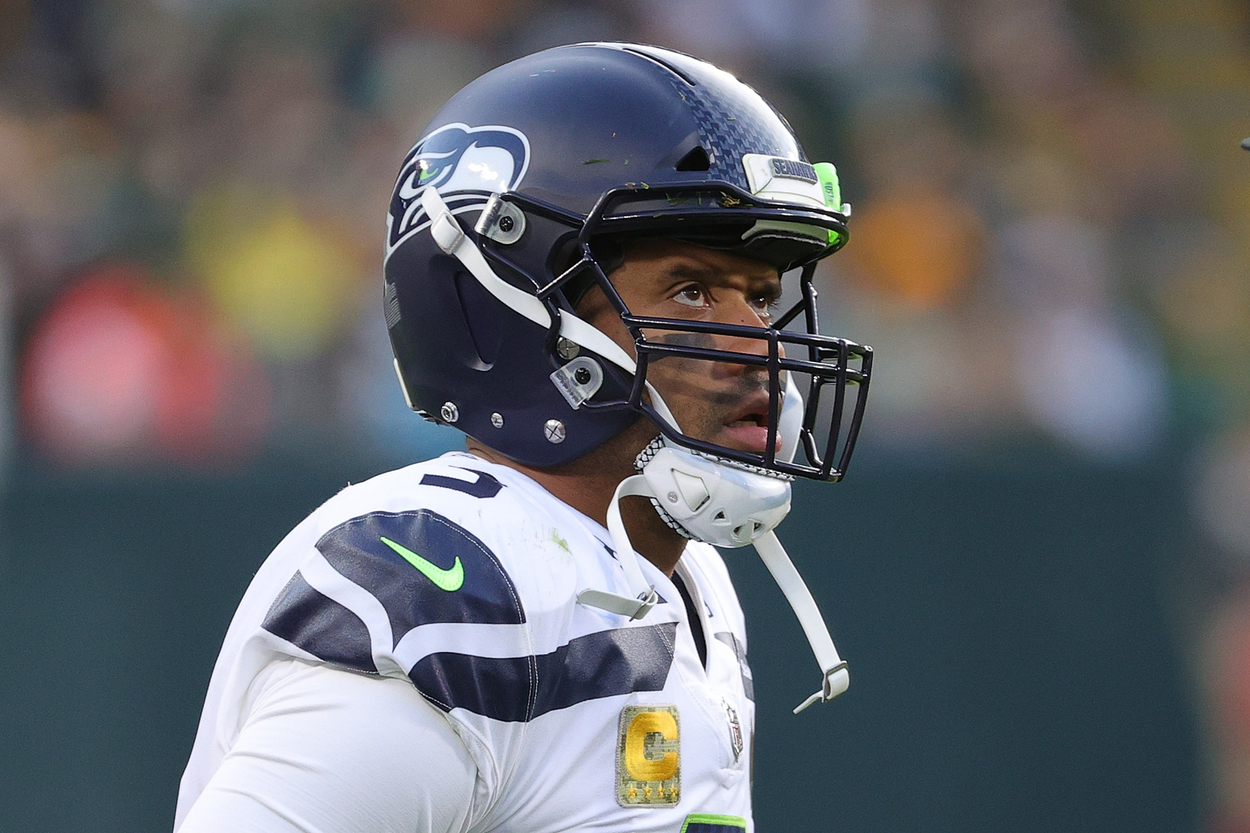 Dan Patrick reported earlier this year that the Chicago Bears offered three first-round picks, a third-round pick, and two starting players in exchange for Wilson's services. Let's assume, as dangerous as that is, that a team will be willing to make a similar package in the spring of 2022.
If the Seahawks made that move, they could focus on beginning the rebuild in style. Without even guessing what position the two starters would play, we can assume Seattle could use the first-round pick to address either the offensive or defensive line. It makes far more sense for the team to fill in those holes rather than add a young quarterback and immediately throw him into the fire.
As for what they'd do at quarterback, Seattle can go one of two routes. The first is to sign a veteran quarterback, someone like Jimmy Garoppolo (if he becomes available) or Marcus Mariota, and let them and Geno Smith, who filled in admirably during Wilson's absence, battle it out while keeping an eye on the 2023 draft.
Conversely, Seattle could keep Smith and select a quarterback midway through the draft in hopes of grooming him to start in 2023. Although it's not the best strategy, perhaps the Seahawks will fall in love with the likes of Western Kentucky's Bailey Zappe (70.9 completion percentage with 4,170 yards, 42 touchdowns, and seven interceptions in 10 games) or a fast-rising FCS prospect. Stranger things have happened.
Or, of course, the Seahawks can simply keep Wilson and try to win another ring in 2022. However, the idea of trading a 32-year-old quarterback to accumulate much-needed draft assets may be too appealing to pass up.
Seattle is almost certainly stuck with Adams in a potential rebuild
Even if the Seahawks trade Wilson, they're almost certainly stuck with Adams going forward. We'll let you determine whether or not that's a good thing.
We say that with respect to Adams, who is a three-time All-Pro selection for a reason. The Seahawks overpaid for him to play safety when, if you look at his 6-foot-1, 213-pound frame and his skill set, he's truly more of an outside linebacker. His lack of interceptions and high sack total across the last two seasons prove that much.
For all we know, having Adams — who only turned 26 in October — under contract through 2026 could help the Seahawks in a rebuild. Unfortunately for Seattle, they'll have to work with significant dead cap space if they trade him before 2024, when it falls to a slightly more manageable $8 million.
We understand that all of this may sound horrible and terrifying to Seahawks fans. At least they can take solace knowing that they don't root for the Jets.
Like Sportscasting on Facebook. Follow us on Twitter @sportscasting19.