A Pro Bowler Foolishly Claims Tom Brady Is Not the GOAT: 'I Don't Think Quarterbacks Are in That Realm'
Whether you love Tom Brady or you hate him, it's too easy to make a case for him to be one of the greatest football players of all time. Even at 44 years old, he's at the top of his game. However, New Orleans Saints defensive end Cameron Jordan isn't buying Brady's case as the GOAT.
Jordan took a shot at the future Hall of Famer and quarterbacks in general.
Cameron Jordan claims Tom Brady is not the GOAT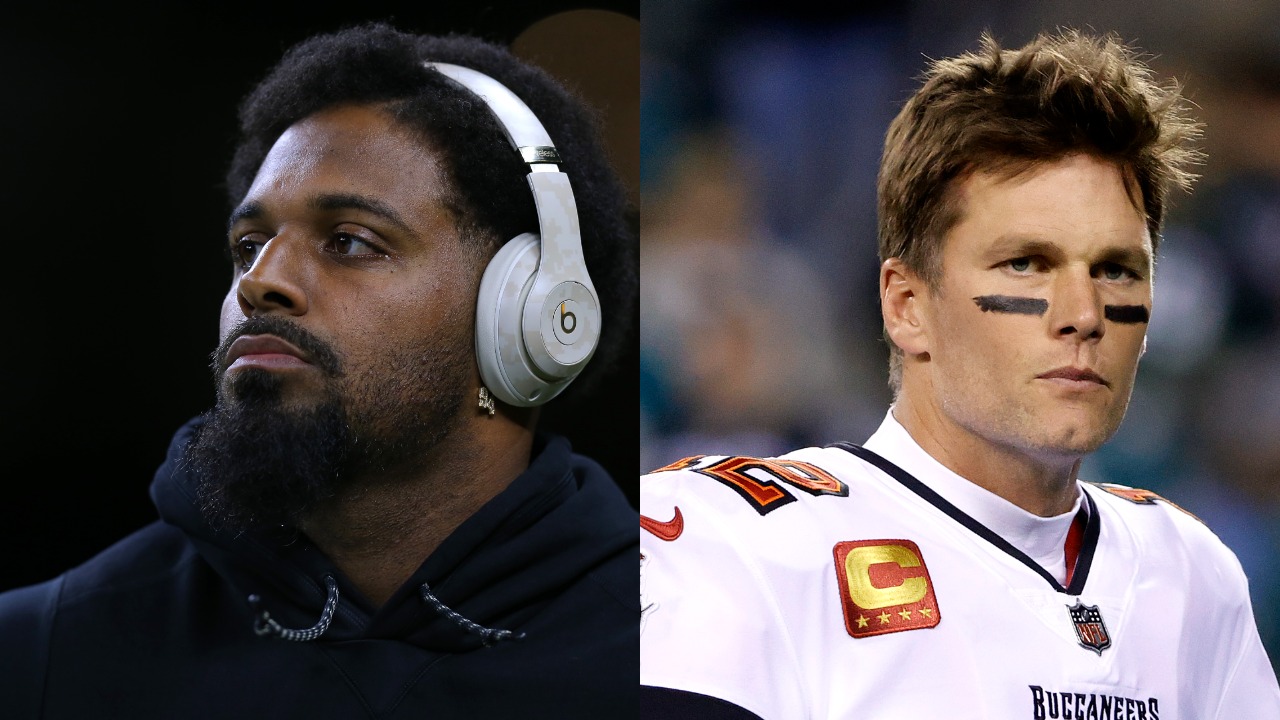 Cameron Jordan has proven that he's an opinionated player. He's not afraid to toe the line and provide hot takes. He delivered his most recent take on Bleacher Report's Full Bodied segment with ex-NBA player Channing Frye.
Frye asked the All-Pro defensive end if he thought Tom Brady was the GOAT. His response might raise some eyebrows.
"He's the most accomplished," said Jordan. "But if you look at stat lines, throws, whatever it is, you wouldn't be like, "he's clearly top two."
The Saints star doubled down and definitively argued that Brady can't be the GOAT. "I look at Tom, and I'm like, 'most accomplished ever,'" he said. Jordan doesn't believe the Tampa Bay Buccaneers signal-caller could possibly be included in that conversation because he lacks athleticism.
Jordan took his claim even further. He suggested that no quarterback qualifies. "I don't think quarterbacks are in that realm of GOAT talk," he said. "Because I think they can Ben Roethlisberger this thing. They can be possible Hall of Famers."
Grouping Tom Brady and Ben Roethlisberger together is a bold move.
The Saints defensive end thinks more highly of athletes like Deion Sanders
While Cameron Jordan threw shade at Tom Brady for not being a superior athlete, he somewhat clarified his definition of a true GOAT.
"When I think GOAT, I think like Deion Sanders," said Jordan. "I think athletically, like, a gift from God. Like one of those Megatrons [Calvin Johnson], one of the APs [Adrian Peterson], you know, the Bo Jacksons."
The six-time Pro Bowler argues that to be the GOAT, a player has to pass the eye test, too. You can just look at guys like Deion Sanders, Calvin Johnson, and Bo Jackson and tell they are elite athletes. However, greatness comes in many forms.
While Jordan makes some valid points, there is a glaring hole in his argument. Today's NFL is full of dual-threat quarterbacks like Lamar Jackson, Kyler Murray, Josh Allen, and Deshaun Watson. These guys play a completely different game than TB12 and Big Ben. Still, they play the quarterback position.
It's not surprising to hear Cameron Jordan downplay quarterbacks, considering he hunts them down for a living.
No matter the position, though, it's hard to deny Tom Brady's greatness. What he lacks in athletic ability, he makes up for it with high football I.Q., arm talent, and mental fortitude.
Brady is a GOAT, regardless of position
Cameron Jordan is right about one thing. No one will ever confuse Tom Brady with an elite athlete. However, he's an elite football player, which is what matters.
The 22-year veteran (which is insane) has a resume that no player in NFL history can match.
Brady has passed for 81,854 yards, 606 touchdowns, and just 196 interceptions in 309 career games. The San Mateo, California native has earned 14 Pro Bowl and three All-Pro selections. He's also a three-time NFL MVP winner.
Brady has won seven Super Bowls and was named the MVP in five of them. Simply put, the guy is a winner. He further proved that when he went to Tampa Bay and led the Bucs to a victory in Super Bowl LV.
TB12 defied the odds as a former sixth-round draft pick of the New England Patriots. He continues to do so by eluding Father Time for as long as he has.
Numbers and rings don't lie, Cameron Jordan. Tom Brady is the greatest quarterback of all time and one of the best players ever to step foot on the gridiron.
All stats courtesy of Pro Football Reference