Retired Pro Bowler Thinks New England Patriots Have Their Next Tom Brady: 'He Could Be a Great One in the Making'
New England Patriots quarterback Mac Jones is never going to get out of the shadow of Tom Brady.
It's just part of being "the guy" after "the guy." Cam Newton's stint as a Patriot provided a small buffer, but everyone knows Bill Belichick drafted Jones to be his next Brady
While there's undoubtedly a ton of pressure on Jones, those comparisons aren't always a bad thing.
Mac Jones was basically bred to play for the New England Patriots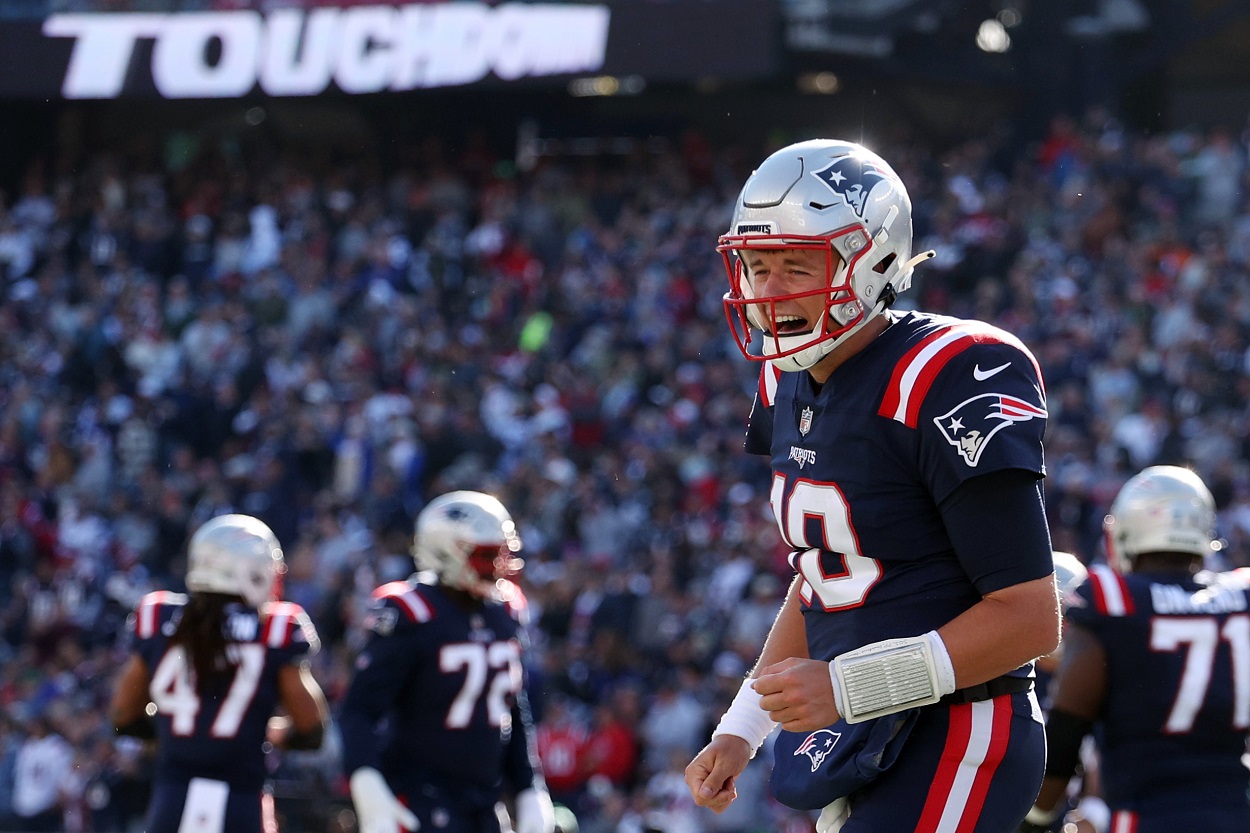 Jones didn't get the hype coming out of the NFL draft like Trevor Lawrence, Zach Wilson, or Trey Lance, but he arguably deserved it.
He came from easily the best position in college. Having backed up Jalen Hurts and Tua Tagovailoa at Alabama, he became Nick Saban's starter his junior year. That's the most pro-ready system in college, and Saban runs his squad like they're already in the NFL. Not only did Jones come from that system, but he thrived at Alabama. He was a consensus first-team All-America selection and was a Heisman Trophy finalist. Long gone are the days of Alabama quarterbacks simply handing the ball off and tossing the occasional play-action pass. Jones threw for 4,500 yards and 41 touchdowns with just four interceptions in 2020.
Jones went from Saban as head coach to Belichick. No other transition could have prepared him better for playing and thriving in New England's system.
He's a rookie, so he hasn't been perfect, but he's helped lead the Patriots to a five-game win streak, and they're definitely in contention with the Buffalo Bills for the top spot in the AFC East.
Jones has thrown for 2,540 yards and 14 touchdowns this season for the Patriots. Though he has also thrown eight interceptions, he is completing 70.2% of his passes. That's second-best in the league behind only Kyler Murray.
Retired Pro Bowler Shawne Merriman isn't surprised Jones is playing well
Currently, at 7-4, the Patriots are well within their rights to eye a playoff push. That has to be terrifying for the rest of the AFC because who wants to meet up with Belichick in the playoffs? For those paying attention, it's not a considerable surprise, though.
"I'm more surprised that everybody is calling Mac Jones a star," retired NFL linebacker Shawne Merriman said when asked his thoughts on the Patriots' run by Gambling.com. "Like he didn't get drafted the way he did or the Patriots don't draft well."
"You don't draft a quarterback that high unless you have a tremendous amount of confidence in him," Merriman explained.
Jones was seen as the quarterback with the lowest upside in this past draft, but Belichick knows a thing or two about excellent quarterback play, as Merriman pointed out.
Do the Patriots have their next Tom Brady in Jones?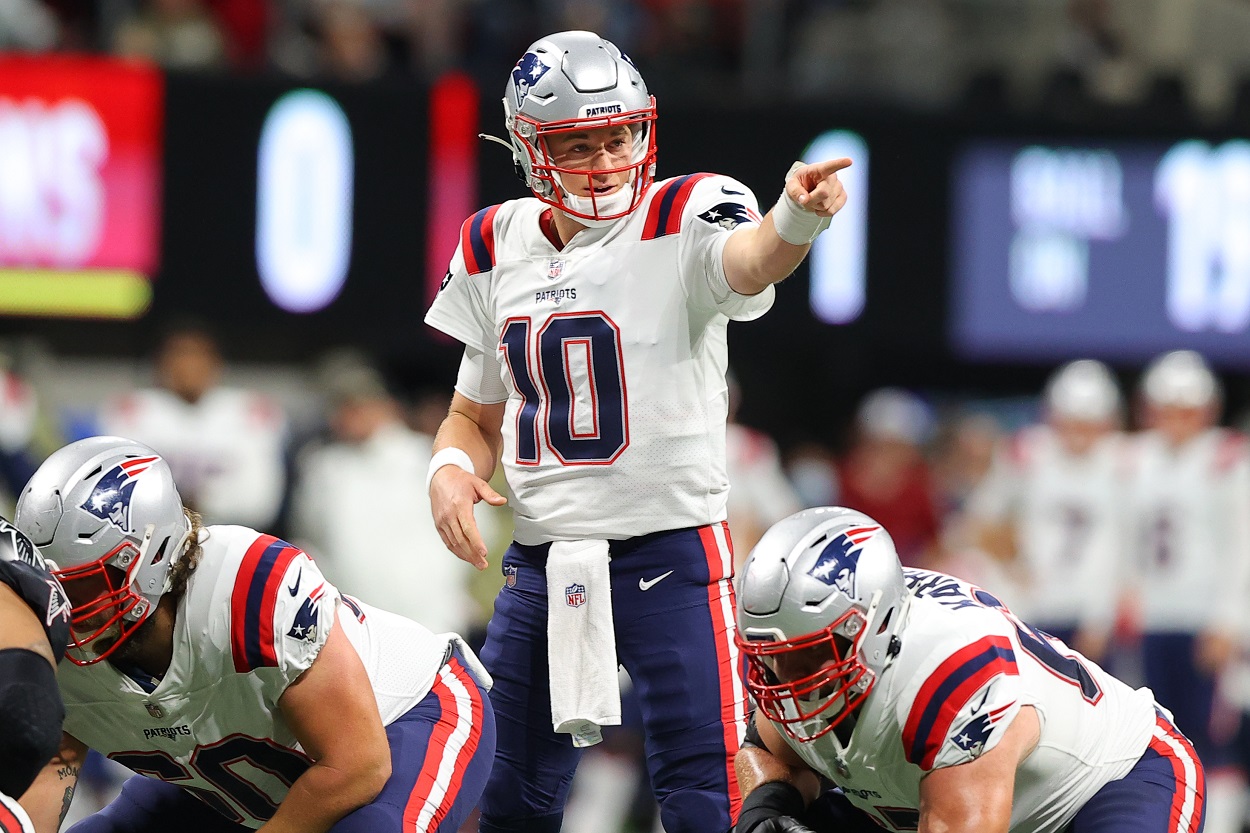 Here's the thing that makes New England so unique: Belichick doesn't necessarily need to have the best roster in the NFL to win championships, and that's especially true of his offensive system.
Yes, he typically needs an outstanding defense because that's the heart and soul of what the Patriots do, but offensively he needs players who do their job and do it efficiently. He doesn't need flash or upside, which is what made Jones the perfect fit.
"They knew immediately it was OK to pass the torch over to Mac Jones," Merriman said. "He could be a great one in the making, especially in that system with (coach) Bill Belichick. It's nothing but upside for him."
Jones can go out and make every throw offensive coordinator Josh McDaniels asks of him. He can keep the offense on time and ahead of the sticks. Sure, that makes him sound like a bit of a game-manager, but was Brady much different in that scheme? Brady just happened to be elite at it, and he's as clutch as you'll ever see an athlete.
Jones has to prove that he has that "it" factor that Brady does, and maybe he never will, but Belichick has proven that he can do more with less better than any coach in NFL history.
Belichick doesn't need Jones to be Brady. He needs him to be like Brady, in that he needs him to work within the system. He needs Jones to do the job asked of him on every play, and the rest will take care of itself.
That's the Patriot way, and so far so good for Jones.
Stats courtesy of ESPN and Pro Football Reference.