Pro Football Hall of Fame Voter Peter King Just Candidly Admitted If Aaron Rodgers' COVID-19 Situation Will Hurt His Canton Chances
Article Highlights:
NBC Sports analyst Peter King doesn't believe Aaron Rodgers' COVID-19 controversy will hurt his Pro Football Hall of Fame chances
King, the longtime NFL columnist, is one of 49 Hall of Fame voters
The Terrell Owens-Hall of Fame drama provides plenty of reasons to be skeptical here
Through October 2021, even the Green Bay Packers' most devoted critics would have conceded that, yes, Aaron Rodgers is destined for the Pro Football Hall of Fame. The stats are there, he owns a Super Bowl ring, and he's spent over a decade as one of the league's top quarterbacks.
Then came November 2021 and Rodgers' explosive interview with former Indianapolis Colts punter Pat McAfee on Friday, Nov. 5. The three-time NFL MVP, who missed a Week 9 loss to the Kansas City Chiefs while in COVID-19 protocol, used his platform to spread misinformation, wage war on the "woke mob," and take the focus away from rookie quarterback Jordan Love's first career start.
Could Rodgers' anti-vax stance and insistence on battling the media cost him a spot in the Hall of Fame? Longtime NFL columnist Peter King, one of the Hall's 49 voters, isn't hiding his opinion.
Peter King doesn't believe Aaron Rodgers' COVID-19 controversy will hurt his Hall of Fame chances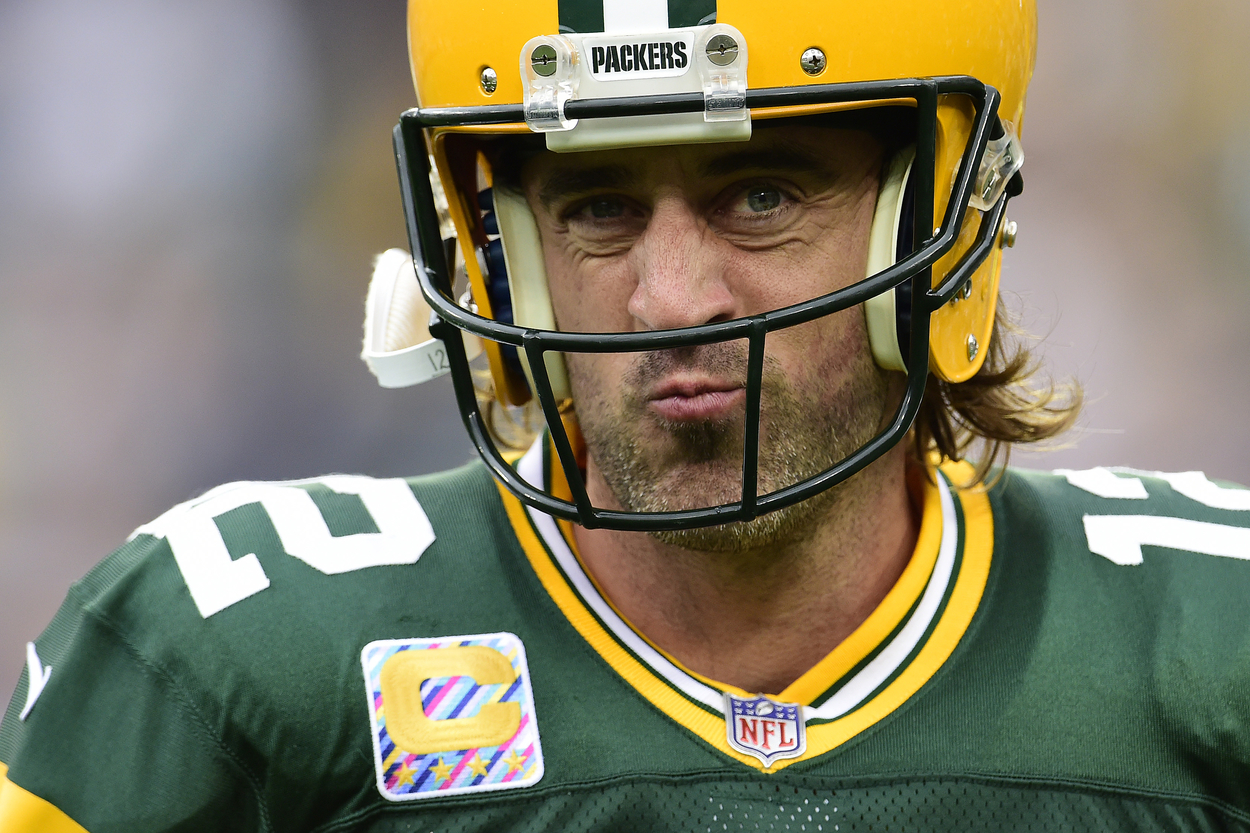 Unlike the National Baseball Hall of Fame's "character clause," the Pro Football Hall of Fame only asks voters to consider on-field achievements. Whether or not a player had a prickly attitude or a reputation for late hits means nothing if they were a perennial All-Pro and two-time Super Bowl champion.
In the Nov. 8 edition of Football Morning in America, King responded to a reader email asking about Rodgers' Hall of Fame chances. The reader in question believed the voters "should send a message" and not induct the Super Bowl 45 champion when he is first eligible.
King, who has been on the Hall of Fame's board of Selectors since 1992, said voters sometimes include "important things like leadership" when discussing non-statistics.
"As for me, this Rodgers affair wouldn't have much if anything to do with my vote if I were to be on the panel then. It's sordid, and it causes Rodgers to miss an important game, but I don't think it rises to something that would have significant legs when his career is measured in its entirety whenever he comes up for election."

Peter King
Rodgers would first be Hall of Fame-eligible five years after his retirement — 2026 if he retires after this season.
Terrell Owens might take issue with King's line of thinking
In an ideal world, voters in all sports would only consider on-field statistics and accolades. On performance alone, former Boston Red Sox star Curt Schilling, one of the great postseason pitchers, would have a place in Cooperstown, N.Y. However, his history of outspoken political commentary and support of former President Donald Trump has kept him off many ballots — and voters have even admitted as much.
We know how King feels about Rodgers, and many fans might feel the same way. The Packers legend should earn his bronze bust and take the stage in Ohio, whether it's later this decade or early in the 2030s, without any trouble at all.
However, let Terrell Owens represent a counterargument that could become a reality. In his prime years with the San Francisco 49ers and Philadelphia Eagles, there weren't many better receivers than Owens. He and Randy Moss were, more often than not, the top two at their best position in either order.
Owens first became eligible in 2016, and one would think his 1,078 catches, 14,934 yards, and 153 touchdowns would guarantee him a bronze bust on the first try. Nope. In an interview on The Dan Patrick Show, Hall of Fame voter Gary Myers admitted he didn't vote for Owens and readily explained why.
"The bottom line on T.O. is he was so disruptive. … He's a Hall of Fame player that five teams couldn't wait to get rid of. So what does that tell about how disruptive he was?"

Gary Myers
Although the voters eventually inducted Owens in 2018, the legendary receiver refused to attend the ceremony. He instead held his own event at his alma mater, the University of Tennessee at Chattanooga. The NFL also curiously excluded Owens, in spite of his stats and legacy, from its 100th Anniversary All-Time Team in 2019.
Don't be surprised if Rodgers does need to wait a year or two to enter the Hall of Fame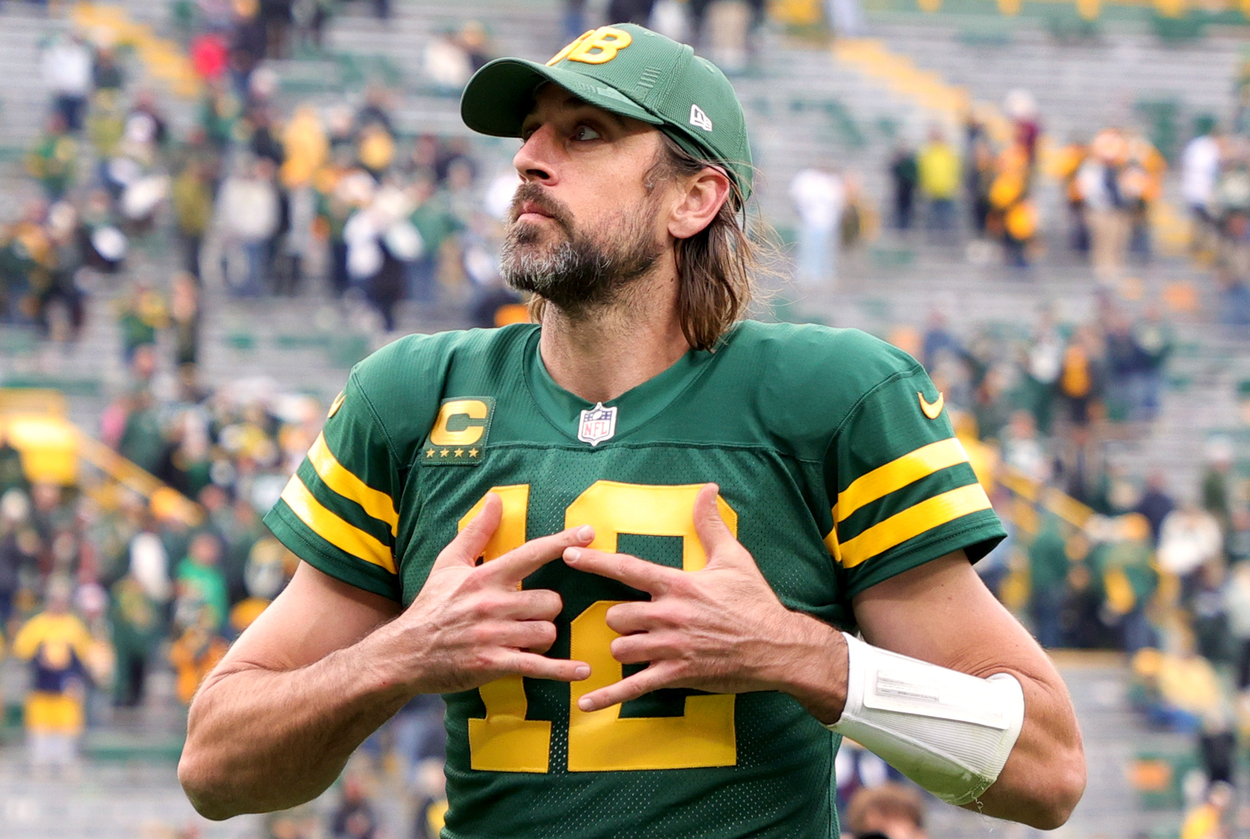 Again, on merit alone, Rodgers should get into the Hall of Fame with no problems. The only strike against him is he's only reached one Super Bowl despite playing on so many talented teams, but his February 2011 victory against the Pittsburgh Steelers gives him some leeway.
Unfortunately, the possibility exists that some voters will hold recent events against him. Rodgers used his platform to blatantly spread misinformation about the pandemic and vaccines. He did not tell the truth about his vaccination status and allowed four words — "Yeah, I've been immunized" — to keep him from publicly wearing a mask and following protocols.
If Owens' alleged disruptive behavior kept him out of the Hall on his first two tries, how will voters eventually handle Rodgers' comments? We know how King feels, but he even admitted he doesn't know if he'll still be voting when Rodgers' name comes up.
Who knows? Rodgers may wind up taking the Schilling approach and telling selectors not to vote for him. The Packers legend certainly doesn't sound like someone who needs the media's validation. 
According to the Centers for Disease Control and Prevention (CDC), "Over 423 million doses of COVID-19 vaccine have been given in the United States from December 14, 2020, through November 1, 2021. COVID-19 vaccines are safe and effective."