Why the Mavericks' Dorian Finney-Smith Is the Best at Guarding James Harden
James Harden seems to possess the ability to score on everybody in the NBA at will. With scoring outputs not seen since Kobe Bryant in 2006, Harden has an answer for everyone — except Dorian Finney-Smith. Since last year, Harden has struggled in his matchups against the Maverick forward with shocking consistency.
Who is Dorian Finney-Smith?
Finney-Smith might not be a premier name for NBA fans. However, the fourth-year NBA player has been a low-key member of the Mavs during Dirk Nowitzki's final years and Luka Doncic's emergence. Finney-Smith is a defensive specialist. While his offense can be hit or miss, his effort and defense can be stifling for even the best opponents.
Undrafted out of Florida, according to The Dallas Morning News, Finney-Smith had to work extra hard just to get into the NBA. Once he found his place, he not only got onto the Mavericks' roster, but he also joined their starting lineup for most of his rookie season. As Dallas prepared for life after Nowitzki and tried to return to their winning ways, Finney was the ultimate role player.
An injury cut Finney-Smith's sophomore season short, but he didn't let this hurt him. In 2018-19, he had his best year yet. Taking a backseat was no problem for Finney-Smith; he doesn't need the ball to be effective. This carried over into 2019-20. The 26-year-old has started all but three games and continues to be a budding defensive star.
Finney-Smith's defense
Finney-Smith lives and dies by his defensive effort. In a league where more players are trying to score relentlessly, he's there to ensure they can't do it. It has endeared Finney-Smith to not only his coaches and teammates but to players across the NBA who laud him for his efforts.
At 6-foot-8 with a 7-foot wingspan, the Virginia native can guard any position. Mavericks coach Rick Carlisle recently spoke glowingly of how Finney-Smith has become a vital cog in the team's resurging season.
"He's had to guard everybody really over the last three-plus years he's been with us," said Carlisle, reports Mavs.com. "… I love the way he plays defense. He's a real key guy because he can guard a lot of different positions."
Finney-Smith says his success comes from being a student of the game and putting in the extra work to ensure he knows exactly what he's getting into on a night-to-night basis.
"I would say knowing player's tendencies, and I would say playing real hard [are critical]," Finney-Smith explained. "I kind of feel like defense is a little bit of talent, but it's a lot of want-to. Either you've got it in you or you don't. For me, since I'm so versatile, you've got to know all the spots on the court. I know more than one player's tendencies."
Harden, in particular, has experienced the consequences of Finney-Smith's hard work.
Finney-Smith, the James Harden stopper?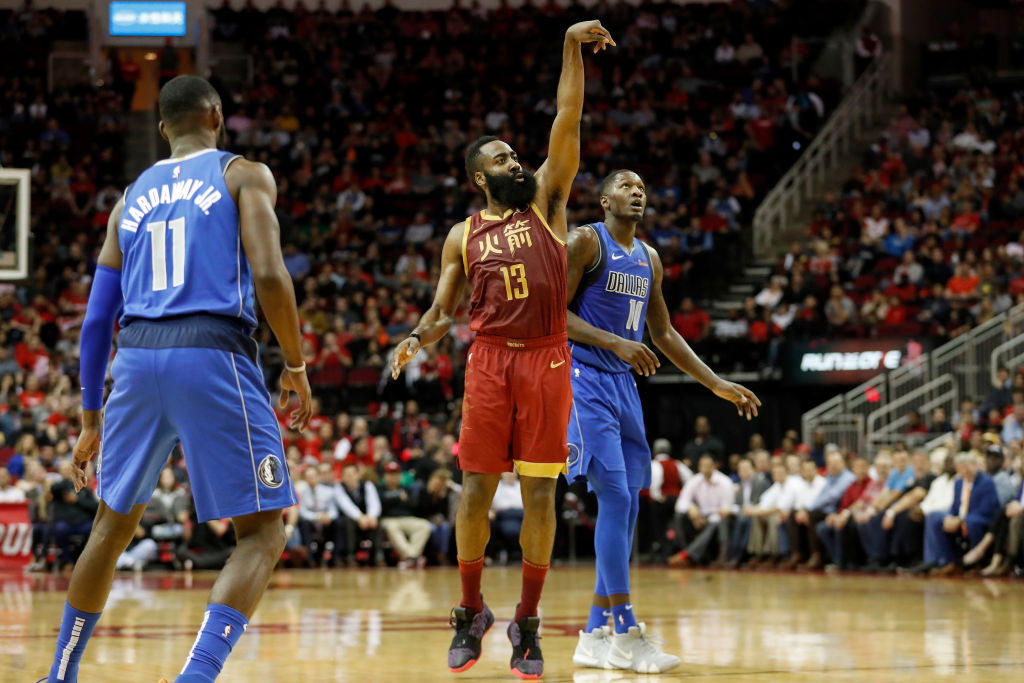 Finney-Smith's length combined with his speed and high basketball IQ make him the ideal player to take on Harden. The Beard has seen this firsthand, too. In four games last season, Finney-Smith held Harden under his scoring average and stifled his ability to make the jump shots he's known for.
Harden showed an ability to work through Finney-Smith's defense this year, getting his average up near his 35 points-per-game average. But he's still had to work hard on every possession and hasn't been able to punish the Mavericks like he punishes other teams. Through two more meetings this season — and a possible meeting in the playoffs if things work out — Finney-Smith could be what helps the Maverics stun the Rockets.
Defense is hard to teach. It requires equal parts physical gifts and mental fortitude. For players like Finney-Smith, these factors allow them to go toe-to-toe with some of the NBA's best. If he can keep it up, Harden could face a worthy foe when things get crazy in the playoffs. 
Follow more updates from Sportscasting on our Facebook page.