Pros and Cons to Orlando Brown Jr. Being Franchise-Tagged by the Chiefs
The franchise tag frenzy is officially underway around the NFL, and the Kansas City Chiefs decided to join the party Monday morning. They identified tackle Orlando Brown Jr. as their franchise player, locking him into a one-year contract worth roughly $16.5 million.
At face value, this looks like a massive win for Kansas City. They get to keep their starting left tackle under contract for at least one more season. However, upon a closer look, there's at least one con to consider (amidst two glaring pros).
Pro: The Chiefs' offensive line is staying intact
First and foremost, it's crucial to acknowledge how big of a win this is for Patrick Mahomes and the Chiefs' offense as a whole. The Kansas City front office made fixing their offensive line a huge priority last offseason, and acquiring Brown Jr. was a big part of that discussion.
During his first season with the Chiefs, he was an absolute stud, making Mahomes' life in the pocket far more comfortable. Tagging him for the 2022 season guarantees Mahomes will have another full year of clean pockets and a protected blindside.
In a division full of elite pass rushers like Joey Bosa, Maxx Crosby, and Bradley Chubb, the Chiefs making sure Mahomes is protected is an obvious win for the franchise.
Con: The Chiefs are likely losing safety Tyrann Mathieu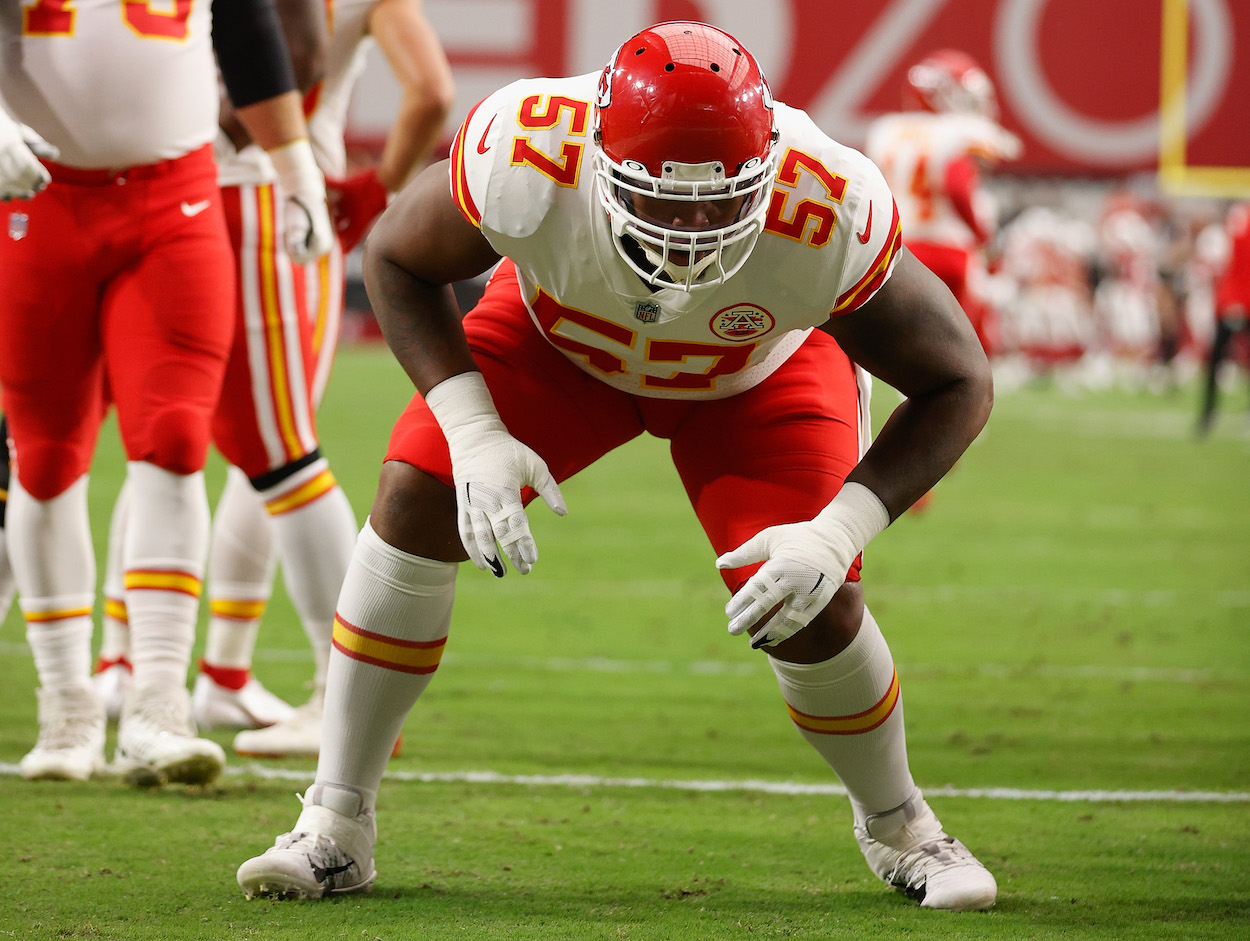 The only con to really consider with this roster move is that it likely spells the end of safety Tyrann Mathieu's time with the Chiefs. He was the other player in consideration for the franchise tag this offseason. By picking Brown Jr. instead, Kansas City is presumably signaling their desire to let Mathieu walk in free agency.
It's difficult to argue a safety being more important than a left tackle. However, Mathieu was the captain of the defense over the past few seasons. He was the engine churning in the background, making sure everything ran smoothly. The Kansas City defense is already a weak point. Losing Mathieu will make it that much more glaring of an issue in 2022.
There's a slim chance the Chiefs work to bring back Mathieu on an extension. However, it's doubtful. The NFL is a salary cap league, and Kansas City chose to keep the O-Line intact over their former star safety.
Pro: Kansas City has more time to work out an extension with Orlando Brown Jr.
Last but not least, the Chiefs tagging Brown Jr. gives them additional time to work out a long-term extension. The tag only locks him into 2022. However, both sides are free to continue working on an extension that keeps the star LT in town for another several seasons.
Spotrac has Brown Jr.'s market value set at $116.5 million over five years. This would make him the highest-paid offensive lineman in NFL history on a yearly basis — the price to pay for a protected blindside.
Kansas City will presumably work to get that number lower during negotiations. However, common sense suggests it will ultimately pay up to keep its franchise left tackle in the building.
Like Sportscasting on Facebook. Follow us on Twitter @sportscasting19.
RELATED: Patrick Mahomes Is Being Disrespected by Early MVP Betting Odds