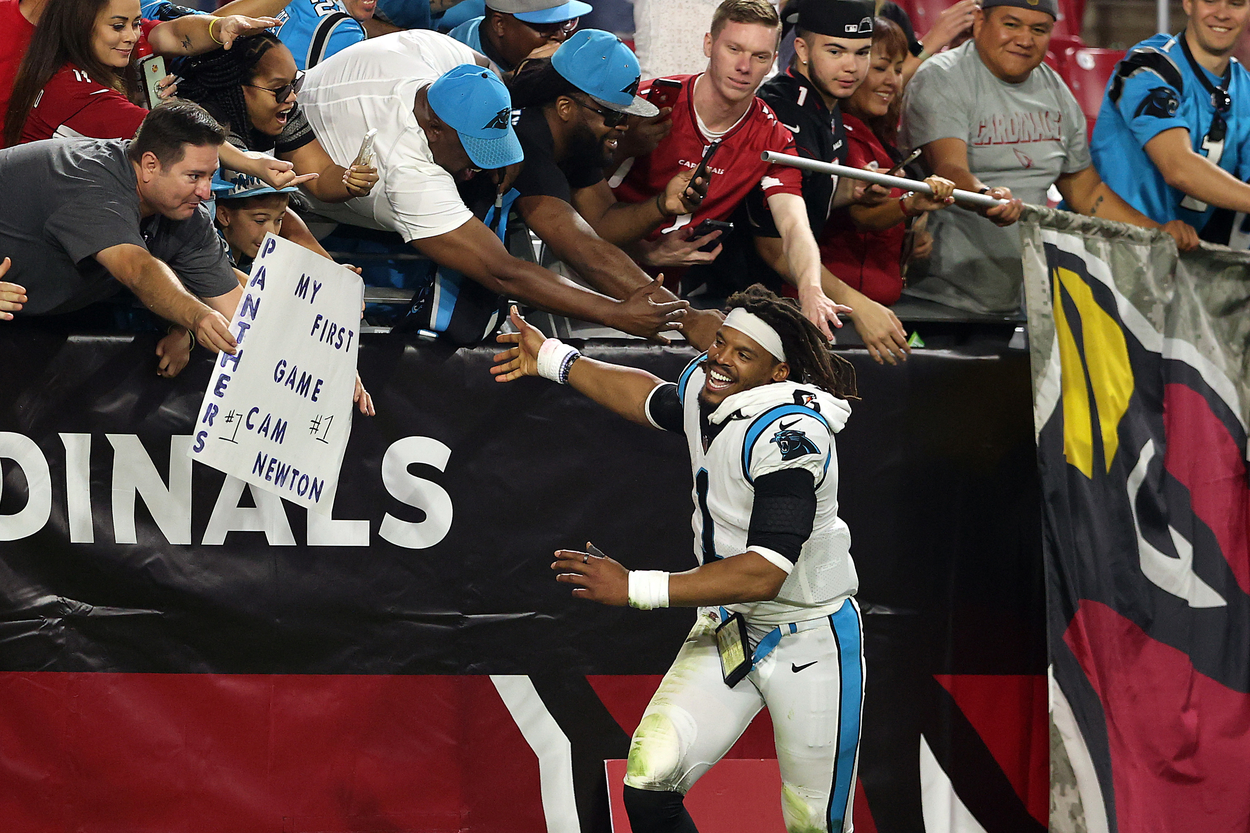 Pros and Cons to the Arizona Cardinals Signing Cam Newton
Former Carolina Panthers quarterback Cam Newton wants to play in 2022. Should the Arizona Cardinals sign the 2015 NFL MVP as Kyler Murray's backup?
Make no mistake: Carolina Panthers great Cam Newton still wants to play, and the 2015 NFL MVP has no intentions of quietly retiring this offseason.
Newton's days of being a full-time starting quarterback might be behind him, especially after an inconsistent half-season with the Panthers last year. Although the Auburn product has been linked to re-signing with the organization that he's called home for all but one season of his 11-year career, he recently told ESPN that multiple teams have inquired about his services.
Should the Arizona Cardinals target Newton to potentially sit behind starting quarterback Kyler Murray? The idea is certainly worth examining, even if the 2008 NFC champions already have Texas Longhorns legend Colt McCoy in place as Murray's backup.
Pros: Cam Newton is still a dangerous rushing weapon who would fit the Cardinals' scheme perfectly
If or when a team signs Newton, he could fit the role that Marcus Mariota filled with the Las Vegas Raiders at times last season. Interim head coach Rich Bisaccia inserted the 2014 Heisman Trophy winner into the game as a rushing quarterback, one capable of picking up yards with his legs and give Derek Carr a play or two to catch his breath.
Murray, a two-time Pro Bowl selection, is far more explosive with his legs than Carr. However, that shouldn't stop embattled Cardinals head coach Kliff Kingsbury from trying to maximize Newton's skill set, especially after the veteran quarterback rushed for 230 yards and five touchdowns on 4.9 yards per carry. A year earlier, he picked up 592 yards and 12 touchdowns, his most since 2011, when he played for the New England Patriots.
Kingsbury loves trick plays, and he should want to keep Murray healthy at all costs. Having Newton as an option off the bench might help the fourth-year head coach enjoy the former and achieve the latter.
Let's also not rule out the potential impact Newton could have on Murray from a mentoring standpoint. With respect to McCoy, he wasn't a first overall pick and a Black quarterback who had to navigate questions about long-term contracts and maturity. Newton has experience with both, and he could be able to impart his wisdom to a quarterback in desperate need of it.
Cons: Newton's passing skills are, shall we say, not what they were in 2018
The best backup quarterbacks, in theory, are those who can be competent passers in a pinch. Even if he's not a player you'd trust to start an entire 17-game season, McCoy has proved he can fill that role. Ryan Fitzpatrick has continued earning jobs into his late 30s because of his ability to thrive off the bench. Former Baltimore Ravens star Joe Flacco appears to be on that path with the New York Jets.
Newton, on the other hand, is not that type of player.
For much of his career with the Panthers, Newton's completion percentage hovered between 58-60%. Back in 2018, he recorded a career-high 67.9 completion percentage and tallied 3,395 yards, 24 touchdowns, and 13 interceptions in one of his finest seasons as a passer.
While with the Patriots in 2020, Newton completed 65.8% of his passes on 7.2 yards per attempt. Last year, his numbers dipped to 54.8% and a career-worst 5.4 YPA. If the Cardinals lose Murray in a close game against the Los Angeles Rams or San Francisco 49ers, one would think they'd want a quarterback who can come in, complete his passes, and move the ball downfield.
Is Newton capable of doing that anymore? The fact we even need to ask that doesn't bode well for his NFL future.
Should the Cardinals sign Newton?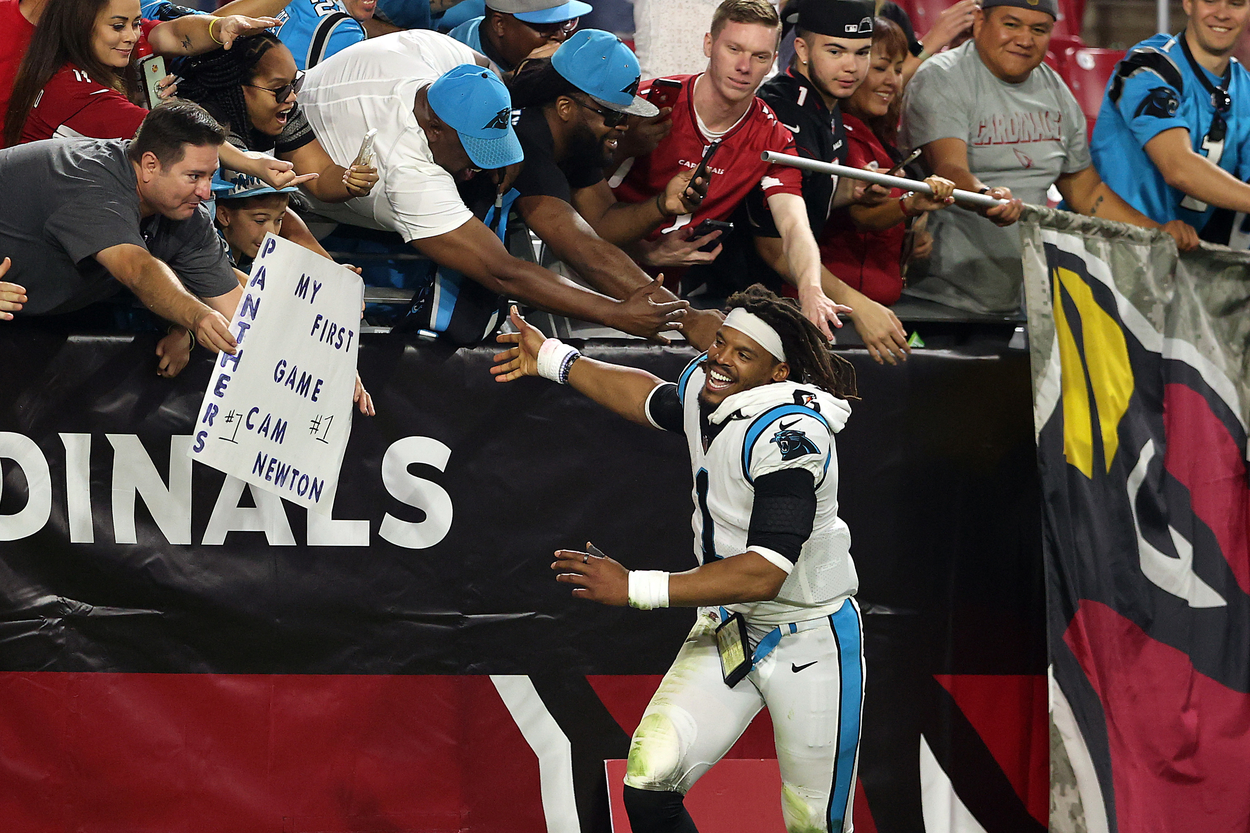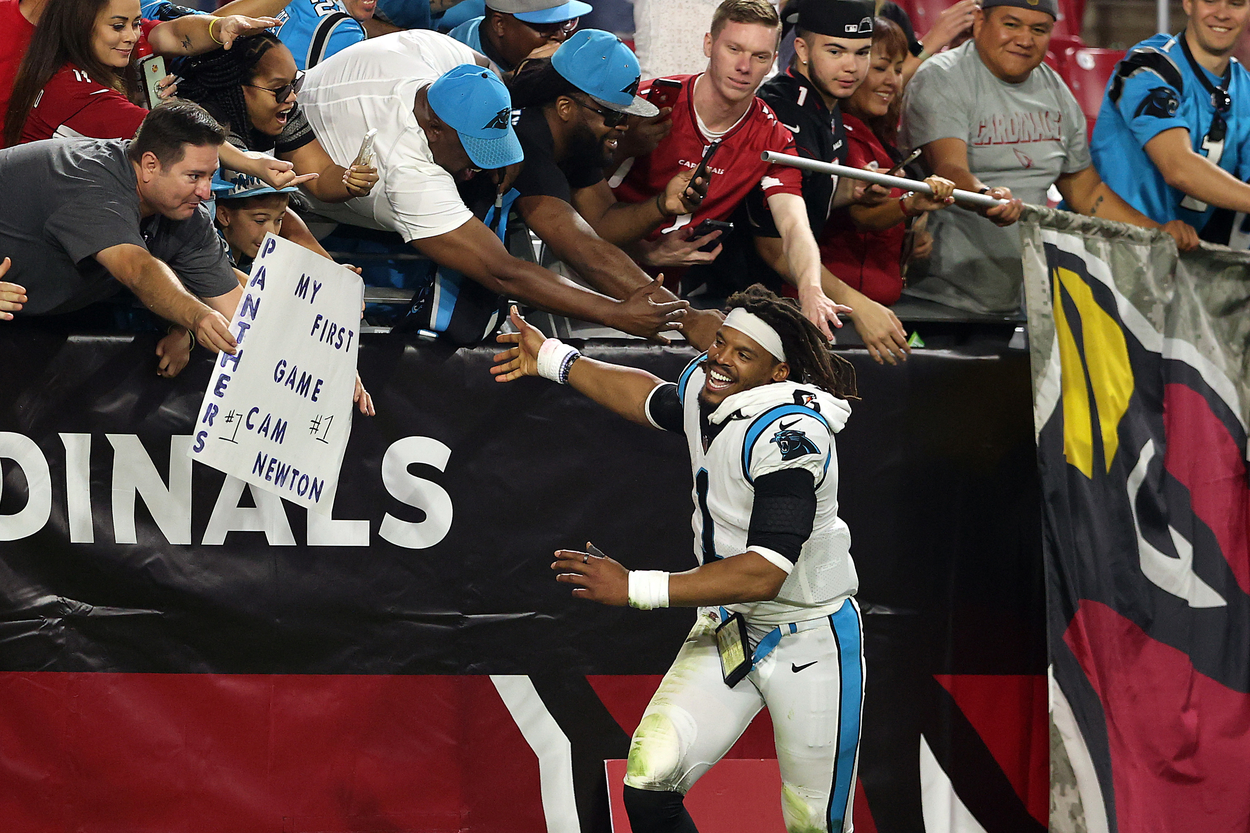 Baseball and basketball each have roster spots for players like Newton. An NBA team can afford to keep an older point guard or forward around because they value his leadership over his ability to contribute over 8-10 minutes off the bench. Similarly, an MLB team can get away with carrying the veteran relief pitcher or catcher who shares his wisdom during games despite seeing limited action each week.
Rarely does such a premise work in the NFL with a third-string quarterback, and that is the biggest thing holding a potential Newton-to-Arizona deal back.
Theoretically, Newton checks most boxes for the Cardinals. If he's content coming off the bench, the Cardinals should also check off the boxes he should have at this stage in his career. He'd be joining a team with a deep roster and legitimate Super Bowl aspirations.
However, McCoy inked a two-year, $7.5 million contract earlier this offseason and received $6 million fully guaranteed at signing. Do the Cardinals really want to give even more money to a third-string quarterback?
No, they don't, and they shouldn't. Sorry, Cam, but you might not want to start looking into Arizona homes just yet. As for staying in North Carolina, though…
Like Sportscasting on Facebook. Follow us on Twitter @sportscasting19.