Pros and Cons to the Carolina Panthers Trading Christian McCaffrey During the 2022 NFL Offseason
For a brief stretch during the 2021 season, the Carolina Panthers ensured the band was back in town. Former All-Pro running back Christian McCaffrey took his carries from veteran quarterback Cam Newton just as he did in his first three seasons.
Unfortunately for the Panthers, things were far different in 2021 than they were in 2017.
Newton battled turnovers and inconsistency before the Panthers benched him in his second stint with the team. McCaffrey battled injuries for the second straight year and only scored two touchdowns in nine games.
Newton, the 2015 NFL MVP, is scheduled to hit free agency and isn't expected to return in 2022. Despite the fact McCaffrey has four years and $44.8 million remaining on his current contract, the 25-year-old is the subject of trade rumors entering the 2022 NFL offseason — and, although the dynamic running back is quickly falling into irrelevance, don't expect the lingering questions about his future to leave anytime soon.
Pros: Trading Christian McCaffrey would officially leave the pre-Matt Rhule era behind
McCaffrey established himself as arguably the NFL's most electrifying running back when the 2019 season ended. Not only did the Stanford product rush for 1,387 yards and 15 touchdowns, but he also turned 116 catches into 1,005 yards and four touchdowns en route to earning Pro Bowl and All-Pro honors. Although the Panthers moved on from Newton in early 2020, the organization at least had McCaffrey to build its future around.
So much for that idea.
Injuries have limited McCaffrey to 1,159 yards from scrimmage across 10 total games in the last two seasons. Although the ailments aren't his fault, he's essentially become a memory of a bygone era, one in which Newton carved through defenses and head coach Ron Rivera kept his team in playoff contention each year.
Rivera hasn't coached for Carolina since December 2019, and the Newton reunion didn't go as the team intended. Now, the Panthers belong to the oft-criticized Matt Rhule, who has tried building the team in his image. The rotating quarterback carousel should tell you all you need to know on that front.
Trading McCaffrey would effectively end the lingering remnants of the pre-Rhule era, which might be the right move. The Denver Broncos waited too long to break up the core that won Super Bowl 50, and the stubbornness has played a significant part in the team's recent struggles.
Now, it is essential to note McCaffrey was still in college when the Panthers reached Super Bowl 50. However, the general point of moving on from seasons past should still resonate in general manager Scott Fitterer's mind this offseason.
Cons: How many teams would really think about acquiring McCaffrey, given his injury history?
The Panthers will be stuck with $18.5 million in dead cap over the next two seasons if they trade McCaffrey this offseason. However, they'd save $13.5 million if he is dealt after June 1, so for the sake of argument, let's use June 2 as the day any move would officially go through.
Any team that acquires McCaffrey would owe him $8.1 million in guaranteed money, which isn't terrible for a one-year rental. However, the former Pro Bowler still has four seasons left on his contract.
For as great as McCaffrey was in his first three seasons, there is very little about him now that should appeal to most teams. He is an overpaid, injury-prone running back, and although he still has plenty of time to change that narrative, there is no reason to believe he can do it regardless of where he plays in 2022.
According to Spotrac, the Miami Dolphins are projected to lead all teams with over $64 million in cap space this offseason. Why, though, would the team give up valuable assets for McCaffrey when it could sign a durable running back in free agency and select one in the NFL draft? 
Should the Panthers trade McCaffrey this offseason?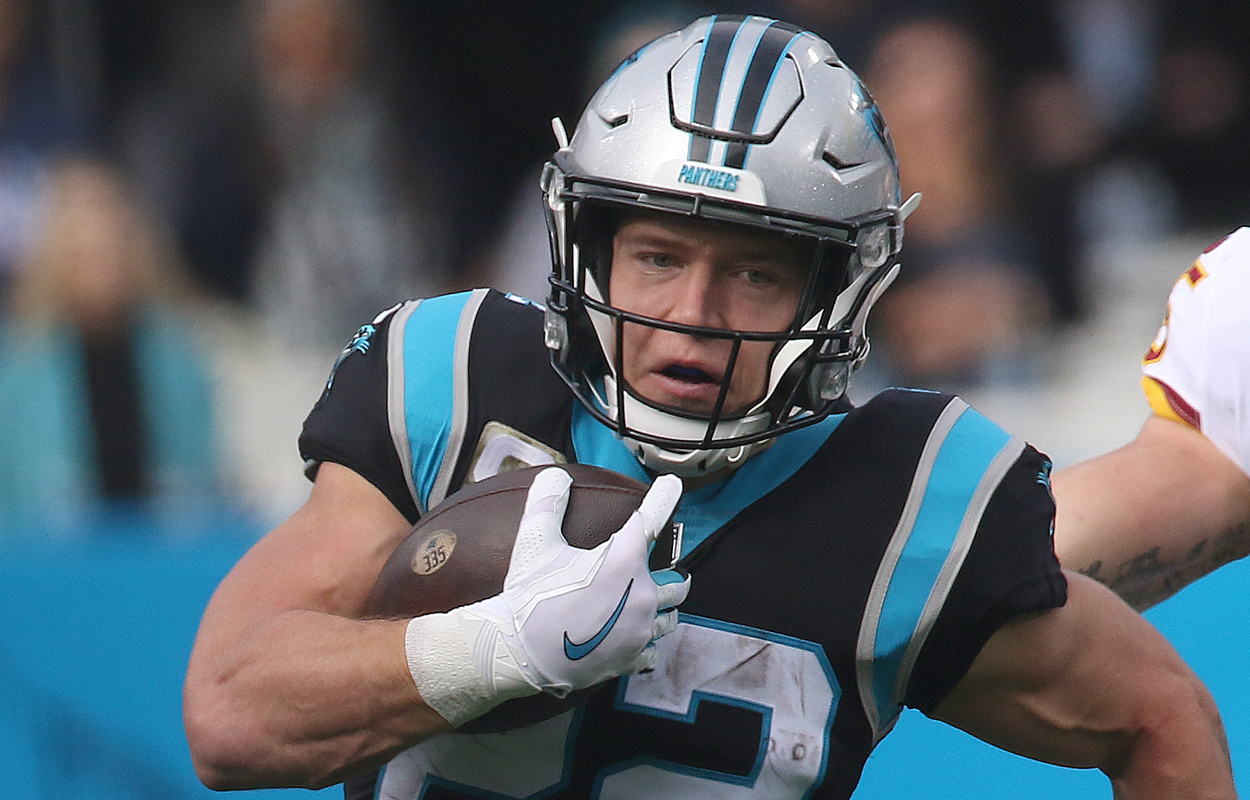 When McCaffrey was healthy and in his prime, he was a walking highlight reel and a fearsome weapon in fantasy football. Although he'll play the entire 2022 season at 26 years old, football fans shouldn't feel confident about what he'll bring to the table next year.
If the Panthers find a suitor willing to take on McCaffey's contract, the team should absolutely trade him and move on. Carolina cannot spend the next season, let alone the next two years, keeping the veteran running back around and hoping he'll rediscover his 2019 form.
Without getting too deep into what a potential trade could look like, McCaffrey's contract and injury history likely mean the Panthers aren't getting a first-round pick for him. However, if the team can acquire a mid-round selection in the 2023 draft (assuming any trade doesn't occur until after June 1), Carolina must finalize the details before the other team gets cold feet.
All of this means the Los Angeles Rams will find a way to acquire McCaffrey, limit his touches to keep him healthy, and watch him score the game-winning touchdown in the Super Bowl next season. Have no fear, Panthers fans, because Les Snead and Sean McVay are here. At least, they might get here soon.
Like Sportscasting on Facebook. Follow us on Twitter @sportscasting19.
RELATED: What the Carolina Panthers' Plan of Attack Must Be for the 2022 NFL Offseason