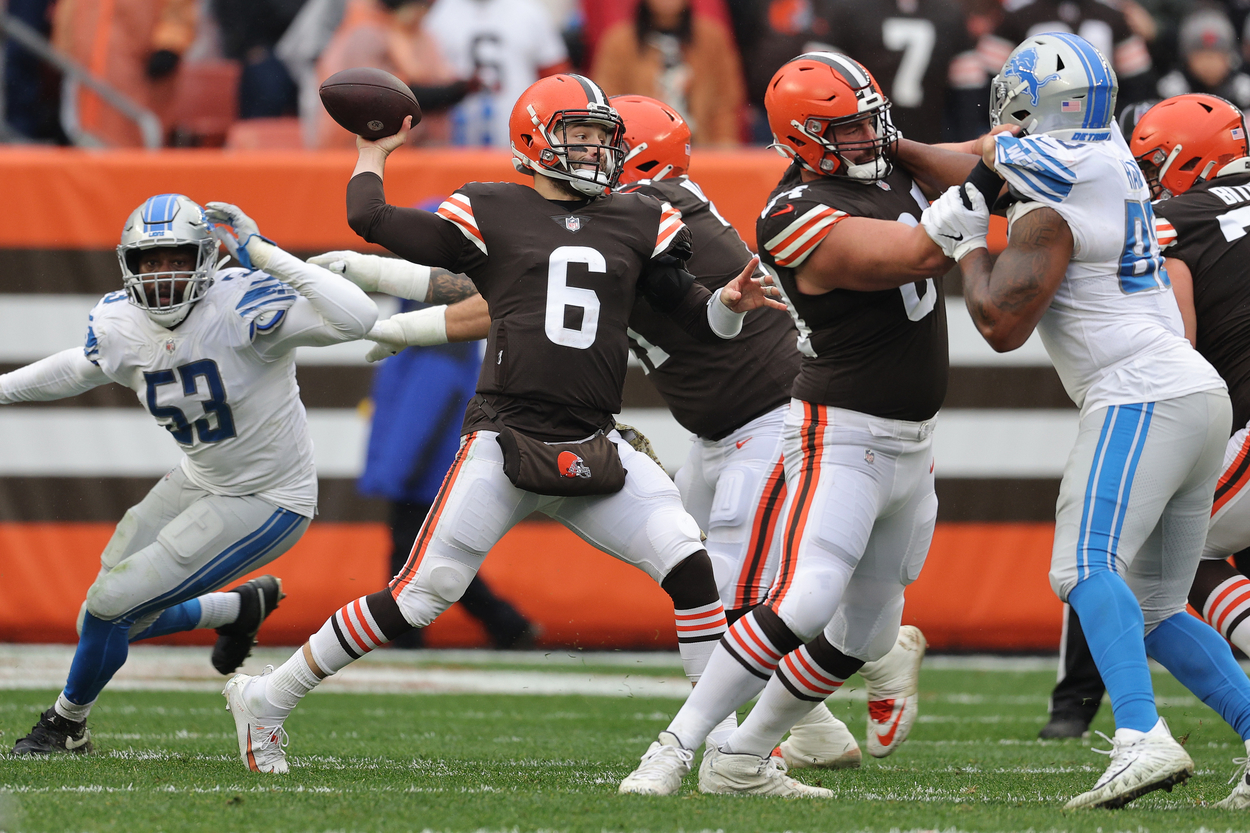 Pros and Cons to the Detroit Lions Acquiring Baker Mayfield
As the Detroit Lions continue searching for Matthew Stafford's long-term replacement, should the long-suffering franchise consider Cleveland Browns quarterback Baker Mayfield?
In hindsight, the Cleveland Browns' November 2021 victory over the Detroit Lions likely set the ending of the Baker Mayfield era into motion. Which, seeing as how the long-suffering AFC franchise defeated the tortured NFC organization, might sound ridiculous to consider.
However, let's not forget about the aftermath of that game. Mayfield criticized Browns fans for booing the team during Cleveland's ugly 13-10 victory. His wife, Emily, later questioned the team's overall "toughness" in a social media post she eventually deleted. Now, the 2017 Heisman Trophy winner is stuck in Cleveland and could begin next season as the third-string quarterback following the franchise's recent decision to acquire Deshaun Watson.
Wouldn't it be something, then, if those same Lions took Mayfield off the Browns' hands?
Pros: Mayfield could use a fresh start, and the Lions already have a solid young core in place
As of publication, the Carolina Panthers appeared to be the favorites to acquire Mayfield via trade. Which, considering the team is already paying Sam Darnold over $18 million, would be a foolish move. Although the Seattle Seahawks have been suggested as possible suitors for the Oklahoma product, there have been no credible reports lately indicating Mayfield will suit up for the Super Bowl 48 champions next season.
Enter the Lions…maybe?
ProFootballTalk's Mike Florio recently spoke the idea into existence and suggested Detroit consider acquiring Mayfield this offseason. In theory, the move makes sense to us partly because Browns general manager John Dorsey, who drafted Mayfield in 2018, currently works as the Lions' senior personnel executive.
Mayfield, like Darnold, is slated to earn over $18 million next season. He'd potentially join a Lions team with a talented running back in D'Andre Swift, who totaled 1,069 yards from scrimmage (617 rushing and 452 receiving) and seven all-purpose touchdowns in 2021. Amon-Ra St. Brown hauled in 90 catches, 912 yards, and five touchdowns as a rookie.
Detroit also has two capable tackles in Taylor Decker and Penei Sewell. Frank Ragnow, a second-team All-Pro center in 2020, should be back in the lineup after missing most of last season with a toe injury. At least Mayfield wouldn't take over a team with a bare cupboard, right?
Cons: How does Mayfield truly help Detroit's long-term quarterback plans?
As of publication, the Lions had Jared Goff and owned the second overall pick in the 2022 NFL Draft. At this time, there is no reason to believe the California product won't begin next season as the starting quarterback.
Rumors have persisted for months that Detroit will use the second overall pick on Liberty quarterback Malik Willis, and I have personally advocated that move. Pittsburgh Panthers standout and 2021 Heisman Trophy finalist Kenny Pickett is also expected to visit the Lions later this week.
Where, then, does Mayfield fit into the equation?
For as sharp as Mayfield looked at times in his four years with the Browns, one could easily argue the Lions are better off focusing on adding a quarterback in the draft. Very rarely does a team playing quarterback musical chairs work out for the best. The Panthers have tried such an approach the last two seasons and still don't have an answer under center.
Remember, Mayfield's 2022 salary is guaranteed because of his fifth-year option. Even if Cleveland eats some of that money, do the Lions really want to pay big money to two quarterbacks and have a third, one selected in the first round, waiting on the bench?
Should the Lions acquire Mayfield?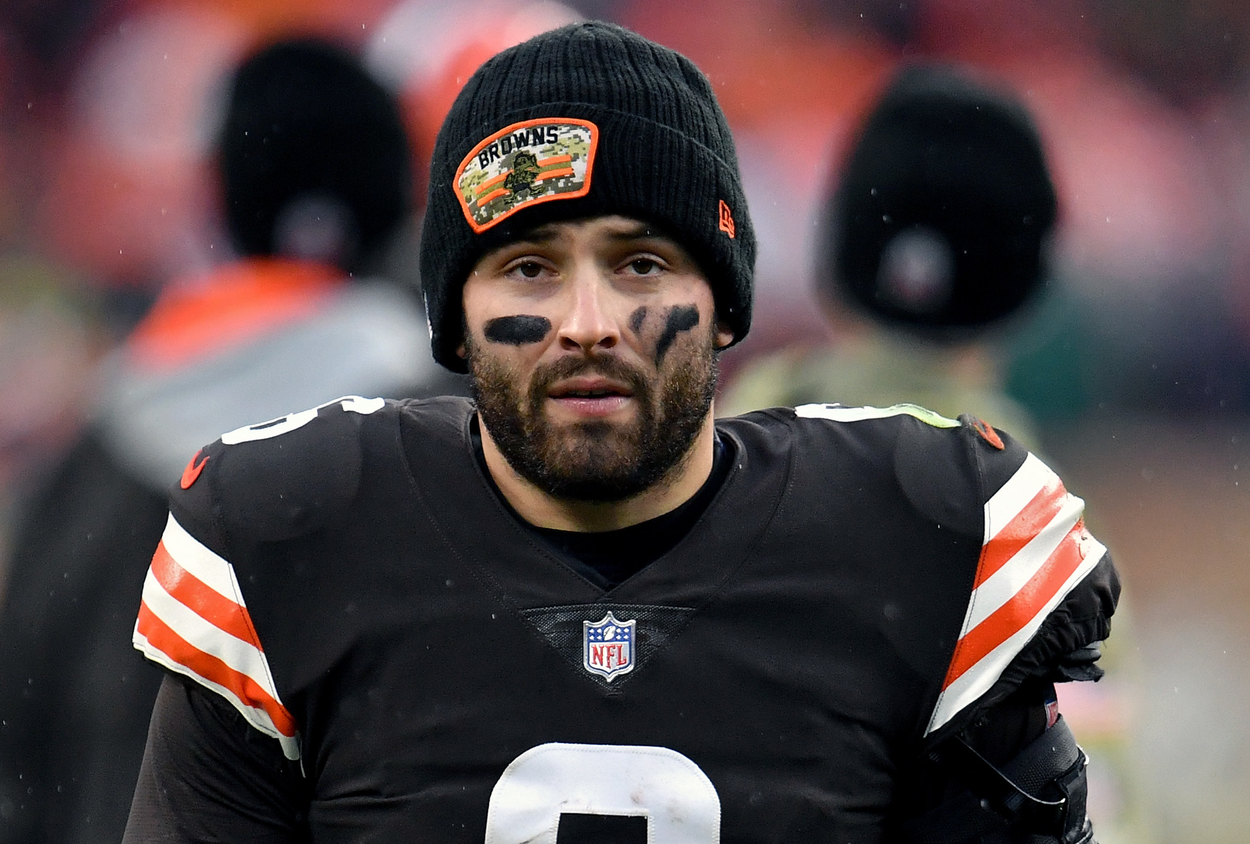 I've made it clear how much I enjoy watching Mayfield, and I still objectively believe he can be a successful starting quarterback.
With that said, I do not see it happening in Detroit, nor do I believe the team should acquire him.
Is a healthy Mayfield an upgrade over Goff? Yes, but let's also not forget Goff is currently slated to be a stopgap quarterback. Any hopes Detroit had of him being a long-term replacement for Matthew Stafford likely ended extremely early in the 2021 campaign. There is a reason why the Lions are pursuing quarterbacks like Pickett and Willis ahead of the draft.
Although a potential marriage between Mayfield and the Lions makes sense on paper, the financial logistics are a significant obstacle. That's the simple but bitter reality.
The Lions need to start over, and I believe Willis is the right man for the job. Mayfield, on the other hand, might be best suited to get his fresh start somewhere else.
Like Sportscasting on Facebook. Follow us on Twitter @sportscasting19.