Quarterback Dwayne Haskins Forgot about 1 NFL Fee When He Signed His $14.4 Million Contract: 'Taxes Are No Joke'
The NFL might not be the best league for pro athletes in terms of huge contracts. But if you're a quarterback, especially if you're Patrick Mahomes, the money is almost always great. Just ask Dwayne Haskins, who received life-changing stacks of cash in exchange for four years with the Washington Football Team.
Haskins continues to be an unproven figure in the NFL. His antics often speak to a lack of maturity. But once he sat down with his financial adviser, he got a glimpse of the complexities and responsibilities of adulthood, starting with his massive tax bill.
Dwayne Haskins' massive contract with the Washington Football Team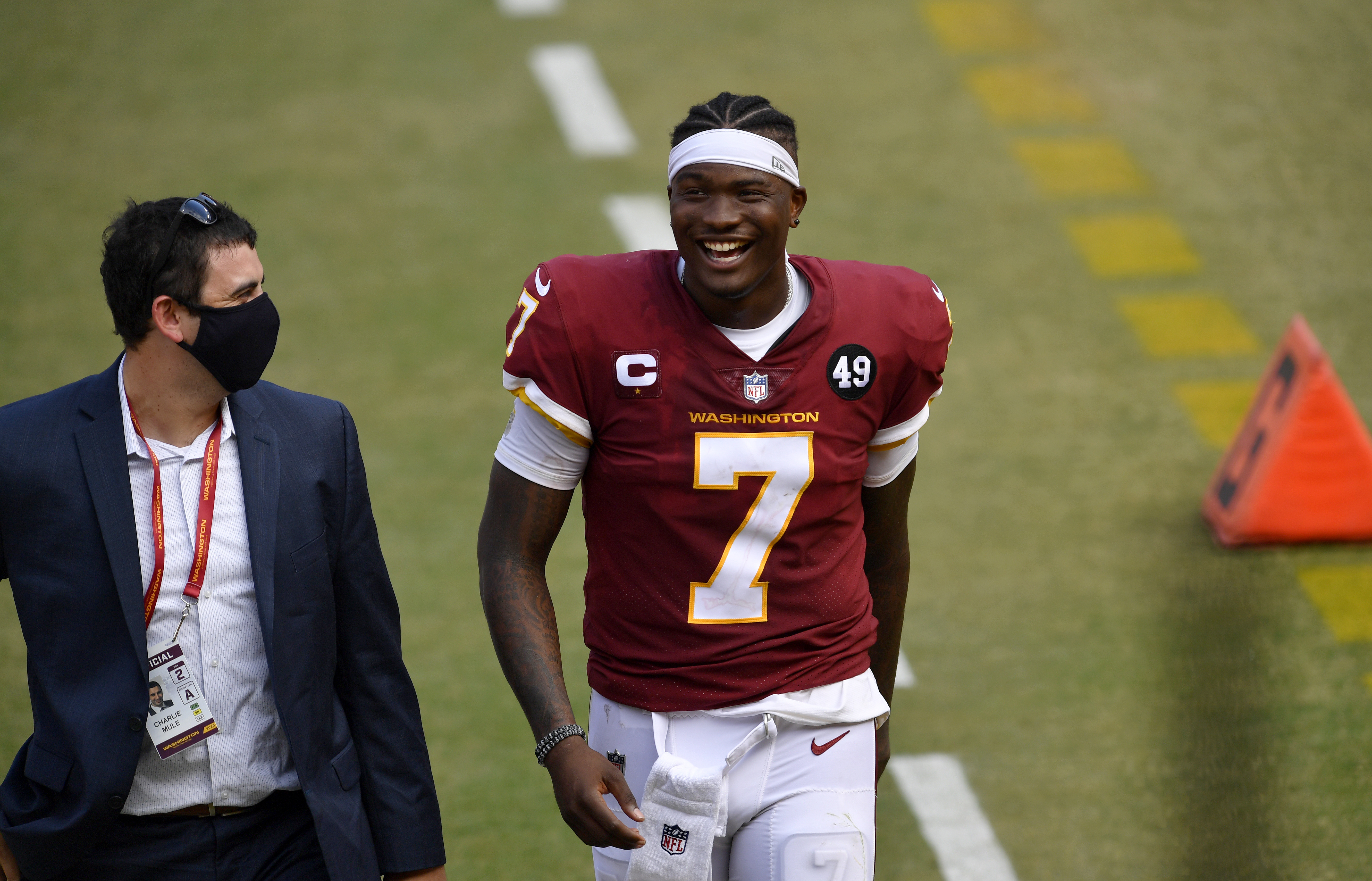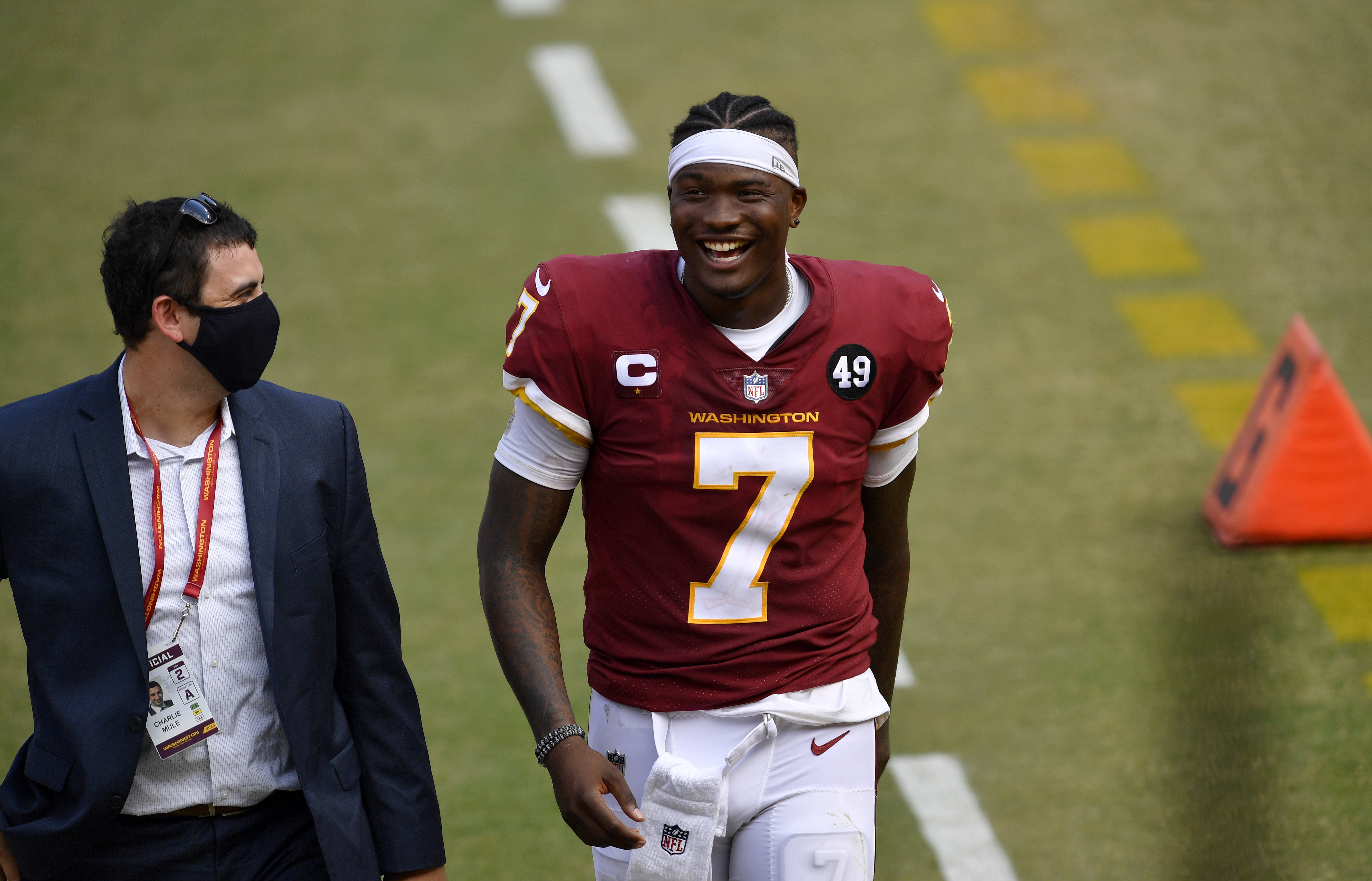 Haskins left enough of an impression on scouts during his time at Ohio State that the Washington Football Team picked him up with their first round pick in 2019. They went all out in making their fresh-faced QB happy, starting with an enormous signing bonus.
According to Spotrac, Washington dumped $8,504,808 in Haskins' lap in his first year alone. The total cost of the four-year contract is $14,416,611, with an average yearly salary of $3,604,153. Sure, that pales in comparison to the half billion Mahomes will receive over the next decade, but Haskins is no Mahomes.
Washington Football Team head coach Ron Rivera is running out of patience with his young QB. It's bad enough that he's willing to air it out in public, rather than leaking his feelings to selected sources as coaches so often do. Haskins has been demoted to, essentially, a third-string option, according to the Washington Post. But Rivera is committed to getting him enough playing time to become a $14 million QB.
How Haskins spent his first million
Haskins has made some questionable choices on the field. Off the field, when it comes to his finances, he started off with a wise move: 70% of his earnings went straight to the bank. The remaining 30% would be set aside for bills, necessary purchases, and of course some fun splurges. Even with most of his money in the bank, Haskins knows how to have fun with the rest.
The young QB told GQ that his biggest expense was a $750,000 home. It wasn't for him; his mother, who he feels he can't owe enough to for his success, will enjoy the property. His sister, who also dedicated a great deal toward her brother's success, had her $50,000 college education bill covered.
A quarter million dollar Bentley Bentayga was the way Haskins decided to treat himself. Oh, and a vacation to the Bahamas that racked up about $10,000 in costs. If you see him in an eye-catching chain, it might be the $10,000 piece he painstakingly selected, or among his larger collection (worth $60,000).
His $10,000 in custom suits and $40,000 in clothing could be spun as investments in himself. After all, part of building your brand as an athlete in the current era is looking impeccable every time you arrive on game day. Losing a cool $10,000 on a bet with a friend, on the other hand, goes squarely in the frivolous category. But for now, he can afford to be silly with a sum like that.
The convoluted tax burden every American professional athlete must learn to cope with
One crucial lesson Haskins learned was the almost unbelievable tax burden athletes face. "The taxes are no joke," NBC Sports quoted Haskins as saying. He spent a massive $550,000 on taxes alone. It's not a standard number for people with his level of sudden wealth, either. Being a professional athlete accounts for much of it.
Most people are taxed based on where they live and work. For pro athletes like Haskins, "working" means every state they play in. That means, as Bloomberg Tax reports, that every away game means another state is owed. Remember that next time you look at an NFL athlete's contract and think of every dollar landing in their bank accounts. For Haskins, it was a wake-up call, immediately driving him to take his money management seriously — even if he leaves a little room to enjoy life in the process.