5 Quarterbacks Most Likely to Win Their First Super Bowl
In 1968, Joe Namath guaranteed victory in Super Bowl III against the juggernaut Baltimore Colts, who were then lauded as the "greatest team of all time." Broadway Joe, of course, backed up his words, going for 206 yards to claim Super Bowl MVP honors. More than 40 years later, Eli Manning went over the top and threw helmet catches to take down the then-undefeated New England Patriots in Super Bowl XLII. For this, both Namath and Manning will be forever immortalized as Hall of Famers and the Toasts of New York, despite mediocre regular-season statistics.
Meanwhile, football fans will always unfairly dismiss Dan Marino for his failure to "make his teammates better" and win the Big One, despite shattering all types of records for the forward pass through his playing career. For 2016–17, five special signal callers are primed to defeat the ghost of Marino and enter the exclusive club reserved for Super Bowl-winning quarterbacks only.
5. Cam Newton
Last year, the Carolina Panthers rattled off 14 straight wins to start the season, before taking their first loss on the road in Atlanta. Cam Newton, as a dual-threat quarterback, closed out this regular season with 3,837 yards and 35 touchdowns through the air, while churning out 636 yards and 10 touchdowns on the ground. For this, Newton took home league MVP honors. For the playoffs, these 2015 Panthers blew the doors off both the Seattle Seahawks and Arizona Cardinals by a combined 80-39 score. Carolina, however, ran into a buzzsaw in the form of the Denver Broncos defense, with the Panthers taking a 24-10 loss in Super Bowl 50.
Newton, for his part, refused to address the media after taking six sacks and being harassed into miserable 18-for-41 passing. The Broncos wrote and perfected the blueprint on shutting him down. First, bring pressure off the edge, with speedy outside linebackers and defensive ends that contain the pocket. Next, the secondary will be in press coverage, forcing Newton to make quick decisions and force the football into tight windows. A spy will patrol the middle of the field at the ready to take a hard shot at Newton — if he were to take off and run — as a last resort.
For 2016–17, the Broncos opened up the season at Mile High and came out of the bloodbath with a 21-20 win over Carolina. The Panthers are now 1-3 and ready to hit the panic button, after being torched for 300 yards by Julio Jones in Atlanta. Still, all is not lost, because Carolina could be back at .500 heading into their Week 7 bye. For Week 16, the Panthers will rematch against Atlanta at home, with the NFC South crown likely still on the line. From there, a battle-tested Carolina club could very well find itself in the Super Bowl again, with Newton going play-action at the goal-line and rolling out to his right, just as Greg Olsen flashes open across the back of the end zone.
4. Andy Dalton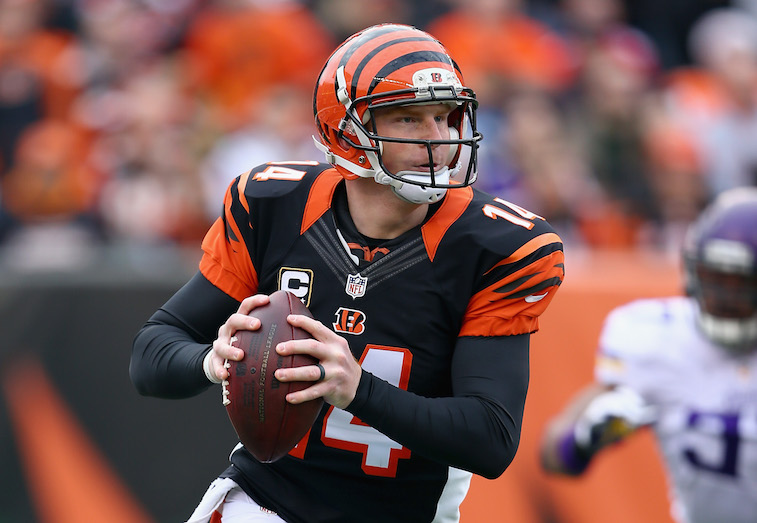 It truly is a sign of the times when the words "Cincinnati" and "win now" can regularly be said within the same sentence with a straight face. Before Marvin Lewis arrived, in 2003, everyone mocked the Bungles as a bottom-feeding franchise, mostly known for perennial losing, draft busts, extensive rap sheets, ugly uniforms, and embarrassed fans wearing brown paper bags to games at Riverfront. These Bengals, however, made five straight trips to the playoffs with Andy Dalton as their starting quarterback.
Last year, Dalton appeared to turn the corner and establish himself as more than a game manager in this league, by completing 66% of his passes for 3,250 yards and 25 touchdowns through 13 games. In breaking out, the Red Rifle appeared to finally be comfortable standing tall in the pocket and taking his shots downfield to the likes of A.J. Green and Tyler Eifert, instead of simply checking down to backs for swing passes out of the backfield. Like Carson Palmer before him, Dalton took a shot against the Pittsburgh Steelers that ended his season and dashed all hope in Cincinnati.
The 2015 Bengals went on to self-destruct and lose another brawl to the Steelers in the Wild Card round, with A.J. McCarron under center. That Christmas, Pittsburgh tackle Marcus Gilbert demanded a rematch against the Bengals in the playoffs, "where they choke." Without Dalton, Cincinnati responded in kind, in coughing up a fumble late in the game, doling out cheap shots across the middle, and racking up tens of thousands of dollars in fines.
Dalton does face off against Super Bowl winning quarterbacks four times each year out of his own division, in Joe Flacco and Ben Roethlisberger. For now, the Bengals are 2-2 and looking up at both Baltimore and Pittsburgh in the AFC North. This season, Cincinnati is primed for a Super Bowl run, if Dalton can stay healthy and the team can finally outlast the Ravens and Steelers.
 3. Carson Wentz
Welcome to Wentzylvania. The Eagles bet the farm on Carson Wentz, in trading three 2016 picks, one first-round pick in 2017, and one second-round pick in 2018 to move up in this latest draft. Philadelphia took him with the second overall pick in the 2016 NFL Draft. Wentz, out of North Dakota State, was then a relative unknown, despite winning five consecutive FCS National Championships.
As the Day One starter, he came out with an efficient 278 yards and two touchdowns, for an opening day 29-10 blowout win over the hapless Cleveland Browns. Still, critics emerged to circle a Week 3 home date against the Pittsburgh Steelers, as the first time that Wentz would supposedly face real competition. He, of course, played the game of his life, completing 74% of his passes and going over the top for 301 yards and two touchdowns. Wentz and the Eagles blew the doors off a Steelers team that many had touted as Super Bowl LI contenders. The league took notice.
As the total package, Wentz is a prototypical combination of size, understated athleticism, poised leadership, and a near photographic recall for football concepts. At the same time, the Eagles defense has quietly emerged as the best unit in the game, in terms of points given up. In 2005, it was Ben Roethlisberger who rode a ferocious defense as a young quarterback to Super Bowl glory. With time, there may very well be two Super Bowl winning quarterbacks at opposite ends of the Pennsylvania Turnpike.
 2. Matt Ryan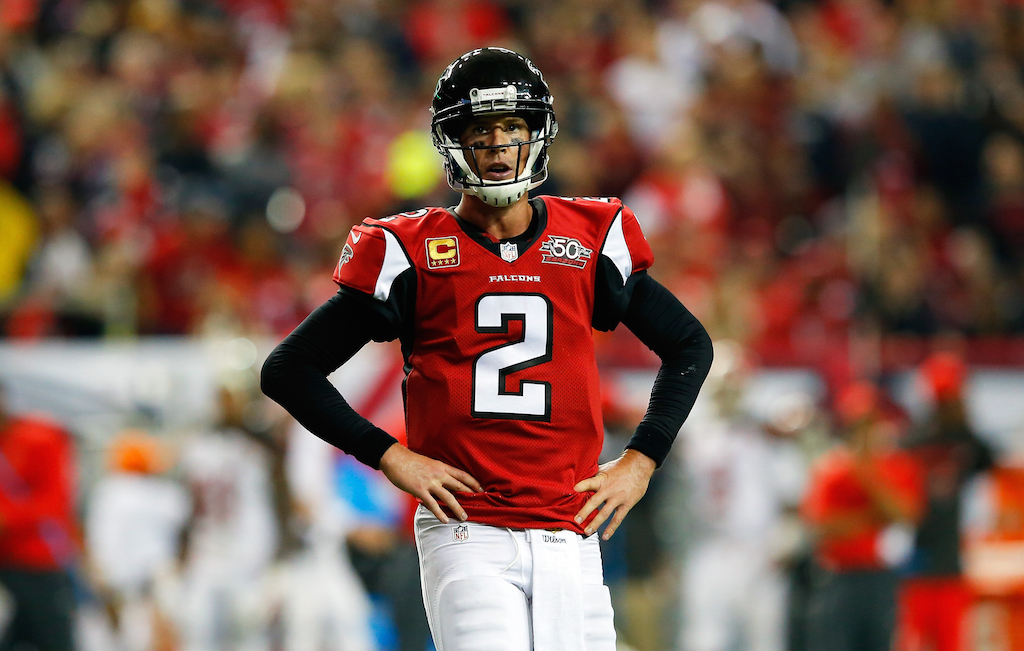 The Matt Ryan career arc may very well track that of Eli Manning. Both of these signal callers were drafted high with big-time expectations, only to fall back to the pack of good-but-not-great quarterbacks in this "what have you done for me lately" league. Manning, for his part, finally silenced his critics with a magical 2007 run that stunned the Patriots in Super Bowl XLII. Fans will now forever remember Eli Manning for the helmet catch and his two Super Bowl rings, rather than simply writing him off as Peyton's little brother, who led the league in interceptions three separate times.
In 2010, a stacked Falcons team went 13-3 and earned a first-round bye, only to get smoked by Aaron Rodgers and the Green Bay Packers at home. Two years later, in 2012, the Falcons were back at 13-3, but lost to the San Francisco 49ers in the NFC Championship Game. Ryan is 1-4 in the playoffs, and his staggering passing statistics have yet to translate into Super Bowl glory. Years ago, it was also assumed that Eli Manning would implode beneath the pressure.
For 2016, the Falcons now stand at 3-1, after surviving a 48-33 shootout against the Panthers in the Georgia Dome. Ryan, for his part, went over the top for 503 yards and four touchdowns, while playing pitch-and-catch with Julio Jones, who came up with 12 receptions for 300 yards in his own right. The Falcons put the game away in the fourth quarter, when Jones hauled in a quick slant pass across the middle, before turning the corner and outracing the entire Carolina secondary for 75 yards to pay dirt. In response, Josh Norman reminded the Panther front office that it got what it paid for. The Atlanta Falcons are now the team to beat in the NFC South, while the Carolina Panthers appear to be regressing. Ryan, like Eli before him, could get white-hot heading into the playoffs, shock the world, and lay claim to his first Lombardi trophy. All would then be quickly forgotten.
1. Trevor Siemian
Trevor Siemian does own one Super Bowl 50 ring — for his time running the scout team, carrying a clipboard, and wearing a headset behind both Peyton Manning and Brock Osweiler last season. Manning, of course, retired as a first-ballot Hall-of-Famer this offseason, right before Osweiler walked and signed on to a four-year, $72 million contract with the Houston Texans. At that point, the quarterback situation in Denver appeared to be an unmitigated disaster, with Siemian, Paxton Lynch, and even Mark Sanchez competing for slots on the depth chart through training camp.
As recently as last summer, Siemian actually lined up a job in commercial real estate in Chicago, for what was then assumed to be a legitimate career choice. These plans, however, were put on hold, after the Broncos took him in the seventh round, as the 250th overall pick and last quarterback in the 2015 NFL Draft. Siemian, while at Northwestern, started only 14 games, before blowing out his knee near the end of his senior season on a QB sneak. Still, he won the starting job in Denver by the second preseason game, largely due to his poised pocket presence and willingness to air out the football. Ironically, this move already proves to be an upgrade at quarterback in the Mile High City.
Last year, a 39-year old Peyton Manning threw 17 interceptions through nine regular-season games and was carried by a historically dominant defense, in what was a complete role reversal for No. 18. This year, Siemian has completed 67% of his passes for 824 yards and six touchdowns through four regular seasons, with the ever-dangerous Emmanuel Sanders and Demaryius Thomas at his disposal. On the other side of the football, Denver is still fourth in scoring defense, despite losing Malik Jackson and Danny Trevathan to free agency and DeMarcus Ware to injury — all from last year's ferocious unit. These Denver Broncos are now 4-2 and primed to defend last year's title.
Statistics courtesy of ESPN and Pro-Football-Reference.