The 10 Quarterbacks With the Most Career Passing Yards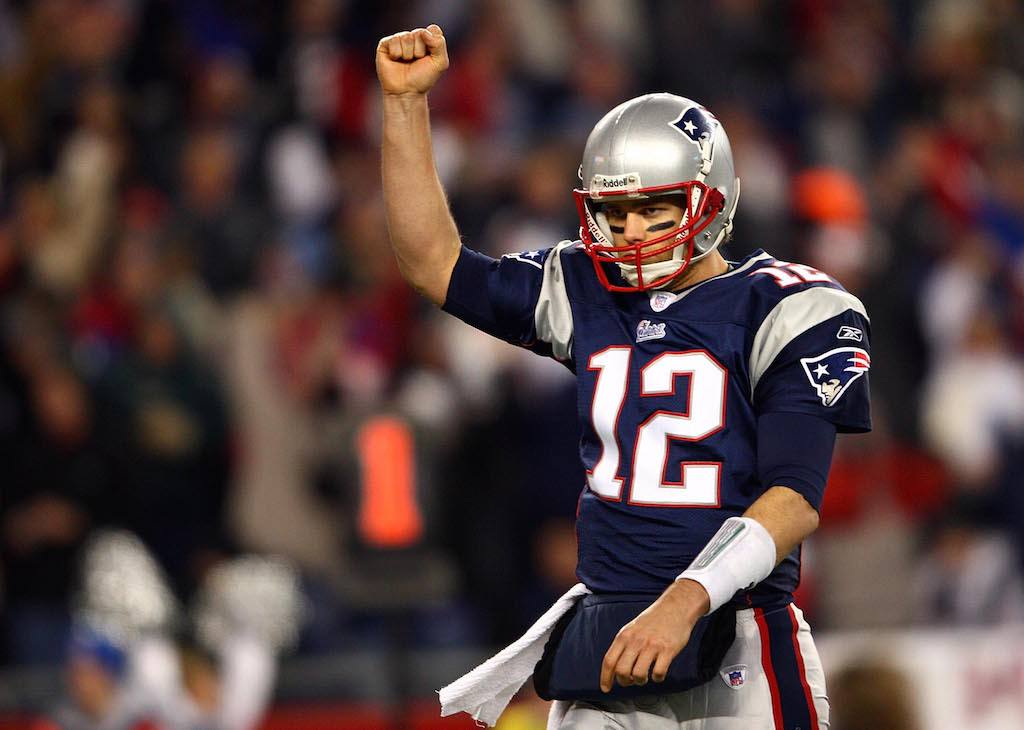 In spite of all the craziness that accompanied the 2016 NFL season, if there's one thing we've learned (or rather, relearned over and over again), it's that the New England Patriots are the best. At the heart of it all, there's one man who continues to, even at the ripe old of 39, light the world on fire. During the final week of the regular season, the great Tom Brady just so happened to do it again.
As the Patriots clinched the No. 1 seed in the AFC with a resounding 35-14 victory over the Miami Dolphins, Gisele's husband was busy making moves of his own, climbing to the No. 4 spot on the league's all-time passing list. In a career filled with crowning achievements (which now includes winning a QB-record five Super Bowl titles), this is just another example of why Brady is simply one of a kind.
Of course, common sense says that Brady's probably too old to ever reach No. 1 on this particular list. And yet, who knows; this wouldn't be the first time the future Hall of Famer defied the odds. To see how his numbers stack up against some of the other all-time great QBs, here's a look at the 10 players with the most career passing yards in NFL history.
10. Ben Roethlisberger
Career passing yards: 46,814 (and counting)
The Pittsburgh Steelers hit a home run when they drafted Ben Roethlisberger with the No. 11 pick in the 2004 draft. After a 2016 campaign that saw him throw for 3,814 yards, 29 touchdowns, and 13 interceptions, the former Miami (OH) product and two-time Super Bowl champ attended his fifth Pro Bowl and now has 46,814 passing yards for his career. As long as Big Ben can remain healthy, it's only a matter of time before he climbs higher up the passing ladder.
9. Fran Tarkenton
Career passing yards: 47,003
Hall of Famer Frank Tarkenton could do it all on the football field. Dubbed "The Scrambler," the nine-time Pro Bowl kept defenses honest with an uncanny ability to evade them with his legs, while also consistently torching them with his arm. For his career, 18 combined seasons with the Minnesota Vikings and New York Giants, Tarkenton threw 342 touchdown passes and amassed 47,003 passing yards, good for No. 9 on the all-time list. In the modern game, where the athletic and mobile quarterback is king, today's youthful gunslingers can thank Tarkenton for paving the way.
8. Eli Manning
Career passing yards: 48,214 (and counting)
His older brother may garner most of the praise, but Eli Manning definitely deserves love as well. Since entering the league in 2004, he's thrown for 48,214 passing yards (No. 8 all time), made four trips to the Pro Bowl, and outdueled Brady and the Patriots in two Super Bowl appearances. That's already a pretty solid career if you ask us.
7. Warren Moon
Career passing yards: 49,325
Warren Moon's greatness cannot be understated. In 17 NFL seasons, the Hall of Famer made nine Pro Bowls, led the league in passing twice (1990 and 1991), and finished with 49,325 career passing yards. Like some other legit quarterbacks, we won't hold it against Moon that he was never able to win a Super Bowl.
6. John Elway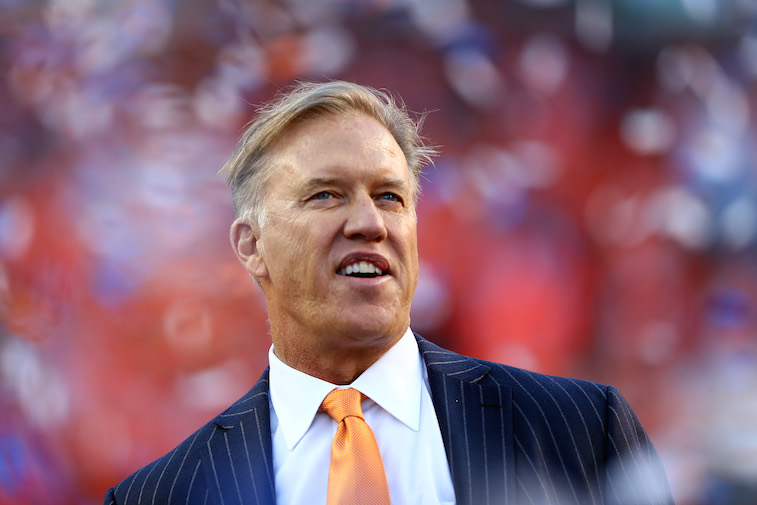 Career passing yards: 51,475
Prior to becoming one of the top general managers in the business, John Elway was a half-decent player himself. OK, so maybe he was a bit better than that. In 16 NFL seasons, the Denver Broncos great won two Super Bowls, made nine Pro Bowls, earned an MVP award in 1987, and threw for 51,475 career passing yards.
5. Dan Marino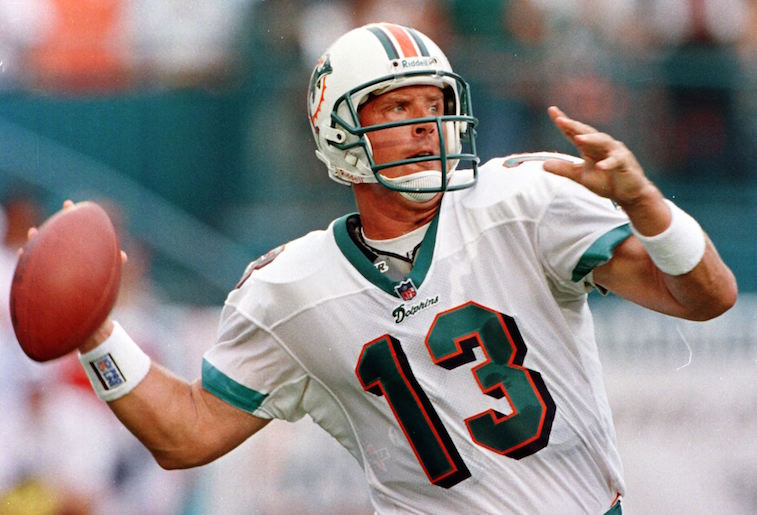 Career passing yards: 61,361
In a Hall of Fame career that saw Dan Marino make nine Pro Bowls and earn First-Team All-Pro honors three times, people tend to focus on the fact that he never won the Super Bowl. However, we think it's more important to acknowledge the accomplishments of this Miami Dolphins legend. With 61,361 career passing yards, Marino is No. 5 on the all-time list. Lombardi Trophy or not, we'll always consider this guy to be one of the best to play the position.
4. Tom Brady
Career passing yards: 61,582 (and counting)
The New England Patriots drafted Tom Brady in the sixth round of the 2000 NFL Draft, and it's safe to say the organization doesn't regret that decision. In 17 seasons, he has established himself as one of the greatest — if not the greatest — quarterbacks in NFL history and shows no signs of slowing down. Brady has won 183 regular-season games, made 12 Pro Bowls (including 2016), won four Super Bowls, earned two MVP awards, and recently moved into fourth place on the all-time passing list with 61,582 career passing yards. It's good to be No. 12.
3. Drew Brees
Career passing yards: 66,111 (and counting)
Thanks to his latest 5,000-yard passing season (the fifth of his career), Drew Brees continues his assault on the NFL's passing list. Not only has the nine-time Pro Bowler now led the league in passing an astounding seven times, but his current total of 66,111 passing yards gives him a commanding hold on the No. 3 spot all time. If you ask us, Brees still doesn't get enough credit for his remarkable run.
2. Brett Favre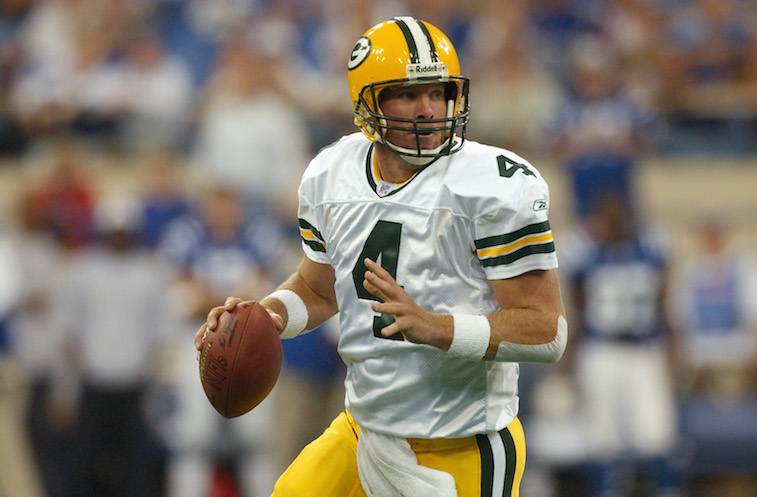 Career passing yards: 71,838
Few quarterbacks in NFL history ever played the game like Brett Favre even though he no longer holds the top spot on the list. Whether he let it fly with the Green Bay Packers or showed off his cannon as a member of the Minnesota Vikings, Favre always played the game with such love and passion, making him a true joy to watch. He is a legend, a Hall of Famer, and with 71,838 career passing yards, No. 2 on the all-time list. Not bad.
1. Peyton Manning
Career passing yards: 71,940
Following a satisfying victory in Super Bowl 50, the remarkable Peyton Manning joined the long list of greats who chose to walk away from the game as champions. While the sport will definitely miss him, Peyton left a lasting legacy that we won't soon forgot; one that includes 14 Pro Bowl appearances, two Super Bowl titles, five MVP awards, and 71,940 career passing yards — the most the game has ever seen. Yeah, we'd say that's pretty good.
Statistics courtesy of Pro-Football-Reference and ESPN.