Queen Beyonce Looks to Extend Her Reign to the Houston Rockets
If there's one thing we've learned this NBA offseason, it's that everyone seems to want a piece of the Houston Rockets. What started with arguably the biggest move of the summer in the acquisition of All-Star point guard Chris Paul has quickly spread like a combustible engine with the news that Hall of Fame center Dikembe Mutombo is interested in buying the team. But if you think Mt. Mutombo is just going to "wag his finger" into an ownership position without facing any legitimate challengers for the throne, you clearly doesn't know "who run the world."
That's right, folks, according to Bloomberg's Scott Soshnick, Beyonce is interested in buying a stake in the Houston Rockets. While the club declined to comment on the matter, and the pop star's people haven't responded to Bloomberg's email request for a comment, it's hard not to get excited about the possibility of Queen B grabbing a piece of the Rockets.
After all, as noted by Soshnick: "Beyonce, who has performed wearing a Rockets jersey, would add superstar sizzle to any ownership group, likely helping the team with local and international marketing."
In case you forgot (or didn't know) what it looks like when the Queen represents her hometown — did we forget to mention Bey's from Houston? — here's a little reminder: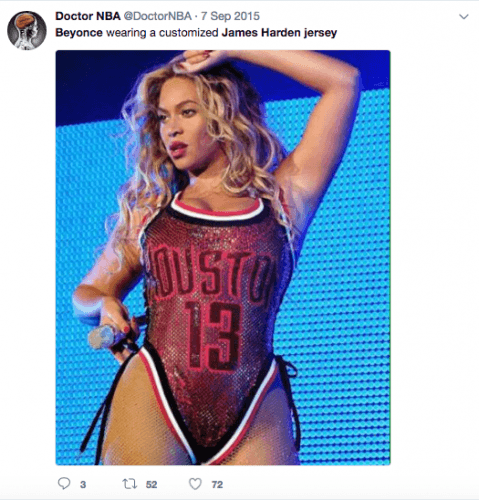 If Beyonce can cause mass hysteria, which includes captivating the attention of Rockets superstar James Harden by wearing a customized No. 13 jersey during her performance at Made in American back in 2015, imagine what she could bring to the table if she had some actual skin in the game.
The people of Houston will always have love for Mutombo, but in the end, there is only one Queen B. If she's able to extend her reign to the Rockets (or at least over a small part of it), then the club will truly be soaring.
Information courtesy of Bloomberg.