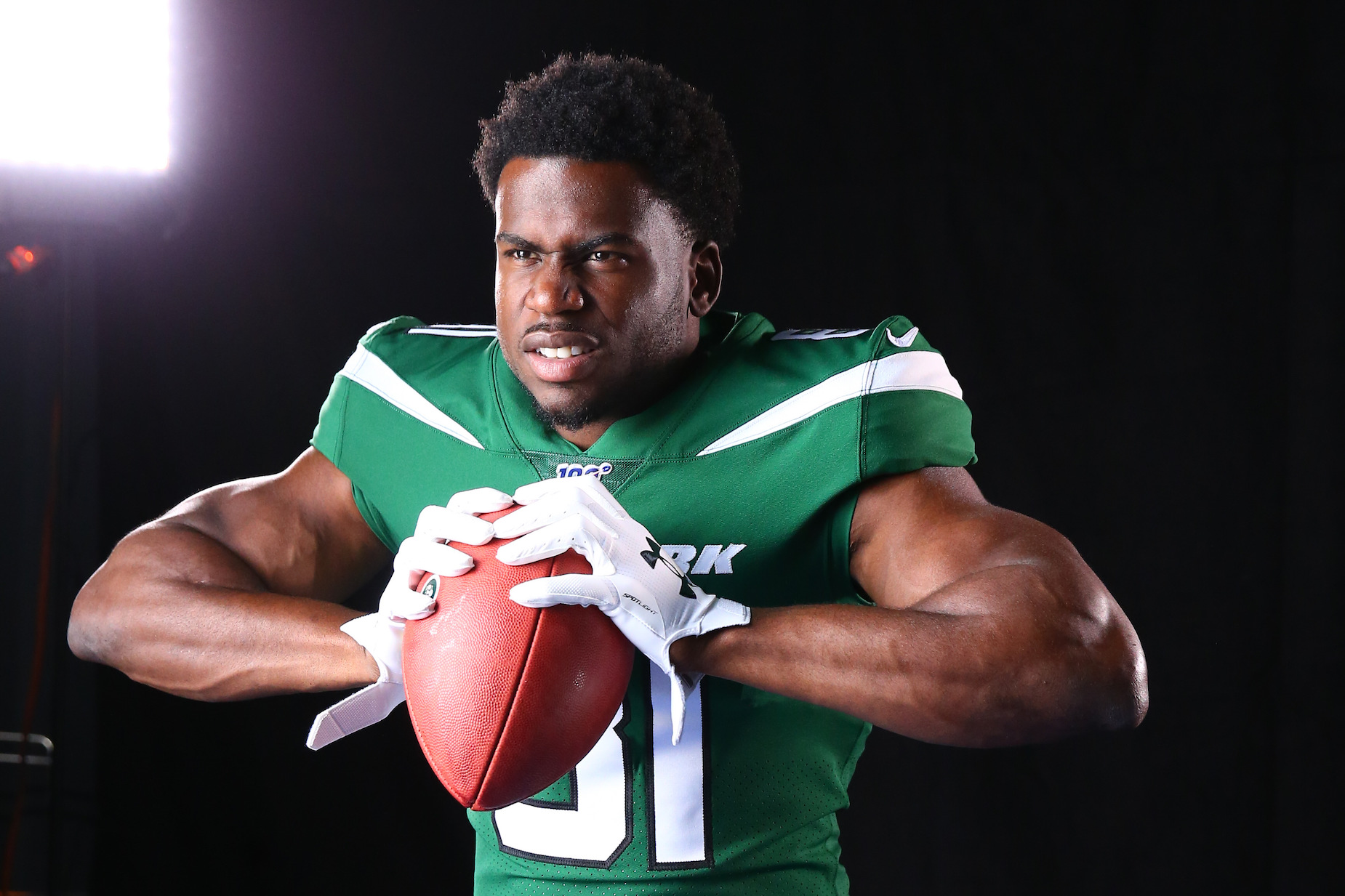 Quincy Enunwa's Contract With the New York Jets Was 1 of the Biggest Wastes of Money in NFL History
When the New York Jets signed Quincy Enunwa to a contract extension, they agreed to one of the biggest wastes of money in NFL history.
While every sports franchise has its ups and downs, the New York Jets seem to be stuck on the tarmac. Although there was a brief resurgence under Rex Ryan, things haven't been great for Gang Green. They haven't made the playoffs since 2010, but have seen plenty of mismanagement and poor decisions along the way.
One of those poor decisions, it seems, was inking Quincy Enunwa to a contract extension. The club officially released the injured wide receiver on Monday, making his deal one of the most flagrant wastes of money in NFL history.
Quincy Enunwa's football career
Unless you're a New Yorker or an avid fantasy football player, you probably aren't too familiar with Quincy Enunwa.
Like many future NFL players, Enunwa was a multi-sport athlete in high school, suiting up for the football team in addition to the track and field team. After graduation, he took his talents to the University of Nebraska; the receiver spent four seasons with the Cornhuskers, accumulating 115 catches for 1,526 yards and 15 touchdowns.
Enunwa entered into the 2014 NFL draft and joined the New York Jets as a sixth-round pick. His professional career didn't get off to a flying start, though, as he began the year on the team's practice squad; he eventually made it onto the active roster, but only appeared in one game as a rookie.
The receiver got a bit more playing time in 2015 but peaked the following year. With Eric Decker on injured reserve, Enunwa got his chance to shine; while he didn't set the world on fire, he did pull in 58 catches for 857 yards and four touchdowns.
Although Enunwa took a step backward after that—he appeared in 11 games during the 2018 campaign, catching 38 passes for 449 yards and one touchdown—the Jets still liked what they saw. The club inked the receiver to a four-year contract worth $36 million. That deal, however, will go down as an utter waste of money.
Paying $20 million for 1 catch and negative yards
When the Jets inked Quincy Enunwa to that contract extension, they were presumably expecting him to be a piece of their receiving corps for the foreseeable future. In reality, though, they simply set $20 million on fire.
While Enunwa suited up for the first game of the 2019 season, that would be his only appearance for the entire campaign; he suffered a neck injury in the first quarter, landing on the injured reserve. He was slated to miss all of 2020 as well, prompting the Jets to release him on August 3.
Although there's no way that the Jets could have predicted Enunwa's injury, that doesn't change their bottom line. As spelled out by Jason Fitzgerald of Over the Cap, the club ended up spending just over $20 million for one reception and negative four yards; they'll also be taking some dead salary cap space for 2020 and 2021.
Quincy Enunwa wasn't the New York Jets' only bad decision
Over time, every NFL franchise is bound to be saddled with a few bad contracts and personnel decisions. Unfortunately for the New York Jets, Quincy Enunwa wasn't a one-off mistake.
In a move that Jets fans will never forget, the club selected Vernon Gholston with the sixth-overall pick of the 2008 NFL draft. Rather than turning into the centerpiece of Rex Ryan's defense, he failed to record a single sack in the Big Apple. The Jets paid him $18 million over three seasons before eventually cutting bait.
As Joe Lacalandra laid out for JetsWire, Gang Green's missteps don't end there. They inked Neil O'Donnell to a five-year contract in 1996; he lasted two seasons before losing his job. The club also inked the likes of Santonio Holmes, Curtis Conway, and Sam Cowart to ill-fated deals.
Based on his stats, Quincy Enunwa won't earn a place in New York Jets history. His most recent contract, however, will go down as a historic waste of money.
Stats courtesy of Sports-Reference and Pro-Football-Reference