Rafael Nadal Doesn't Need to Travel With Much When He Goes to Tennis Tournaments
In the modern era of tennis, there are really only three athletes who dominate the men's side of the sport: Novak Djokovic, Roger Federer, and Rafael Nadal. All of them are still going strong, including Nadal. While the 34-year-old's game involves a lot of nuances that give him an edge over his competitors, one area in which he's devastatingly simple is his off-court gear. Let's look at why Nadal doesn't need to travel with much as he competes around the world.
Rafael Nadal is one of the greatest tennis players ever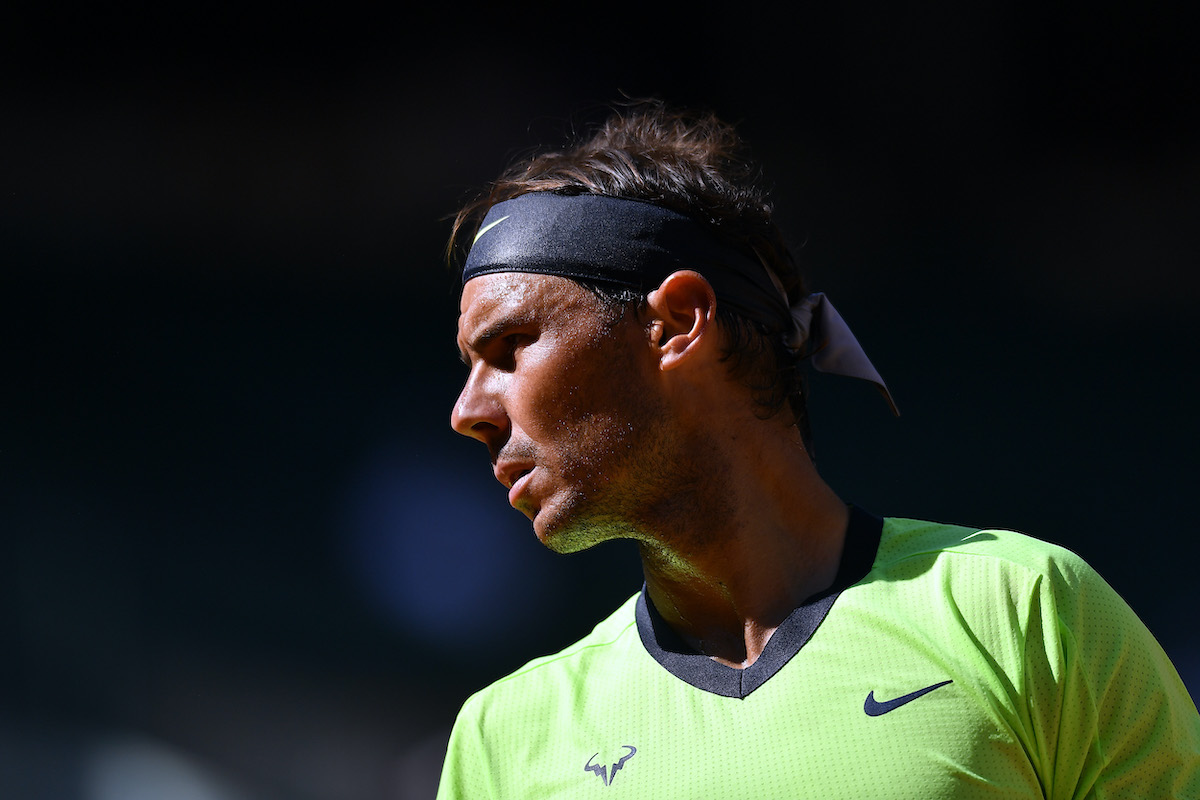 Nadal, Federer, and Djokovic are certainly the top three tennis players of the modern era. It wouldn't be ridiculous to include Nadal in the conversation for the greatest player ever. According to the ATP, Nadal is currently ranked No. 3 in the world, though he has been No. 1 many times before. Here are some of his greatest achievements: 
Nadal has ranked in the top 10 overall in the world for 804 consecutive weeks (April 2005 – February 2021). He's spent 209 weeks as the No. 1 player in the world. 
Nadal is the undisputed best clay player of all time. He's won 60 of his 86 titles on clay, with a 445-40 overall record on the surface. From 2017-18, he won 50 straight sets on clay. 
Only Federer can claim to have the same number of Grand Slam titles; both men are tied with 20. Nadal has won the French Open 13 times and won 100 matches at the tournament. 
Along with Andre Agassi, Nadal is one of only two male players to win a career Grand Slam while also winning an Olympic gold medal. 
Nadal's endearing humility
Aside from being dominant on clay and an overall phenomenal player, Nadal is also known for being exceedingly humble. While some tennis stars are bombastic and flashy, the Spanish athlete goes about his business with quiet dignity. Just look at Nadal's response after being asked about his failure to win multiple Australian Open titles.
According to Tennis Majors, Nadal doesn't chalk up his lack of success to bad luck: "Not at all feeling unlucky for me and not at all I complaining about my luck here in Australia … Tennis isn't a sport that is fair. I have what I deserved in my career, and over here in Australia I had chances, but I was not able to convert it. That's all. I didn't deserve more."
As if that statement wasn't evidence enough of Nadal's humility, check out what he considers his "essential" items as he travels to and from every tennis tournament. 
Rafael Nadal doesn't travel with much when he heads to a tennis tournament
In a video for GQ Sports, Nadal listed 10 things he can't live without. For many superstar athletes and entertainers, you'd think this list would include some extravagant items. That wasn't the case for Nadal. Here's what he considers his "essentials":
Phone
Computer
Racket bag
Racket
Clothes (casual and athletic wear) 
Airpods
Passport
Pain relief medicine
Face mask
It's a bit surprising that an athlete of Nadal's caliber doesn't have more expensive or luxurious items on his list, but this clearly speaks to the star's humility. Every one of those items is reasonable for a pro tennis player to have. Many of them are reasonable for a normal person to have. After all, who wouldn't travel without their clothes, passport, or aspirin? 
Nadal's always been a quietly unassuming star, and this only reinforces that. For someone who's won as many matches and made as much money, a larger list of more exotic items would make sense. But for Nadal, this humble assortment is just right and in line with everything we know about him.