'Raging Bull' Boxer Jake LaMotta Dies | This Was His Biggest Rivalry
Boxing legend Jake LaMotta, former middleweight champion and subject of the Robert DeNiro movie Raging Bull, has died in a Florida nursing home at 95. His fiancée of 25 years, Denise Baker confirmed to ABC the cause of death was pneumonia.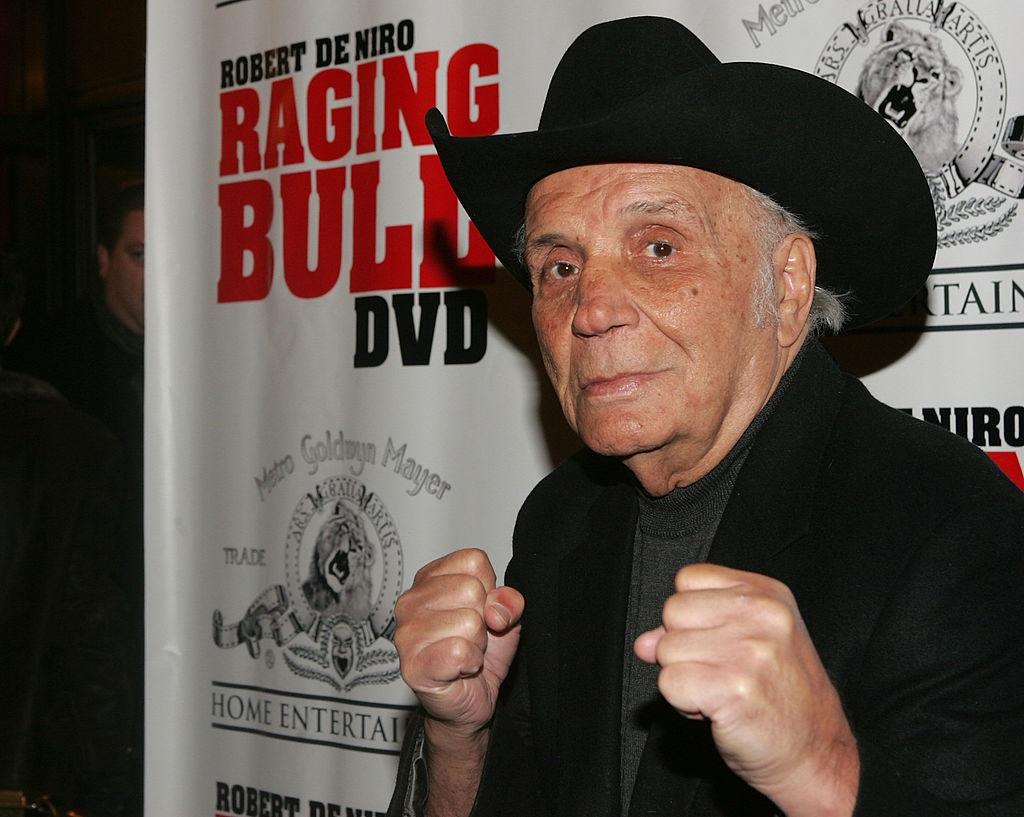 The former fighter had been under hospice care at the Palm Gardens nursing home in Miami for the past few weeks. "He was a great man, sensitive, and had eyes that danced right up to the end. I love him; God rest his soul," Baker told ABC. "And he never went down."
The boxing legend's career spanned from 1941 to 1954, with a record of 83-19-4 with 30 knockouts. He was known for his battles with Sugar Ray Robinson, and the rivals participated in a total of six fights over the years, although the two often were in different weight classifications. In the first match, which took place in 1942, Robinson defeated LaMotta with a 10-round unanimous decision. When it was over, Robinson commented on LaMotta, "I never fought a fighter as strong as he is."
LaMotta got a chance to redeem himself the following hear when the two matched up twice in the month of February. The first of those resulted again resulted in a 10-round unanimous decision, but this time in LaMotta's favor as he handed Robinson his first defeat. During the matchup's eighth round, LaMotta knocked Robinson through the ropes of the ring.
The same month, despite being knocked down in the seventh round, Robinson turned things around and defeated LaMotta in a unanimous decision.
Robinson went on to defeat LaMotta twice more in 1945. On Feb. 14, 1951, in a battle that became known as the St. Valentine's Day Massacre, Robinson dominated in the ring and bloodied LaMotta with a barrage of punches. Although LaMotta was still standing, the fight was stopped in the 13th round.
LaMotta later said, "The three toughest fighters I ever fought were Sugar Ray Robinson, Sugar Ray Robinson, and Sugar Ray Robinson. I fought Sugar so many times, I'm surprised I'm not diabetic."
In other matches, LaMotta won the world middleweight title after defeating French boxer Marcel Cerdan in 1949. A rematch was scheduled but never happened because Cerdan died in a plane crash. LaMotta went on to successfully defend his title against Tiberio Mitri and Laurent Dauthuille.
LaMotta's last match before retiring took place in 1954. It ended in 10-round split-decision loss. Years later, the former boxer was inducted into the International Boxing Hall of Fame in 1990.
LaMotta went on to write a memoir, titled "Raging Bull: My Story," which was published in 1970. The book was made into a movie in 1980, directed by Martin Scorsese and starring Robert De Niro as LaMotta. The film also launched the acting careers of Joe Pesci, who played LaMotta's brother and Cathy Moriarty, who played LaMotta's wife.
Jake LaMotta poses with Martin Scorsese and Robert De Niro on the set of RAGING BULL in 1979. #RIP pic.twitter.com/fZNqM2CBcO

— Tribeca (@Tribeca) September 20, 2017
https://twitter.com/DLineVids/status/910526864774512640
De Niro issued a short, simple statement Wednesday following LaMotta's passing: "Rest in peace, champ."