New Raiders Coach Josh McDaniels Waxes Poetic About Tom Brady, Bill Belichick, and Robert Kraft: '3 GOATS?!? What a Collection of Talent I Was Privileged to Work With Here'
Josh McDaniels is off on a new adventure in the Las Vegas desert, but the new Raiders coach isn't forgetting what got him to this point. He gained notoriety because of his time with the New England Patriots.
He's a six-time world champion. All because of New England.
Upon his departure, McDaniels took out a full-page ad in The Boston Globe, specifically thinking Tom Brady, Bill Belichick, and team owner Robert Kraft.
Josh McDaniels has spent 18 seasons with the New England Patriots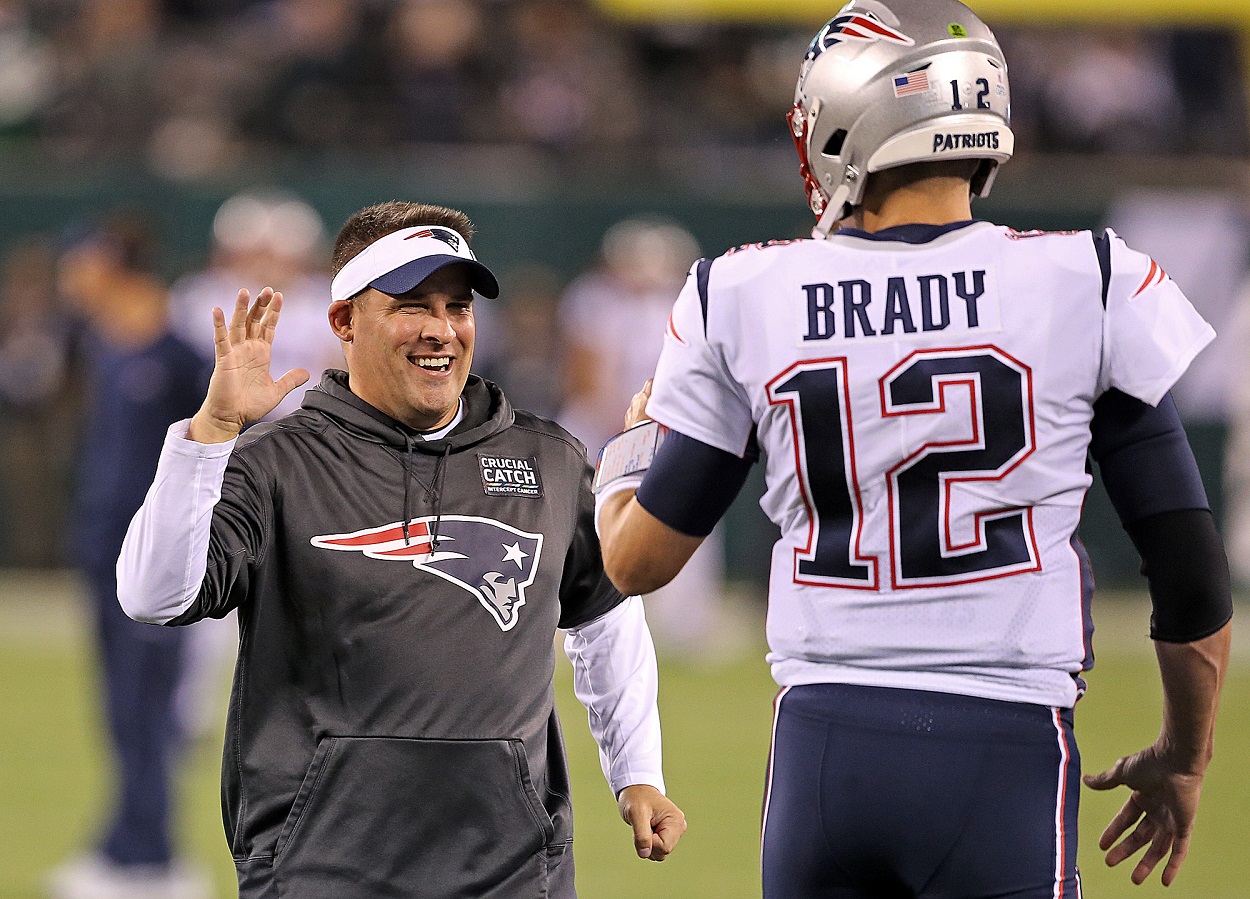 There's a reason the Raiders hired McDaniels away from the Patriots. He's been regarded as arguably the best offensive coordinator in the NFL, and he's certainly the most accomplished.
He's been Belichick's right-hand man as offensive coordinator for the past 10 seasons and was a huge part of Brady's success in New England. McDaniels famously had a failed stint as a head coach, going 11-17 in two seasons (2009 and 2010) with the Denver Broncos, but he got that opportunity because of the career he had built with the Patriots to that point. McDaniels was New England's offensive coordinator from 2006-2008. He was an assistant coach in New England for five seasons before that promotion.
In all, 18 of his 21 NFL seasons were spent with the Patriots. He started as a scouting assistant in 2001 and has now worked his way back up the NFL ladder.
"When I moved here 20 years ago, I had no children, no wife, no NFL experience and of course no Super Bowl ring," McDaniels wrote, per NFL.com.
"Two decades here have given me a magnificent wife, 4 magnificent kids and 6 Super bowl rings. Through school carpools, club sports, my kids' friendships, Nor'easters, the pandemic and my crazy schedule, you've always been there for us. You drew a perfect picture of what 'HOME' for an NFL football coach should be."
McDaniels had a front-row seat to the greatness of Tom Brady and Bill Belichick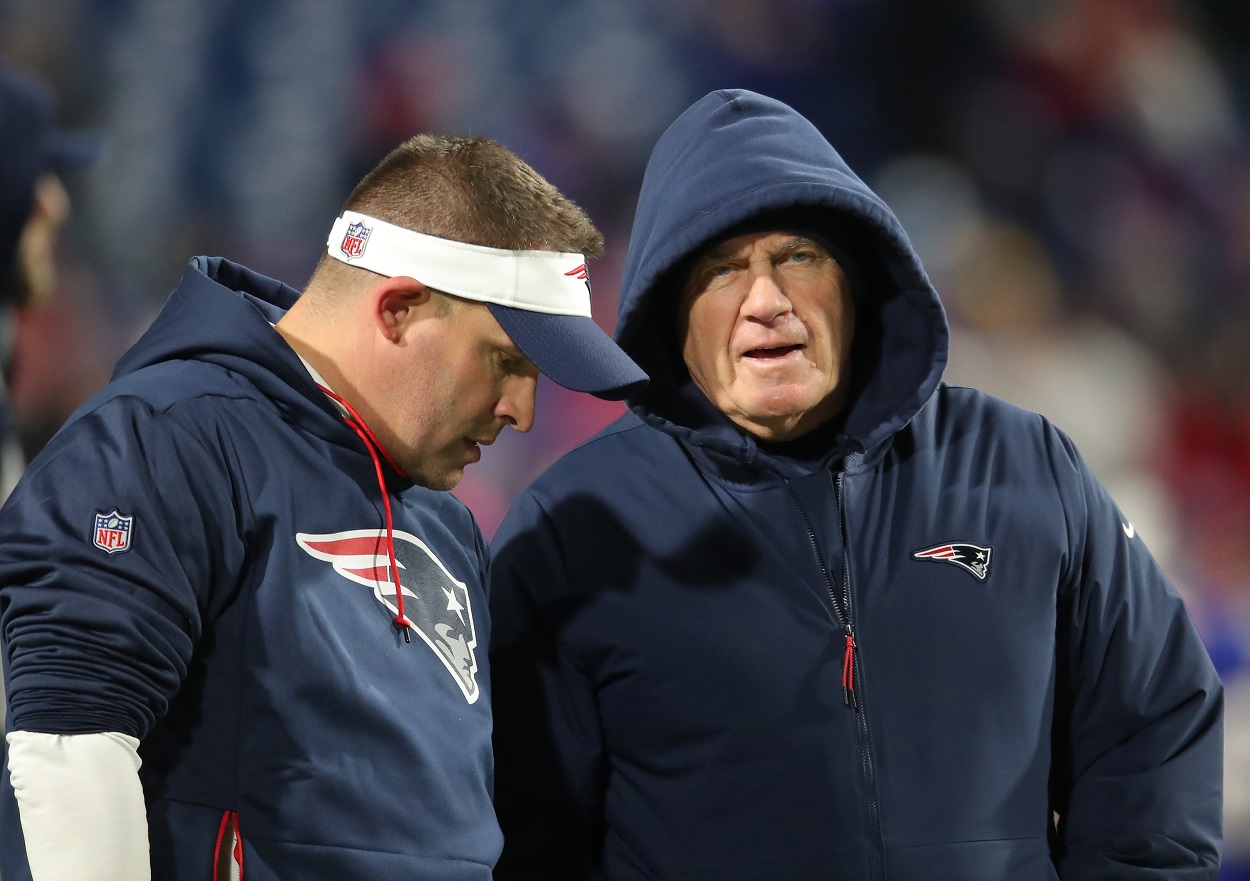 McDaniels was a major piece of the puzzle for the Patriots, but any success in New England started and ended with the duo of Belichick and Brady.
Few have accomplished with Brady and Belichick did together in New England.
Leadership is key, even at the NFL level, and the Patriots had two of the greatest leaders in sports history. There was Belichick, with his gruff, no-nonsense style of coaching. He was and still is a cut-throat decision maker and only focuses on one thing, winning. Brady was the perfect complement to Belichick as the face of the franchise. Sure, he was a bit more marketable, but he also led with just one goal in mind, Super Bowls.
Neither person was afraid to call out those around them if they weren't living and playing by the New England standard. That standard led to a ton of success. The six Super Bowl championships speak for themselves.
In his letter to New England, McDaniels said that he got to watch Brady play "the most important position in all of team sports better than anyone has ever played it."
He also had high praise for Belichick.
"Bill taught me how to teach others how to pay this game I love, and sculpted me into the coach I am today," he said. "Bill's brilliance has been matched in my life only by his generosity, his willingness to share with me invaluable coaching axioms that have shaped and will continue to shape my career and my life immeasurably."
McDaniels is heading into a much different situation with the Las Vegas Raiders
One of the greatest strengths of New England over the years has been consistency. Belichick has been at the head of the organization since 2000 and doesn't appear to be going anywhere. Kraft has owned the team since 1994 and is 100% behind and supportive of anything Belichick decides to do. Before going to the Tampa Bay Buccaneers in free agency, Brady had been the starting quarterback in New England for 19 seasons.
"3 GOATS?!? What a collection of talent I was privileged to work with here," McDaniels wrote about Belichick, Brady, and Kraft.
For what it's worth, McDaniels will be entering a vastly different environment in Vegas. The Raiders undoubtedly hired him to install the culture of stability and success that he experienced in New England, but he'll have his work cut out for him.
Mark Davis has been operational head of the Raiders since 2011, but in that time, he's seen six head coaches try to lead the franchise. The longest-tenured was Jack Del Rio, who was head coach from 2015 to 2017. Jon Gruden technically got a fourth season with the Raiders, but he unceremoniously resigned midway through the season after an investigation uncovered racist, misogynistic, and homophobic emails that Gruden had sent from 2011 and 2018 to then Washington general manager Bruce Allen.
Rich Bisaccia took over as interim coach and actually led the Raiders to the playoffs, but they were bounced in the Wild Card round by the Cincinnati Bengals and Davis decided to ultimately not retain Basaccia as head coach. This, despite the fact that quarterback Derek Carr and star defender Maxx Crosby both publically lobbied for him.
Speaking of Carr, 2022 will be his final season under contract. He's been one of the better quarterbacks in the league over the years but has had a hard time leading the Raiders to any wins of consequence. Because of his contract structure, the Raiders could potentially cut him or trade him this offseason and suffer no dead cap ramifications. In fact, they would save $19.7 million doing so.
On the flip side, Vegas could also offer Carr a contract extension if McDaniels thinks he can replicate the success he had with Brady with his new quarterback.
Stats courtesy of ESPN and Pro Football Reference. Contract information via Spotrac
RELATED: What Does the Hiring of Josh McDaniels Mean for Raiders QB Derek Carr?