Raiders Dysfunction Continues After Rich Bisaccia's Latest Comments Point to His Inevitable End
The Las Vegas Raiders continue to be one of the most confusing teams in the NFL this season. After a 3-0 start to the year, they dropped to 6-6. Jon Gruden was fired after a series of emails involving racist tropes came to light, and Rich Bisaccia immediately took over as the interim head coach.
At the time, Bisaccia seemed to be the perfect fit in Sin City, but his latest comments show that the Raiders might be looking elsewhere for a head coach once the season comes to a close.
The Raiders fall to 6-6 after a tough loss to the Washington Football Team
Once again, another upsetting loss for Las Vegas. This is the Raiders' fourth loss in the past five games, with the one victory coming against the Dallas Cowboys on Thanksgiving in overtime.
What stings even more is the disappearing offense. The Raiders scored just one touchdown on Sunday and allowed Washington to march down the field and score a game-winning field goal.
In the Raiders' past four losses, they have scored a total of five touchdowns. That simply isn't going to cut it, and quarterback Derek Carr reiterated this frustration after losing to Washington (h/t Jesse Merrick of KSNV News 3).
"Very frustrating…field goals aren't gonna win you games."

Derek Carr after another frustrating loss
The offense is broken and needs fixing, and things are looking foggy in Las Vegas.
Rich Bisaccia's latest comments are proof that he isn't the right guy for the job
Bisaccia's time as the Raiders head coach isn't going to last very long. At one point, there was a possibility of him staying on as head coach.
But the offense has sputtered, the defense is shaky, and the Raiders went from playoff contender to out of contention in just a matter of weeks.
Even worse, Bisaccia's comments after the loss are eye-popping in every sense and not something you want to hear from a head coach (h/t Tashan Reed of The Athletic).
"You want to talk about highs and lows of a season, I mean, the highs have been pretty good and the lows have been really low. Humanistically, the lows have been really low, and then professionally, on the grass, the lows have been low. But again, if you're results-oriented all the time, then you're just looking at the scoreboard and spending your life up there. There's a process to what we try to do. There's a process to improving every day."

Rich Bisaccia after another loss
Yeah, this is not what you want to hear. Results-oriented, looking up at the scoreboard, a process, all of that. Coach speak at its finest. However, this isn't a ringing sign of endorsement from a team that still has a shot at the playoffs.
At 6-6, they are very much alive in the AFC Wild Card race, but Bisaccia's comments seem to show that this is a lost season.
The Raiders schedule doesn't do them any favors and Bisaccia needs to turn things around if he wants to stay on board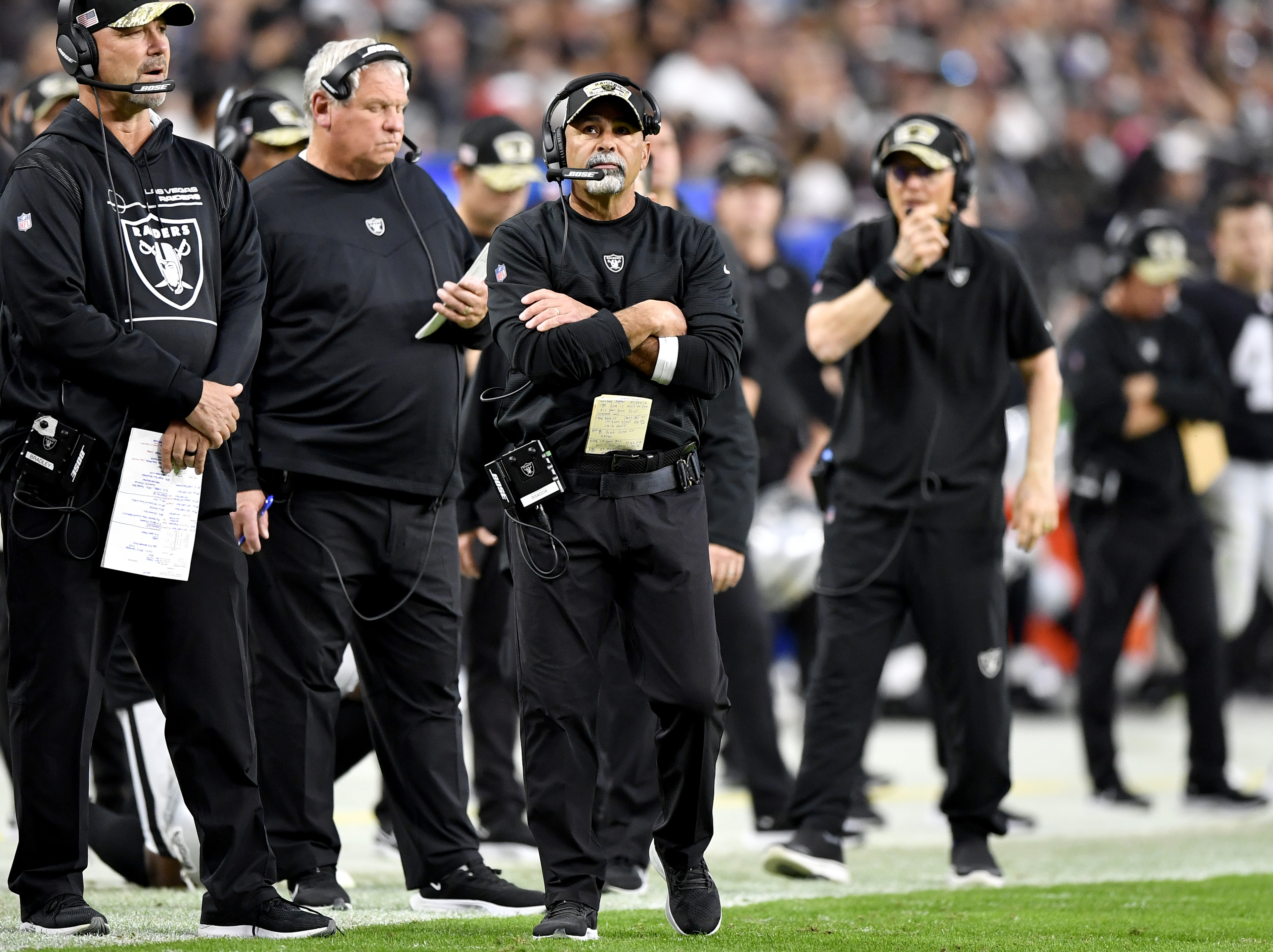 The Raiders are technically still alive in the crowded AFC. However, they face the Kansas City Chiefs, Denver Broncos, Indianapolis Colts, Cleveland Browns, and Los Angeles Chargers to finish the year.
At the moment, all five of those teams are .500 or better. The Colts, Chiefs, and Chargers all have above .500 marks.
Things are messy in the Wild Card race, and the Raiders will more than likely need to win at least three games to snag a spot, and even then things are iffy.
If Bisaccia and Las Vegas can't turn things around and pay more attention to the scoreboard, his team as head coach could be over.