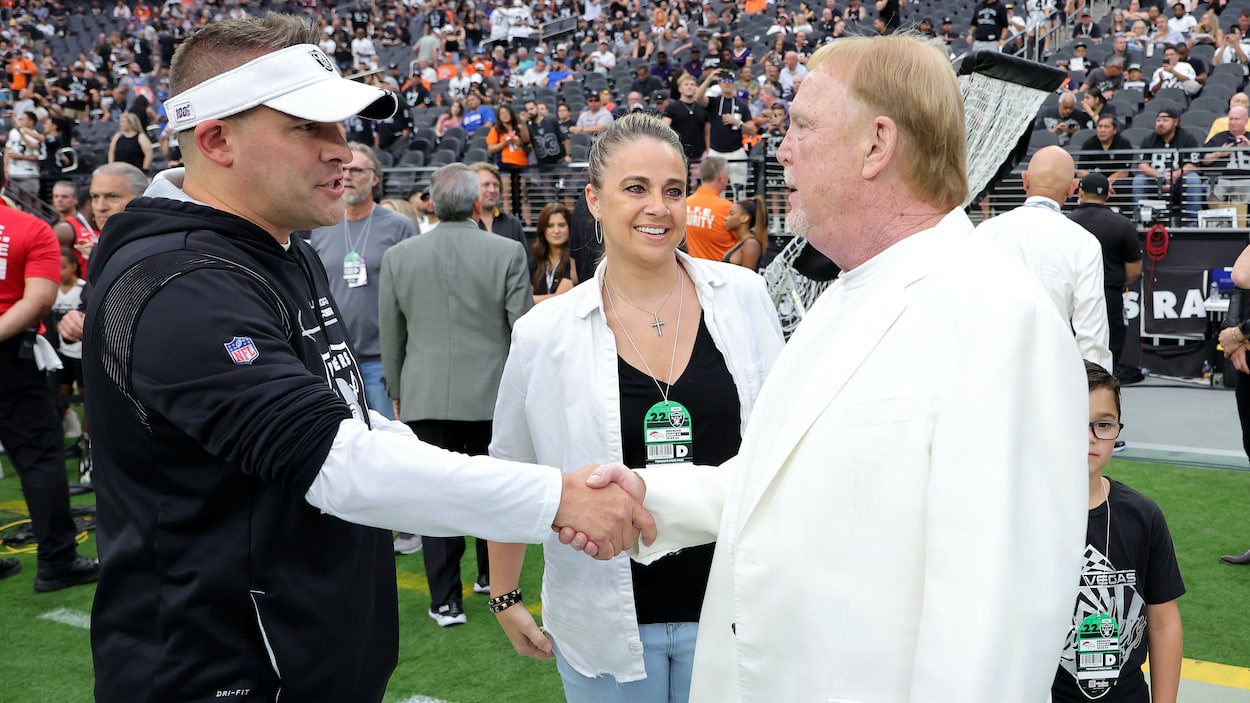 Raiders Owner Mark Davis' Latest Positive Comments on Josh McDaniels are Bad News for 1st-Year Coach
After an emotional Derek Carr presser following the Raiders Week 10 loss, owner Mark Davis gave coach Josh McDaniels a vote of confidence.
If you've followed the NFL long enough, you know how the firing cycle goes. The team starts to tank, the coach begins to lose the team, the owner comes out with the dreaded "vote of confidence," and the next thing you know, the coach is gone. With the 2022 Las Vegas Raiders steps one and two happened over the last several weeks. Then, after a Week 10 loss to first-time head coach Jeff Saturday and the Indianapolis Colts, Raiders owner Mark Davis took the penultimate step in the firing process and heaped praise on head coach Josh McDaniels. That means McDaniels' firing shouldn't be far behind.
Raiders owner Mark Davis gave Josh McDaniels the dreaded vote of confidence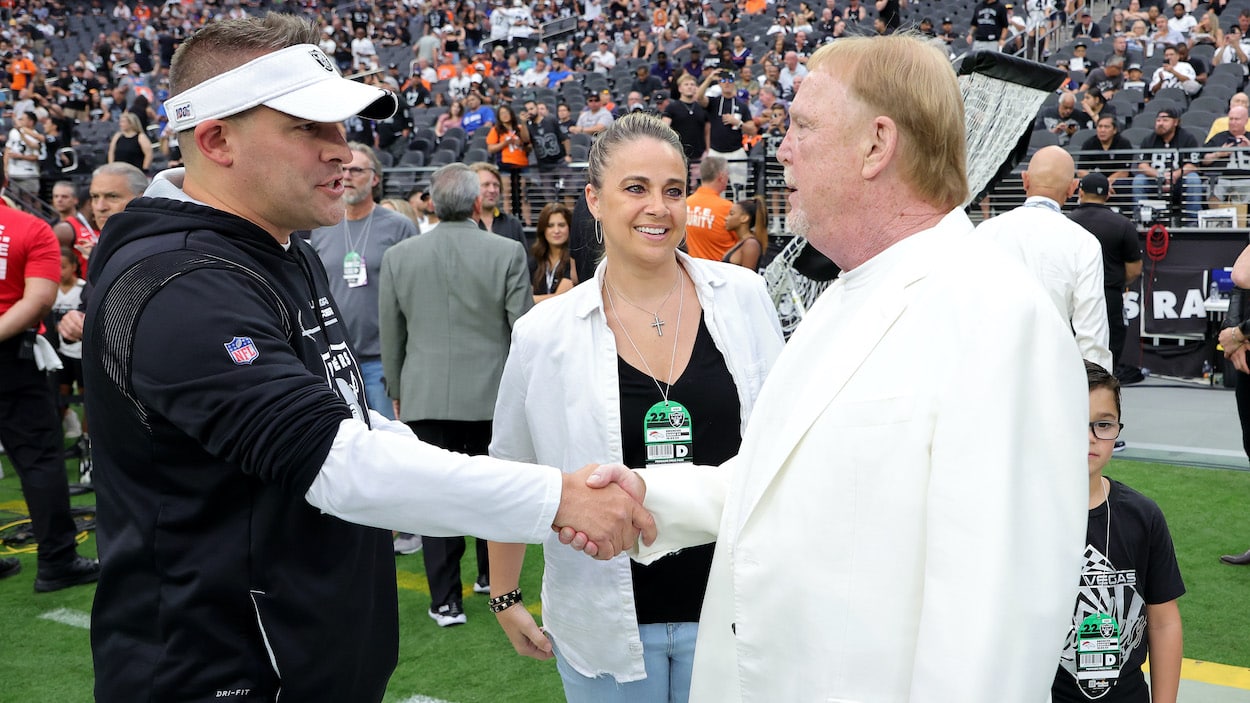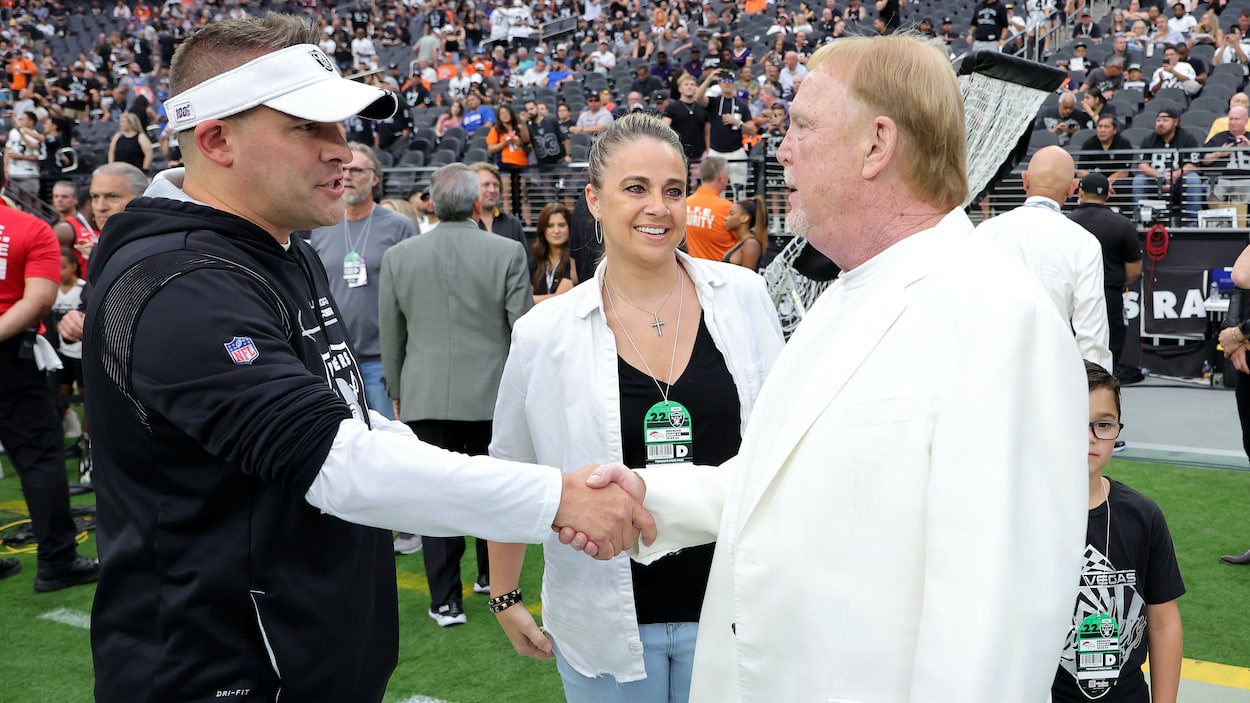 "I believe in Matt [Rhule]. He has my full support."
"Irsay said 'rather emphatically' that he's giving 'no thought' to firing [Frank] Reich."
These are quotes from Carolina Panthers owner David Tepper on Matt Rhule and about Indianapolis Colts owner Jim Irsay in regard to Frank Reich. What do Reich and Rhule have in common? They are no longer NFL head coaches.
If we included a third quote in the vein of the two above, it might be something like, "As far as Josh [McDaniels] goes, I have no issues. I'm getting to know him a lot better," Raiders owner Mark Davis told the Las Vegas Review-Journal. "I like Josh. I think he's doing a fantastic job. That's why I hired him."
And there it is — the dreaded vote of confidence.
McDaniels has nothing to earn this confidence. They have the second-worst record in the NFL (2-7) and now have two separate three-game losing streaks this season. In Week 10, they lost to a team in the Colts with the owner's "drinking buddy" at head coach and a quarterback who'd previously been shut down for the season.
The team is ranked 19th in scoring offense (McDaniels supposed specialty) and 22nd in scoring defense. And while some of that is due to tight end Darren Waller's season-long injury struggles and wide receiver Hunter Renfrow's recent trip to IR, the team still has Derek Carr, Davante Adams, Josh Jacobs, Maxx Crosby, and Chandler Jones.
Despite all that talent, the Raiders are a complete train wreck, and it's hard to pin that on anyone other than Josh McDaniels.
Things have gotten so bad in Las Vegas that it almost brought Carr to tears on Sunday.
Derek Carr is at his wit's end with his team after Week 10 loss
In one of the rawest shows of emotion in recent NFL memory, Las Vegas Raiders quarterback Derek Carr took the podium after the Raiders Week 10 loss to the Colts and bared his sorrow and frustration about the 2022 season.
Rocking back and forth and trying, unsuccessfully, to hold back tears, Carr said of Josh McDaniels, "I love Josh. I love our coaches. They've had nothing but success. Way more success than I've ever had."
After pausing to gather himself, Carr continued, "I'm sorry for being emotional. I'm just pissed off about some of the things that a lot of us try to do just to practice. What we put out bodies through just to sleep at night. And for that [loss to the Colts] to be the result of all that effort, pisses me off. It pisses a lot of guys off."
And after weeping over what some of his teammates go through, Carr dropped the hammer on the part of the locker room that doesn't sound as bought-in.  
"I wish everybody in that room felt the same way about this place," Carr revealed. "And as a leader, that pisses me off, if I'm being honest."
While Carr may love his head coach, his honesty at the podium may suggest that Josh McDaniels has lost a large portion of the locker room, which would seriously hurt his case to keep his job.
For now, McDaniels remains the leader of the Silver and Black. But after Mark Davis' praise on Monday, it wouldn't be a shock if he were the next coach fired.