NFL: Raiders QB Derek Carr Received Great Advice About Playing With Antonio Brown
Antonio Brown was supposed to elevate the Raiders offense in 2019. Their quarterback, Derek Carr was especially looking forward to working with the unstoppable wide receiver. For the first time in his career, Carr would have a talented offensive line, and he felt that he could use some advice on handling it. He turned to the NFL's greatest quarterbacks for advice on playing with Brown. What they said was interesting, but what's even more interesting is the reason Carr won't need their advice after all.

Derek Carr thought he found support with Antonio Brown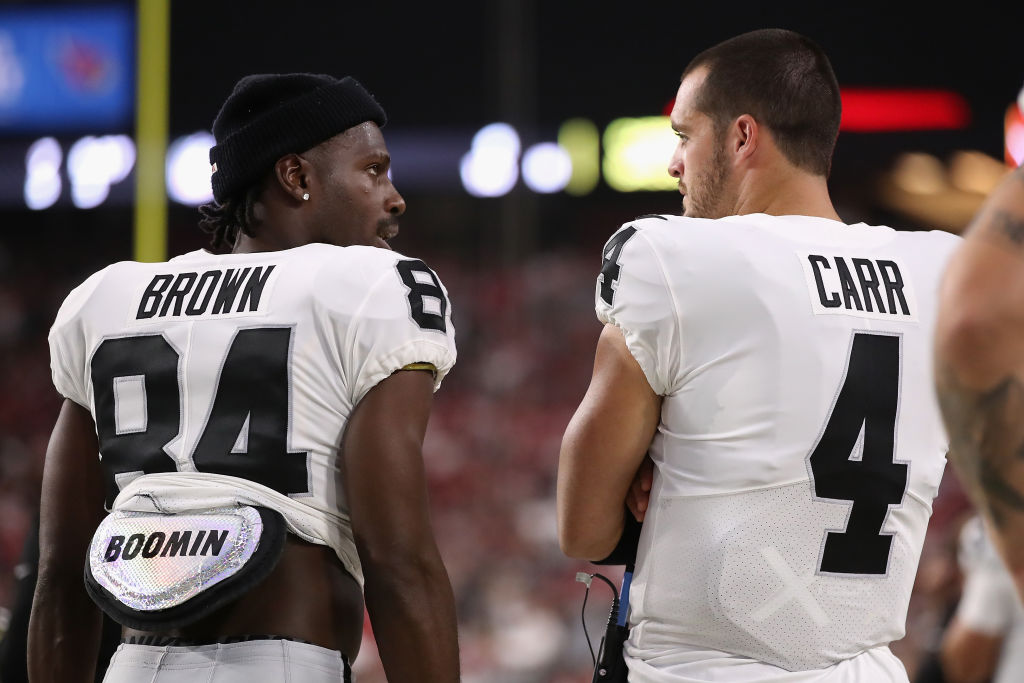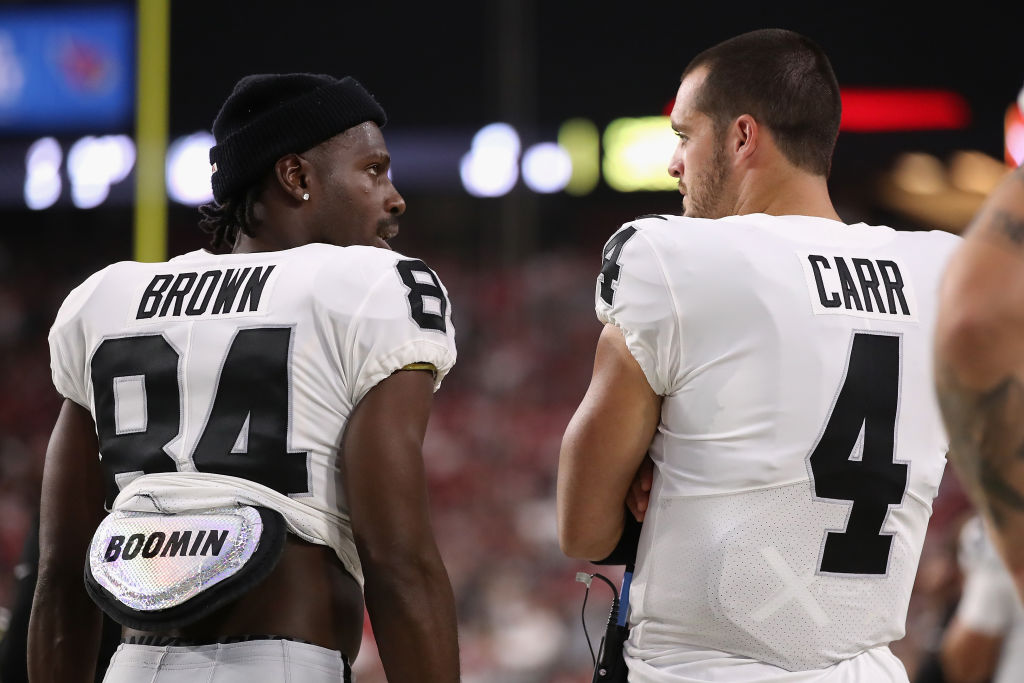 Carr and the Raiders struggled through the 2018 season without a quality offensive line to protect him and without substantial offensive weapons. But this season was supposed to be better thanks to the addition of a superstar wide receiver Antonio Brown.

Carr and his team were hoping that Brown would elevate their performance on the field. However, working with a receiver of Brown's talent would be a new experience for Carr, and he felt he could use some advice.

There were several questions that Derek Carr had on his mind. How should he coordinate an offense with Brown's talents to best benefit the team? How often should he look towards Brown, and is there such a thing as depending on him too much?

What advice did the greats give Derek Carr?
Luckily, several quarterbacks who played with talented receivers were willing to give Carr their professional advice. According to Carr, he reached out to Rich Gannon, Kurt Warner, and his brother, who had played with Andre Johnson in Houston. During an after-practice interview, Carr explained to reporters the advice he'd received.

"You go through your reads and you play football because as soon as you start doing other stuff, that's where you get into trouble," Carr said he was told by the Hall of Fame greats he questioned. He continued by explaining that he would concentrate on doing exactly as the coach tells him and not to be worried about outsides influences.

"I can't worry about that kind of stuff," Carr said, "because if I'm worried about that then I'm not keeping everyone in mind… Coach does a great job of making sure he's got his fair share of plays in the offense, and No. 1 in the progression if not No. 2, you know? All these kinds of thing to where we are making sure he's getting the ball. I just let Coach Gruden deal with that and I try and play quarterback."

It sounds like the greats offered Carr some simple advice, and yet it's important. But the best thing about their advice is that he can use with anyone; it's not specific to Brown.

Antonio Brown moved on to the Patriots
Unfortunately, Derek Carr won't get to use the great advice he was given with Antonio Brown on the team. Brown joined the Raiders in March, but because of a frostbite injury, he was unable to practice with his new team. After several arguments and grievances, Brown asked to be released from his contract with the Raiders at the beginning of September 2019. The team granted his request, and he signed with the New England Patriots shortly after.

The Raiders won't benefit from Brown's talents this season, but they may have dodged a bullet. Shortly after signing with the Patriots, accusations of sexual assault surfaced against Brown. His former trainer filed a federal lawsuit against the player for an alleged sexual assault that occurred on three separate occasions.

The Raiders, and especially Derek Carr, had their hopes set on playing with Brown. Now, they're left without his impressive skills. But, they're lucky they don't have the PR nightmare that the Patriots are left to deal with.