Rain Delays Are Now a Safety Hazard for MLB Players
Rain delays happen at MLB stadiums every year, and they're challenging to manage. Pitchers attempt to keep their arms warm while others try to keep their heads in the game, sometimes for hours on end. Add COVID-19 to the mix, and a rain delay can become a potential hazard for players and teams.
The fear stems around large numbers of individuals spending long periods together in locker rooms. Should there be a silent carrier of the disease, it could be passed among everyone while they wait out the rain delay.
Postponed MLB games run amuck
Just a few weeks into the delayed opening day, many teams suffered game postponements and/or schedule changes due to COVID-19. The first team to see an outbreak was Miami with 18 players and two coaches testing positive for the disease by the end of July. The St. Louis Cardinals have also had nine players and seven staff members test positive, according to USA Today.
Not only does the virus affect the Marlins' and Cardinals' schedules but the teams they were scheduled to play with, as well. As of August 18, CBS Sports reported that some 33 games have been postponed due to the coronavirus pandemic. MLB has scheduled a lot of double-headers trying to catch up.
MLB games suffering rain delays
Marlins manager, Don Mattingly was the first to express concerns over teams being jammed up during rain delays. He saw this concern firsthand when a Marlin/Braves preseason game suffered a delay. "We had all these guys and nowhere to go," he said. "Then we've got a zillion guys in the dugout, so there's no way we're social distancing."
The Cubs' first baseman, Anthony Rizzo, denounced trying to wait out a rain delay against the Reds toward the end of July, where he didn't see a "window to play" from the weather radar. Rizzo, a cancer survivor, tweeted, "Player safety? @MLB let's sit around for 8 plus hours inside the clubhouse. I'm sure I can find that somewhere in the 113 page player safety protocol."
MLB safety protocols for 2020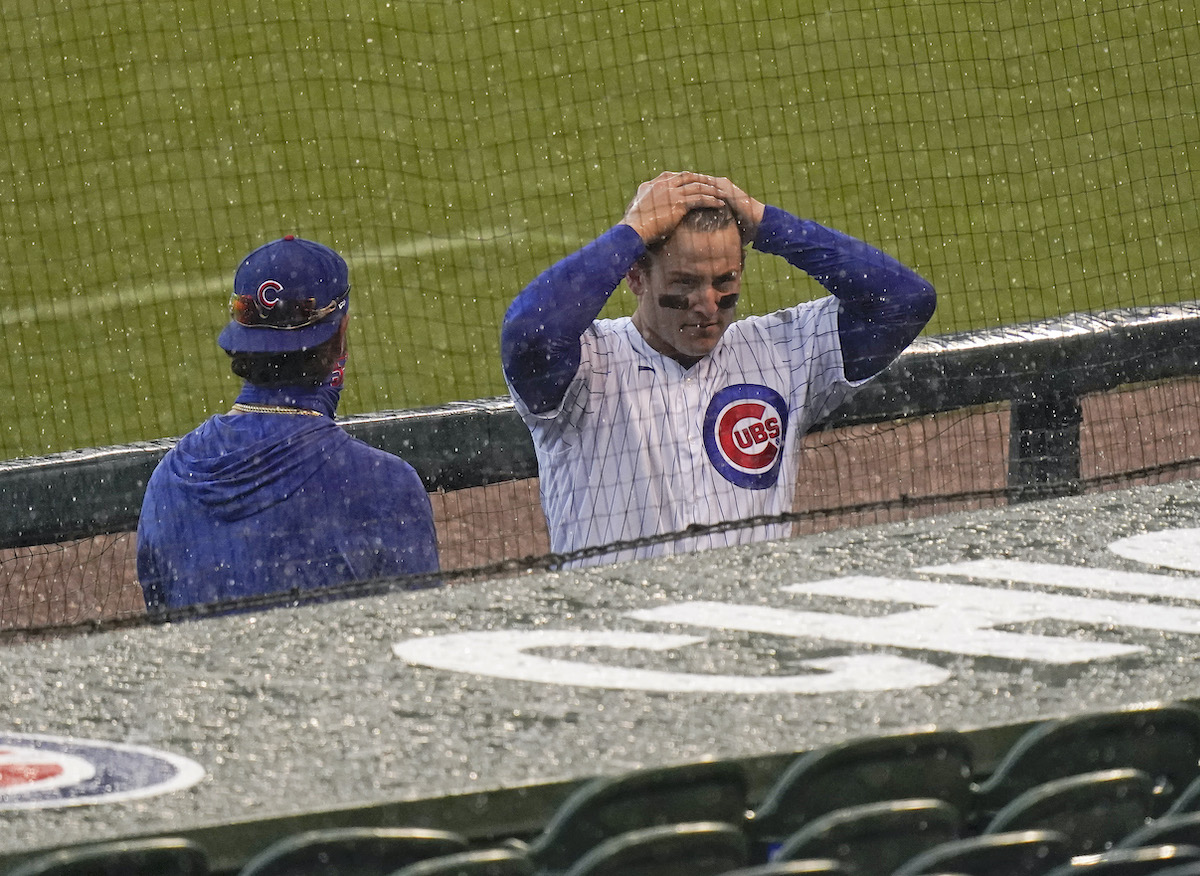 The MLB did write up special safety protocols for the 2020 season with COVID-19 in mind. And, the rain delay rules are a bit different. According to the MLB, if a game suffers a rainout, it'll resume "from the point of the stoppage," rather than a restart.
MLive reported that the MLB "is trying to discourage lengthy rain delays in 2020." That's where Rizzo has concerns. He chose not to opt-out for the season. Instead, he takes hand sanitizer onto the field with him to use after handling a ball. CBS Sports elaborated on Rizzo's point:
"Based on what's known about how COVID-19 transmits, the chances are higher when individuals are exposed for lengthy times to larger crowds in enclosed or poorly ventilated areas at intimate distances. Jamming 30-plus individuals into the standard big-league clubhouse for hours at a time would seem to be a questionable idea (though players are supposed to be masked)."
Rain delays are inevitable
The rain will continue to come, and rain delays are inevitable. It is just how managers and the MLB, in general, will handle them that comes into question. So do the abundance of games being backlogged, the majority not from rain but rather positive virus tests.
Most recently, the series finale between the Marlins and Mets was postponed due to one Mets player and one staff member testing positive. While the two, and anyone in close contact with them, remain in Miami, the rest of the team and staff flew back to New York for a series with the Yankees, although the first game of that has also been postponed. The Marlins flew to D.C., planning to play a busy weekend of five games in four days.