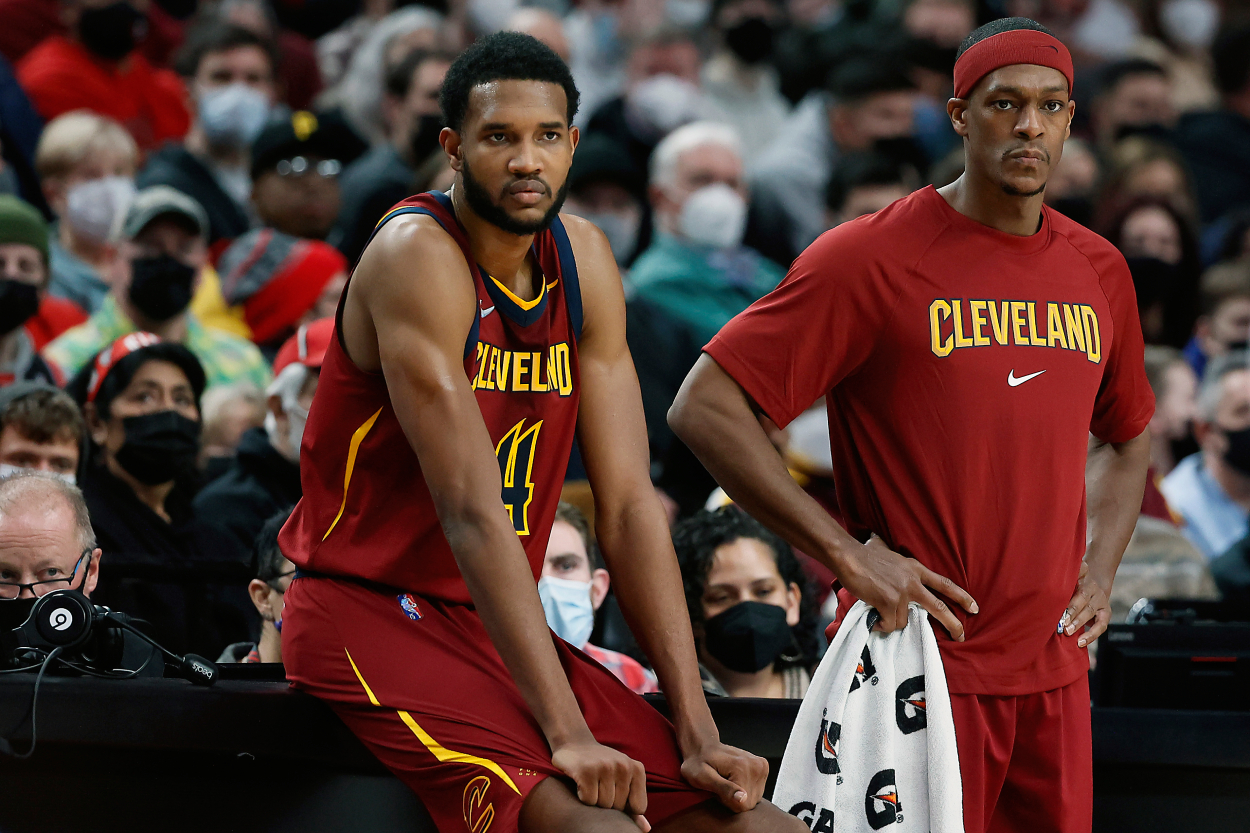 Rajon Rondo's Scary Praise for Cavs Rookie Evan Mobley Could Be Foreshadowing for the Eastern Conference's Worst Nightmare
Cleveland Cavaliers guard Rajon Rondo recently had high praise for Cavs rookie Evan Mobley, and his comments could be foreshadowing for the Eastern Conference's worst nightmare.
When the first several names went off the board in the 2021 NBA Draft, fans knew the league would be in good hands. However, they likely didn't know how good these stars would be so quickly, especially Cleveland Cavaliers big man Evan Mobley.
Mobley has been exactly what the Cavs needed. His versatility in the post is unrivaled for someone his age, and it has even grabbed the attention of an accomplished legend. His future Hall of Fame teammate, Rajon Rondo, recently had some high praise for him, and Rondo's comments could be foreshadowing for the Eastern Conference's worst nightmare.
Evan Mobley has been a star for the Cleveland Cavaliers
Evan Mobley was the third named called during the 2021 NBA Draft, but he has been the best player from it so far.
Mobley has been fantastic for the resurgent Cavaliers this season, averaging 15.0 points, 8.1 rebounds, and 1.7 blocks. He's also shooting 50.8% from the field. 
But his numbers don't tell the entire story. The USC product's presence down low has been invaluable for Cleveland and its starting lineup consisting of three players close to 7 feet tall in himself, Jarrett Allen, and Lauri Markkanen. The trio has made it almost impossible for opposing teams to score in the paint. Former NBA player Kendrick Perkins even said Mobley and Allen potentially make up "the best defensive tandem as far as bigs in the NBA."
Mobley is tied for seventh in the NBA and first among rookies with 2.5 defensive win shares, which looks at an estimated number of wins he contributes to Cleveland with his defense. He's also 14th in the league and No. 1 among rookies with a 1.8 defensive box-plus-minus, an estimate of the defensive points he contributes above an average NBA player per 100 possessions.
To put it simply: Mobley has been the real deal offensively and defensively, and Rajon Rondo has taken notice.
Rajon Rondo had high praise for the Cavs rookie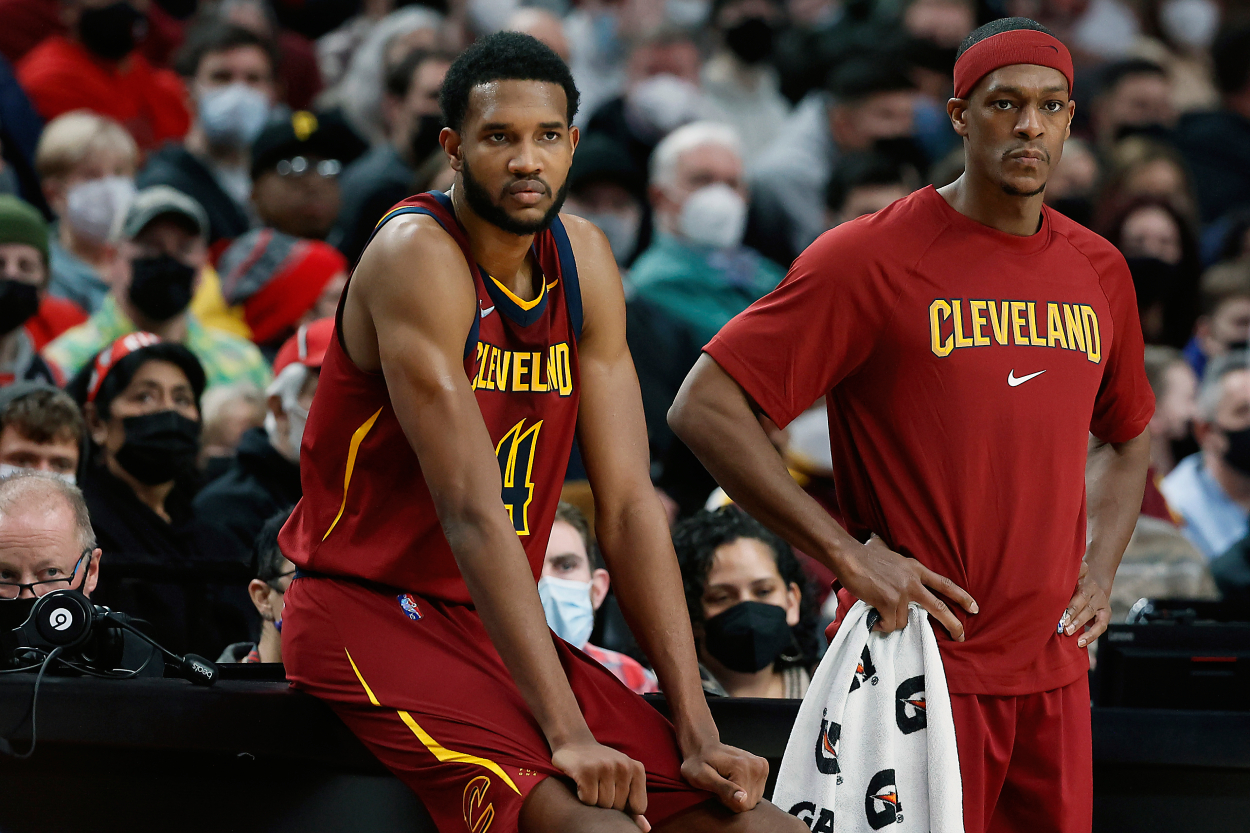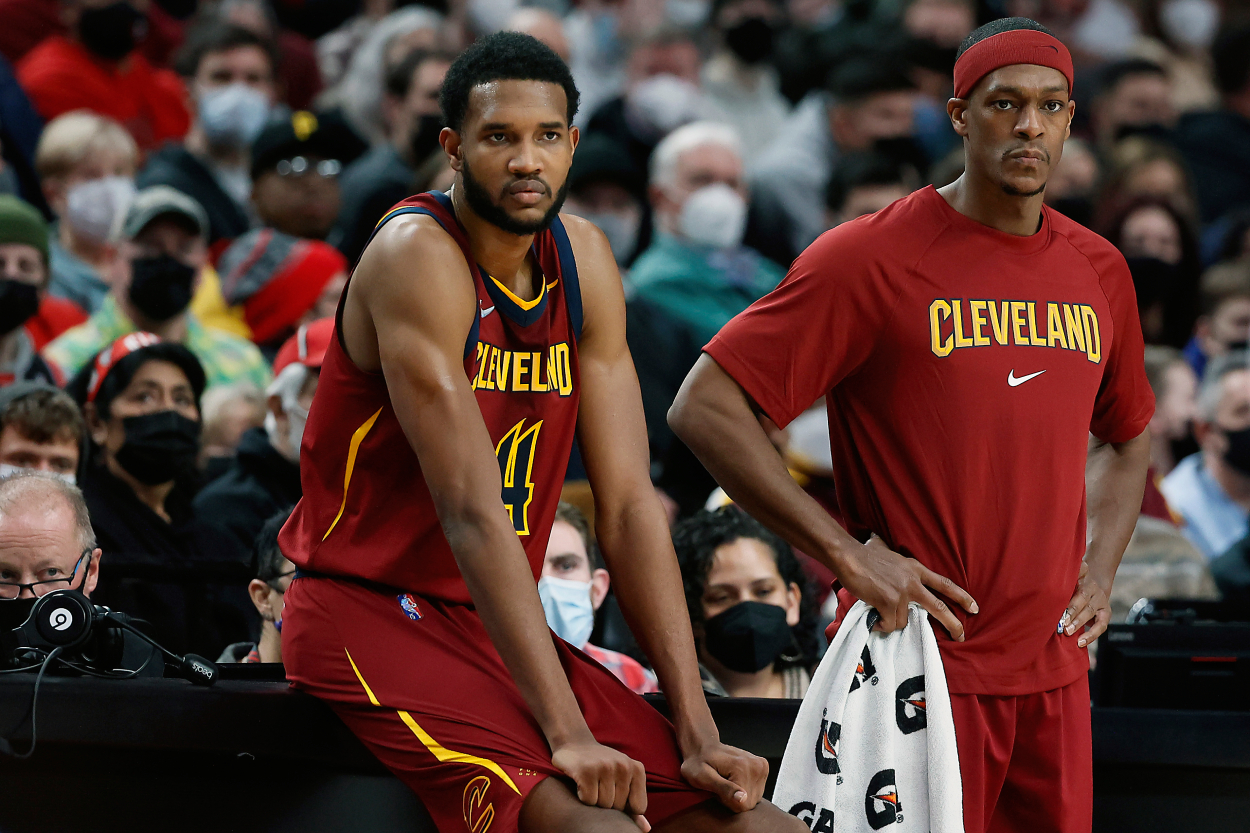 Four-time All-Star point guard Rajon Rondo only joined the Cavaliers earlier this month when the team acquired him via trade from the Los Angeles Lakers. But he is already impressed with the young Cavs rookie.
"I think he might be the most talented rookie I've ever played with, being able to control so many things on the court even without scoring the basketball," Rondo said, per the Akron Beacon Journal.
So, as Mobley matures and develops in the coming years, the sky could be the limit for him.
"Things you can't coach or teach, he has those skill sets," Rondo said, per the Akron Beacon Journal. "It's just a matter of him developing … you turn 24 or 25 years old and you get a little bit stronger, the physical part of the body. He'll have those games elevated and controlled even more once he gets a little bit more physical."
Rondo's comments are certainly high praise, and given his decorated career, it could mean that Mobley is on a path to becoming the Eastern Conference's worst nightmare.
Evan Mobley can become the Eastern Conference's worst nightmare
If Evan Mobley is already the most talented rookie Rajon Rondo has ever played with, that means he has a chance to become a true force in the Eastern Conference for years to come.
Rondo, who is in his 16th season, has played a lot of basketball in his career and has seen plenty of young players. But apparently, Mobley is the best, and the numbers prove that he has a chance to become a dominant star.
Most rookies are either great offensively or defensively, but Mobley is already fantastic on both ends of the court. He has held the likes of Jayson Tatum to 3-of-8 shooting in the times he has defended him this season. He has also held Bradley Beal to 1-of-7 and Trae Young to 2-of-7, showing his versatility along the perimeter.
When it comes to his fellow big men, Clint Capela, a 62.1% career shot-maker, has only made 4-of-15 attempts against Mobley. And Anthony Davis went 2-of-5 earlier this season.
The Cavaliers are young as a whole. Their three main stars, Mobley, Jarrett Allen, and Darius Garland, are all younger than 24 years old. So, if Mobley, 20, can grow alongside those two and become the player he is already showing guys like Rondo he can be, the Cavs can be a scary team in the East for quite some time.
Cleveland has already proven it can compete with the best of the best in the East this season. If Mobley continues his ascension to becoming one of the league's best big men, he and the Cavaliers will give the East trouble for years to come.
Stats courtesy of Basketball Reference and NBA.com