Rajon Rondo's Trade to Cleveland Still Leaves the Cavaliers With a Glaring Weakness
The Cleveland Cavaliers clearly knew they needed to make a move, and they needed to make one fast following Ricky Rubio's devastating season-ending injury last week. They then did just that by acquiring four-time All-Star and two-time NBA champion Rajon Rondo from the Los Angeles Lakers.
The move will certainly help the resurgent Cavs in the wake of the Rubio news, but acquiring Rondo still also leaves them with a glaring weakness.
Rajon Rondo was traded to the Cleveland Cavaliers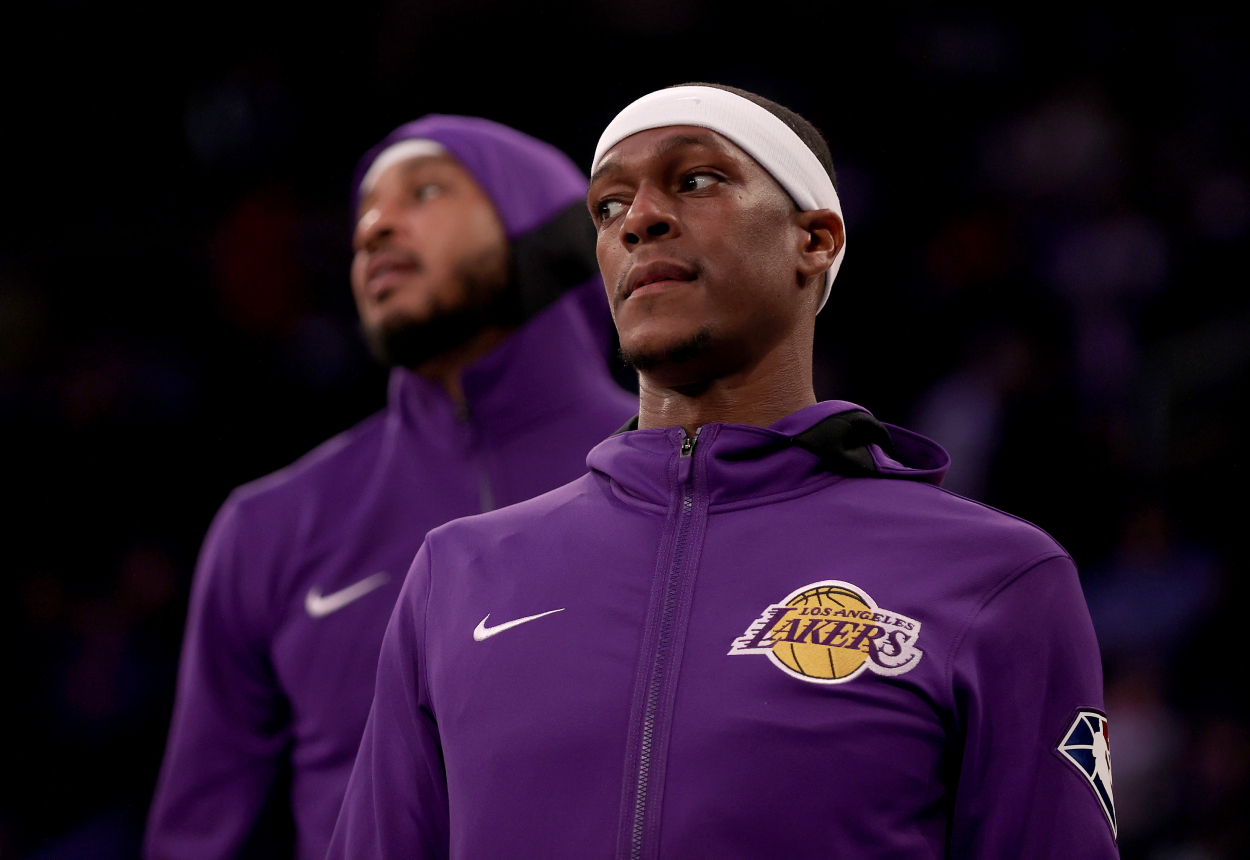 On Jan. 3, the Cleveland Cavaliers announced that they had officially acquired Rajon Rondo from the Lakers in a three-team deal that also sent Denzel Valentine to the New York Knicks.
Rondo was crucial to the Lakers' 2020 championship, averaging 7.1 points and 5.0 assists during the regular season before activating "Playoff Rondo" in the postseason and recording 8.9 points and 6.6 assists per game. However, after playing for two different teams last year and then returning to the Lakers this season, he has since watched his minutes diminish significantly. The 35-year-old is averaging 3.1 points and 3.7 assists in 16.1 minutes this season.
Rondo will have a much more significant role on the Cavs after Rubio's injury (and due to Collin Sexton going down with a knee injury earlier this year). Star point guard Darius Garland didn't have a true backup without Rubio. Rookie Kevin Pangos had been starting in his place while he has been in health and safety protocols.
In fact, Rubio's injury left the 21-16 Cavs without anyone else to run the offense in Garland's place. Garland is averaging 7.3 assists this year, while Rubio was recording 6.6 per game. No other rotational player is posting more than 2.6 assists per game this season.
That's where Rondo will come in.
Despite only averaging 3.7 dimes this year, Rondo has been one of the best passers the NBA has ever seen. The Kentucky product has led the NBA in assists per game three times, recording as many as 11.7 in 2011-12 and 2015-16. He is also currently 14th in NBA history in total career assists with 7,481.
However, while Rondo's abilities will significantly help the Cavs, Cleveland still has a glaring weakness that it will likely need to address.
The Cavs don't have another scoring guard behind Darius Garland
Garland has had a breakout year scoring the basketball this season, averaging 19.5 points. And Rubio had done a great job giving the team a scoring punch off the bench behind him. The 11th-year vet had been recording 13.1 points per game this year.
But no other backcourt players have been consistent scoring threats for Cleveland.
With the team's leading scorer from the last two seasons, Collin Sexton, down with a season-ending injury as well, the next-highest scoring guards after Rubio have been Cedi Osman and 2020 No. 5 overall pick Isaac Okoro. Osman averages 11.5 points, and Okoro records 9.0 per contest.
Sure, they have both had some nice games here and there. But without Rubio and Sexton, the Cavs don't have a second consistent scoring threat at guard. Big men Jarrett Allen, Evan Mobley, Kevin Love, and Lauri Markkanen have all been great options in the post and even along the perimeter at times, but things could become difficult offensively without another threat in the backcourt.
Rajon Rondo won't fill that hole, either. He has never been a scorer, as he averages 9.8 points for his career. The most he has scored in a season was 13.7 per game nearly a decade ago in 2012-13 (and in 2009-10). Defenses will essentially just have to focus on defending the paint whenever he takes the floor because he isn't going to hurt them from the outside.
So, if the Cavs want to become a true threat in the Eastern Conference (they're currently sitting in the fifth spot), they will need to find one more backcourt scoring option before the trade deadline.
The Cleveland Cavaliers need one more backcourt scoring option
The Cavs still have some room to move some pieces around if they want to strike a big deal before the NBA trade deadline.
Rumors have connected them to Ben Simmons, and while he isn't a shooter, he would still provide them with a consistent scoring ability. There are also guys like Buddy Hield and Caris LeVert out there.
If Cleveland decides to go all in, the franchise has control over all its first-round picks and could move them in a deal. They also have the expiring contracts of Rubio and Sexton. The latter would potentially be appealing to teams. He averaged 24.3 points last year and could sign a team-friendly deal this offseason due to his injury.
It's unclear what direction Cleveland wants to go. But adding one more scorer in addition to Garland, Rondo, and their assortment of big men would make the Cavs a legit threat in the Eastern Conference.
Stats courtesy of Basketball Reference