Rajon Rondo Would Call Kyle Kuzma in the Middle of the Night to Watch Film: 'That's His DNA'
Rajon Rondo is very quietly putting together a Hall of Fame career. The 35-year-old has made four All-Star teams, four All-Defensive teams, an All-NBA team, and has two titles to boot. But even as he enters his 16th season in the NBA, Rondo's dedication, work ethic, and basketball IQ make him among the most respected players in basketball.
One player who can attest to that is Kyle Kuzma. Kuzma, who was teammates with Rondo for two years on the Los Angeles Lakers, told a story about how the veteran point guard's film habits have no boundaries, even if it was the middle of the night.
Rajon Rondo taught Kyle Kuzma how to watch film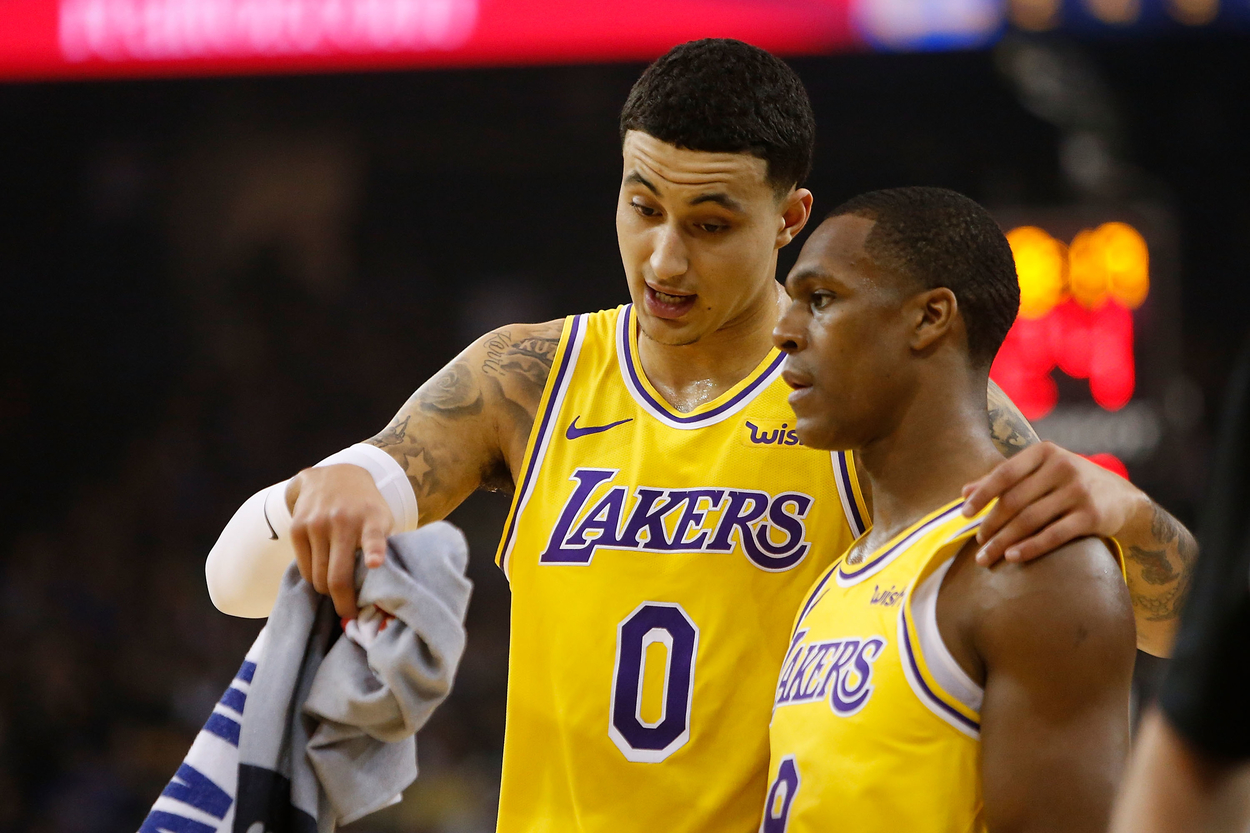 When Rondo signed with the Lakers in 2018, Kuzma was entering his second season out of Utah. The veteran immediately stood out as someone the youngster should be following.
"That dude, he's unreal," Kuzma, now with the Washington Wizards, said during Media Day. "The way he approaches the game, the way he thinks about the game, the way he watches film, it really just intrigued me."
Kuzma, who now describes himself as a "film addict", told a story about how Rondo would call him around 2:30 or three in the morning for impromptu study sessions. (h/t: NBC Sports Washington).
"He would call me and be like, 'Yo, what are you doing right now?' I'd be like, 'I'm watching film right now.' And I really was, I wasn't trying to bulls*** him. He was like 'Alright cool, fast forward to the third quarter, four minutes left in the game, what do you see right here?' That's something that just stuck out to me. This guy was in his [13th season]. … That's his DNA, it's what makes him so smart, it's what makes him so great. That's something that just really, really always stuck with me. To this day, I watch film at all times."

Kyle Kuzma
In their first season together in LA, Kuzma and Rondo fell short of reaching the playoffs. But in the second season, both players played pivotal roles in delivering the Lakers their 17th NBA championship.
Rondo has been obsessed with film since high school
Starting from his time at Eastern High School in Louisville, Kentucky, Rondo has always been a film buff. He attributed his old coach Doug Bibby as a mentor for his video obsession.
"He used to break down film with me," Bibby told The Boston Globe. "Sometimes I would even come in the locker room and he was watching film before games."
"He would watch film and he would know every play the other team is running," Bibby continued. "And I liked it because we would win, but I was like, 'Rajon, you're not going to be able to cheat every play. You've got to able to know how to play off the ball.' I used to always get on him about cheating the play. But he was that good about doing it. He really was."
Tubby Smith, Rondo's former coach at Kentucky, also praised the guard's film-watching habits.
"That's what you can appreciate and that's what you love about Rajon," said Smith. "He's putting in the time behind closed doors."
"Everything, everything," Rondo said when asked what he looks for in any given recording. "The way I run, the way I go through a pick, if I hold my follow-through — just my entire game."
The Los Angeles Lakers see Rajon Rondo's value
After winning a title with LA, Rondo bolted for the Atlanta Hawks before finishing the season with the crosstown-rival Clippers. The Lakers, who fell in the first round to the Phoenix Suns, missed Rondo's veteran presence throughout the season. As a result, LA brought back its old friend on a one-year, $2.6 million deal.
"Obviously everybody wants to be wanted," Rondo said this summer. "I talked to [Coach Frank Vogel] earlier this morning as far as his expectations for me, and understanding that he missed my voice last year in the locker room, which meant a lot. Understanding that I do have value here, and wanted to be wanted."
"It's easy to go and watch the film on Monday after you play Sunday," LeBron James once said of Rondo. "But being able to make adjustments on the fly and being able to see how defenses are playing and being able to see how the game is being played and being able to see how the flow of the game is being played … there's not many guys that can do that in our league. … Having 'Do [Rondo] on your side definitely helps."
Although he's no longer a Laker, Kuzma will take the lessons he learned from Rondo and apply them in his new chapter with the Wizards.
"I want to be as great as I can be," Kuzma said. "And [watching film with Rondo is] one of the things that really took my IQ and the way I see the game to a different level."
All statistics courtesy of Basketball Reference.
RELATED: The Los Angeles Lakers' 4th-Highest Paid Player Can't Legally Buy a Drink yet, but He Could Be the Key to Their Championship Hopes