Rams All-Pro Aaron Donald Grew Up Shy But Digs Into His 'Dark Place' on the Football Field
Aaron Donald is arguably the most feared defensive player in the NFL. The Los Angeles Rams defensive tackle makes it his business to wreak havoc on his opponents for 60 minutes.
Watching Donald play, football fans see an intense guy with a vendetta against offensive players around the league. However, the eight-time Pro Bowler suggests he's not always like that. Instead, he was completely different in his childhood. Playing football brought a different attitude out of him.
Aaron Donald admits he was a shy kid but playing football brings out a different guy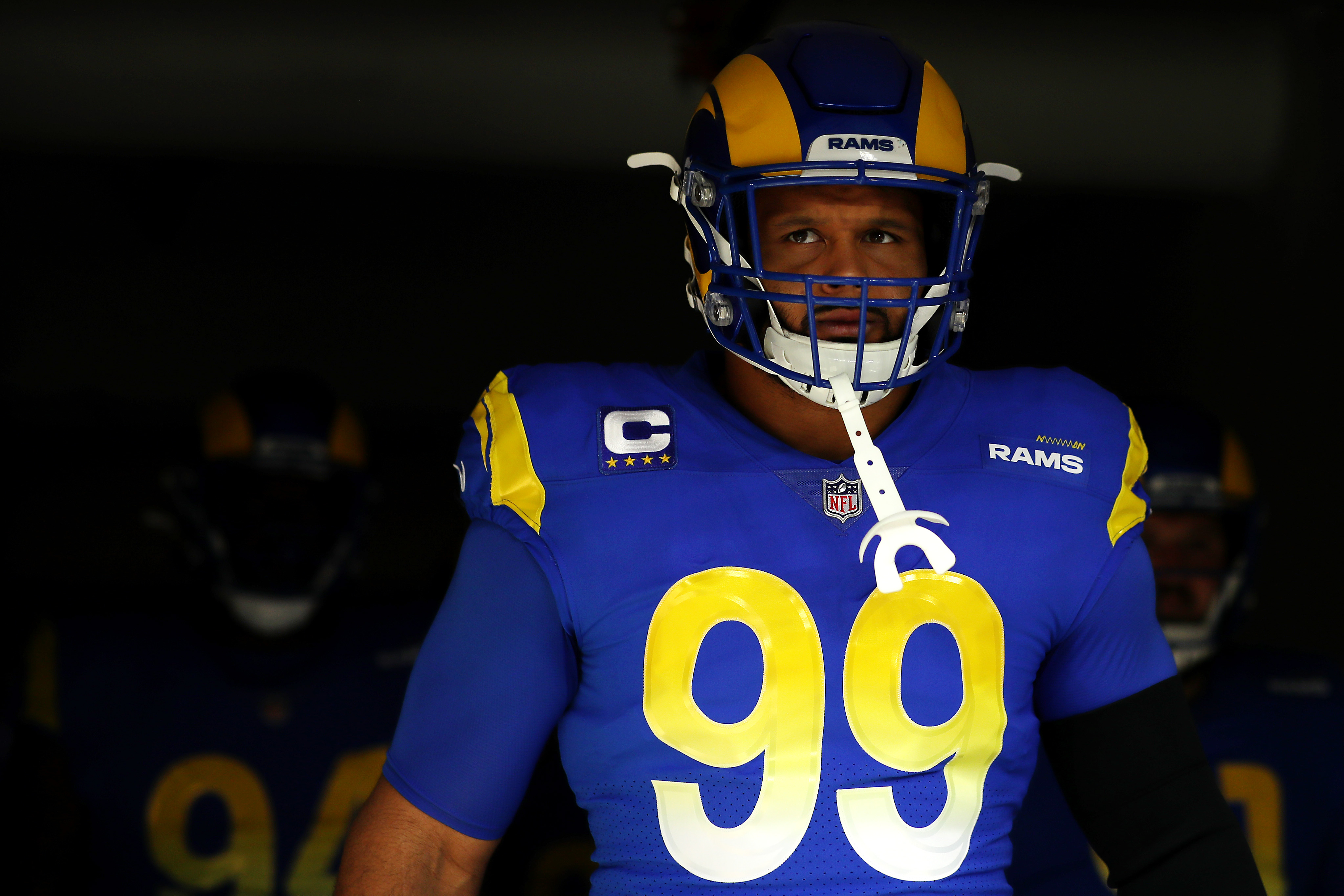 Since entering the NFL in 2014, Aaron Donald has been a problem. The Pitt product went No. 13 overall, and he's made the LA Rams look like geniuses for drafting him.
At 30 years old, Donald has firmly established himself as the best defensive player in the league and arguably one of the greatest ever to play the game.
The Rams superstar bleeds physicality on the football field, as he suggests playing the game pulls out a different side that he doesn't show off the gridiron.
"I just get into my dark place," Donald told NBC Sports' Rodney Harrison. "Everybody's got a dark place. I grew up a shy kid, but once I put my football pads on, I was always talking and upbeat. I always say when I put my equipment on, I turn into a superhero. You know, I was always able to express myself through football. You play a game you love with some passion. A lot of different emotions come out of that."
Aaron Donald appears as humble as they come outside of football. Still, he turns into an unstoppable force for four quarters.
The Rams All-Pro is looking to avenge the 2019 Super Bowl loss
While many of the LA Rams players from the 2018 season are no longer in town, the current roster does feature some veterans who felt the pain that stemmed from the Super Bowl loss.
Sean McVay was in his second season as the team's head coach. The Rams posted a 13-3 record in the regular season, securing the NFC West crown and the No. 2 seed in the NFC.
LA got past the Dallas Cowboys and New Orleans Saints in the Divisional Round and NFC Championship Game, respectively. Unfortunately, the Rams were no match for the New England Patriots in the 2019 Super Bowl.
Offense-minded football fans didn't enjoy the showing the two teams put forth, as it was an ugly game for both units. Ultimately, Tom Brady and company made enough plays to get the 13-3 victory.
While the Rams offense struggled to put points on the board, Wade Phillips' defense held its own. LA held New England to just 262 total yards of offense. Aaron Donald recorded five tackles and one quarterback hit on the night. Still, he admits he could've played better.
"It's always in the back of your head," Donald said of the loss. "You got to that point, and you're right there. I got the opportunity to feel what it's like to be in the Super Bowl. But I don't know what it feels like to win it. It kind of motivated me to do everything I can to get back and find a way to win one."
Donald could take over against the Bengals in Super Bowl 56
It's uncertain what the Cincinnati Bengals' game plan is heading into Super Bowl 56. Zac Taylor has probably had some sleepless nights thinking about how his team will slow down Aaron Donald, though.
Donald has earned First-Team All-Pro honors in seven of his eight NFL seasons. That's simply unheard of in today's game. The Pittsburgh, Pennsylvania native put together another impressive campaign in 2021. He racked up 84 tackles, 19 tackles for loss, 12.5 sacks, and four forced fumbles in 17 games.
At 6-foot-1, 280 pounds, the defensive tackle could present a massive test for the Bengals.
Cincinnati's offensive line has been wildly inconsistent in the 2021 season. Its biggest weakness is in pass protection. Opposing defenses sacked Joe Burrow a league-high 51 times in the regular season. That spells trouble against a menacing front featuring Donald, Von Miller, and Leonard Floyd.
Aaron Donald aims to perform much better his second time around and have more of a hand in the game's outcome. Facing a susceptible offensive line is the perfect opportunity.
"I hear people telling me so many stores about being a world champion," said Donald. "I gotta feel that. In a short amount of time, I've accomplished so much. I'm blessed to accomplish that, but one thing I'm lacking is being a world champ. I don't know what that feels like."
It could be a long night for whoever has to block No. 99.
All stats courtesy of Pro Football Reference.
RELATED: Rams Head Coach Sean McVay Can Break Mike Tomlin's Super Bowl Record if He Avenges His 2019 Loss