Rams Castoff Jared Goff Took the High Road as His Former Teammates Played in Super Bowl 56: 'They Deserve It'
Super Bowl 56 was the final chapter in the book of destiny for the Los Angeles Rams. After going all-in to acquire players such as Matthew Stafford, Odell Beckham Jr., and Von Miller, they were able to hold the Lombardi Trophy and call themselves Super Bowl champions with a victory over the Cincinnati Bengals.
But none of that would have happened if it weren't for the blockbuster trade that sent Jared Goff and a multitude of draft picks to the Detroit Lions in exchange for Stafford a year ago. As the Rams geared up for the Super Bowl, Goff couldn't help but feel joyful for his former teammates — or so he said.
Jared Goff was full of joy for his former Rams teammates before Super Bowl 56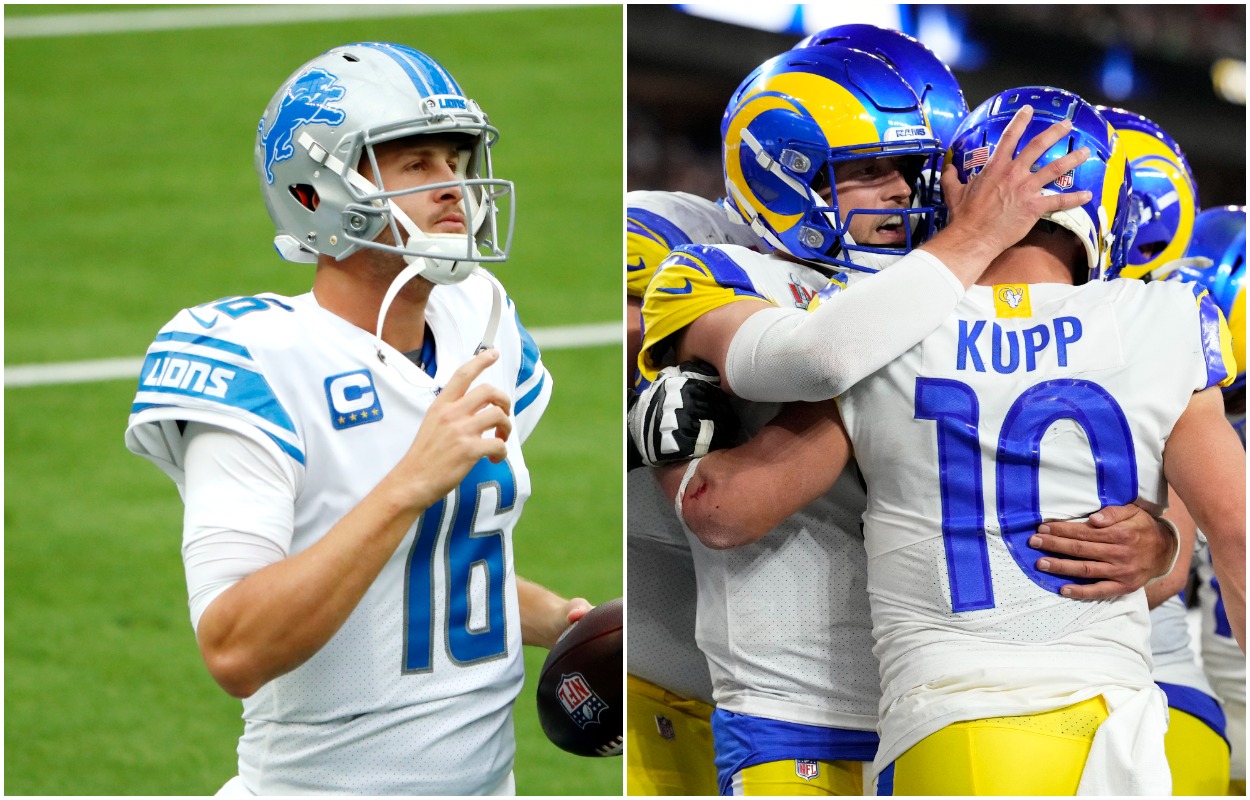 It must not be easy to watch your former teammates make a run to the Super Bowl just one year after being traded from that team, yet that is exactly what Goff had to do.
After an ugly ending between Goff and the Rams, he was dealt to the Lions, and the addition of Stafford skyrocketed LA's Super Bowl hopes.
As it turns out, Goff didn't seem upset at all that the Rams were in the Super Bowl. It was the opposite (h/t Michael Silver of Bally Sports):
"Most of all, I'm happy for those guys because I know how hard they've worked, and they deserve it."

Jared Goff on Rams playing in Super Bowl 56
Goff took the high road here, at least publicly, and said he was "happy" for them on their journey to the Super Bowl. But it must hurt deep down, mainly because he went to Detroit, where they won just three games in the 2021 NFL campaign.
As much as Goff wants to get back there, he knows the Lions aren't at that place "right now."
"It's something that you wish you could be a part of in your own right with the Lions, but we're not right now — and watching them do it is just another part of the journey."

Jared Goff
It is "another part of the journey," in the words of Goff. But again, as tough as it must be to watch your old teammates play in the Super Bowl, he still ultimately expressed happiness for them.
The Stafford-Goff trade changed the course of both franchises
The Rams made the Super Bowl with Goff as the quarterback and lost to Tom Brady and the New England Patriots. Then, after Goff signed a massive four-year, $134-million extension, he failed to live up to it.
After back-to-back seasons with over 4,600 passing yards, Goff threw for just 3,952 yards and 20 touchdowns in 2020. The Rams struggled to move the ball downfield, and it was eventually time to make a move.
The Rams gave up a ton, but getting Stafford was a giant piece to the puzzle. On the other side of things, the Lions knew they wouldn't be competitive anytime soon and dealt Stafford — their franchise QB and No. 1 pick in 2009 — for a lot of picks and a capable starting QB.
The Lions finished tied with the Jacksonville Jaguars for the fewest wins in the NFL (three) but are starting to trend upward with Dan Campbell implementing his stern demeanor.
The Stafford-Goff move made sense for both teams at the time, and the Rams getting that Super Bowl ring was all worth it.
Goff expressed happiness for Stafford after everything he went through in Detroit
The Rams' bold and aggressive approach paid off with a Super Bowl ring. Goff was good enough for them to get there, but it was evident that he wasn't good enough to win it.
Stafford was, however, and LA will be a threat for at least the next couple of years if its main players stick around.
Despite Goff being traded for Stafford, he expressed happiness for the former Lions QB:
"Yeah, I've always been a huge fan of Matthew's as a player and as a person. I know that what he went through the first part of his career was tough, and seeing him battle through that and get his opportunity now, it's amazing. You root for people like that. It's impossible not to. And it's impossible not to root for good things to happen to good people."

Jared Goff on Matthew Stafford
Goff is a class act and insisted he was happy for his former teammates and Stafford. After everything Stafford went through in Detroit, he finally got his chance to shine on the biggest stage and led the Rams to a masterful final drive that resulted in a go-ahead Cooper Kupp touchdown.
The Lions have a long way to go to get to that point, but you never know what can happen. After all, the Rams were 4-12 in 2016 before making the playoffs the following season, and they have become a competitive team ever since.
Can the Lions replicate that success? Who knows. But at the very least, Goff took the high road and was happy to see his former Rams teammates playing in the Super Bowl.
Stats Courtesy of Pro Football Reference
RELATED: Matthew Stafford Fulfills Rams' Super Bowl Request Exactly One Year to the Day — and Nearly the Minute