Rams GM Hilariously Suggested Russell Wilson and Kyler Murray To Do Something That Would Instantly Decide the NFC West Title Race
The Los Angeles Rams are currently sitting in second place in the NFC West. General manager Les Snead realizes that the team is competing in the NFL's toughest division right now and wants something to be done about it. Kyler Murray has the Arizona Cardinals in first place, and Russell Wilson's Seattle Seahawks are on LA's heels.
Snead made a hilarious suggestion to Wilson and Murray that would all but guarantee an NFC West title for the Rams.
Russell Wilson and Kyler Murray were drafted to MLB teams
Deion Sanders and Bo Jackson were two of the greatest athletes to ever step foot on a football field. Both players had stints in Major League Baseball. MLB teams drafted several of the NFL's brightest stars of today, including Patrick Mahomes, Kyler Murray, and Russell Wilson.
Murray played high school baseball at Allen High School in Texas and put up some big numbers, according to Sporting News. He was named an Under Armour All-American in baseball and football.
Murray chose to play both sports in college. He committed to Texas A&M but didn't play baseball until he transferred to Oklahoma. The Oakland Athletics selected the former Sooner with the No. 9 overall pick in the 2018 MLB Draft.
Wilson played at Collegiate School, a high school in Richmond, VA. The Baltimore Orioles drafted him out of high school in the 41st round. However, he committed to play at NC State.
Wilson played second base for the Wolfpack, and his performance led to him getting redrafted. The Colorado Rockies selected him in the fourth round of the 2010 MLB Draft.
Murray got more notoriety in baseball than Wilson, but it appears both players had skills.
Rams GM Les Snead suggested Wilson and Murray play baseball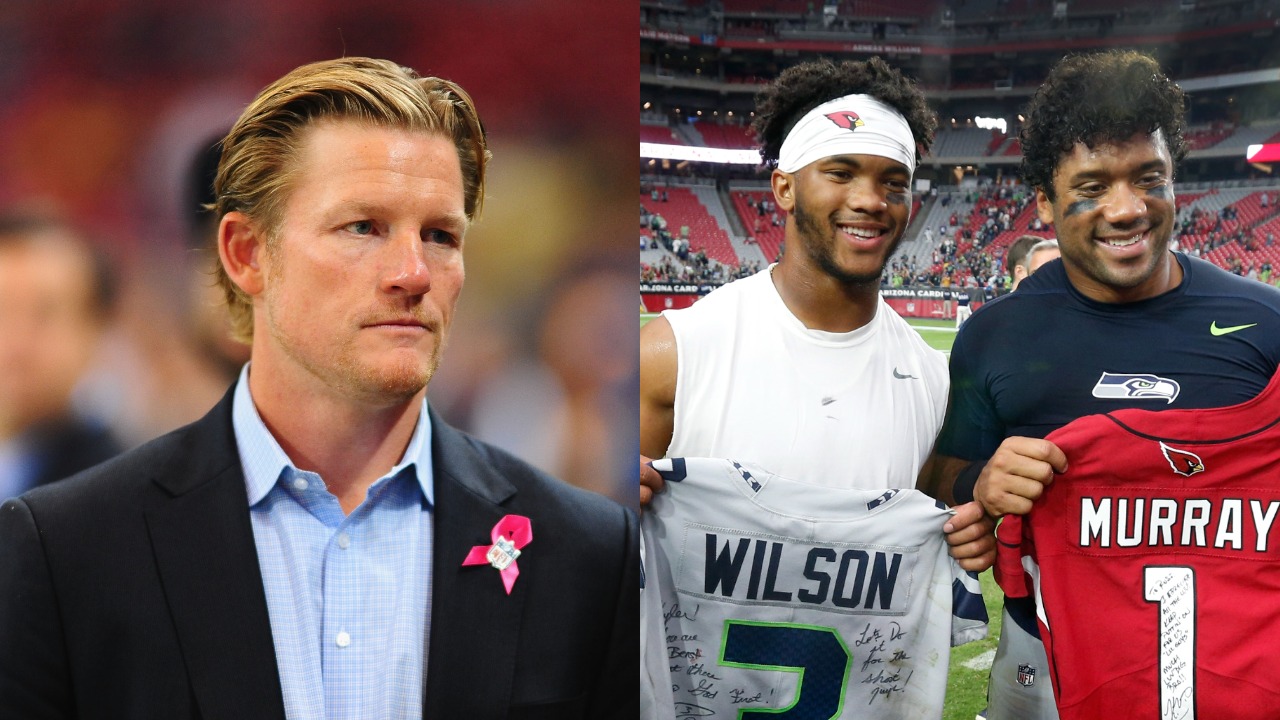 Kyler Murray and Russell Wilson are two of the most dangerous quarterbacks in the NFL. They lead two of the league's most explosive offenses. Les Snead knows that.
Snead was a guest on Sean McVay's The Coach McVay Show. The Rams general manager discussed the team's loss to the Cardinals while looking ahead to the Thursday Night Football matchup against the Seahawks.
The show's hosts brought up the dual-threat abilities of the other quarterbacks in the division, including Trey Lance of the San Francisco 49ers. "There's an element of athleticism to be able to contain those players," said Snead.
LA built its defense to stop those dynamic players, even though it's easier said than done. As great as they can be with their legs, Murray and Wilson are even more dangerous with their supreme arm talent. It's no surprise they were pretty good a baseball, too.
Snead suggested Wilson and Murray switch sports. "I want him to play baseball," he said. "Kyler and him can go play baseball." He doesn't want them to play baseball for a week or two. He wants Wilson and Kyler gone from football "forever."
Russell Wilson and Kyler Murray leaving would guarantee a Rams NFC West title
The way the MLB is structured, Russell Wilson and Kyler Murray could've each made an insane amount of money playing baseball. Instead, they opted to continue their football careers.
Suppose the two quarterbacks took Les Snead's advice. Their absence would knock the Seahawks and Cardinals out of NFC West contention. That's exactly what the Rams GM wants to happen.
Seattle and Arizona plummeting down the rankings would open the door for a two-team race between the Rams and 49ers. It's unclear what San Francisco's ceiling would be with Lance under center. LA would be the unquestioned favorite to win the division.
The Rams are a balanced football team featuring explosiveness on both sides of the ball. Matthew Stafford and Cooper Kupp are firing on all cylinders on offense. The defense had a rough go against the Cardinals but has the talent to establish dominance on a given week.
However, much to Snead's chagrin, Kyler Murray and Russell Wilson aren't going anywhere anytime soon. The Rams must find ways to slow them down if they want to take the NFC West crown.
Like Sportscasting on Facebook. Follow us on Twitter @sportscasting19.
RELATED: Every Sean McVay Loss as a Head Coach Has Embarrassingly Played out the Same Way, Giving Teams a Simple Blueprint to Beat the LA Rams