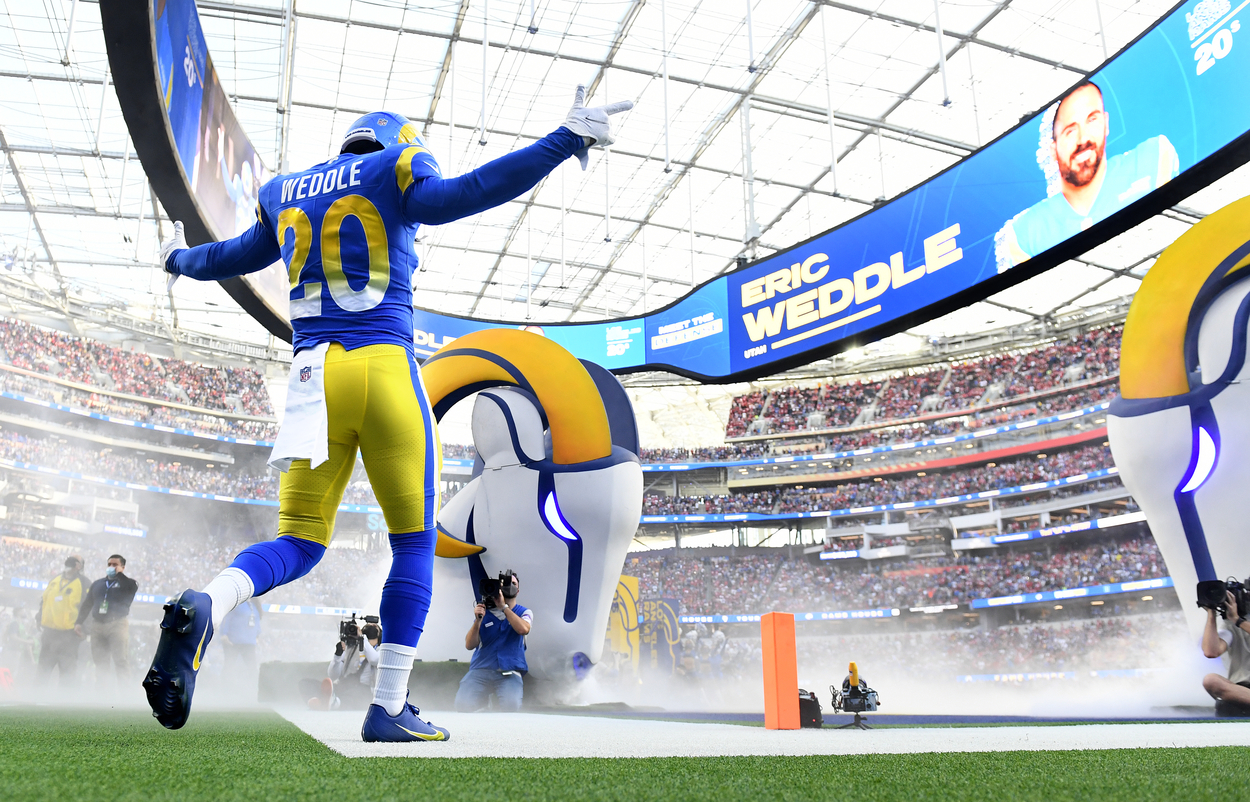 Rams Safety Eric Weddle Opened up About His Shocking Comeback After 2 Years of Retirement: 'I'm Literally the Best Option You Guys Can Think Of?'
Less than a month after coming out of retirement, Los Angeles Rams safety Eric Weddle has an excellent opportunity to finally win a Super Bowl.
Article Highlights:
Los Angeles Rams safety Eric Weddle recently opened up about his shocking comeback
The six-time Pro Bowler hadn't played since December 2019 before joining the Rams for their playoff run
Don't be surprised to see Weddle remain in football even if he retires for good after Super Bowl 56
When the 2021 NFL regular season ended, former Los Angeles Rams safety Eric Weddle intended to watch Super Bowl 56 from home. The six-time Pro Bowler hadn't played since December 2019, and there was no reason, not at 37 years old, to think things would change soon.
Then, Rams defensive coordinator Raheem Morris arrived, first via text message and then with a call, to present an offer that Weddle eventually couldn't refuse.
Eric Weddle opened up about his shocking NFL comeback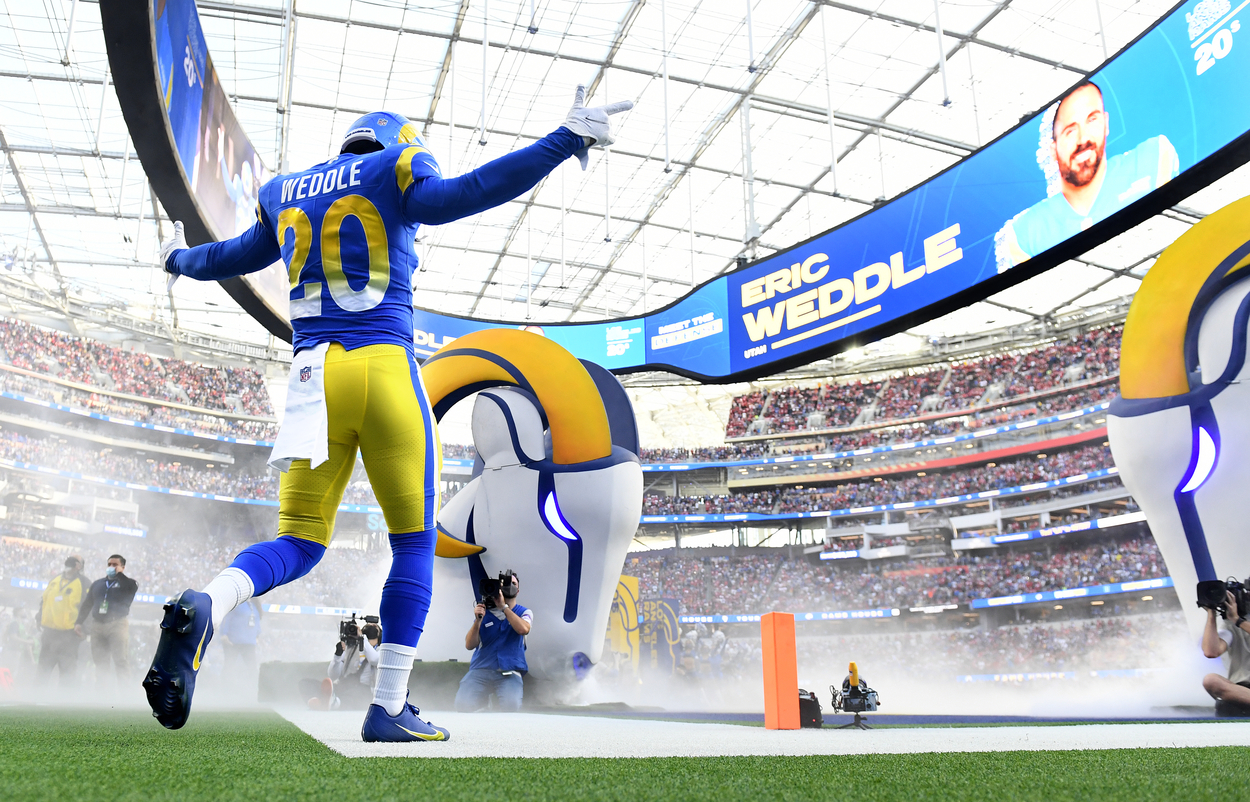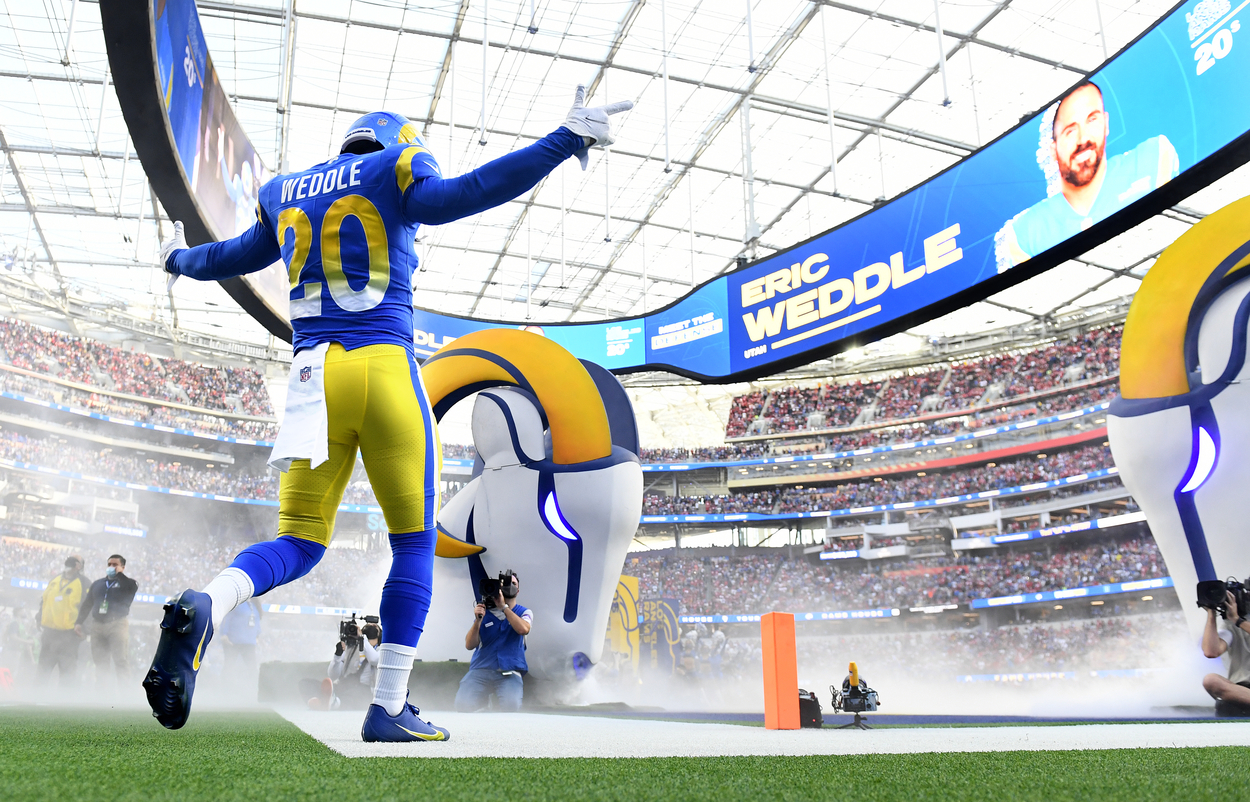 For much of 2020 and 2021, Weddle lived his pandemic life as many other fathers did. He spent the bulk of his first year in retirement helping his children with their virtual learning and trying to stay busy without going stir crazy. As things gradually opened up in suburban San Diego, the longtime Los Angeles Chargers safety tried his hand at coaching youth football, packing school lunches, skiing, and every opportunity that retirement presented him and his family.
When the clock struck midnight, and 2021 turned to 2022, Weddle would have had no reason to tell his story to Sports Illustrated's Greg Bishop. However, everything changed in early January when Morris, a former mentor of Weddle's, texted him ahead of the NFC Wild Card Round.
After calling the first-year defensive coordinator, Weddle said he and Morris exchanged small talk before the veteran coach asked about the retired safety's physical condition. When Weddle affirmed he hadn't let two years outside of football change his physical condition, Morris asked if the Utah product could play 10 to 15 snaps against the Arizona Cardinals six days later.
"Are you insane right now?" Weddle replied. "I'm literally the best option you guys can think of?"
After thinking things over and speaking with his wife, Weddle called Rams head coach Sean McVay, All-Pro cornerback Jalen Ramsey, and defensive backs/secondary coach Ejiro Evero. The NFC West champions signed the defensive back on Wednesday, Jan. 12, only days after losing safety Jordan Fuller to a season-ending ankle injury.
Weddle has done everything the Rams have needed him to do in the 2021 playoffs
After not playing organized football in nearly 24 months, Weddle saw action on 19 defensive snaps in the Rams' Wild Card Round victory over the Cardinals. Although it was more than the 10 to 15 snaps he expected to receive; the bearded safety at least had his first playoff victory since January 2014.
Then came the Rams' thrilling 30-27 victory over Tom Brady and the Tampa Bay Buccaneers. Less than two weeks after unretiring, Weddle recorded four tackles on 61 defensive snaps.
A week later, Weddle stepped into the Rams' starting lineup and led the team with nine tackles, including a tackle for loss, and played all 51 defensive snaps in the NFC Championship Game. San Francisco 49ers head coach Kyle Shanahan later admitted a key tackle Weddle made early in the fourth quarter changed his team's entire offensive momentum.
In 18 days, Weddle went from retired to not missing a snap in his second career conference championship game. Now, he's 60 minutes (or more) away from partying with the Lombardi Trophy.
Weddle might have another reunion in store after his playing days end
Regardless of what happens in Super Bowl 56, Weddle will almost certainly retire once again. The 37-year-old told SI that he has no plans of playing next season.
However, don't be surprised if Weddle returns to football in another capacity. According to ESPN's Jamison Hensley, Ravens general manager Eric DeCosta told reporters on Friday, Feb. 3, that he believes the two-time first-team All-Pro safety — who played in Baltimore from 2016-18 — could eventually become a scout. DeCosta added that he'd be open to having Weddle rejoin the Ravens one day in such a role.
The veteran safety did not mention scouting or working for any NFL team when he spoke with SI.
For now, Weddle has one game left to finish his business before he potentially returns to suburban San Diego as a Super Bowl champion. Not bad for someone who might have planned on watching the Big Game from his couch when the new year began.
Like Sportscasting on Facebook. Follow us on Twitter @sportscasting19.