Rams Sensation Cooper Kupp Inches Closer to Calvin Johnson After Breaking Isaac Bruce's Franchise Record in Victory Over Seahawks
Did you ever think Cooper Kupp and Calvin Johnson would be uttered in the same sentence? Well, get used to it.
Through 14 games, the Los Angeles Rams star wide receiver is smashing the charts. Kupp has 122 receptions with 1,625 yards and 14 receiving touchdowns — leading the NFL in all three categories by a comfortable margin.
Against the Seattle Seahawks on Tuesday night, Kupp caught nine balls and broke Isaac Bruce's franchise mark for most receptions in a single season as he continues to shatter records in his first year with Matthew Stafford throwing him passes. More than that, Kupp drew even closer to Calvin Johnson's NFL record — who also had Stafford throwing him footballs.
Cooper Kupp breaks Isaac Bruce's record in victory over Seahawks
It was another week and another outstanding performance from Kupp.
Against the Seahawks on Tuesday, Kupp broke Bruce's record with the game-tying touchdown score in the third quarter.
Then, in the fourth quarter, Kupp scored again, finishing the game with nine catches for 136 yards and two scores on 13 targets.
Bruce set the record in 1995, and Torry Holt came close in the early 2000s by catching 117 balls in 2003 and 102 in 2005. After that, no Rams player came close.
It took 26 years for Bruce's franchise record to be broken, and nobody saw this season coming from Kupp. But, Bruce took to Twitter and gave Kupp a special shoutout after breaking the record on Tuesday.
Even more remarkable is that Kupp did this in just 14 games. One can only imagine what type of numbers he will put up over the next three games in the NFL's debut year of the 17-game schedule.
However, that wasn't the only record Kupp broke on Tuesday night.
The Rams star set another impressive record against the Seahawks
As impressive as Bruce's franchise record is, this feat by Kupp might be even more mind-blowing. In 10 straight games, Kupp has registered 90 or more yards.
Let's keep in mind a few things. First off, Robert Woods has been out since early November after tearing his ACL, and Odell Beckham Jr. has taken time to work into the offense correctly.
Darrell Henderson Jr. has battled injuries and COVID-19 issues, and defenses have focused on Kupp. But it hasn't made a difference.
Kupp has five games with two scores, nine games with 100 or more yards, and just one game this season with less than 90 yards.
It doesn't make sense how good the Stafford-Kupp relationship has been, yet it has been unstoppable.
Unsurprisingly, Kupp was then named to his first career Pro Bowl.
At this rate, Kupp will shatter these records, and he has a fair shot at passing Johnson's NFL record.
Can Cooper Kupp break Calvin Johnson's impressive NFL record?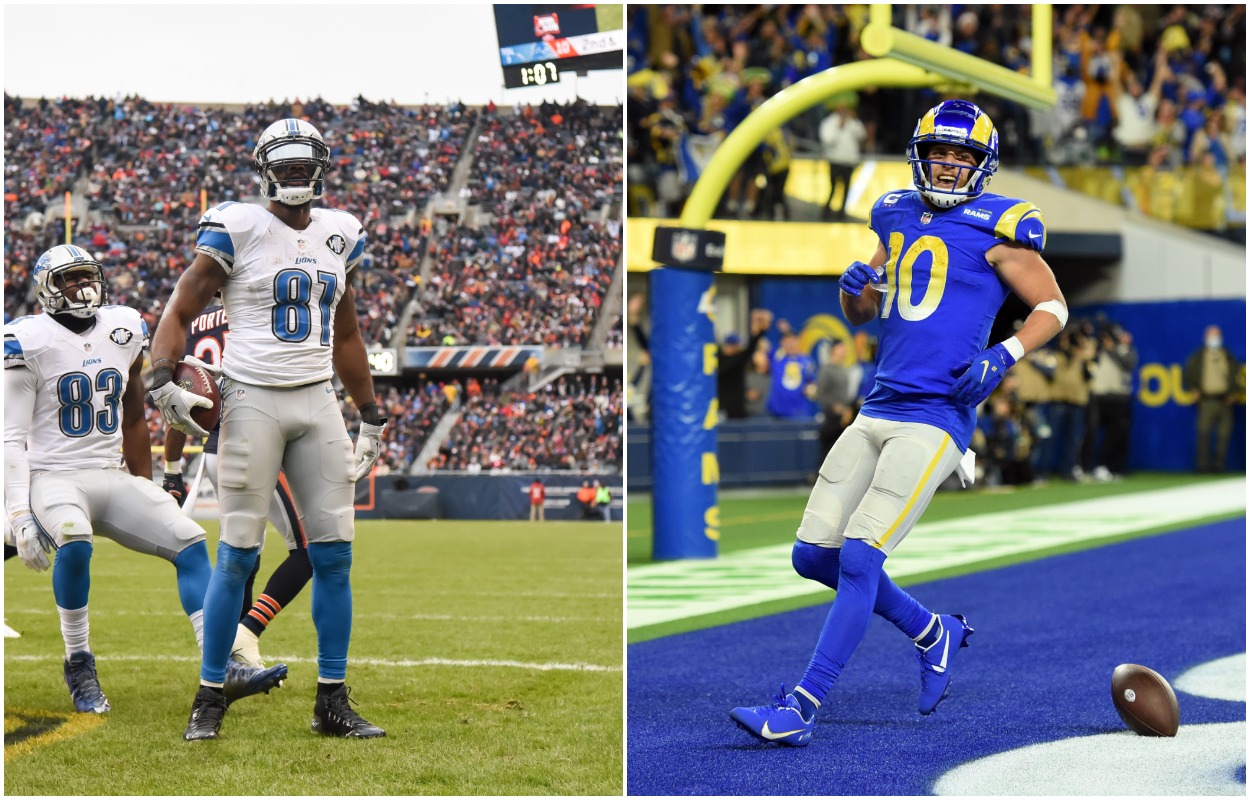 If you were wondering, Megatron holds the NFL record for most receiving yards in a season with 1,964 yards during the 2012 season. The Detroit Lions legend and Hall of Famer has held firm to this feat, even with Julio Jones and Michael Thomas getting close recently.
However, Kupp should break this record — assuming he puts together performances as he has been.
After 136 yards against the Seahawks, Kupp is 339 yards away from Johnson's record with three games remaining. Oh, and oddly enough, Johnson caught 122 passes that season.
Even better, the Rams schedule sets up Kupp to break this record quite easily. In Week 16, they face the Minnesota Vikings and a very beatable secondary. After that, the Rams play the Baltimore Ravens and San Francisco 49ers to round out the regular season.
Yes, there are 17 games as opposed to 16. Still, what Kupp has done is out of this world and even has him being thrown into some MVP discussions.
At this rate, the question isn't if Kupp will pass Megatron, but when.
Stats Courtesy of Pro Football Reference