A Rams Super Bowl Victory Will Net Odell Beckham Jr. Another $1 Million Paycheck With Far More Waiting in Free Agency
Odell Beckham Jr. has enjoyed nothing but success since moving from Ohio to California. After the Cleveland Browns released him in the middle of the 2021 campaign, the OBJ sweepstakes began.
The Green Bay Packers, New Orleans Saints, Kansas City Chiefs, and New England Patriots were a few of the finalists to land Beckham before the Los Angeles Rams stunned everybody by coming in at the 11th hour and signing him to a deal. Since he joined the Rams, he's been nothing short of spectacular.
Earlier in the NFL Playoffs, he earned a nice half a million dollars while making postseason history against the Arizona Cardinals. If things go his way in Super Bowl 56, Beckham can cash out fully on his incentives with LA and boost his free agency profile even more.
A Rams Super Bowl victory will earn Odell Beckham Jr. another $1 million in incentives
When Beckham signed with the Rams back in November, he signed a team-friendly deal full of incentives. Yes, there were reports that he turned down other offers — including one from the Green Bay Packers.
However, it has worked out well for Beckham thus far. As the Rams prepare for Super Bowl 56 against the Cincinnati Bengals, Beckham can earn another $1 million in incentives.
More than that, a Super Bowl win would bring his total incentive amount to $3 million during this playoff stretch.
He took a gamble signing with the Rams — especially with Cooper Kupp and Robert Woods ahead of him on the depth chart — but Beckham has flourished in his opportunity in LA.
Despite the excellent incentives to go along with a Super Bowl victory, Beckham continues to boost his value amid his impending free agency.
OBJ should have no problem cashing out during free agency
When the free agency period hits, Beckham should be one of the more sought-after players on offense. Sure, Davante Adams, Mike Williams, Chirs Godwin, and Allen Robinson II are other high-profile receivers set to be free agents. However, Adams and Williams most likely get the franchise tag or extensions from their current teams, and Godwin should return to the Tampa Bay Buccaneers.
Either way, Beckham showed the NFL that he can still produce at a high level, and he wasn't even the main guy in LA. After being the focal point with the Browns and New York Giants, he settled into a complementary role, and it worked wonders for the former LSU star.
Plenty of teams should be inquiring about his services, and the Chiefs are one team that should be among the first to make a phone call to Beckham's agent.
But, a big performance at the Super Bowl will only help his case. He can earn another $1 million, max out his incentives, and gain even more traction heading into March.
This is very likely his final game in a Rams uniform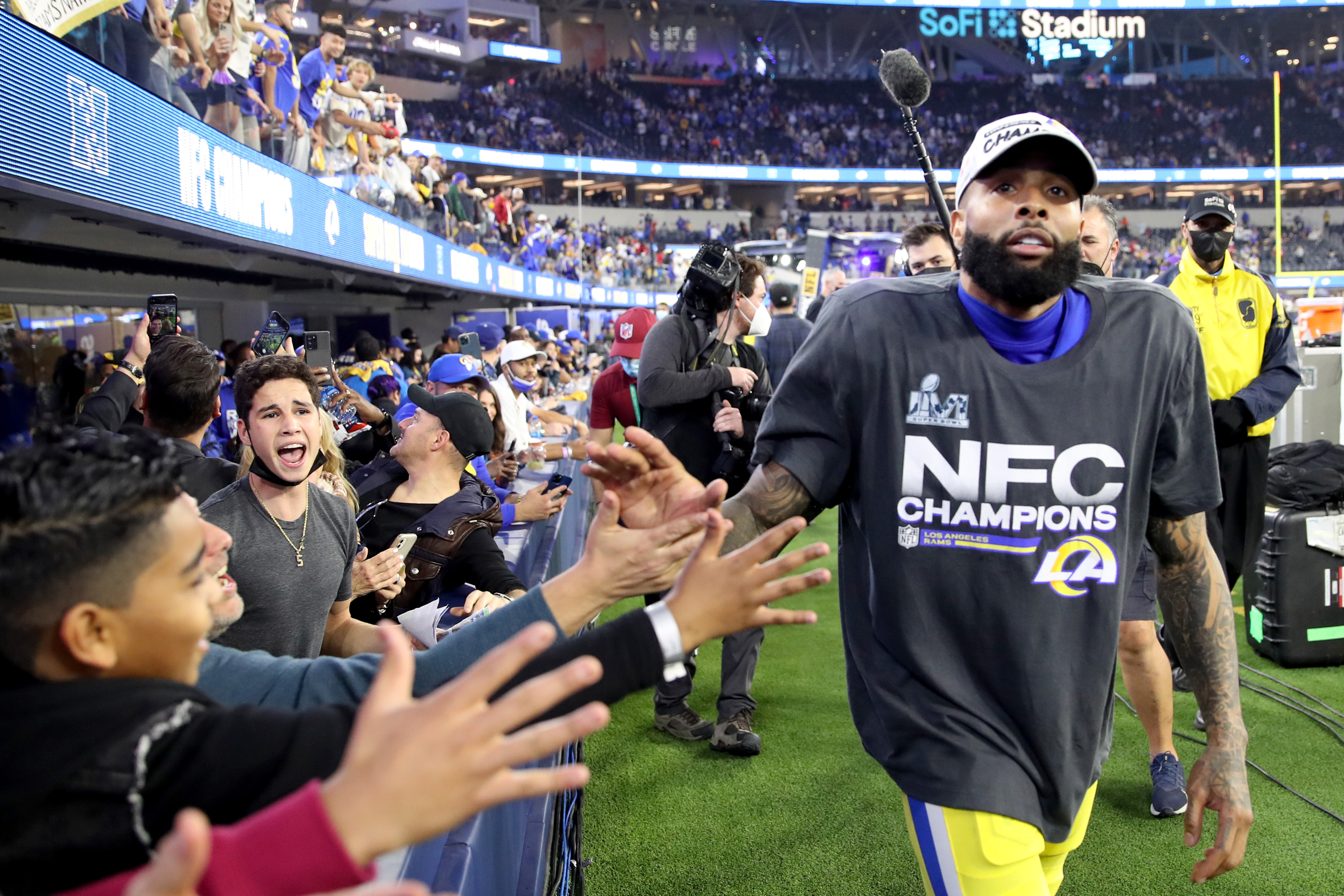 Beckham has enjoyed his time with the Rams in every way possible. He and Matthew Stafford have developed a great relationship. The Kupp, Woods, Van Jefferson, and Beckham wide receiver room is full of talent — even with Woods out for the season.
Beckham and Von Miller have enjoyed each other's company after OBJ warned Miller about the Browns. Now, both are playing at the Super Bowl with LA.
Despite all of that, it will be challenging for LA to bring Beckham back in free agency. They are projected to have almost no cap space, and all three of Jefferson, Woods, and Kupp will be back in 2022, barring a trade.
Miller is also hitting the open market, and quite simply, the Rams don't have much wiggle room to work with either of those guys. So, if this is Beckham's final game donning the Rams uniform, what better way than to end with an extra $1 million and a Lombardi Trophy?
RELATED: Odell Beckham Jr. Could Team Up With Patrick Mahomes and the Chiefs Despite Impressive Super Bowl Run With Rams