Rams WR Odell Beckham Jr. Chose His Fate for the First Time in His Career, Changing the Narrative With an Unexpected Super Bowl Run
Odell Beckham Jr. has been one of the NFL's most polarizing figures since joining the league in 2014. The New Orleans, Louisiana native was a generational talent, but he endured his fair share of bumps and bruises in eight seasons.
The New York Giants and Cleveland Browns gave up on OBJ, leaving people to wonder if it was the end for the embattled wide receiver. However, an unexpected free agency landed Beckham with the Los Angeles Rams. Now, the three-time Pro Bowler has an opportunity to win his first Super Bowl and continue to change the narrative.
Odell Beckham Jr. was on pace to be an all-time great early in his career
The New York Giants jumped at the opportunity to draft Odell Beckham Jr. with the No. 12 overall pick in the 2014 NFL Draft. After a stellar junior season at LSU, the wide receiver garnered plenty of hype coming out of college.
Beckham proved to be as advertised from Day 1. He recorded 91 receptions for 1,305 yards and 12 touchdowns en route to winning the 2014 AP Offensive Rookie of the Year Award.
OBJ followed up his first-year performance with two more seasons with 90-plus receptions, 1,000-plus receiving yards, and double-digit touchdowns. An ankle injury derailed Beckham's 2017 season, but he bounced back with another 1,000-yard campaign.
It didn't take very long for the Giants wideout to become a superstar in the league. Highlight-reel catches became the norm for OBJ. Everyone remembers the iconic one-handed snag against the Dallas Cowboys in 2014. He made the Pro Bowl in three straight seasons from 2014 to 2016.
As good as Odell Beckham Jr. was, though, his career trajectory took a massive hit with a dramatic series of events.
The Pro Bowler's soured stints with the Giants and Browns landed him in LA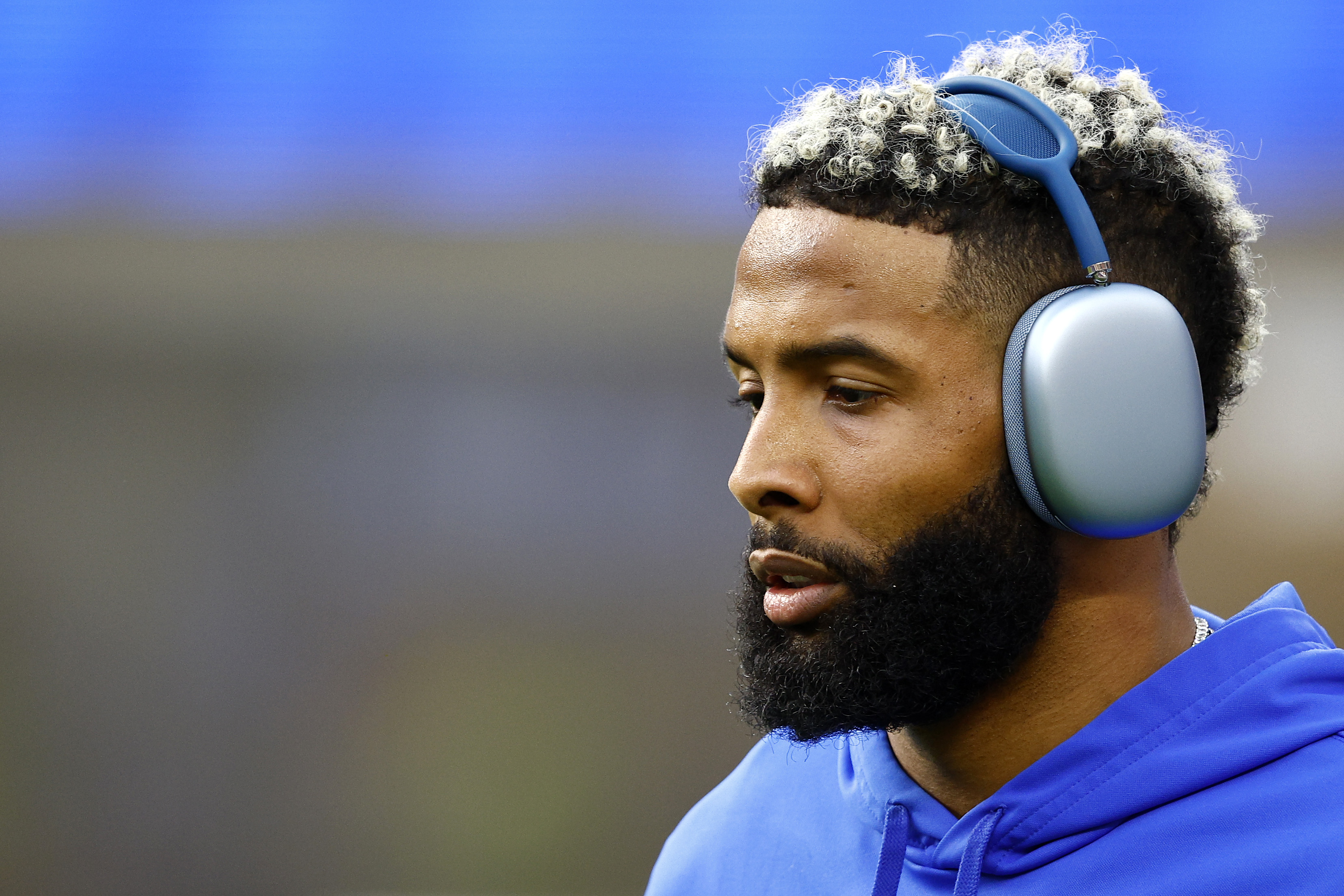 Odell Beckham Jr. was the go-to guy in the New York Giants offense, and he knew it. Frustrations grew with the front office, coaches, and the media. The organization felt it needed to make a change, but who knew it would be a drastic one?
General manager Dave Gettleman shocked the NFL world, trading away Beckham to the Cleveland Browns in exchange for safety Jabrill Peppers and two draft picks.
The fresh start in Cleveland seemed like a good fit on paper. The Browns had recently drafted Baker Mayfield, and getting a potential No. 1 receiver could've helped his development. Not to mention, his close friend and college teammate, Jarvis Landry, was on the roster.
OBJ caught 74 passes for 1,035 yards and four touchdowns in his first season with the Browns. Even though he eclipsed the 1,000-yard mark, the LSU product wasn't nearly as impactful as he was early in his career. Beckham suffered another season-ending injury in 2020, but the Browns still finished with an 11-5 record.
Cleveland appeared thrilled to get Beckham back in Week 3 of the 2021 season. However, the 5-foot-11, 185-pound wideout made more headlines off the field than on it. Tension grew between OBJ and Mayfield, and the on-field relationship was irreparable. As a result, the Browns released the disgruntled star midseason.
After clearing waivers, Beckham became a free agent for the first time in his career, setting up a chance connection with the LA Rams.
OBJ is rewriting the narrative with Rams Super Bowl run
Odell Beckham Jr.'s tenures in New York and Cleveland ended on sour notes. Although he was unstoppable in his first three NFL seasons, neither location ended up being the ideal situation for the 2014 first-rounder.
OBJ has seemingly gotten a bad rap throughout his career. "Selfish" and "diva" were common phrases used in the media. Looking back, Beckham admits he could've handled some things better.
"When I was younger," Beckham said per SNY. "I definitely did things that could've helped not be able to be seen for who I truly am."
While the Rams wideout was brutally honest about his previous missteps, he also suggests the media painted a false narrative about who he was as a person.
"I feel like there was a lot more of just trying to create a story," he added. "It's easier to sell drama than it is to write up good things about somebody. I've definitely watched, heard, and witnessed it all change. It's just a testimony to staying down, staying humble, staying in your faith."
Odell Beckham Jr. has been selfless in his time in LA. The 29-year-old is also proving that he's still got it and not washed. Now, he gets to compete for a Super Bowl ring.
"Here I am with an opportunity to reach one of the goals in my life that I've always wanted to reach."
All stats courtesy of Pro Football Reference
RELATED: Odell Beckham Jr. and 3 Other Upcoming Free Agents Looking to Make a Point in Super Bowl 56