Randy Moss and Rex Ryan Slam Jon Gruden in Emotional On-Air Responses to Offensive Email: 'National Football League, This Hurts Me'
The one thing that Las Vegas Raiders head coach Jon Gruden, Pro Football Hall of Fame wide receiver Randy Moss, and former New York Jets head coach Rex Ryan have in common is that they're part of what is considered the brotherhood.
All enjoyed long NFL lives and experienced the highs of postseason victories and the lows of crushing last-second losses. In the days after The Wall Street Journal published an offensive email Gruden wrote in 2011, Moss and Ryan called upon their shared experiences during a passionate segment on ESPN's Sunday NFL Countdown. 
Rex Ryan ripped Jon Gruden for making a 'racist' comment in a 2011 email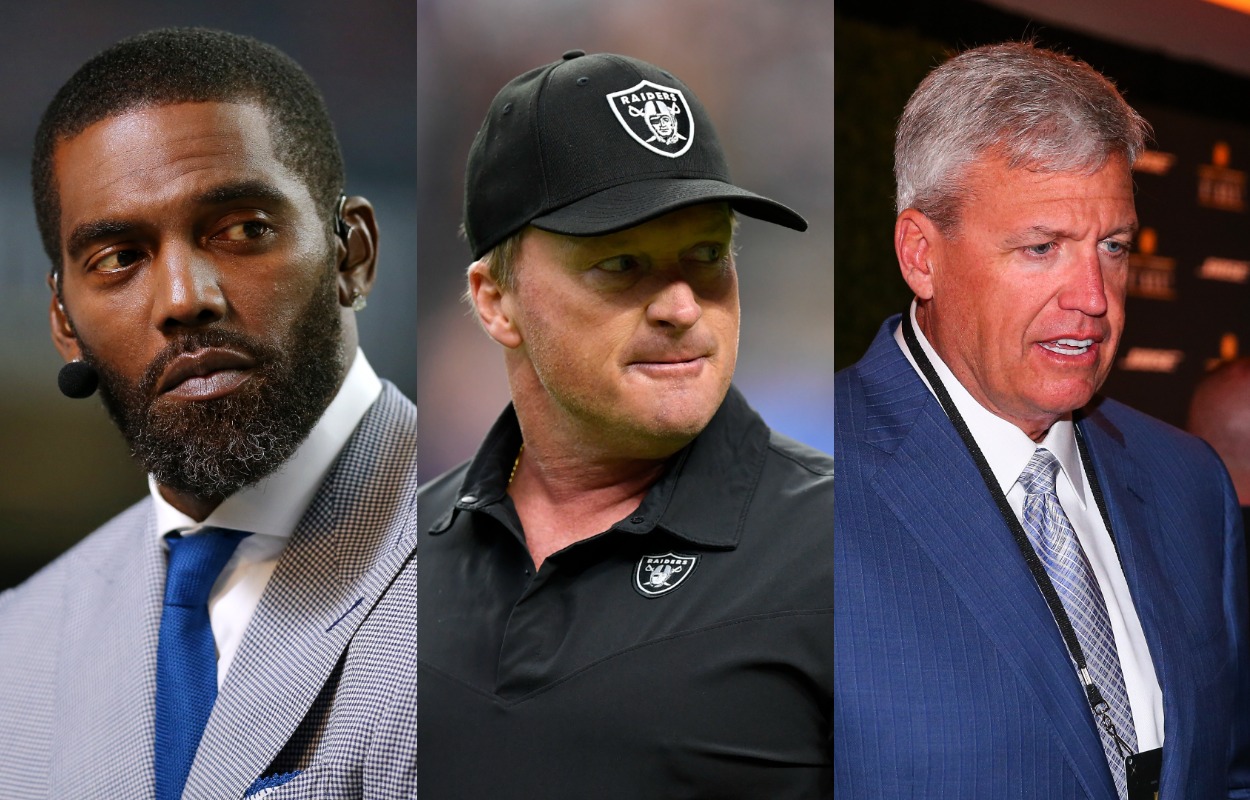 While the Atlanta Falcons and New York Jets squared off in London on Sunday, Oct. 10, those on Sunday NFL Countdown discussed the other games ahead on the Week 5 slate and the league's most important storylines.
The group of Moss, Ryan, Matt Hasselbeck, Tedy Bruschi, and host Samantha Ponder didn't only focus on injuries or the Dallas Cowboys' improved offense. The five openly and emotionally discussed a racially insensitive email that Gruden sent regarding NFL Players Association executive director DeMaurice Smith.
Gruden, while working at ESPN, used a racial trope when describing Smith's appearance in the summer of 2011. The Raiders head coach apologized for his comments and said the term he used referred to someone who is lying.
Ryan, who served as an NFL head coach from 2009-16, blasted Gruden's remarks as "unacceptable" and "asinine."
"We may look different — Black, white; anything in between — [and] that's what the NFL locker room is made up of. Different religious beliefs, married, single … The greatest part of coaching is that brotherhood, that locker room, and you know what you can't have is a racist. You can't have a racist comment."

Rex Ryan
Ryan said he does not know if Gruden is a racist, although he believes the comment "damn sure" is racist.
"It has no business being in our game," Ryan added.
Randy Moss wore his emotions on his sleeve throughout the segment
In the immediate minutes following The Wall Street Journal's story on Gruden's email, social media openly wondered if the Raiders would fire their fourth-year head coach or if the league would issue a suspension.
Moss, who joined ESPN in 2016 and overlapped with Gruden for two years at the network, didn't want to hear it.
"For you to hear [ESPN reporter] Adam Schefter talking about some discipline or some distance from [Raiders owner Mark Davis], the clock is ticking," Moss said. "We are watching to see what the National Football League is going to do about this because … we're trying to move forward going into the 21st century."
At a later point in the segment, an emotional Moss remarked, "National Football League, this hurts me." The NFL legend wiped his eyes as Bruschi — who played alongside Moss on the New England Patriots from 2007-08 — took over.
When discussing how Raiders players might feel while preparing to play for Gruden after learning of the email, Bruschi offered his opinion.
"I can play for you, but I'd rather not. I'd rather not do it, but if I have to do it, I will, and it's just because I have other people that I need to provide for. … We are all mentally tough people in that locker room, but it's something you'd rather not do."

Tedy Bruschi
Moss said all eyes will be on the Raiders in Week 5 as they enter play with a "heavy heart." Gruden's team hosts Justin Fields and the Chicago Bears at 4:05 p.m. ET on Sunday afternoon.
Social media widely praised Moss and Ryan for being so vulnerable
Moss, Ryan, and the Countdown crew at large went viral for their candid and open commentary on the Gruden situation.
New York Mets pitcher Marcus Stroman, who is Black, praised Moss for "being real." Sam Spiegelman, a recruiting analyst for Rivals, thanked ESPN for putting Moss on air.
"Randy Moss is terrific on TV," Bruce Feldman, who covers college football for The Athletic and Fox Sports, tweeted. "Just really compelling to watch and listen to."
The Boston Globe's Dan Shaughnessy, who covered Bruschi and Moss during their playing days, tweeted that both analysts were "excellent." USA Today's Henry McKenna called Moss' words "powerful" in his own tweet.
Like Sportscasting on Facebook. Follow us on Twitter @sportscasting19.
RELATED: Jon Gruden's 10-Year-Old Email Using Racist Trope in Reference to DeMaurice Smith Surfaces, and NFL Responds to 'Appalling, Abhorrent' Message