Randy Moss and Tom Brady Just Shared How the Former Patriots Duo First Considered Teaming Up
Article Highlights:
Randy Moss and Tom Brady shed light on how the two first considered teaming up
Moss, who entered the Pro Football Hall of Fame in 2018, played with Brady on the New England Patriots from 2007-10
A clandestine hotel meeting played a role in one of the most lopsided trades in NFL history 
Nearly 15 years after the fact, we can — and should — point to the Randy Moss trade as the move that changed longtime New England Patriots quarterback Tom Brady's career for good.
How can that be, you ask, when Brady entered the 2007 season with three Super Bowl rings to his name? Before Moss and Wes Welker's arrival that year, the Pro Bowl quarterback lacked the gaudy passing statistics we've become familiar with seeing him tally each year.
And, if not for a clandestine meeting at a Minnesota hotel room, who knows if we would have seen the two NFL legends partner at all? We apologize in advance to fans of the three other AFC East teams.
Randy Moss admitted he secretly met with Tom Brady in October 2006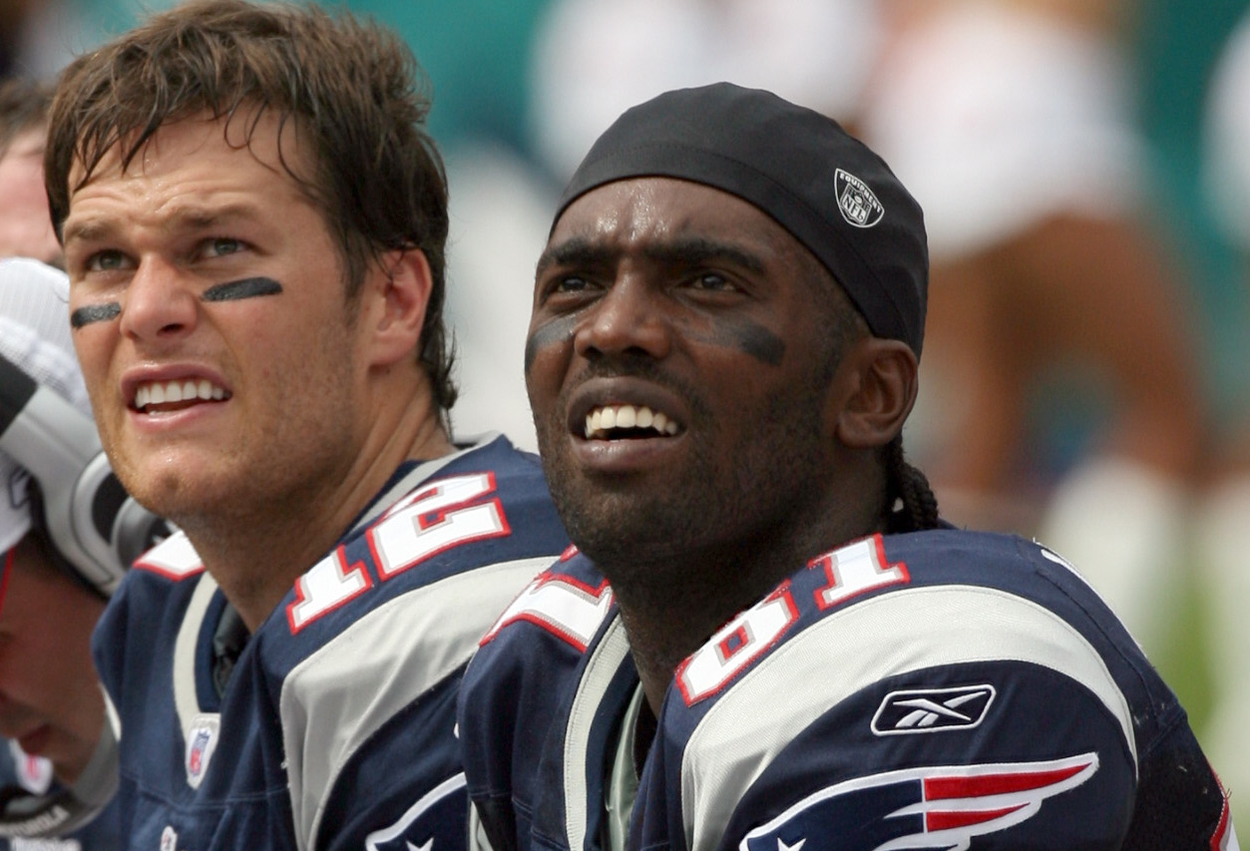 Although Brady won 12 games in 2006 and threw 24 touchdowns against 12 interceptions, he and the Patriots' offense desperately needed more weapons. Reche Caldwell, of all people, led the Patriots in receptions (61) and receiving yards (760). Times were different in New England; let's just leave it there.
On Oct. 30, 2006, Brady threw for 372 yards and four touchdowns in a 31-7 road rout of the Minnesota Vikings. However, before the nationally-televised Monday night game, the then-two-time Super Bowl MVP had a visitor in his hotel.
Because Brady and the Patriots played on Monday night, Moss — who played for the Vikings from 1998-2004 — had enough time to secretly see his former team in action. According to NBC Sports, an upcoming episode of ESPN's new documentary, Man in the Arena, features the All-Pro receiver, then playing for the Oakland Raiders, admitting he snuck into the Patriots' team hotel and surprised Brady. 
Brady, who is involved in the documentary's production, confirmed the story and remembered what Moss told him.
"Bro, I wanna play with you."

Randy Moss
Moss got his wish several months later. The Raiders traded the future Pro Football Hall of Fame receiver to the Patriots in April 2007 for a fourth-round pick, one the team used on Cincinnati cornerback John Bowie.
Brady and Moss became one of the most electric quarterback-receiver duos we might ever see
Brady was already difficult to stop before the Patriots acquired Moss and Welker, a talented slot receiver who'd impressed with the Miami Dolphins, in 2007. However, those two Pro Bowlers immediately — and drastically — changed the equation.
Brady threw for an NFL-record 50 passing touchdowns in 2007 and connected with Moss on 23 of them. The Marshall product caught a touchdown in 14 of the Patriots' 16 regular-season games and finished the year with 98 catches and 1,493 yards.
New England relied on the duo to record the first (and as of November 2021, only) 16-0 season in NFL history. Although Moss caught a go-ahead touchdown late in Super Bowl 42, New York Giants receivers David Tyree and Plaxico Burress ensured the Patriots wouldn't win a fourth title in seven years. Sorry for the reminder, Patriots fans.
Although Moss continued playing well in 2008, he spent almost the entire season catching passes from Matt Cassel; Brady, the reigning NFL MVP, tore his ACL early in Week 1. A year later, and with Brady back in charge, Moss turned 83 catches into 1,264 yards and 13 touchdowns.
Unfortunately for Patriots fans, the end was near for one of the greatest quarterback-receiver duos we may ever see. New England traded the veteran wideout back to Minnesota in October 2010, and he never caught another pass from Brady again.
Moss nearly caught touchdown passes from another legendary quarterback: Brett Favre
The Raiders' decision to send Moss to New England and draft Bowie Bowie, who played his final NFL down in the 2010 preseason, remains one of the lopsided trades in league history. Things could have looked far differently had the Raiders instead turned to an NFC franchise.
As SB Nation recalled in 2018, the Green Bay Packers nearly traded backup quarterback Aaron Rodgers and a 2008 seventh-round pick to the Raiders for Moss, tight end Courtney Anderson, and a 2009 conditional pick. Had that happened, Moss would have spent 2007 (and possibly 2008) catching Brett Favre's passes. However, the two sides never reached an agreement, and we know how things went from there.
It's a fascinating trade to consider, one which might have solved the Raiders' constant quarterback issues and kept them from drafting LSU's JaMarcus Russell. But, we got what we got, and the experience is one that Patriot fans and fantasy football managers will never forget, and all it took was a hotel meeting.
Well, it also took Moss making it clear he didn't want to play with the Raiders, but now we're just arguing semantics.
Like Sportscasting on Facebook. Follow us on Twitter @sportscasting19.