This Should Be the Rangers' Postseason Pitching Rotation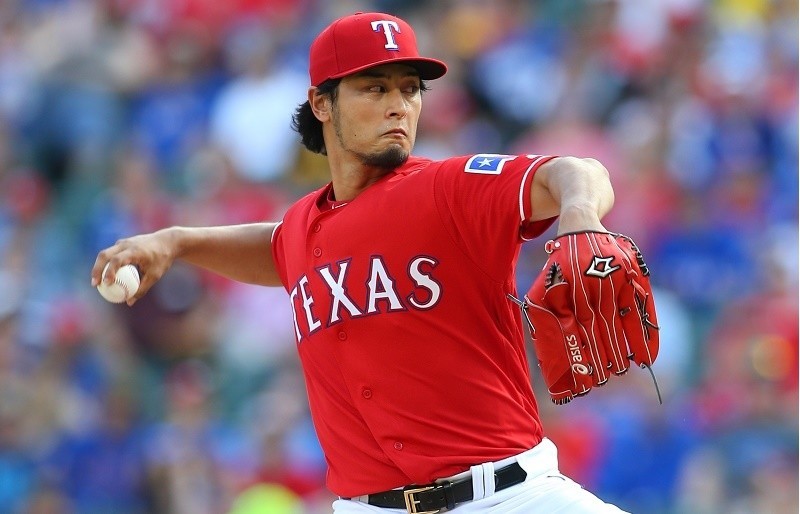 The Texas Rangers top the American League West standings with 94 wins — poised to grab home-field advantage throughout the postseason. Comparing win totals with the team's pitching statistics will give any fan pause, wondering how manager Jeff Banister pulled this feat off with only two pitchers with 10 or more victories. Yes, the team leads the league in double plays, but someone has to get 27 batters out each game.
Factor in that more than 30 pitchers tossed at least one inning, featuring some established stars (Cole Hamels and Yu Darvish); a heaping helping of back of the rotation guys; a few also-rans such as Kyle Lohse; and a lot — and we mean a lot — of middle relievers and "closers." Six Ranger relievers recorded at least one save, and Shawn Tolleson and Sam Dyson have more than 10 each.
Even more remarkable: 11 Ranger pitchers have at least one hold, with five having more than 10 holds. Put this data into a blender and the Rangers will have 11 pitchers on its postseason pitching rotation. Relievers and swingmen are easy. Starters … that's a different story. This should be the Rangers' postseason pitching rotation.
Starters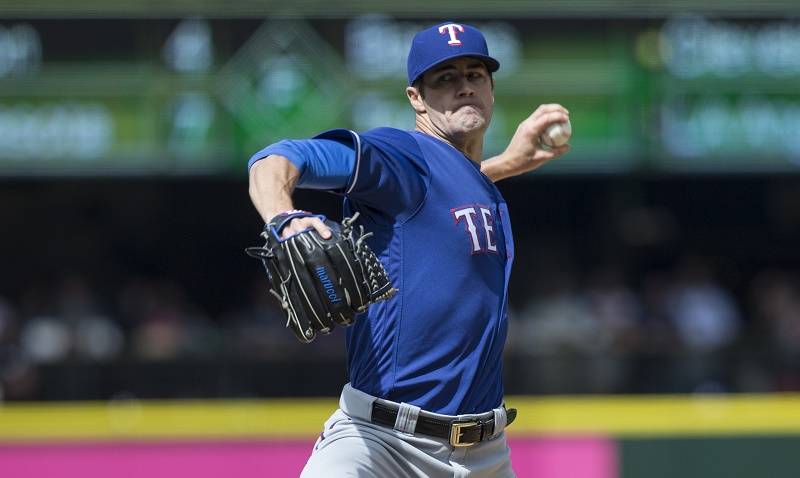 Cole Hamels
At age 32, Hamels is no longer the pitcher who starred for the Phillies and led them to a World Series title in 2008. His numbers for the season are decent (15-5 with 200 strikeouts and an era of 3.32). However, he's not the sure thing who won four games for the Phillies in the 2008 postseason. What Hamels has going for him is that he is 3-2 with five no decisions over his past 10 starts, but the team has won seven of those games. With so much middle relief and back end arms, Hamels must give the Rangers six solid innings to be effective. At that point, the parade of setups and closers can take over.
Yu Darvish
It's amazing to think that the lanky lefty from Japan turned 30 a month ago. With multiple arm surgeries under his belt, Darvish returned this season and has been on the bump for 16 starts. As of now, Darvish is 6-5 with a 3.53; 62% of his starts have been ruled "quality starts" (six innings with no more than three earned runs). The best news for Darvish is that his last start against Oakland was a great one. He pitched seven innings of two-hit baseball with nine strikeouts.
The knock on Darvish is his inconsistency. So, his final start (against the Rays on the last Friday of the season) will go a long way in telling fans how he will fare in the NLDS. It is worth noting that in the 2012 postseason Yu started one game and lost, giving up two earned runs in 6.2 innings.
Martin Perez or Colby Lewis
This one is a tossup as neither pitcher brings a lot of confidence to the mound. Martin Perez, a lefty, is 10-11 with a healthy 4.37 ERA. In his last start against the Brewers he gave up eight runs in six innings, a microcosm of his season. A little more than half of his 32 starts were quality starts. After having Tommy John surgery in 2014, the Venezuelan native has been on the cusp of being a No. 2 starter for the past several years . He still has a ways to go.
Colby Lewis has experience on his side, but at age 37 with only 18 starts this season, it is worth asking how much gas the six-game winner has in his tank. Lewis was clobbered by the A's in his last outing, so how he performs in his last start against the Rays will dictate how ready he is for the playoff wars.
Relievers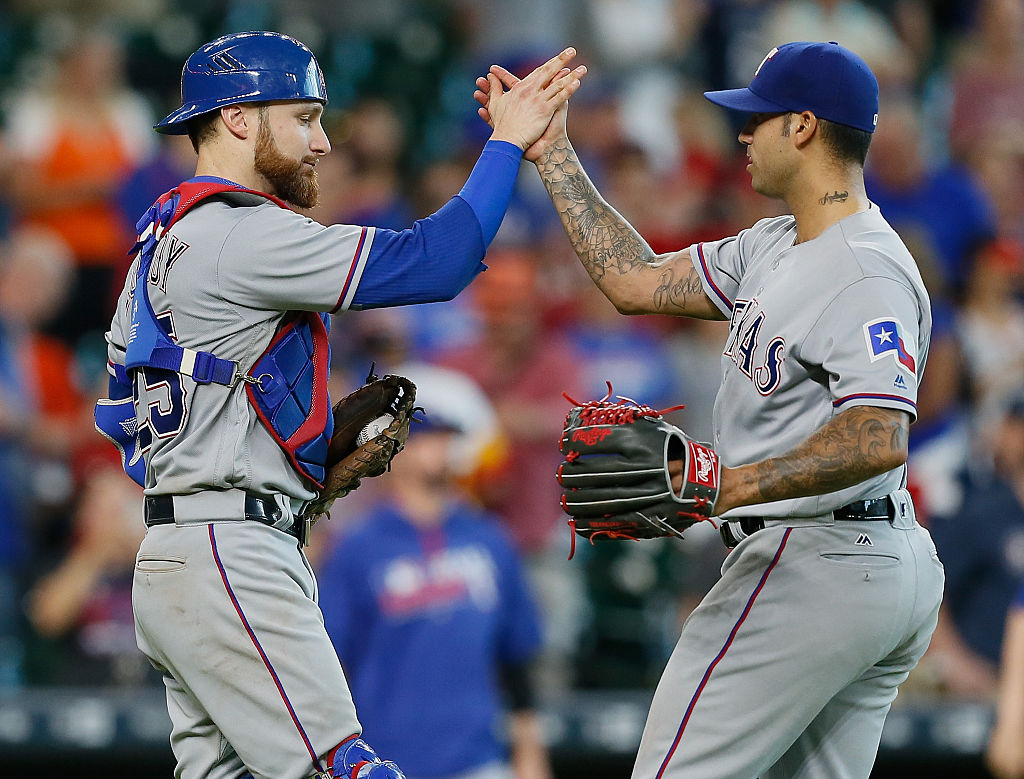 Sam Dyson, Closer
Dyson is the current closer of choice, replacing Tolleson midway in the season. Dyson's numbers are good, but not great with 37 saves and five blown saves. The former Blue Jay and Marlin — who has served two terms with Texas — averages less than a strikeout an inning, which means he does not have a blow-em-away fastball.
Jake Diekman, Setup/closer
At the outset of the season, Jake Diekman was in line for the closer spot with his overpowering fastball , but his lack of command (25 walks in 52 winnings) pushed him to a setup spot and occasional closer. With a sinking fastball at 96 MPH, Texas should expect more from this former Phillies pitcher (he came over in the Hamels trade). Perhaps the spotlight will give him the focus he needs to excel. From here, we get into the "put them in a hat and pick" section
Matt Bush, Setup
Truly one of the great MLB stories of 2016: When Matt Bush, a former first-round pick of the Padres, left prison to join the Rangers as a relief pitcher. At age 30, Bush came through with a great season. In 57 games, he is 7-2 with an ERA of 2.52 and a WHIP below 1.00. The San Diego native has 61 whiffs in 60 innings.
Keone Kela, Setup
Somewhat of a daring choice, but a young man with a 97 MPH fastball and "decent" command is just what the Rangers may need to face a right-handed batter in a key situation. Yes, Keone Kela has a 6.27 ERA, but he has 68 Ks in 60 innings and 22 holds. For one batter in a do-or-die situation, he could spell magic.
Alex Claudio, Setup
Another selection who goes against the grain, the 24-year-old lefty owns left-handed batters with a .180 batting average. Alex Claudio is the perfect guy to get out a lefty in a key situation or go a few innings against a lineup with a lot of lefty bats.
Swingmen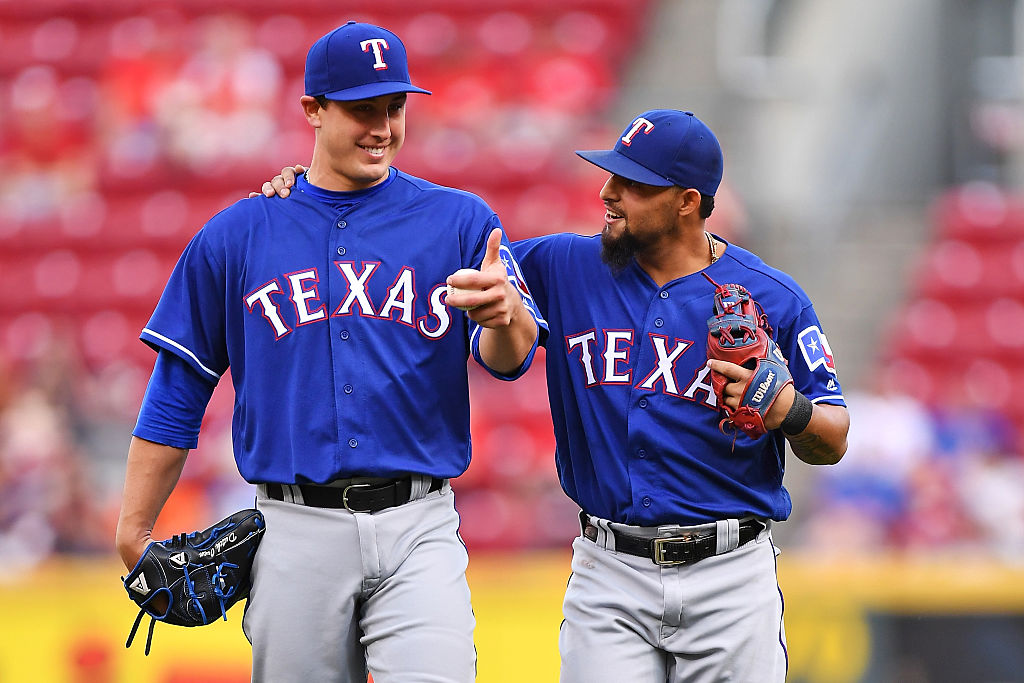 Derek Holland, Lefty
Recent reports claim that the Rangers may target Derek Holland for the bullpen, but the Ohio native can start if need be. Seemingly always plagued with a nagging injury, Holland — once a 16-game winner — has experienced a mediocre (at best) year at 7-9 with an ERA of 4.99. At 1.42, his WHIP is the highest it's been since 2010. Any time Holland takes the mound, it becomes a roll-the-dice situation.
A.J. Griffin, Righty
There is one word to describe Griffin and that's "gritty." Peaking somewhat in the middle  of the season, this battler will get in and (sometimes) out of jams the entire game. A rather sad 5.07 ERA and only six quality starts in his 23, Griffin may seem like an odd choice, but he can eat up innings and would be valuable if a game goes extra innings.
Jeremy Jeffress, Righty
This one is personal. Having met this young man during his first day at Spring Training in Arizona, we can tell you that despite all of his public-facing troubles (drug and drinking issues), he's a good kid with a tremendous amount of talent. Fresh out of rehab, Jeffress was off the restricted list on September 27 and pitched two scoreless innings against the Brewers (his former team) to pick up the win. With his former teammate Jonathan Lucroy to catch and support him, Jeffress has something to prove. The ALCS and beyond could be his time to shine.
Statistics courtesy of ESPN and Baseball-Reference.