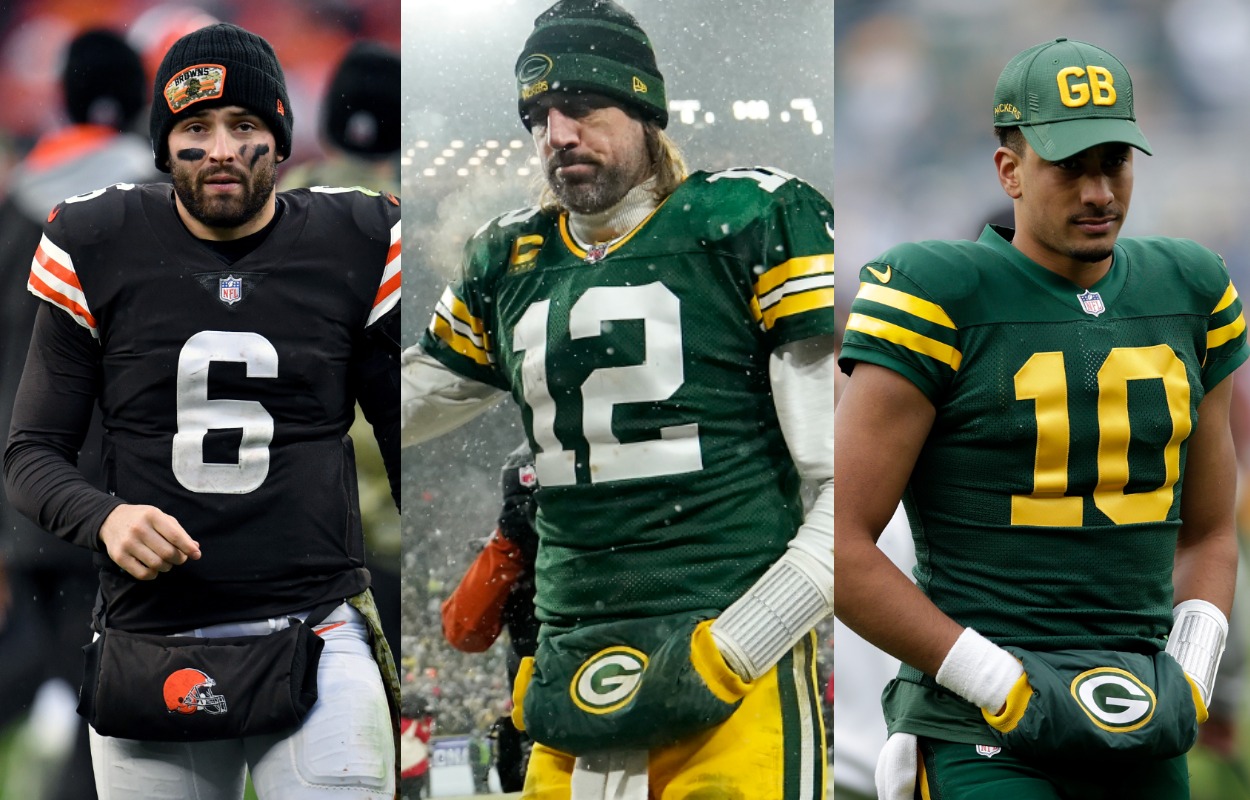 Ranking the 6 Best Candidates to Replace Aaron Rodgers as the Green Bay Packers' Starting QB in 2022
If Aaron Rodgers isn't starting for the Green Bay Packers in 2022, the four-time Super Bowl champions must target these quarterbacks this offseason.
If Aaron Rodgers intends to play for the Green Bay Packers in 2022, he's not doing a good job of convincing fans they should prepare for one final run at losing early in the playoffs.
The presumptive 2021 NFL MVP didn't need long after a crushing NFC Divisional Round loss to again raise questions about his future in Green Bay. Rodgers, who turned 38 in December, made it clear he doesn't want to be part of a rebuild; he also said he'll take the coming weeks to decide his next step, which could range from playing in 2022 to retiring.
Although the Super Bowl 45 champion is arguably irreplaceable given his resume and recent play, the Packers might nonetheless need to find his successor in the coming months. Now seems like a perfect time to evaluate who could emerge as Rodgers' replacement in Green Bay.
For this list, we evaluated possible choices based on realism — something tells us neither Josh Allen nor Patrick Mahomes is arriving via trade — and the Packers' 2022 expectations. Green Bay has numerous starters, including All-Pro receiver Davante Adams and cornerback Rasul Douglas, who could hit free agency in the coming months. Their departures, coupled with potential cap casualties, could force the Packers to approach 2022 as a transitional year.
Based on consideration of the aforementioned prerequisites, the best potential successors stack up as follows:
Honorable mention: Deshaun Watson, Houston Texans (trade)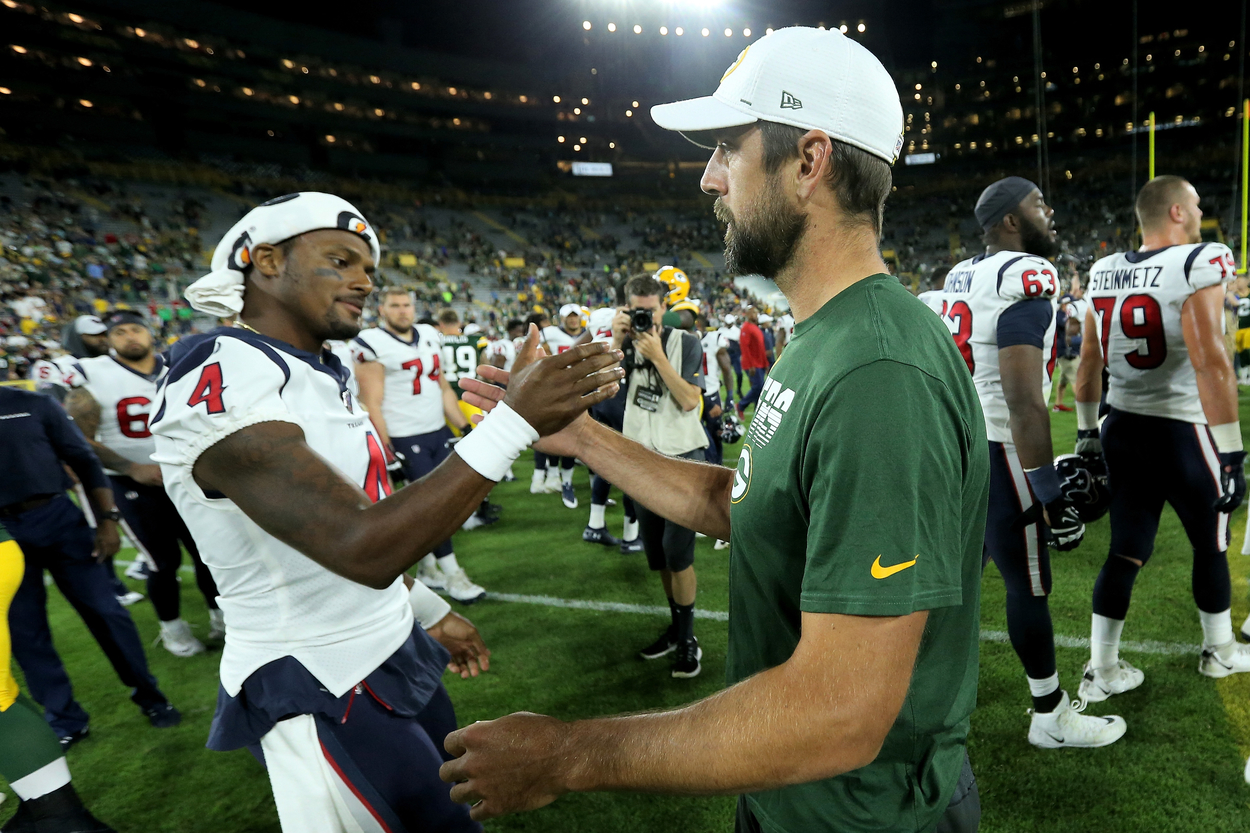 The idea of Watson, a three-time Pro Bowl selection, replacing Rodgers as the Packers' franchise quarterback is certainly an intriguing prospect. However, the Clemson product's contract (he's owed $62 million in total cash from 2022-23) and his ongoing legal issues make such a trade difficult to realistically consider.
As of publication, there has been no resolution to the 22 civil lawsuits filed against Watson that include allegations of sexual misconduct. Packers fans should continue tempering their expectations about seeing Watson in Green and Yellow anytime soon.
6. Baker Mayfield, Cleveland Browns (trade)
Alright, now we're talking.
Although the Browns have given Mayfield a public vote of confidence, that line of thinking only goes so far in the NFL. The fourth-year quarterback regularly drew criticism for his play throughout the 2021 campaign, even as he fought through numerous injuries. He and his wife, Emily, also publicly reprimanded fans for booing him and the team; things escalated enough that Emily said her husband received death threats late last year.
Without diving too deep into the logistics involving a Mayfield-Rodgers swap, football fans would likely agree both would look strange in their potential new uniforms. Cleveland has the pieces in place to make a run at the AFC North next year, which would be good news for Rodgers. Mayfield, meanwhile, could try benefiting from a change of scenery in what could be a contract year.
If Tom Brady can win a title with the Tampa Bay Buccaneers, what could Rodgers do in a Cleveland Browns jersey?
5. Teddy Bridgewater, Denver Broncos (free agency)
If the Packers add a quarterback in free agency, they'd be wise to look at a man who has no shortage of starting experience. Bridgewater, who turns 30 in November, posted a 68.1 completion percentage, 6,785 yards, 33 touchdowns, and 18 interceptions over the last two seasons.
Bridgewater, who spent his first four seasons with the Minnesota Vikings, is obviously familiar with the NFC North. Although he might not be the sexiest option, he nonetheless makes sense for the Packers, assuming he's willing to accept a cheap deal.
4. Marcus Mariota, Las Vegas Raiders (free agency)
Mariota has thrown only 30 passes since the start of the 2020 season and primarily saw action as a change-of-pace quarterback this season. However, Packers coach Matt LaFleur was the Tennessee Titans' offensive coordinator in 2018, Mariota's last full season as a starter. Familiarity could win out here.
Mariota won't turn 29 until Oct. 30 and started 61 games in five seasons with the Titans. However, he'll likely come cheap, and he's worked with the head coach before. Sometimes, that's enough for the organization. Whether that'll be enough for the fanbase is another conversation.
3. Jordan Love, Green Bay Packers (already on roster)
Typically, Love would almost be a shoo-in to replace Rodgers, and this story would be about who the Packers could add as either a backup or someone who could provide competition. However, the Utah State product's struggles are well-known, especially after he performed so poorly during training camp in 2020 that he spent his rookie season as the Packers' No. 3 quarterback.
Love didn't impress in 131 offensive snaps during the 2021 season, completing 58.1% of his passes for 411 yards, two touchdowns, and three interceptions. It is worth noting the Packers haven't provided any indication they've given up on him and would explore trading him this offseason.
Too much of Love's future involves two words: We'll see.
2. Jameis Winston, New Orleans Saints (free agency)
Remember when Winston opened the 2021 season with five passing touchdowns in a 38-3 rout over Rodgers and the Packers? The 2013 Heisman Trophy winner threw 14 touchdowns against three interceptions in seven games (a 34-7 ratio across a 17-game season) before suffering a torn ACL on Halloween.
At this point, we know the Winston experience has extreme highs and infuriatingly devastating lows. However, if LaFleur feels he can use his offensive prowess to help the Florida State product take the next step in his career, this pairing makes sense, especially if Winston is willing to accept a one-year prove-it deal.
1. Gardner Minshew, Philadelphia Eagles (trade)
Minshew checks every box the Packers should have entering the 2022 season, especially from a financial standpoint. The Washington State product is entering the final year of his rookie contract and will play all of next season at 26 years old.
Minshew completed 63.2% of his passes for 5,969 yards, 41 touchdowns, and 12 interceptions in his first three seasons. He has starting experience and impressed at times in his two years with the Jacksonville Jaguars.
If Minshew Mania comes to Green Bay, Packers fans should get ready to rumble.
Like Sportscasting on Facebook. Follow us on Twitter @sportscasting19.