NFL Free Agency: Ranking the 6 Players the Cincinnati Bengals Must Target in the 2022 NFL Offseason
The Cincinnati Bengals finally made it back to the Super Bowl, which remains potentially the most surprising sentence of the 2021 NFL season. Alas, the dynamic duo of Los Angeles Rams quarterback Matthew Stafford and his All-Pro receiver, Cooper Kupp, proved to be too much at SoFi Stadium.
With the NFL offseason officially underway, now feels like the perfect time to analyze several players who could prove instrumental in helping the Bengals finally bring the Lombardi Trophy home to Cincinnati.
For this list, we tried focusing on the Bengals' most significant needs and eying players who best fit those holes. This list only includes players who are scheduled to become unrestricted free agents in March; restricted free agents, cap casualties, and little-known draft prospects who are likely to go undrafted were all ineligible.
Based on consideration of the aforementioned prerequisites, the best potential free agents for the Bengals rank as follows:
Honorable mention: Rob Gronkowski, TE, Tampa Bay Buccaneers
Gronkowski slides in as an honorable mention only because he's admitted his playing future is uncertain. The four-time Super Bowl champion turns 33 in May and has an extensive injury history which forced his brief retirement after the 2018 season.
However, Gronkowski already made it clear he'd like to play with Bengals quarterback Joe Burrow, and the Bengals have more than enough cap space — a projected $58 million, in fact — to sign the veteran tight end on a one-year deal. If the Arizona product wants to play in 2022, don't be surprised if he's catching touchdowns from the 2019 Heisman Trophy winner.
6. Mike Hughes, CB, Kansas City Chiefs
Buffalo Bills fans will forever remember Hughes, the 30th overall pick in the 2018 NFL Draft, as the cornerback who Gabriel Davis terrorized in the 2021 AFC Divisional Round. Although the 25-year-old primarily came off the bench in his first and potentially only season with the Chiefs, he forced four fumbles, brought a loose ball back 23 yards for a touchdown, and picked off one pass during the regular season.
Davis' age and talent make him an excellent candidate for a one-year, prove-it deal, and the Bengals are an ideal team to make that happen. Cincinnati could lose cornerback Eli Apple, who revived his career with the Bengals, in free agency because he made the most of a one-year contract. Sometimes, there's no shame in repeating history and taking a flier on another young defensive back needing to redeem himself.
5. Kyle Fuller, CB, Denver Broncos
Considering Fuller will turn 30 on Feb. 16 and the fact he saw diminished playing time in 2021, he's another player who is likely facing an inexpensive contract. The Virginia Tech product is a two-time Pro Bowler with 19 career interceptions, four forced fumbles, and 86 pass deflections to his name.
Fuller would at least bring experience to the Bengals' secondary, especially if the team invests multiple draft picks on young defensive backs. He might not be the player he was when he earned All-Pro honors in 2018, but Cincinnati might not need him to fill that role at this stage in his career.
4. Evan Engram, TE, New York Giants
Although Engram earned Pro Bowl honors in 2020, he could also be facing a one-year, prove-it deal after posting a career-low 408 yards in 15 games and 12 starts for the Giants last year. The Ole Miss product is an explosive vertical threat who hauled in 262 catches for 2,828 yards and 16 touchdowns in five seasons with the Giants.
The only problem is the ​​6-foot-3, 240-pound playmaker dropped 17 passes over the last two seasons, including 11 in his Pro Bowl campaign. Nonetheless, Engram makes perfect sense as a short-term replacement if veteran tight end C. J. Uzomah doesn't return to Cincinnati.
3. Will Hernandez, G, New York Giants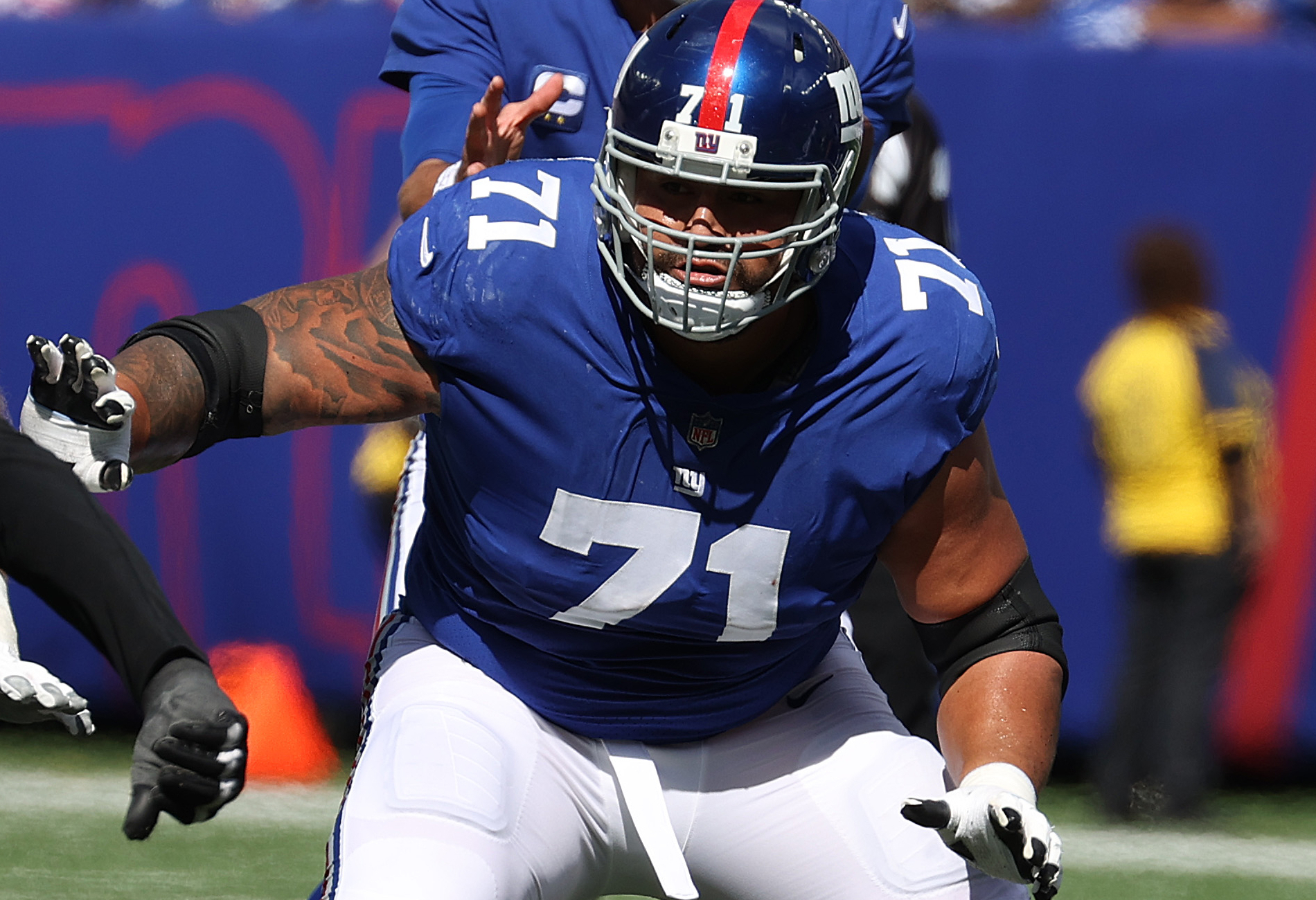 Much like Engram, Hernandez will likely leave a complicated legacy behind in New York. Although he was durable and never missed a start in three of his four seasons, poor play forced his benching midway through the 2020 campaign. According to Pro Football Focus, the UTEP product posted mediocre blocking grades (58.4 in run block and 56.0 in pass block) and allowed 36 total pressures on the quarterback in 2021.
Hernandez is another ideal candidate for either a one-year deal or a two-year contract with most of the money guaranteed in the first season. He'll play the entire 2022 season at 27 years old and has extensive starting experience, both of which should appeal to a Bengals offensive line that struggled throughout the entire 2021 campaign.
2. Rasul Douglas, CB, Green Bay Packers
Douglas figures to be a popular name on the free-agent market after snagging five interceptions, returning two for touchdowns, and breaking up 13 passes in 12 games and nine starts for the Packers last season. He'll play the entire 2022 season at 28 years old and earned rave reviews for his time in Green Bay.
Douglas told reporters in January he hopes to play for the Packers next year. However, Green Bay's cap issues and Aaron Rodgers' uncertain future could force the veteran cornerback to explore other options, and the Bengals make perfect sense. Cincinnati has a winning core and cap space, both of which might appeal to a player hoping to earn a Super Bowl ring.
1. Cam Robinson, LT, Jacksonville Jaguars
Lost in the Jaguars' Urban Meyer drama was the play of veteran left tackle Cam Robinson, who allowed only one sack and 29 pressures in 14 starts last season. According to Sports Illustrated, those were significantly down from the 7.5 sacks and 37.5 sacks he averaged from 2019-20.
Robinson will play most of the 2022 season at 27 years old, and his Alabama roots — he played for the Crimson Tide from 2014-16 — could appeal to a Bengals organization that loves adding players with SEC backgrounds. Cincinnati has the cap space to ensure the former All-American spends the next few years keeping Burrow on his feet.
If Robinson hits the open market, the Bengals cannot allow him to sign anywhere else, especially if the organization has its eyes set on an opportunity to finally party with the Lombardi Trophy.
Like Sportscasting on Facebook. Follow us on Twitter @sportscasting19.
RELATED: Where Will Your Favorite Team Be Drafting in the 2021 NFL Draft?