Ranking the 9 New NFL Head Coach Hires
After weeks and weeks of rumors, speculation, and firings, all nine NFL head-coaching vacancies are filled. The last one to get occupied was the New Orleans Saints, who promoted defensive coordinator Dennis Allen following Sean Payton's surprising decision to step away — at least for the 2022 season.
The hot coordinators who were expected to get jobs didn't, including Todd Bowles, Byron Leftwich, Dan Quinn, and Kellen Moore. But Brian Daboll finally got a job, and a couple of former head coaches got new jobs — Lovie Smith and Doug Pederson.
The coaching carousel has officially ended and now they will get to work to fill out their staff with free agency looming in March. Let's look at the nine hires and rank them, with their previous track records and roster construction being used as the criteria.
9. Houston Texans, Lovie Smith
It isn't that Lovie Smith is a bad head coach. He did well with the Chicago Bears and deserved another chance. Now he gets one with the Texans after being their defensive coordinator last season.
However, the entire process by Houston is questionable. They fired David Culley after one season, then appeared to be focused on Josh McCown (for some reason), and had serious interest in Jonathan Gannon and Brian Flores.
But, Flores' lawsuit threw up a red flag for the Texans, and who knows what happened with McCown, so ultimately they landed on Smith. It was a bizarre turn of events, and this hire feels like a very short-term one for the Texans once again.
Furthermore, the Texans roster is a mess. Deshaun Watson has likely played his final snap in Houston, and Brandin Cooks will hit free agency. Davis Mills played well at the end of the year, and the good news is that it looks like Pep Hamilton will stick around on Smith's staff.
Smith is lowest on the list because he has barely anything to work with, and it looks unlikely that he gets more than two years at the helm — if that.
8. New Orleans Saints, Dennis Allen
Payton's decision to walk away was a bit of a surprise. The Saints wasted no time and ultimately promoted Allen to be the new head coach.
He took over for Payton when he battled COVID-19 and showed promise as the Saints pitched a shutout against the Tampa Bay Buccaneers.
Before landing on Allen as the man, the Saints brought in several candidates, including Aaron Gleen and Eric Bieniemy. Now, Allen is deserving of a job and this makes sense for both sides. However, he has his hands full right now.
The quarterback position remains iffy, Alvin Kamara's status is now up in the air, and the Saints are in salary cap purgatory. None of these help Allen out.
Can he land a pair of aces and turn this around in New Orleans? It won't be easy, and the hiring of Allen looks more and more like a stopgap decision rather than the beginning of a new era.
7. Chicago Bears, Matt Eberflus
The Chicago Bears fired Matt Nagy finally after a disastrous 2021 campaign. Justin Fields' development was hindered during his rookie season thanks to Nagy's insistence to play Andy Dalton time and time again.
The Bears brought in a flurry of candidates, including Dan Quinn and Kellen Moore, before landing on former Indianapolis Colts defensive coordinator Matt Eberflus. There is no denying the bears did their due diligence and cast a wide net before landing on Eberflus.
Eberflus has interviewed for the past few years and finally landed a head-coaching job. It is well-deserved for the veteran.
However, the Bears making this decision is questionable. Eberflus is strictly a defensive guy, and while that doesn't entirely matter, it would have been encouraging to see somebody like Kellen Moore take over and get to work with Fields.
The Bears could have used a young, up-and-coming coach like Moore; look at what Sean McVay, Zac Taylor, and Brandon Staley are doing?
Nonetheless, Eberflus is a well-respected coach and it helps that he nabbed Green Bay Packers QB coach Luke Getsy as his offensive coordinator. Still, the Bears decision to bring in Eberflus was surprising, and this move could hurt them if the offense doesn't come together.
6. Miami Dolphins, Mike McDaniel
The San Francisco 49ers finished one game away from a trip to the Super Bowl. Then, offensive coordinator Mike McDaniel left the Bay Area to head to Miami and become the new head coach for the Dolphins.
The offensive guru was always a target for the Dolphins after they shockingly decided to fire Brian Flores. Brian Daboll was also reportedly a favorite for Miami before he took the New York Giants job, and McDaniel finally landed in Florida as the guy.
This move is exactly what the Dolphins need — an offensive resurgence. Tua Tagovailoa has talent and needs some more development to become a star in this league, and McDaniel could be the guy to turn his career around.
However, the Dolphins' move from Flores to McDaniel seems lateral. The former 49ers OC is deserving of a job, but the Dolphins are taking yet another flier on a first-time head coach, and with Flores' lawsuit going on, owner Stephen Ross has even more pressure for McDaniel to turn out as a good hire.
If not, trouble could be coming for Miami once again, and the pressure is on in a big way. This hire feels strange, as did the decision to fire Flores. Then again, it's the Dolphins.
5. Denver Broncos, Nathaniel Hackett
The Denver Broncos hiring Nathaniel Hackett seems like desperation at its finest. Dan Quinn arguably should have been the guy here.
But, the Broncos' ugly revolving door at the quarterback position seems to have prompted the hiring of the former Packers offensive coordinator. Hackett did a great job in Green Bay; make no mistakes. However, reports have surfaced for a long time that Aaron Rodgers would be interested in heading to Denver if he decides to leave Green Bay — and the feeling is mutual.
Is Hackett enough for them to land Rodgers? Or is this just purely a desperation hire in hopes of landing him? On the surface, that's what it feels like, at least for the time being. On the other hand, the Broncos failed with Vic Fangio — a defensive-minded head coach — and are at least going to try it with an offensive guy.
All in all, the Broncos hiring Hackett wasn't a surprise, and if they miss out on Rodgers, this move will be highly criticized — especially if Hackett doesn't pan out.
4. Minnesota Vikings, Kevin O'Connell
The Minnesota Vikings appeared destined to land Michigan head coach Jim Harbaugh. But, after a nine-hour interview, the Vikings and Harbaugh parted ways with no deal — and it was reported that Harbaugh felt he already had the job and tanked his interview.
They then wasted no time and landed Los Angeles Rams offensive coordinator Kevin O'Connell. After Mike Zimmer left town, the Rams offensive guru will be a breath of fresh air for the Vikings.
Sure, this is a first-time head coach, but if O'Connell can translate the Rams offense to Minnesota, this will be a terrific hire. Of course, there is a risk here, but it was only a matter of time before he got a job.
The biggest question is Kirk Cousins. The Vikings have playmakers on offense that O'Connell can use, but the cap situation with Cousins will make things difficult going forward. Do they entertain a trade? Or could O'Connell get the old Cousins back and unleash a dangerous offense in Minnesota? There is a reason Justin Jefferson was excited about the O'Connell hire.
Even though it would have been cool to see Harbaugh get another crack at the NFL, the Vikings pivoted and hired a young coordinator, something that is quickly becoming the norm in the modern NFL.
3. Las Vegas Raiders, Josh McDaniels
The Las Vegas Raiders have undergone a makeover just weeks after their season ended. They brought in Dave Ziegler as the new GM and followed it up with Josh McDaniels as the new head coach, both of whom worked for the New England Patriots.
McDaniels was overlooked for other jobs but emerged as a favorite for the Raiders pretty early on after their playoff loss to the Cincinnati Bengals. After the ugly Jon Gruden era, Rich Bisaccia pulled the team together and made the playoffs, but Las Vegas wanted to start from scratch in all phases.
McDaniels gets another crack after burning the Colts, and this roster needs an influx of talent. Nonetheless, if they keep Derek Carr, McDaniels is the perfect guy to work with. Hunter Renfrow came out of the shadows and became a reception monster for Las Vegas, and Darren Waller remains one of the best tight ends in the league.
The Raiders seem primed to add a receiver in free agency, whether it's Mike Williams, Allen Robinson, or perhaps Davante Adams in a Fresno State reunion with Carr.
All in all, McDaniels is a home run hire by Mark Davis, who faces the most pressure of any of the teams after the Gruden era ended in an ugly fashion.
2. Jacksonville Jaguars, Doug Pederson
Everybody knows about the terrible Urban Meyer era in Jacksonville. For weeks, Byron Leftwich was the favorite. However, the Buccaneers offensive coordinator removed himself from consideration after the Jaguars failed to get rid of Trent Baalke as the team's GM.
However, Pederson as Plan B is a grand slam of a hire. Pederson's tenure with the Philadelphia Eagles ended in an ugly fashion, and it was expected that he would receive one of the jobs during this cycle.
Trevor Lawrence is a star in the making, although Meyer ruined his rookie season. The Jaguars have a ton of cap space, and Pederson brings a Super Bowl ring to the facilities and a lot of experience in the NFL.
Pederson has his work cut out for him after everything that went wrong in Jacksonville last season, but he should have no problem getting this team out of the dumps.
1. New York Giants, Brian Daboll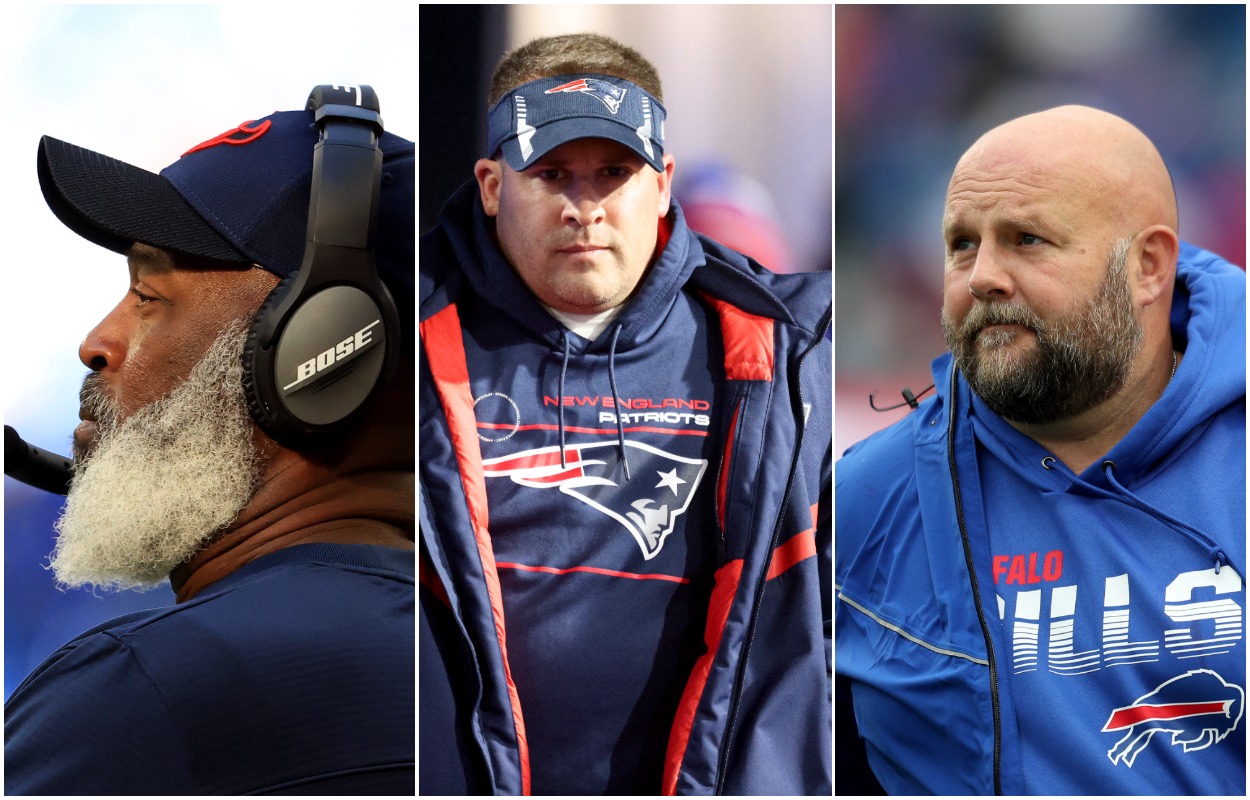 The Giants named Joe Schoen as the team's new GM and Brian Daboll as the new head coach as a pair of Buffalo Bills guys came to the Big Apple.
After Joe Judge burned every bridge in his time there, Daboll is another fresh face that this franchise desperately needs. He did amazing with the Bills and Josh Allen and should have gotten a job last year during this time.
Now, the Giants roster has some playmakers, although questions remain on whether or not Daniel Jones is the future quarterback for the Giants. Still, moving on from Judge to Daboll is like moving from snowy Buffalo to California.
This move is a smash hire, and the Giants offense — with Saquon Barkley as the center — should get a massive boost with Daboll running the show. What makes it better is they named Don "Wink" Martindale as the team's DC after Patrick Graham left for the Raiders.
Can Daboll make the Giants competitive again and shake off a rusty, ugly offense run by Judge and Jason Garrett?
If the Bills tenure was any clue, he should have no problem changing this team quickly.
RELATED: The Jacksonville Jaguars Are Hoping Doug Pederson Can Coach Trevor Lawrence Like He Once Did With Brett Favre