Ranking Arizona Cardinals Legend Larry Fitzgerald's 6 Greatest Seasons
Arizona Cardinals legend Larry Fitzgerald all but confirmed what football fans have known for nearly a year: his playing days are over.
Although Fitzgerald declined to use the term "retired" in a recent interview with ESPN, the 38-year-old said he had a "great run" in football and has no regrets, outside of never winning a championship. The 11-time Pro Bowler has instead turned his attention to spending time with his two sons, serving as a minority owner of the Phoenix Suns, and running Larry Fitzgerald Enterprises, among other ventures.
With Fitzgerald's career essentially officially over, now is the perfect time to review his time in the NFL and rank his greatest seasons. For this list, we factored in statistics, the team's final finish, and the context surrounding the seasons in question. As Fitzgerald was always a full-time starter who did not miss any significant time because of injuries, all of his 17 seasons were eligible for this list.
Based on consideration of the aforementioned prerequisites, Fitzgerald's greatest seasons rank as follows:
6. The real deal (2005)
Fitzgerald entered his second NFL season with high expectations after hauling in 58 catches, 780 yards, and eight touchdowns as a rookie. The Pittsburgh product more than lived up to the hype, totaling 103 catches, 1,409 yards, and 10 touchdowns in 2005. He even earned Pro Bowl honors when the league's all-star game at least somewhat still meant something.
Although Fitzgerald had more catches in 2016 and 2017, neither of which made this list, his 1,409 yards as a 22-year-old receiver make it challenging to exclude his 2005 campaign.
5. Who needs a quarterback? (2011)
After spending the 2010 season playing musical chairs at quarterback, the Cardinals acquired Philadelphia Eagles signal-caller Kevin Kolb in the summer of 2011. However, Kolb only played nine games and threw nine touchdowns against eight interceptions. In fact, Cardinals quarterbacks only completed 55.8% of their passes for 3,954 yards, 21 touchdowns, and 23 interceptions.
Despite the mediocre numbers from his signal-callers, Fitzgerald recorded 80 catches for 1,411 yards — that was a career-high 17.6 yards per catch — and eight touchdowns. He earned second-team All-Pro honors for the second and final time on a Cardinals team that somehow finished 8-8.
4. No 'Madden Curse' (2009)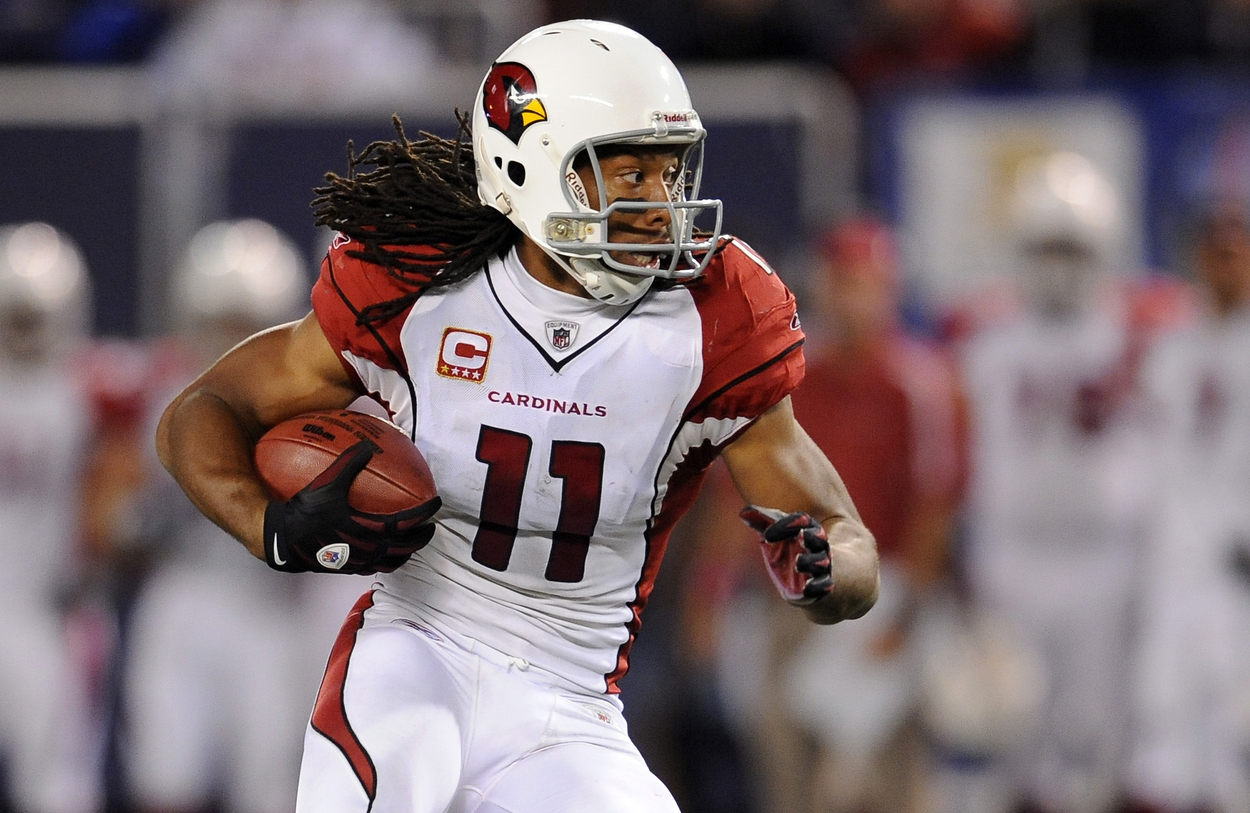 EA Sports named Fitzgerald and Pittsburgh Steelers safety Troy Polamalu the co-cover athletes of 2009's Madden NFL 10 after their respective teams clashed in Super Bowl 43 several months earlier. Although various injuries derailed Polamalu's season, Fitzgerald turned in 97 catches, 1,092 yards, and a career-high 13 touchdowns for the NFC West champions.
The 26-year-old also earned second-team All-Pro honors and made his third Pro Bowl in four years. Fitzgerald added 12 catches for 159 yards and two touchdowns in two playoff games. What's this about a Madden Curse, again?
3. On the cusp of greatness (2007)
If football fans didn't pay attention to Fitzgerald before the 2007 season, they certainly knew his name after a 100-catch, 1409-yard, 10-touchdown campaign for the Cardinals. He averaged 14.1 yards per catch and recorded a first down on 70% of his receptions en route to making his second Pro Bowl.
At 24 years old, Fitzgerald was here to stay, and plenty more was to come from the former Biletnikoff Award winner.
2. A final playoff run (2015)
After several down seasons (by his numbers, at least) from 2012-14, the 32-year-old Fitzgerald entered 2015 with questions about his age and his future. Clearly, the Pittsburgh product took those concerns to heart, hauling in a career-high 109 catches for 1,215 yards and nine touchdowns.
The 2015 campaign marked his first 100-catch season since 2007 and his first 1,000-yard season since 2011. Fitzgerald hauled in 12 receptions for 206 yards and a touchdown in two playoff games, although none were more important than his 75-yard catch-and-run against the Green Bay Packers in overtime of the NFC Divisional Round. After bringing his Cardinals to Green Bay's goal line, Fitzgerald took a short pass into the end zone for the franchise's most recent playoff victory.
1. Nearly a champion (2008)
Fitzgerald's 2008 season remains one of the greatest receiving campaigns in league history. The 25-year-old earned first-team All-Pro honors after totaling 96 catches, 1,431 yards, and 12 touchdowns for the NFC West champions. Those numbers alone would have been enough for a top-3 finish on this list, if not the No. 1 spot. However, Fitzgerald's incredible four-game playoff run easily propels him to the top of the rankings.
The Pittsburgh product hauled in 30 catches for 546 yards and seven touchdowns en route to helping the Cardinals come four points shy of their first Super Bowl victory. Across 20 total games, Fitzgerald totaled 126 catches, 1,977 yards, and 19 touchdowns.
Fitzgerald might not have won a Super Bowl ring for his efforts, but his 2008 numbers are enough to win first place on our list. Lucky him.
Like Sportscasting on Facebook. Follow us on Twitter @sportscasting19.
RELATED: Pros and Cons to the Arizona Cardinals Trading Star QB Kyler Murray During the 2022 NFL Offseason