Ranking Desmond Ridder and the Top 4 Players on the Cincinnati Bearcats
The Cincinnati Bearcats made NCAA history this season by becoming the first Group of Five school to ever make the College Football Playoff. After not receiving much national attention throughout most of its program history, Cincinnati will have the entire sports world watching it in the CFP.
However, since it's a smaller program from a non-Power Five conference, you may not know much about the Bearcats and the players they have on their roster. But fear not, given that I'm a Cincinnati grad and have watched almost every game for years, I put together a ranking of Cincy's best players this season.
I based the criteria on the impact each player has had on this 2021 campaign specifically. Some stars have had fantastic careers and have the potential to play in the NFL for a long time, but this is based on how big of a role they played in head coach Luke Fickell's squad finishing the regular season 13-0.
So, without further ado, here are the top four players on this year's Cincinnati Bearcats team.
Honorable Mention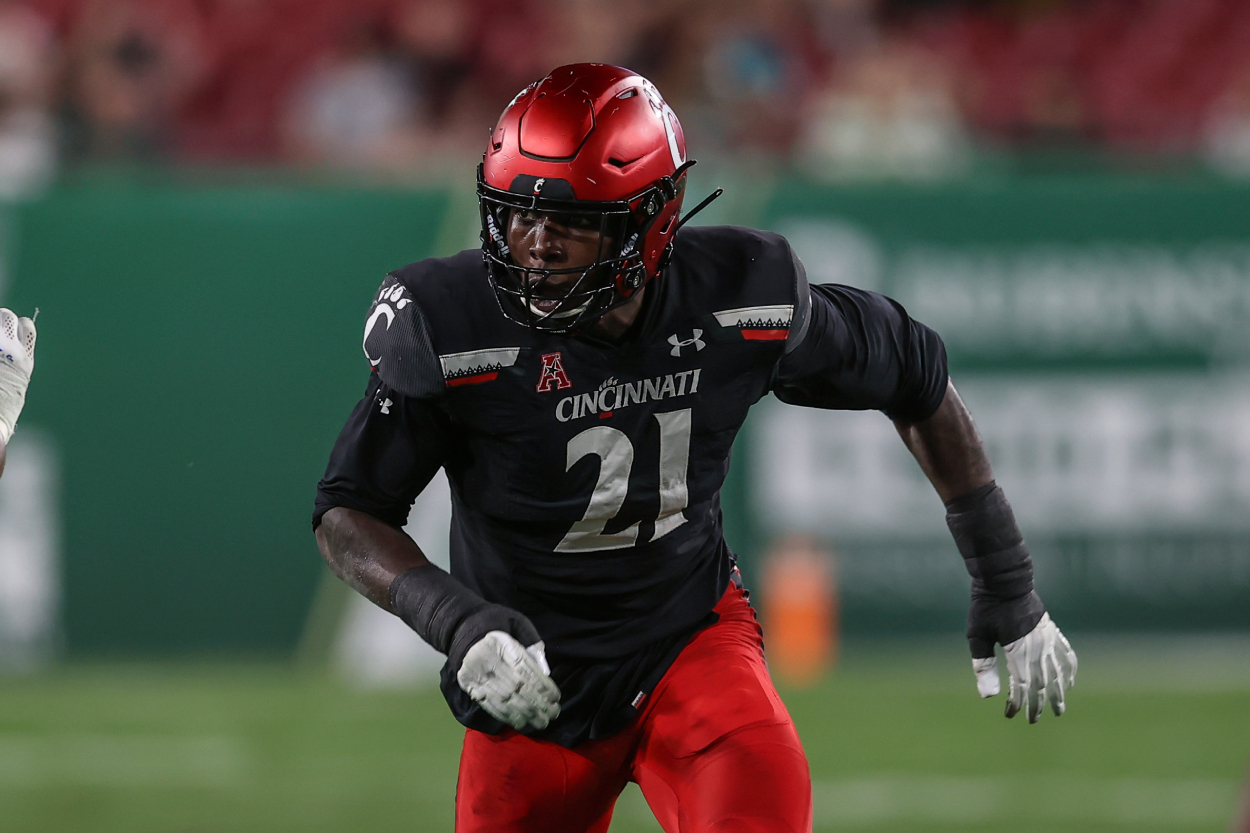 Several players were close to making the top four but just barely missed the cut. Myjai Sanders is one of the best edge rushers in college football, and while this year's stats may not show it (34 total tackles and 2.5 sacks), he racked up seven sacks in just 10 games last year and recently ranked No. 48 on the Pro Football Focus 2022 NFL Draft big board.
There are also guys like linebackers Joel Dublanko and Darrian Beavers, and safety Bryan Cook, who have all had fantastic seasons. But these next four Cincinnati Bearcats players are just too good not to earn spots in these rankings.
4. Jerome Ford, running back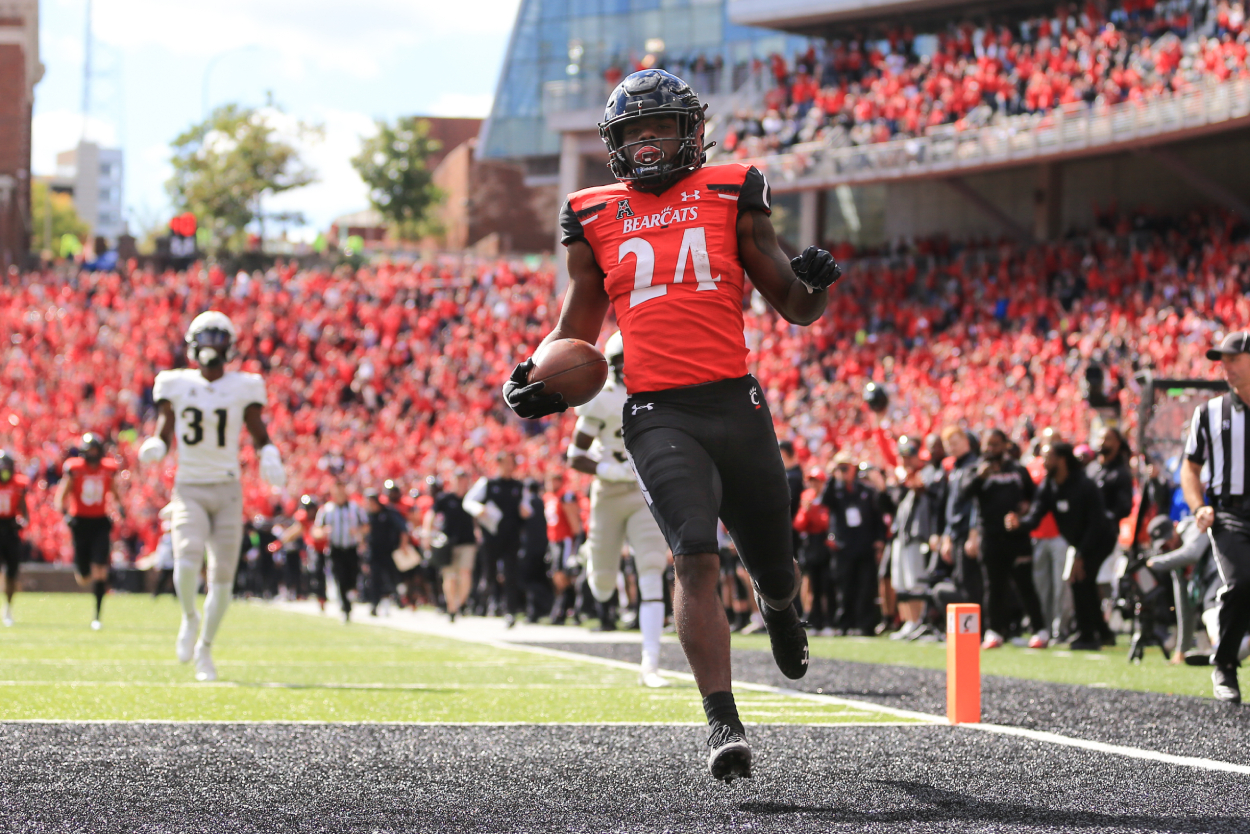 Jerome Ford has had a monster second year in Cincinnati after transferring to the Bearcats program in 2020 from Alabama. Following a season where he split carries with Gerrid Doaks, Ford has run for 1,242 yards in 12 regular-season games this year (including the American Athletic Conference championship), and he has scored a whopping 20 total touchdowns (19 rushing, one receiving). His 19 TDs on the ground rank No. 7 in the nation, and his 6.24 yards per carry are 13th.
All in all, defenders have had a hard time bringing Ford down. He has the size (220 pounds) to run linebackers over and the speed to get past the secondary. There have also been several games this year where Cincinnati's offense has looked stagnant, but Ford lit a fire under it by popping a big run.
Sure, defensive leaders like Sanders and Dublanko have also impacted the team significantly, but it's hard to look past Ford's knack for finding the end zone and making big plays.
3. Coby Bryant, cornerback
Cornerback Coby Bryant used his extra year of eligibility to chase a championship with the Bearcats this year, and the decision has paid off big time.
Bryant has recorded 41 total tackles, 14 defended passes, three forced fumbles, and three interceptions this year. His play in the regular season was even strong enough that it earned him national recognition. Bryant won the Jim Thorpe Award for being the country's best defensive back, proving he's an invaluable piece to a Cincinnati defense that ranks in the top five in the country in points allowed per game.
2. Desmond Ridder, quarterback
After an up-and-down start to his career, Desmond Ridder has developed into the best quarterback in Cincinnati football history. He not only holds the all-time program record for career passing touchdowns, but he finished eighth in the 2021 Heisman Trophy race and is one of three QBs in FBS history to win at least 44 career games.
The Louisville native has had an outstanding season this year, throwing for 3,190 yards, 30 touchdowns, and only eight interceptions. Ridder has also come through on the ground when needed, running for 361 yards and six touchdowns. He has gained over 2,100 rushing yards and 25 rushing touchdowns total in his career.
When it comes down to it, everyone knows that the quarterback position is the most important on the field, and Ridder has been a darn good one this year.
1. Ahmad "Sauce" Gardner, cornerback
Potentially the most talented player on the Bearcats, cornerback Ahmad "Sauce" Gardner doesn't just arguably have the brightest future on UC (he's a projected first-round pick), but he has been absolutely crucial to Cincinnati's defense.
While his teammate won the award for the nation's best defensive back, Gardner won American Athletic Conference Defensive Player of the Year honors. He was also named a consensus All-American, further proving that Cincy may have the best secondary in the entire country. The only issue with Gardner's resume is that he's so good that quarterbacks don't even pass his way, so he hasn't had the chance to rack up massive stats this season.
Sauce has recorded 35 total tackles, 3.0 sacks, three interceptions, and one forced fumble. He also returned a blocked field goal for a 60-yard touchdown against East Carolina. What's most impressive, though, is that he has only allowed 117 total yards all season and has yet to allow a touchdown pass in over 1,000 career snaps at Cincinnati.
If the Bearcats want to win the national championship, they will have to rely on future NFL players, and Gardner's dominance for Cincinnati this year has proven he probably has the best chance to star on Sundays.
Stats courtesy of Cincinnati Athletics and NCAA.com