Ranking Every Super Bowl Played in Los Angeles
For the first time in nearly 30 years, the Super Bowl is back in Los Angeles. To give you an idea of how long it's been, former Buffalo Bills running back O.J. Simpson performed the ceremonial coin toss on Jan. 31, 1993, and Michael Jackson sang and moonwalked at halftime.
Now, Simpson is tweeting about Cincinnati Bengals quarterback Joe Burrow and Eminem, who once infamously mocked Jackson throughout his 2004 album Encore, will join the likes of Dr. Dre and Snoop Dogg in rapping at halftime. Imagine reading that sentence five years ago, let alone in 1993.
Nonetheless, Super Bowl 56 will mark the eighth time the Los Angeles area — a distinction which includes Pasadena, home of the Rose Bowl — has hosted the Big Game. Now feels like the perfect time to rank the previous seven Super Bowls that have occurred in the LA region.
For this list, we ranked games based on historical meaning and on-field play. We did not factor in halftime shows, Super Bowl commercials, or how many Pro Football Hall of Famers participated in that year's game.
Based on consideration of the aforementioned prerequisites, the best Los Angeles-based Super Bowls rank as follows:
7. The Buffalo Bills' pain continues (SB 27, January 1993)
Super Bowl blowouts are never fun, which is why no one outside of Seattle ever mentions Super Bowl 48. Dallas Cowboys quarterback Troy Aikman, who earned MVP honors, threw four touchdowns and no interceptions in the 52-17 rout.
Buffalo's chances of winning effectively ended when Cowboys linebacker Ken Norton Jr. forced Bills star quarterback Jim Kelly to leave early in the second quarter with a knee injury. Frank Reich threw two interceptions in relief and watched Dallas outscore Buffalo 21-0 in the second half. Buffalo lost its second straight Super Bowl that night and is still searching for its first championship.
It's not that Super Bowl 27 was bad, per se. Well, unless you're a Bills fan. However, the rout certainly drops it to last place on our list.
6. Washington goes Dolphin(s) hunting (Super Bowl 17, January 1983)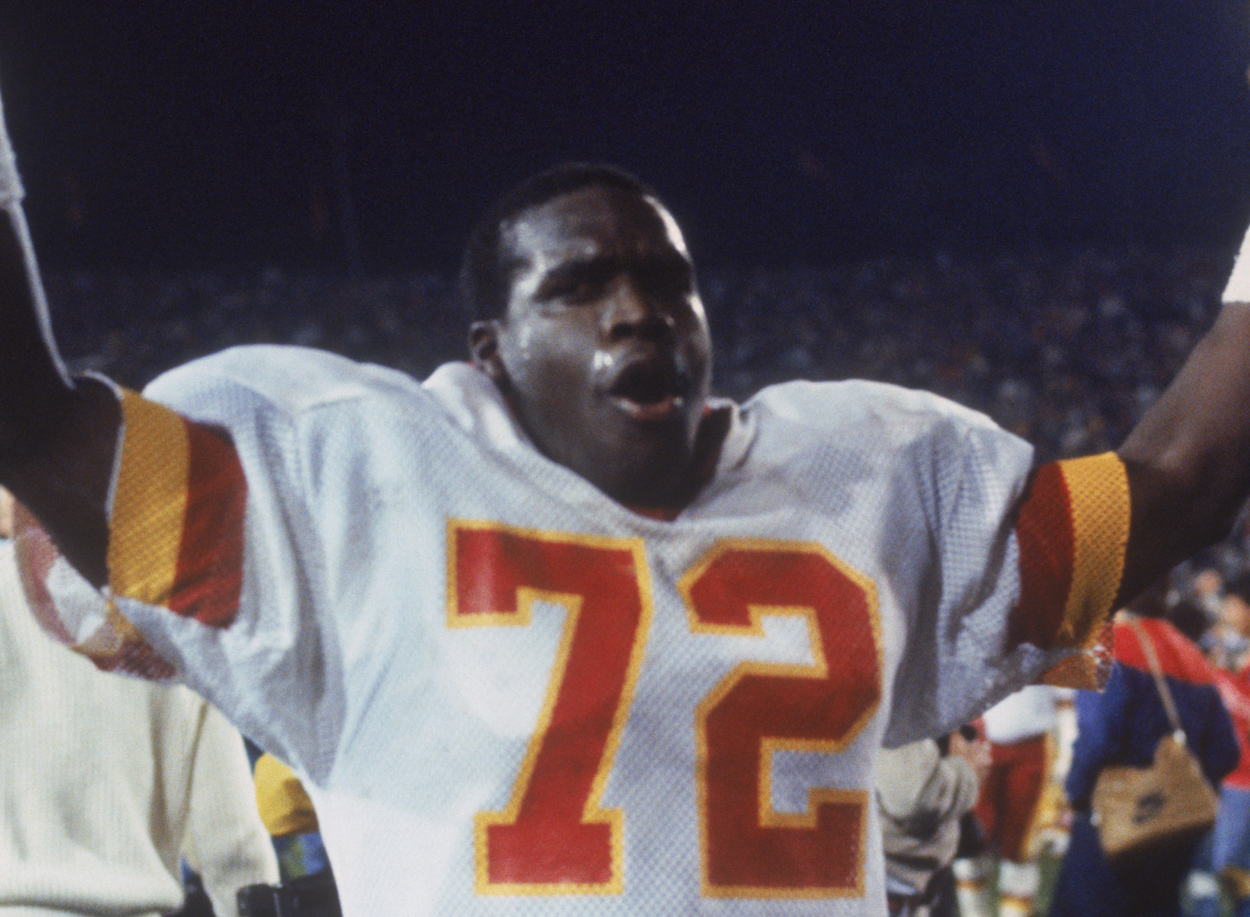 Joe Theismann's supporters weren't exactly chanting "Hail to the Commanders" when Washington defeated the Miami Dolphins, 27-17, in Super Bowl 17. Trailing by one entering the fourth quarter, Washington running back John Riggins, the eventual Super Bowl MVP, took a handoff on 4th-and-1 and broke through for a 43-yard score.
With Lucy not around to stop his football dreams, Washington receiver Charlie Brown hauled in a 6-yard touchdown with 1:55 left, effectively sealing the title's first Super Bowl title.
5. A Giant victory for Phil Simms (SB 21, January 1987)
Not even Denver Broncos star quarterback John Elway could beat the Big Blue Wrecking Crew in a game far closer than most fans will remember. The Broncos led 10-9 at halftime and appeared destined to party with the Lombardi Trophy for the first time in franchise history.
Then came the third quarter, a stretch where the Giants scored 17 points — in large part because of Simms' two passing touchdowns — and regained the momentum. Simms ended the night having completed 22 of 25 passes for 268 yards, three touchdowns, and no interceptions.
That was more than enough for the veteran quarterback to earn Super Bowl MVP honors. It'd be over a decade before Elway finally won a Super Bowl — and he, like Simms, managed to secure two rings before finally retiring.
4. John Madden finally wins a ring (SB 11, January 1977)
The 2021 NFL regular season ended on Jan. 9, 2022. Super Bowl 11 took place on Jan. 9, 1977. Something tells us we're never going to see an NFL championship game occur that early ever again.
In theory, Super Bowl 11 shouldn't rank so high on this list. Then-Oakland Raiders receiver Fred Biletnikoff won MVP honors despite only having four catches for 79 yards and no touchdowns. Oakland never trailed and didn't allow the Minnesota Vikings to score until there were 47 seconds left in the third quarter.
Yet, historical context should mean something, and Raiders head coach John Madden winning his only Super Bowl after years of falling short is enough to propel this game up the list.
3. The AFL-NFL World Championship Game (SB 1, January 1967)
The first Super Bowl wasn't even officially called the Super Bowl. Instead, Bart Starr and the heavily-favored Green Bay Packers played the Kansas City Chiefs in the AFL-NFL World Championship Game. Although the Chiefs held their own in the first half and only trailed 14-10 when the University of Arizona and Grambling State University marching bands took the field, they couldn't pull off the upset.
Starr began a beloved Super Bowl tradition of winning the game's MVP Award despite a skill player — Packers receiver Max McGee totaled seven catches for 138 yards and two touchdowns — being far more deserving. Everyone always loves the quarterback.
2. Another ring for Terry Bradshaw (SB 14, January 1980)
Those who placed money on the Pittsburgh Steelers to cover in Super Bowl 14 are likely still playing for Franco Harris' drinks. Pittsburgh closed at -10.5 favorites and led 24-19 with less than two minutes left in the game. However, Harris plunged forward on 3rd-and-goal, giving the Steelers a 31-19 lead and allowing bettors to keep their prized possessions.
Although the hometown Los Angeles Rams entered the fourth quarter leading 19-17, Steelers quarterback Terry Bradshaw connected with receiver John Stallworth on a 73-yard touchdown early in the final period. The Louisiana Tech product earned Super Bowl MVP honors and won his fourth ring after throwing for 309 yards, two touchdowns, and three interceptions against the Los Angeles Rams. 
As we said, everyone always loves the quarterback, even if it's one the media had spent years calling dumb.
1. Perfection (SB 7, January 1973)
Super Bowl 7 might have been boring and lacked offense, but it had a historical element we might never see again: a team wrapping up an undefeated season.
Unlike the 2007 New England Patriots, these Dolphins followed through and closed things out despite Washington's late rally. Dolphins quarterback Bob Griese fired a 28-yard touchdown to veteran receiver Howard Twilley late in the first quarter and gave Miami a lead it never relinquished. However, it was safety Jake Scott, who had two interceptions for 63 yards, who captured the MVP.
Forget the perfect season. A non-quarterback winning MVP is enough to make Super Bowl 7 the greatest LA-based Super Bowl.
Like Sportscasting on Facebook. Follow us on Twitter @sportscasting19.
RELATED: Terry Bradshaw's Four Super Bowl Wins With the Pittsburgh Steelers, Ranked