Ranking Every Threat Against Tom Brady and the Buccaneers' Super Bowl Repeat Chances
The last time that an NFL team repeated as Super Bowl champions, Tom Brady was 27 years old and joining his New England Patriots teammates in holding the Lombardi Trophy for the third time in four years.
Now, 17 years later, Brady is 44 years old and in his second season with the Tampa Bay Buccaneers. The three-time NFL MVP is in pursuit of his eighth ring, a mission that will begin its next chapter when Tampa Bay hosts the Philadelphia Eagles on Super Wild Card Weekend.
Although the Buccaneers remained one of the NFL's top teams this season, their path to a second straight Super Bowl victory is far from easy. Now feels like the perfect time to rank the biggest threats to Brady's hopes of repeating as champions.
For this list, we tried focusing only on tangible and specific outcomes. Although COVID-19 outbreaks or suspensions are obviously possible, those are far more generic than, say, a particular matchup or road game. We also limited ourselves to applying the injury hypothetical to only one player.
Based on consideration of the aforementioned prerequisites, the Buccaneers' most significant Super Bowl threats rank as follows:
4. Not taking Jalen Hurts and the Eagles too seriously
It feels like every year features an instance of a favored home team taking their road visitor too lightly in the NFL Playoffs. Whether or not Brady and the Patriots did that when they welcomed the New York Jets to Gillette Stadium in January 2011 is another conversation.
Although Brady and the Buccaneers totaled 399 yards of offense in a 28-22 victory over the Eagles on Oct. 14, both teams look much different than they did three months ago. Buccaneers receiver Chris Godwin, who had five catches for 43 yards that night, is on injured reserve with a knee injury. This time around, Brady won't be throwing to Antonio Brown, who totaled nine catches, 93 yards, and a touchdown against the Eagles. Instead, Brown is doing the podcast circuit and going scorched earth on his former teammates.
For Tampa to win on Sunday afternoon, the key is holding Eagles quarterback Jalen Hurts in check. The first-time Pro Bowler scored three touchdowns (one throwing, two rushing) when these teams faced off in Week 6.
Hurts completed 61% of his passes for 1,163 yards, five touchdowns, and five interceptions in his final six starts, a stretch where the Eagles went 5-1. The explosive dual-threat quarterback also ran for 290 yards and five scores in that span. If Philadelphia intends on pulling off an upset, their hopes rest in a talented second-year quarterback's arm and legs.
3. A potential cold-weather game against Aaron Rodgers and the Green Bay Packers in Green Bay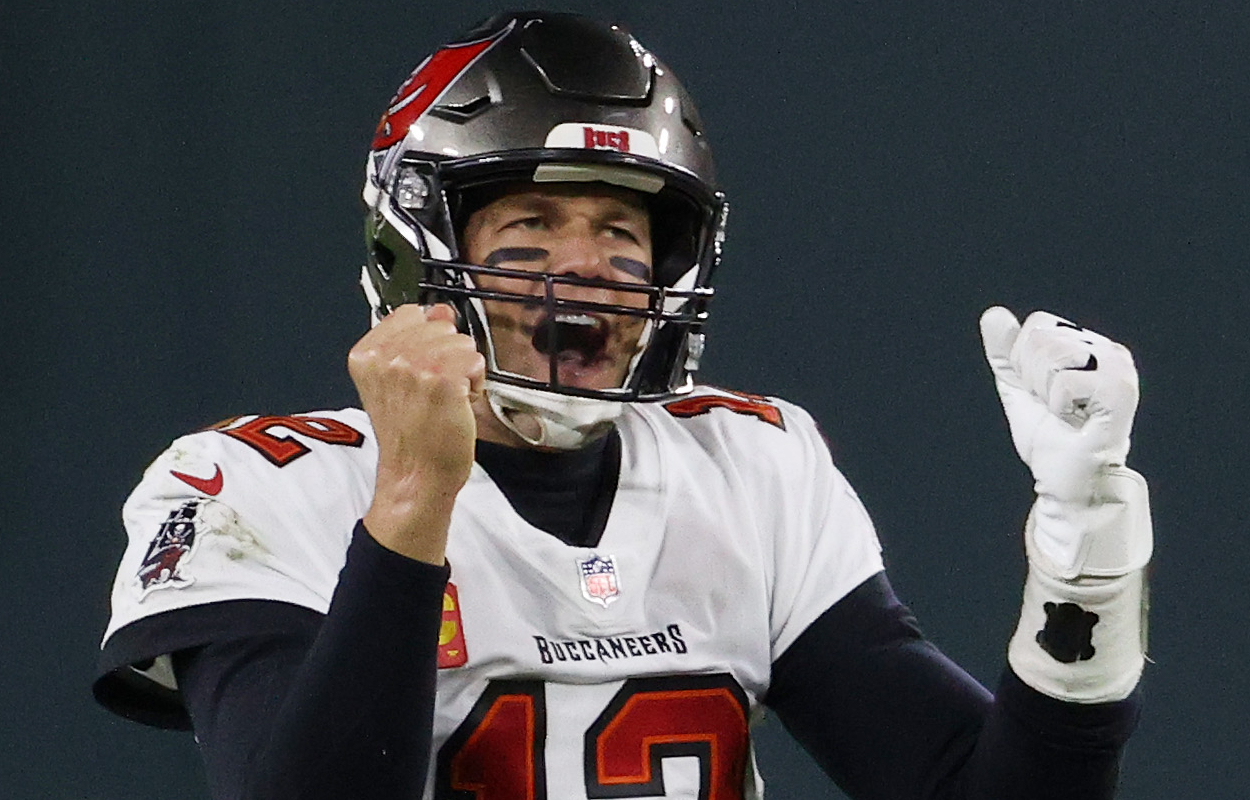 After playing college football at Michigan and spending 20 seasons with the Patriots, Brady isn't a stranger to cold weather. He's thrown touchdowns in blistering cold and snowstorms across the last two decades.
According to The Boston Globe, Brady went 25-4 in games played with a kickoff temperature of 29 degrees or lower during his Patriots tenure. He increased that record to 26-4 when Tampa Bay defeated the Green Bay Packers, 31-26, at Lambeau Field in last year's NFC Championship Game; that day's kickoff temperature was 29 degrees. Brady wore long sleeves and threw three touchdowns and three interceptions in the road win.
As the No. 2 seed, Tampa Bay will only play in a cold-weather game if the Buccaneers face the No. 1-seeded Packers in this year's NFC title game. That is, of course, barring a blizzard hitting Tampa Bay, but we're likelier to see the Detroit Lions win a playoff game before that happens.
2. The lack of healthy running backs
In the regular season's final weeks, injuries and Brown's temper tantrum decimated the Buccaneers' offense. However, perhaps no area was hit harder than Tampa Bay's running back room.
Veteran running back Leonard Fournette led the team with 812 rushing yards on eight touchdowns before suffering a hamstring injury in a Week 15 loss to the New Orleans Saints. The LSU product also had 69 catches, 454 yards, and two touchdowns in his first 14 games.
Giovani Bernard, a backup running back who primarily plays on third-downs, suffered a hip injury in a Week 14 victory over the Buffalo Bills and missed the season's final month.
Although Bernard and Fournette returned to practice ahead of the NFC Wild Card Game, there is no guarantee that either will play or fill their regular roles on Sunday. Their potential absences or pitch counts could mean more action for fourth-year running back Ronald Jones, who ended the year with 428 yards and four touchdowns on 4.2 yards per carry.
Jones has flashed in the past and led the Buccaneers with 678 rushing yards in 2020. However, he lacked the same burst this season and saw his offensive snap count fall as a result.
The Buccaneers don't need a ground-and-pound game plan to survive and advance. Instead, Tampa Bay requires the running backs, primarily Fournette, to do what they do best and do damage both on the ground and as receivers. It's hard to see Brady winning the Super Bowl if his running backs don't give him the necessary boost.
1. Tom Brady suffering an injury
This one should speak for itself. With respect to the rest of Tampa Bay's roster, Blaine Gabbert is not leading the Buccaneers to a Super Bowl victory. Rookie quarterback Kyle Trask hasn't taken a snap all season.
If Brady goes down with an injury or a positive COVID test, the Buccaneers would need an absolute miracle to beat the likes of Green Bay or the San Francisco 49ers. Even if Tampa Bay avoids everything on this list, the Buccaneers' Super Bowl hopes would sink faster than the pirate ship at Raymond James Stadium.
Like Sportscasting on Facebook. Follow us on Twitter @sportscasting19.